Leading food companies have been willing to outsource their e-commerce businesses to Amazon, but the strategy brings long-term risks.
So many food companies have chosen to outsource their e-commerce operations to Amazon.
Food leaders like Kraft Heinz, General Mills, and Mondelez do operate websites for each of their brands, but they redirect visitors to Amazon to buy (if they even tell visitors how to purchase at all).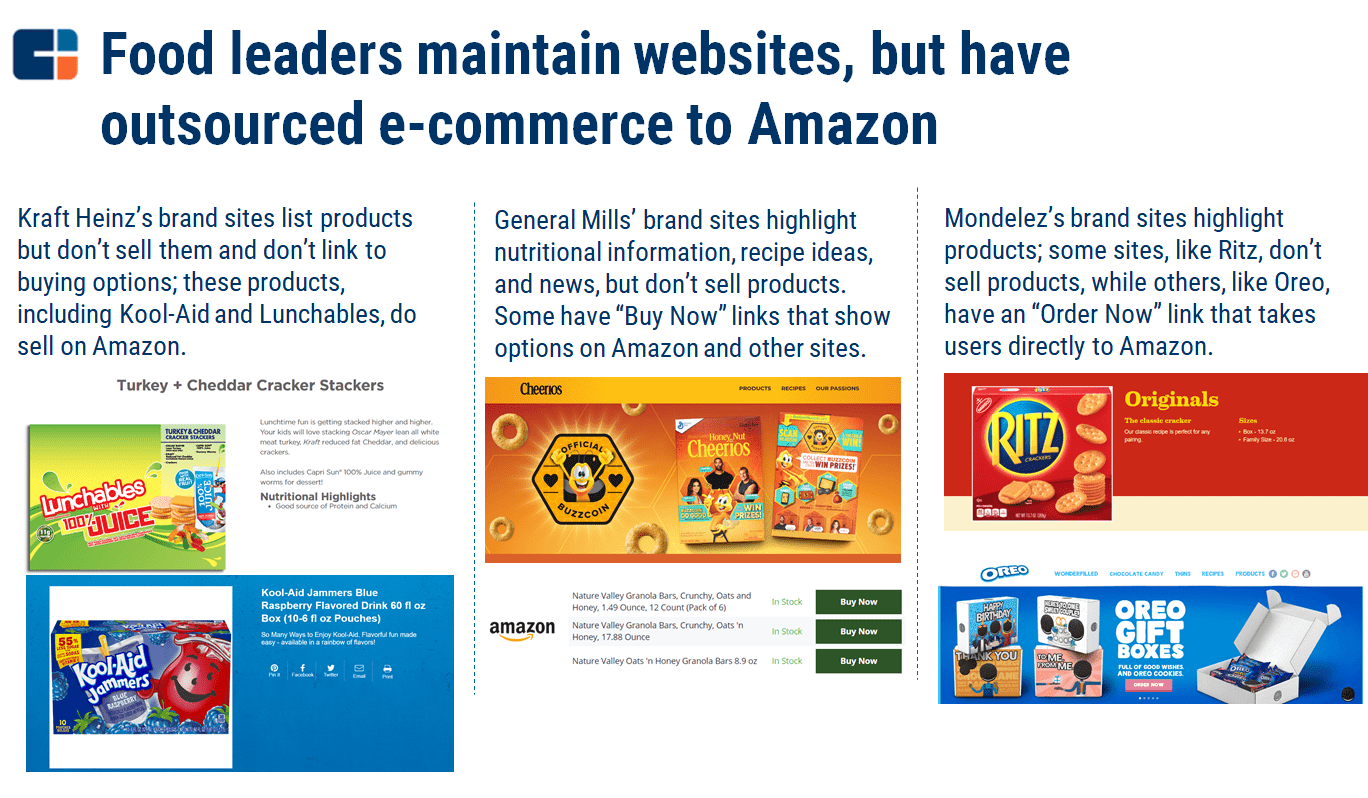 In other words, these massive conglomerates have been content to give Amazon final say over the way their products are presented, sold, and shipped online.
The strategy has pros and cons.
It's tough without Amazon
Setting up an e-commerce operation takes far more than just setting up a website. These food companies would have to revamp their supply chains to fulfill single customer orders instead of shipping to grocery stores. They'd have to design an online checkout process, partner with payment platforms, and potentially manage subscription options.
They might have to hire more engineers.
And historically, people don't tend to shop for one product or brand at a time in the food world. This poses a challenge for single-brand sites — though, a parent company could also group all its brands together.
Big money fast
Meanwhile, Amazon promises solid and immediate sales lifts.
PepsiCo, for example, revealed that a 200-person e-commerce team, which develops strategies to sell through Amazon, Boxed, Walmart.com, and other third-party sites, has driven $1B in annualized online sales.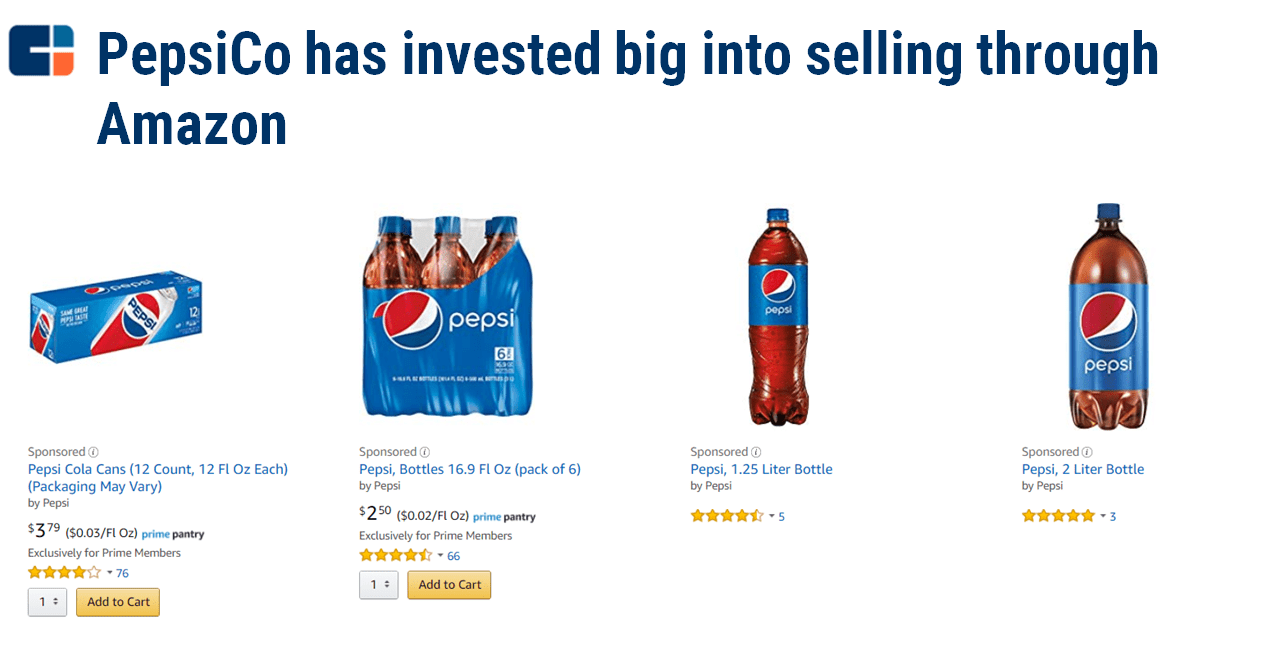 (But PepsiCo's Amazon search results still look like this). 
Startup CPG brands can also use Amazon to get off the ground — especially by becoming top sellers in niche categories.
Mushroom coffee startup Four Sigmatic has charged its way to the #1 spot in Instant Coffee, for example (at the time of this writing), while chickpea puff startup Hippeas ranks #6 in the Corn Chips & Crisps category.
What's the risk?
By outsourcing e-commerce operations to Amazon, companies risk losing control over their brands and their customers.
In the shorter term, as we saw above with PepsiCo, brands can't control how their search results appear
Companies can set up brand homepages on Amazon, which at least support a few featured images (like Pepsi's or Oreo's), or launch products in partnership with Amazon (like Tyson's Tastemakers). But Amazon's search bar doesn't tend to highlight these, and they're not as engaging as actual websites.
They're also reliant on Amazon for highlighting them in search results at all. Just as Google and Facebook periodically tweak their search algorithms, so will Amazon.
Intercepted at the point of sale
As Amazon controls more and more points of sale — Amazon.com, Whole Foods stores, Echo devices — it gains more leeway to intercept shoppers and redirect them toward its own products.
It's already started to boost its own competing private labels in search results.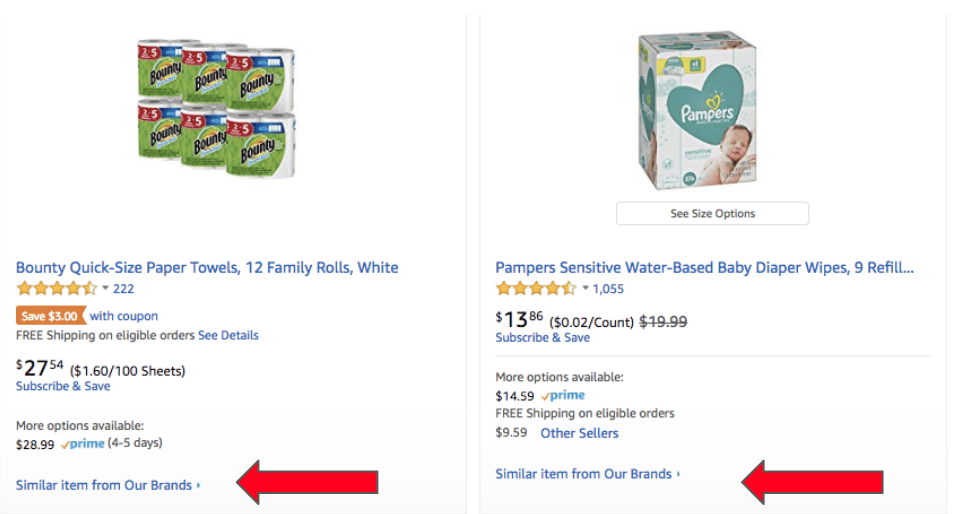 When Amazon promotes its own private labels, it further highlights the control it has over search results. Companies may not know how Amazon will respond to various search terms in the future – it could push its private labels even more strongly, or sell the top listings to a higher bidder.
Data, dumped
Over the longer term, Amazon is gathering huge amounts of data on shoppers' online and offline habits.
Beyond the data it offers brands about their own products' performance, Amazon's able to track shopper behavior across its site, at Whole Foods and its other brick-and-mortar stores, and, increasingly, through its millions of Echo devices.
The more brands that focus the bulk of their e-commerce efforts on Amazon, the more data on those brands' shoppers Amazon gets.
Amazon can also spot holes in the market where new private label products might be most impactful.
Will brands feel comfortable with Amazon having this data once Amazon expands its $7.5B private label business into their sectors?
Or once it helps incubate new startup competitors?
Alexa wants to pamper you
And Amazon's datasets will only grow.
A patent last year listed data that Amazon's considering collecting through smart video screens, including people's facial expressions and moods, the brands of products they have sitting around the house, and even pulse rates.
Just yesterday, Amazon was granted a patent on using the Echo to monitor people's physical and emotional states. If an Echo user's voice sounds sniffly, Amazon could proactively suggest chicken soup.
Which brands will Amazon proactively suggest?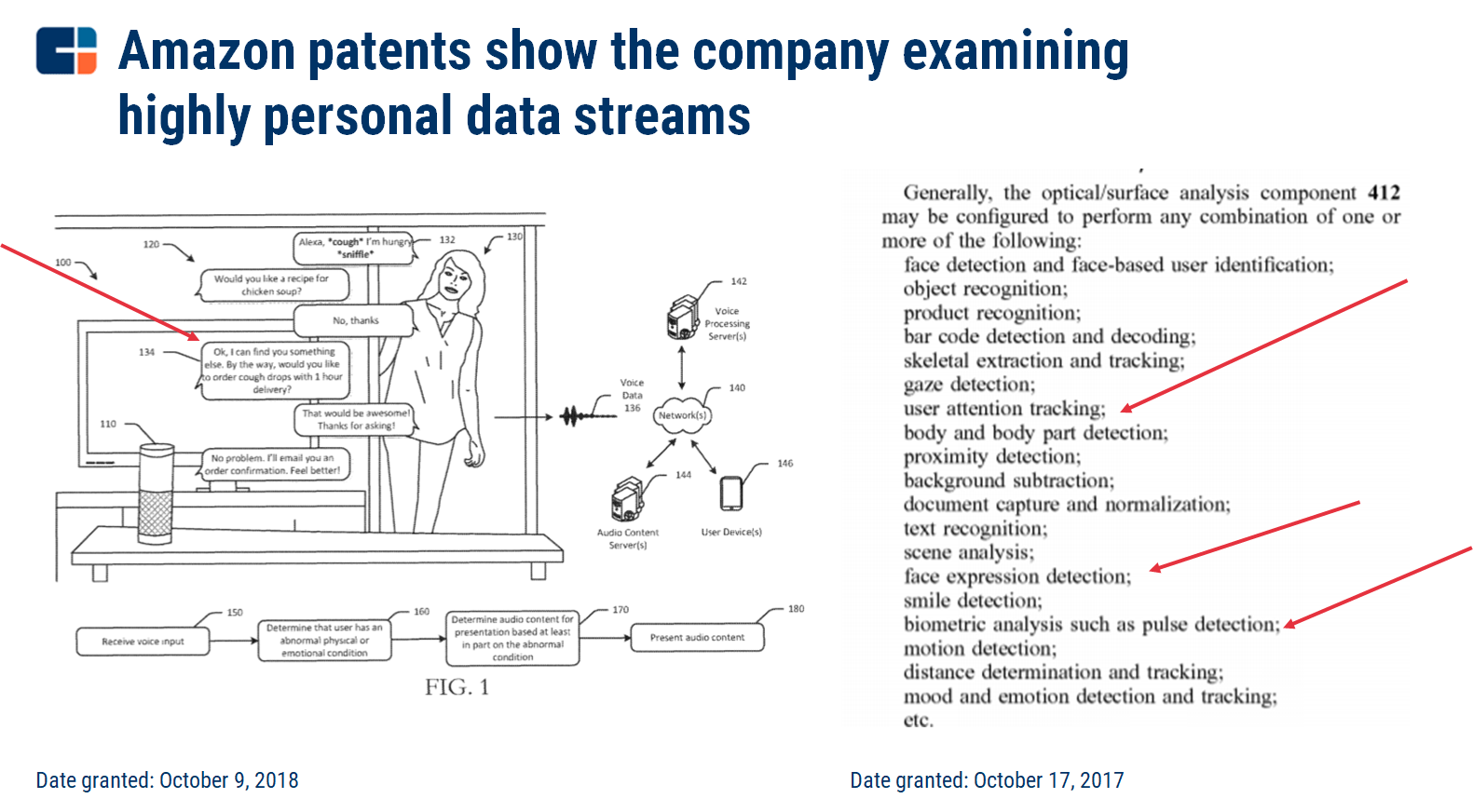 Big food companies may be unable to wean themselves off Amazon, but they should consider investing more in their own customer relationships too.
Another model
Interestingly, Alibaba's hoping to compete by posing itself as a pure platform, in contrast to Amazon's double-dipping of business models (platform + private label).
Instead of using its data to launch its own private labels, Alibaba's trying to become an outsourced R&D center for brands.
It partnered with Mars, using anonymized data on ~500M Alibaba shoppers to develop a new chili-infused Snickers flavor.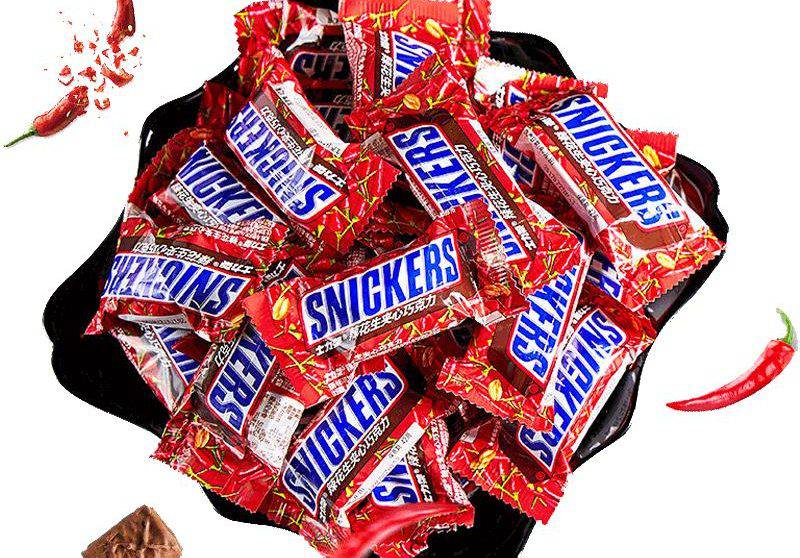 In the future, other marketplace companies could choose between the Amazon model of turning data into products, and the Alibaba model of turning data into insights.
For now, CPG leaders have to decide how much their devil's bargain with Amazon is worth — and how much they should invest in their own data to compete.
This content first appeared in our CPG Insights newsletter. Sign up here to get a weekly rundown on the top news & perspectives in CPG.
If you aren't already a client, sign up for a free trial to learn more about our platform.