You can work out for 3 cents a minute at these 43-sq.-ft mini-gyms on the streets of Beijing.
With 1.35 billion people – or roughly 20% of the world's population – living in China, real estate is at a premium in the country's urban areas.
As a result, brick-and-mortar businesses in China's big cities are going small.
You could spend an overnight in Beijing hopping around its tiny commercial spaces: After a night out at one of China's micro-karaoke studios, you might wake up in a pod hotel at Beijing airport and grab a protein bar at an automated mini convenience store, then head out to break a sweat at one of the new micro-gyms cropping up on China's city streets.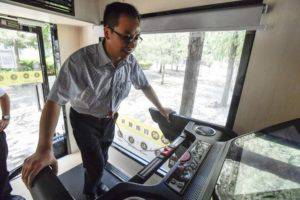 Startups like Misspao, LePao, Douba, and others have rolled out 24-hour public gym pods that offer basic fitness equipment available on-demand – making mini-gyms the latest entrant to China's so-called sharing economy.
The fitness pods vary in size, with Misspao's just 43 square feet – about the size of a small walk-in closet.
As the video below shows, Misspao offers access to its "shared fitness room" for just $0.03 (RMB0.2) per minute, following a $15 (RMB99) refundable deposit.
Since this is China – where mobile payments solutions have seen booming adoption – customers can find and book pod locations using an app and pay using Alipay or WeChat (the popular mobile payment solutions from Chinese tech giants Alibaba and Tencent, respectively). The app then allows customers to unlock the door using a QR code.
As shown in the video, the mini gyms are fairly utilitarian. Misspao's pods have no weights and no showers – providing little more than a treadmill, air conditioning, and a television.
But while the fitness pods offer few of the comforts found at high-end fitness chains, they are a convenient option for a run on a bad weather day. And as a visual on Misspao's website reminds us, the weather conditions in China's urban areas can get quite smoggy and unpleasant.

1,000 of Misspao's pods are due to be installed around Beijing, Shanghai, and Chengdu by the end of 2017.
But will people use them?
Investors are betting they will: Misspao has already secured at least $11.4M over two rounds of funding from ChinaEquity Group, Matrix Partners China, and others.

Fitness on the go
In one sense, the market in China is primed for fitness innovation. Not only are small-scale "pod" operations already a trend in China, but the Chinese government has been promoting health at the national policy level: A new fitness council in China has been tasked with improving national health and wellness by 2020, creating more awareness among Chinese citizens of issues around fitness and health.
China's urban areas are also increasingly populated by a growing middle class, which is already accustomed to enjoying innovations from the "sharing economy" – such as ride-sharing, home-sharing, and bike-sharing.

But the sharing economy has its drawbacks: Chinese bike sharing startups Mobike and Ofo have lost thousands of bikes to theft and damage, and umbrella-sharing service E Umbrella reportedly lost almost all of its 300,000 rentable umbrellas (across 11 Chinese cities) within three months of launch.
And when it comes to Misspao and other fitness pods, the more apt question than "will people use them" may be "will people use them to actually work out."
The pods are equipped with pull-down curtains on the windows for privacy, and an August 2017 article in the Beijing Morning News observed the pods and noticed that people were using them more at night than during the day. (At 3 cents per minute, the pods could serve as an inexpensive rendezvous for any number of illicit activities.)
Nonetheless, the workout pods are a trend worth watching — if they take off, they might infiltrate Western markets in the years to come.
Already, the small hotel/space sharing trend has made its way from Asia to the US: For example, you can now nap or work in the tiny "Minute Suites" offered at Hartsfield-Jackson, Philadelphia International, or Dallas/Fort Worth airports. There's also pod-esque suites offered by startup hotel chain Yotel's NYC location. (Yotel closed its first funding round, a $250M in Corporate Minority investment from Starwood Capital Group, in Q3'17.)
In fact, the travel space may provide a proving ground for the feasibility of small, on-the-go workout spaces for serving Western markets. A number of US- and Europe-based companies in the travel and hospitality space are testing ways to make on-the-go fitness more feasible for customers:
ROAM Fitness sells gym facilities (which are located post-security check) to airports; with facilities already operational at Baltimore–Washington International Airport
Airbus' next-gen concept aircraft Transpose has an in-flight fitness module featuring Peloton bikes
Some Hilton Hotels now offer "Five Feet to Fitness" rooms that include a personal fitness station
The demand for workout pods in China, as well as for the above travel innovations, will ultimately determine whether micro-gyms are a viable business. As new commercial real estate and ownership models debut, we expect to see more of these small-scale, sharing-oriented businesses debut.
If you aren't already a client, sign up for a free trial to learn more about our platform.