Fitness tech startups are gaining popularity. Are they just part of a fad, or could they have lasting effects on the health and wellness space?
Consumers trying to develop healthier lifestyles often find themselves trying different fitness solutions that make it easier to turn an initial commitment to stay fit into a habit.
Fortunately, the options are endless.
Boutique fitness studios, in particular, have taken over the fitness world.
News mentions of these gyms have increased dramatically over the last five years.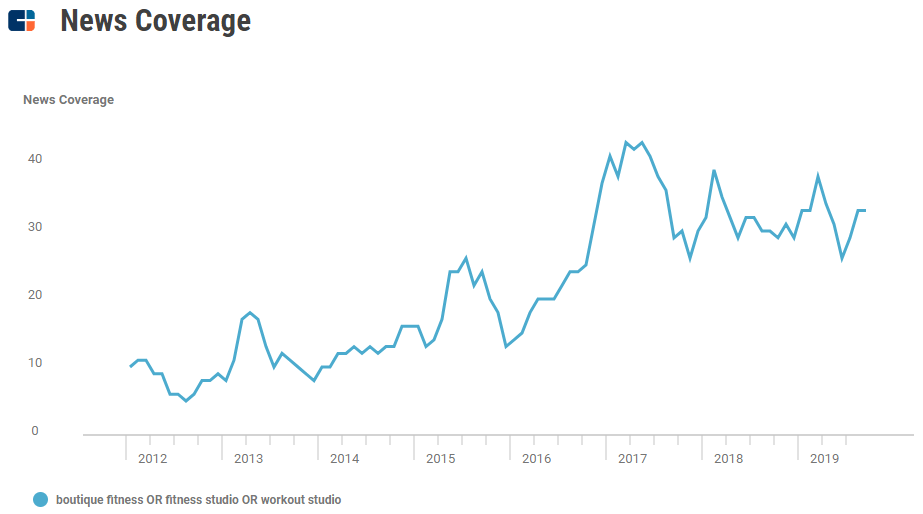 Studio gyms ranging from Barry's Bootcamp to Orangetheory Fitness are setting up shop in city neighborhoods and vacant shopping malls to attract a younger generation of consumers increasingly looking to build wellness- and experience-oriented lifestyles.
But, even as boutique studios gain popularity, fitness tech startups are also taking center stage.
Into the limelight
Last month, Peloton went public, and despite scrutiny over the valuations and business models of the recent class of IPO-bound unicorns, one thing remains clear: the connected fitness company has ushered in a new era of fitness.
Peloton's at-home connected fitness offering, which includes a stationary bike, treadmill, and standalone app, is proving to be highly effective.
According to Peloton's S-1 filing, subscribers completed 7.5, 8.4, and 11.5 workouts per month in 2017, 2018, and 2019, respectively.
The company also reported a 12-month subscriber retention rate of 95% — an impressive feat, given that 82% of traditional gym members go to the gym less than one time a week, and 22% stopped going 6 months into their membership.
Other startups are also building technology to motivate us to stay fit through increased convenience, connectivity, and personalization.
Mapping out the fitness tech landscape
Tonal, an at-home connected fitness device equipped with an AI-enabled personal trainer, uses electromagnetic resistance to adjust the difficulty of an exercise in real time.
Companies like F45 and Strava are creating community-oriented fitness options through group workouts and online fitness clubs.
Other startups are developing technology to hyper-personalize fitness through biometric tracking. Whoop's wearables help consumers optimize their fitness by collecting physiological data to measure recovery, strain, and sleep.
Clients can dig further into the fitness tech market map here.
Looking toward the future
Despite its similarities with other fads, new fitness tech is also shaping the future of health and wellness more broadly, including diet and nutrition, mindfulness, and sleep.
Recent innovations in fitness technology also have the potential to create an entirely new platform for interconnected health and wellness.
Mirror, a startup that makes an at-home fitness device that displays an instructor who guides users through workouts, recently announced that its connected devices will enable two-way audio and video, allowing for one-on-one live instruction.
While this might seem rather insignificant, it points to the potential of an interconnected health and wellness future powered by data, personalization, connectivity, and 5G technology.
Could connected devices streaming fitness content directly to homes also connect you with doctors, physical therapists, or other medical professionals to save you from the hassle of going to a health center?
How might wearables integrate biometric data with connected fitness devices to build personalized fitness regimens, or provide a real-time data feed for primary care physicians to help them make smarter and faster recommendations for a patient remotely?
Finally, as the e-gaming market picks up, how could startups develop interactive games that actually improve our physical, social, and mental well-being instead of the addictive and depression-inducing technology that exists today?
In the short term, boutique gyms and fitness apps might help us reach our summer body goals.
However, in the long term, fitness startups have the potential to unlock a more connected, informed, and effective health and wellness future
If you aren't already a client, sign up for a free trial to learn more about our platform.