Startups are leveraging genomics, AI, and other emerging technologies to develop more personalized fitness offerings, from tailor-made athletic wear to DNA-driven dinners.
Personalization is trending across all consumer categories — and the fitness industry is no exception.
On the product side, sportswear giants like Nike have long supported personalized footwear and apparel. In fitness services, personalization was historically reserved for those willing to pay a premium for individual coaching — but now, startups are using genomics, artificial intelligence, 3D printing, and more to offer personalized fitness coaching at scale.
Genomics personalizes fitness recommendations
Genetic tests can help provide recommendations on the types of exercises, workouts, and diets that would best suit an individual based on his or her genome.
The discussion of genomics and fitness has been on the rise for a few years, spiking in mid-2016.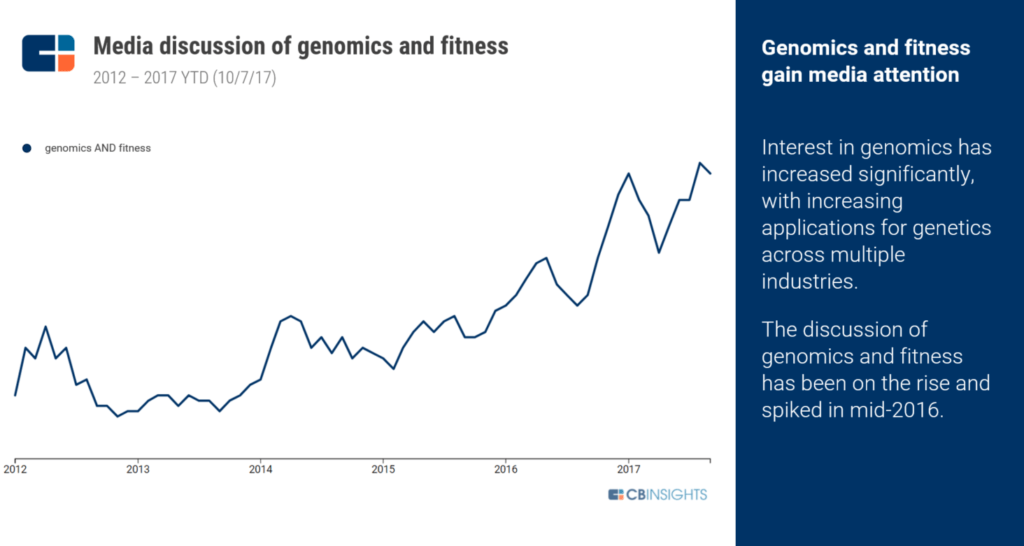 Startups are beginning to pinpoint fitness-specific use cases for genomics. Below, we highlight three investor-backed startups — Athletigen, AthGene, and FitnessGenes — that combine at-home genetic testing kits with personalized workout and dietary guidance.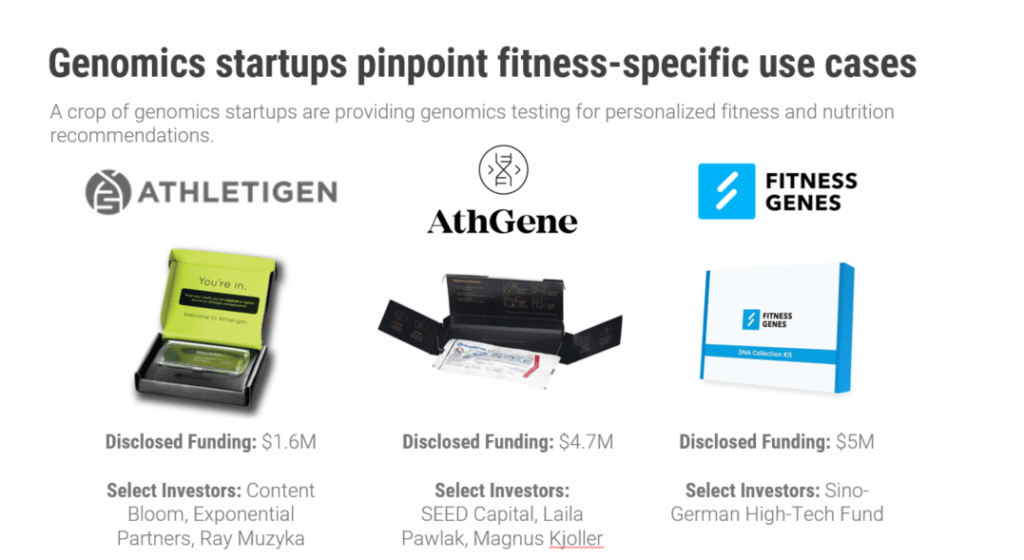 Food businesses have also been forming partnerships with genomics startups. For example, fitness genomics company DNAFit partnered with London-based personalized restaurant Vita Mojo to provide "DNA-driven dinners." DNAFit receives DNA samples from restaurant guests, which Vita Mojo then uses to create customized meals according to a person's genetic needs and preferences.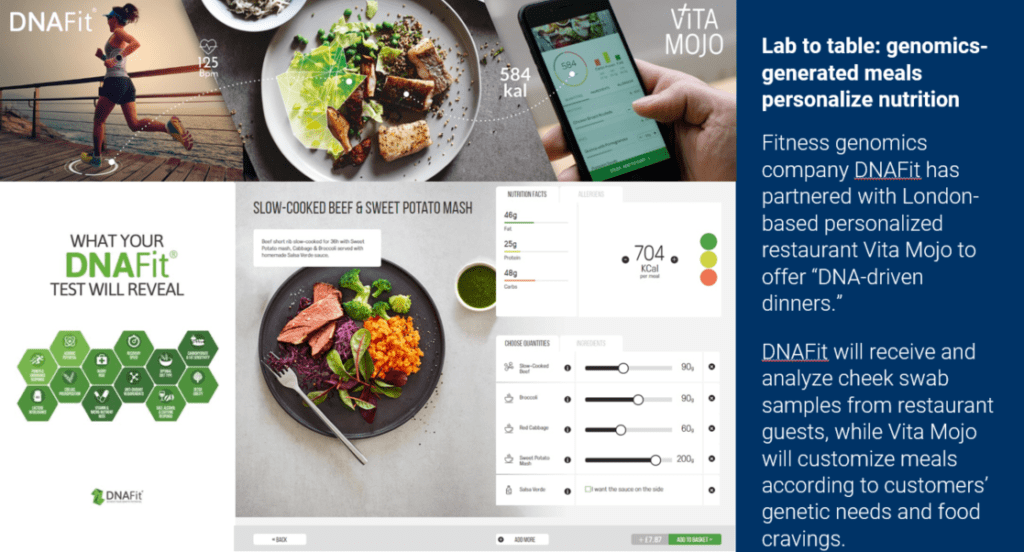 Track all the fitness startups in this brief and many more on our platform
Fitness tech companies are using technology to augment approaches to developing or maintaining physical fitness. Look for Fitness Tech in the Collections tab.
Track fitness tech startups
3D body scanning technologies track individual fitness journeys
A variety of companies are harnessing 3D body scanning for fitness applications, with startups in this space seeing backing from the likes of Y Combinator, as well as from smart money VC firms such as Khosla Ventures and New Enterprise Associates.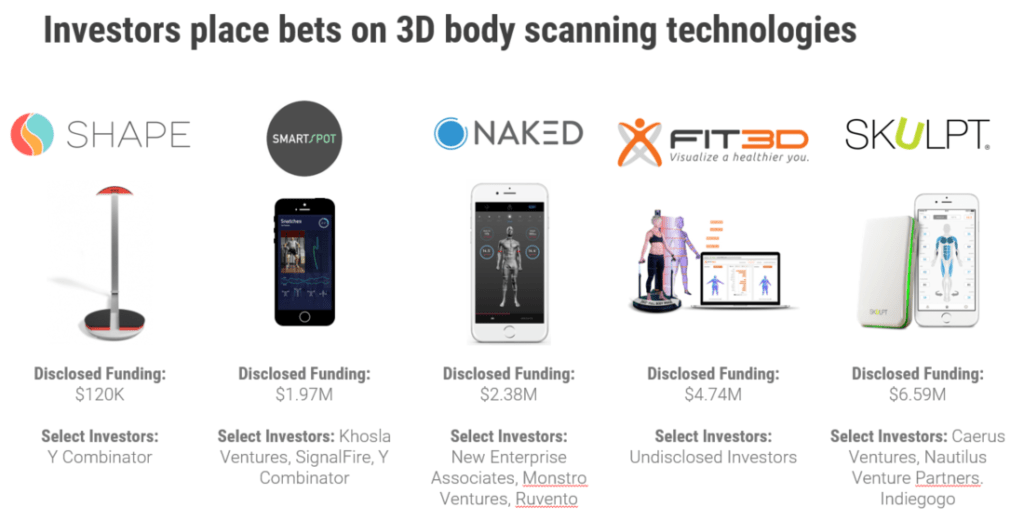 Notably, 3D body scanning can integrate with smart garment technologies to enhance wearers' workouts.
YC-backed Enflux, for example, produces a motion capture suit that combines smart clothing with 3D scanning capabilities. The sensor-embedded clothing comes with a free mobile app that collects data from clothing and analyzes a user's movement in real time.
By combining body scanning with smart clothing, automated digital fitness coaches could offer more detailed advice aimed at helping users improve their form and work toward desired fitness results.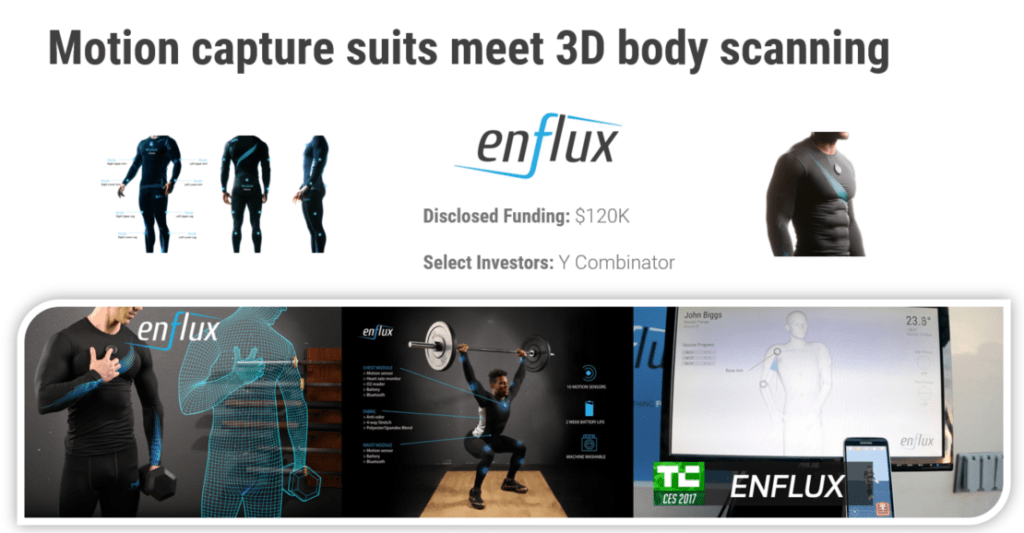 3D foot scanning is also hitting athletic footwear. Many retail companies use 3D scanning and 3D printing to create personalized products, but startups such as Wiivv focus solely on the fitness market. Wiivv manufactures custom fit 3D printed insoles designed to relieve foot pain and fatigue.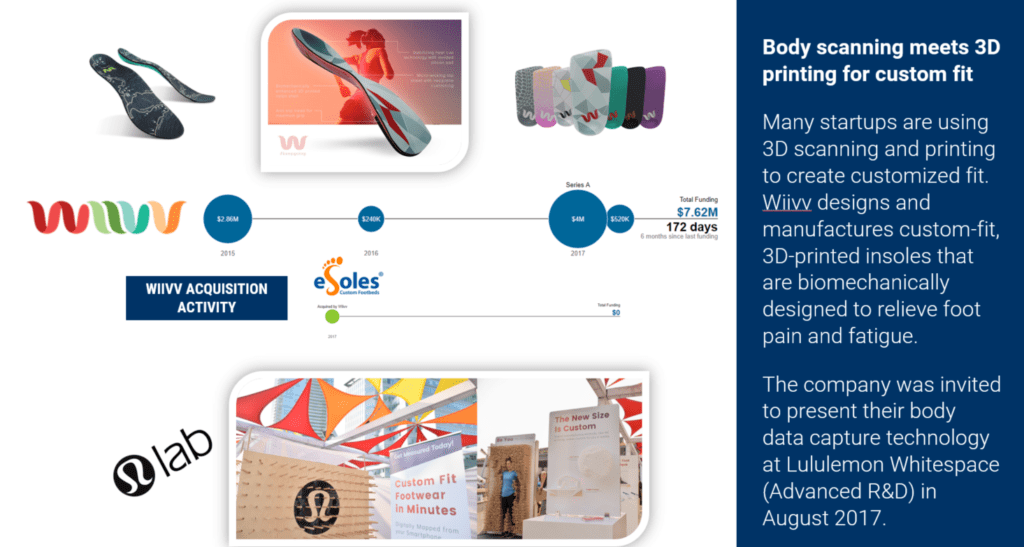 Predictive analytics & AI enable smart coaching
Beyond 3D scanning, AI and predictive analytics are also making fitness coaching more intelligent.
Volt Athletics is providing an intelligent coaching app for sport-specific workouts. Its algorithms focus less on workout tracking and more on predictive training to guide users toward the next exercise they should perform in a sequence. Volt has partnered with a variety of sports teams from the USA football and US National team programs.
As the professional sports industry adopts personal coaching technology, we can expect the recreational fitness market follow in the future.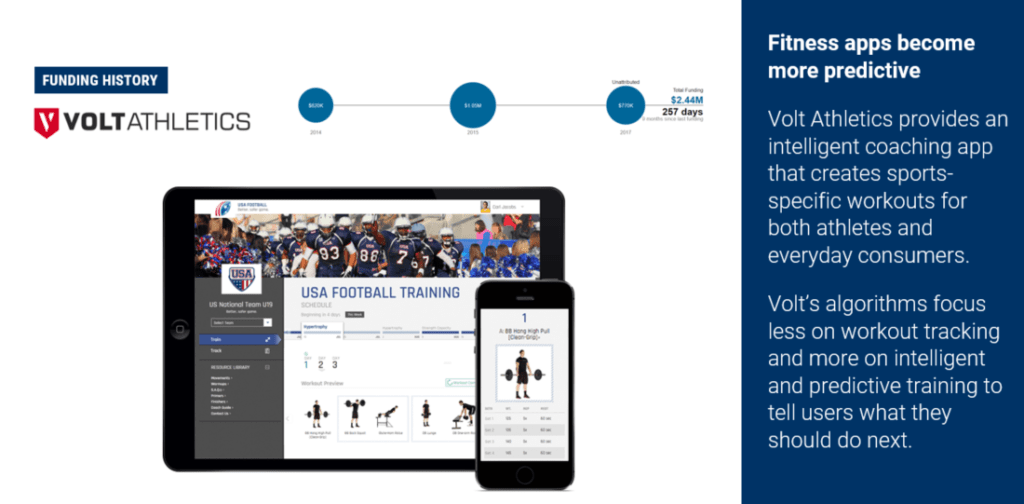 Partnerships could also enhance AI-based fitness coaching. Athletic apparel and footwear brand Puma recently announced a partnership with wearable tech company LUMO BodyTech, with a focus on creating an AI-powered coaching product for Puma using Lumo's Motionscience tech platform.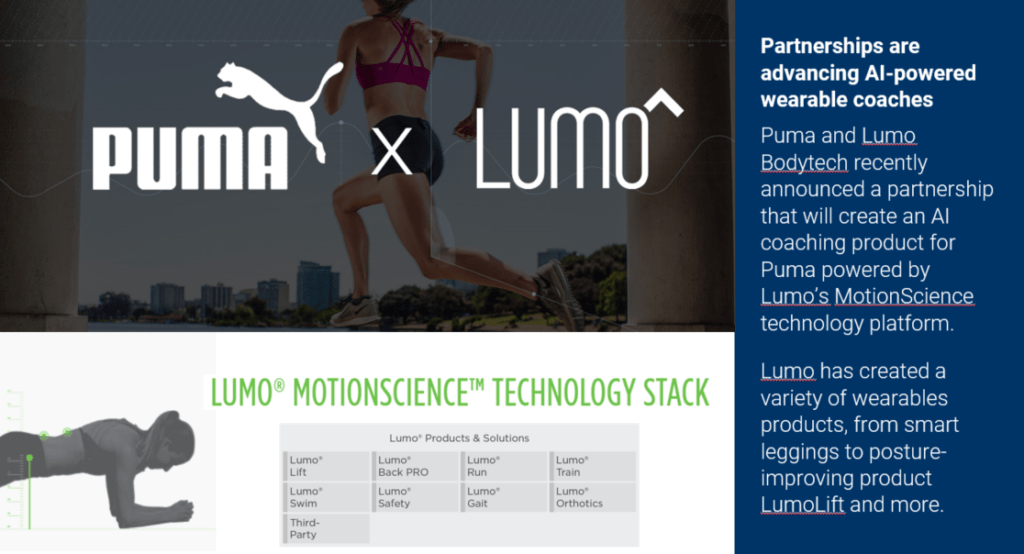 If you aren't already a client, sign up for a free trial to learn more about our platform.