Funding to fitness-focused startups hit a new high last quarter, buoyed by large rounds to cycling startup Peloton and on-demand workout app ClassPass.
As momentum picks up in areas such as mindfulness and meditation, organic food and beverages, "athleisure" apparel, and more, the fitness sector has garnered increased interest from customers and investors alike.
Fitness tech has seen $2.4B in disclosed equity funding across 696 deals since 2013, as health clubs, boutique studios, and other fitness-focused startups seek to create new wellness offerings and digitize a traditionally physical space.
We used CB Insights data to dig into investment trends, deal share, and geographic trends across the overall fitness ecosystem, from fitness clubs to sports-related innovations to meditation apps.
We define fitness tech as companies leveraging software and technology to augment approaches to developing or maintaining physical fitness. Companies in this category provide tools and services that include workout apps, wearables, AR/VR use cases for the fitness industry, and more. We exclude health and wellness companies without a physical fitness-specific offering (such as fitness-focused media platforms like Goop or MindBodyGreen) as well as companies in the physical therapy market.
Annual Trends
Fitness tech deals rose steadily 2013 – 2016, and while at the current pace 2017 is on track to see the first dip in deals, this year is also on pace to reach a record funding high.
Thus far, 2017 has seen $585M invested across 103 deals, largely driven by a $325M Series E mega-round to cycling startup Peloton Interactive in Q2'17. The round was backed by high-profile VCs (Kleiner Perkins Caufield & Buyers, GGV Capital) and television corporates (Comcast, NBCUniversal), among others.
The year's second-largest round to date went to fitness subscription service and on-demand workout app ClassPass, in a $70M Series C round led by Singapore-based sovereign wealth fund Temasek Holdings, among other investors.
At the current run rate, 2017 is on pace to see 176 deals totaling $998M, representing a 123% increase in funding and a 10% decrease in deals from 2016.
Last year saw $447M in funding across 195 deals, the current annual record for deals to fitness tech startups. While 2015 saw mega-rounds to Peloton Interactive and ClassPass, 2016's largest round went to Germany-based company eGym, which provides cloud-connected gym equipment and a mobile training app, in a $45M Series C round led by HPE Growth Capital.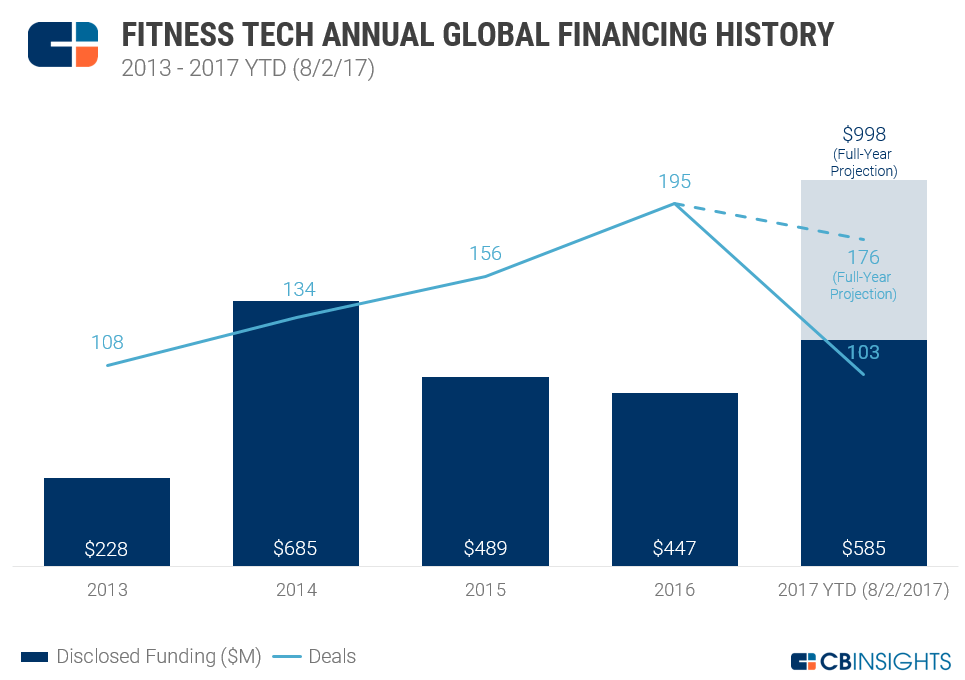 Quarterly Trends
Last quarter holds the quarterly record for fitness tech funding, with deals totaling $525M in disclosed equity funding. The aforementioned rounds to Peloton Interactive and ClassPass both occurred in Q2'17, accounting for 75% of the quarter's total funding.
Q2'17 saw 54 deals, just one deal shy of the quarterly high of 55 deals in Q1'16. Beyond eGym's Series C round (mentioned above), O2O fitness and commerce company KFit and biometric wearables company Valencell raised the second- and third-largest rounds in Q1'16, respectively.
In Q1'17, fitness tech startups saw the second-lowest quarterly financing total in four years, with just $38M deployed across 38 deals — a 22% dip in deals and 73% decrease in dollars from the previous quarter. The top deal in Q1'17 went to men's activewear brand Rhone, in a $12M Series B round from L Catterton.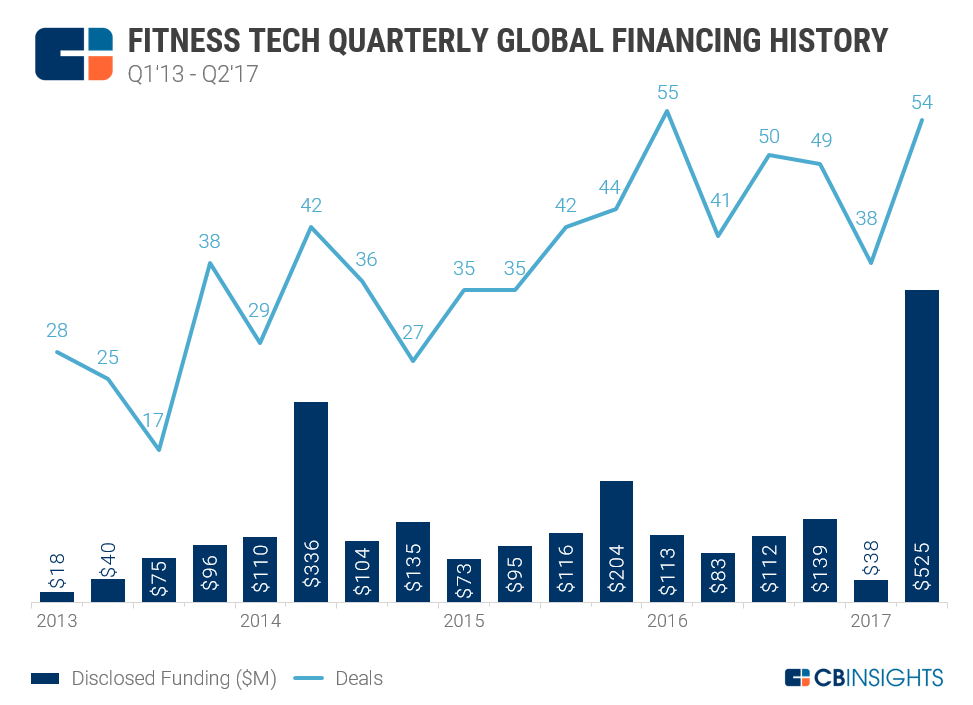 Track all the fitness startups in this brief and many more on our platform
Fitness tech companies are using technology to augment approaches to developing or maintaining physical fitness. Look for Fitness Tech in the Collections tab.
Track fitness tech startups
Annual Financing Trends by Stage
Early-stage deals (seed / angel and Series A) have represented the majority of fitness tech deals since 2013. To date, two-thirds of 2017 deals have gone to early-stage companies, with food-focused fitness startups seeing the year's two largest early-stage deals to-date: Virginia-based Territory ($6.7M Series A), which offers a meal delivery service for clients of gyms and workout facilities, and Berlin-based foodspring ($6.6M Seed VC), which produces superfoods and sports foods.
2016 saw a peak in mid-stage deals (Series B and C) of 9%, with the year's largest mid-stage round going to eGym. The second-largest mid-stage round went to Chinese mobile workout app Keep, in a $32M Series C round from Bertelsmann Asia Investments, Morningside Ventures, and GGV Capital. The largest mid-stage deal in Q2'17 was the ClassPass Series C round, mentioned above.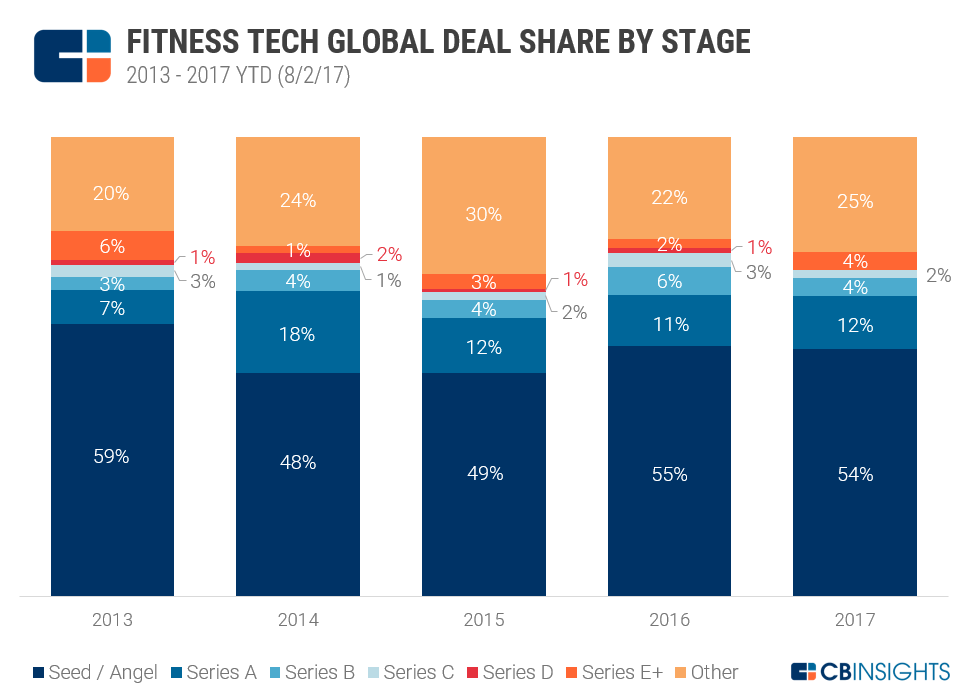 Geographical Deal Share
Since 2013, the US has taken 64% of global fitness tech deals. (Within the US, California and New York see the most deals, claiming 34% and 18% of US fitness tech deal share, respectively.) India comes in second place, with 7% of deal share, while Canada takes third with 5%.
India's most well-funded fitness tech company is Bengaluru-based CureFit, a holistic health and fitness platform, which has seen over $18M in total disclosed equity funding. Meanwhile, Canada's most well-funded fitness tech startup is OMsignal, which has developed a "smart sports bra" that uses wearable sensors to track biometric data and has raised nearly $25M in total funding.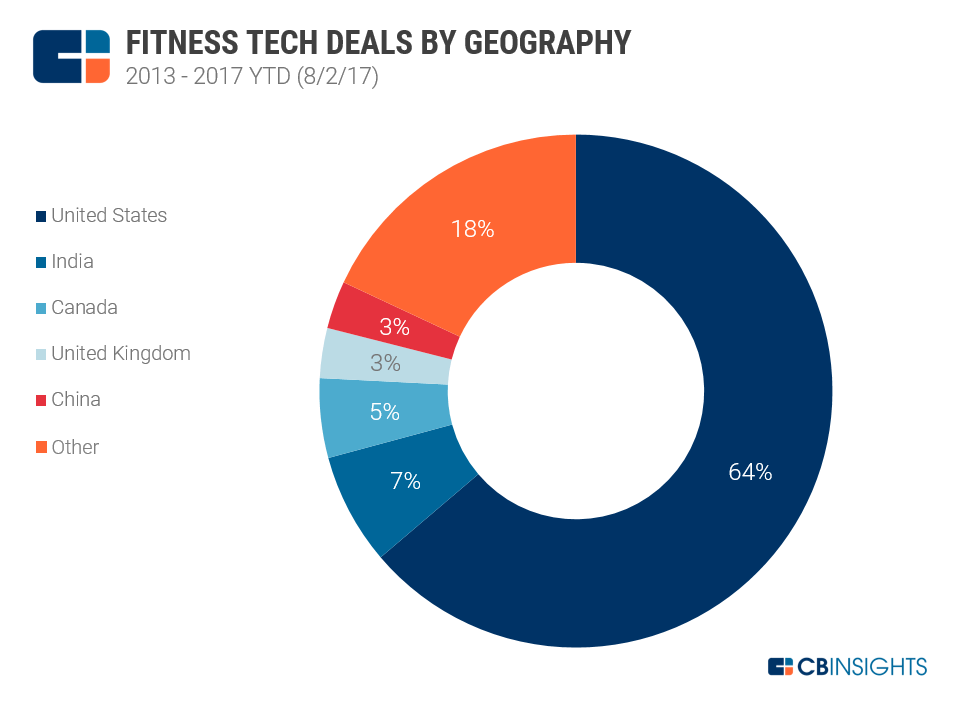 If you aren't already a client, sign up for a free trial to learn more about our platform.