Fitness tech companies outside of the US have raised approximately $722M in total funding since 2013.
Since 2013, private fitness tech companies have seen over $2.4B in disclosed equity funding. While the United States leads in fitness tech deals and funding, countries outside of the United States account for 35% of global fitness tech deal share, as startups and investors seek opportunities to provide fitness services to new markets.
Using the CB Insights platform, we mapped the global distribution of fitness tech companies and identified the sector's geographical breakdown. We define fitness tech as companies leveraging software and technology to augment approaches to developing or maintaining physical fitness.
Companies in this category provide tools and services that include workout apps, wearables, AR/VR use cases for the fitness industry, and more. We exclude health and wellness companies without a physical fitness-specific offering (such as fitness-focused media platforms like goop or MindBodyGreen) as well as companies in the physical therapy market.
Global deal share
US-based fitness tech companies have received approximately 64% of total global deal share since 2013. India came in second with 7% of deals, followed by Canada with 5%, the UK and China with 3% each, and Germany with 2%.
The largest fitness tech deal outside the US went to Munich-based fitness startup eGym, which produces cloud-connected gym equipment, in a $45M Series C round in Q1'16. The round saw participation from Bayern Kapital, High-Tech Grunderfonds, Highland Europe, and HPE Growth Capital.
The third- and fourth-largest deals both went to Chinese companies: wearables startup Huami Technology, which saw a $35M Series B round in Q4'14, and mobile workout app Keep, which saw a $32M Series C round in Q2'16. Both rounds saw backing from Hong Kong-based VC Morningside Ventures, among others.
Other notable deals include Bengaluru-based CureFit's recent $25M Series B in Q3'17 and Malaysia-based fitness subscription startup KFit's $12M Series A round in Q1'16.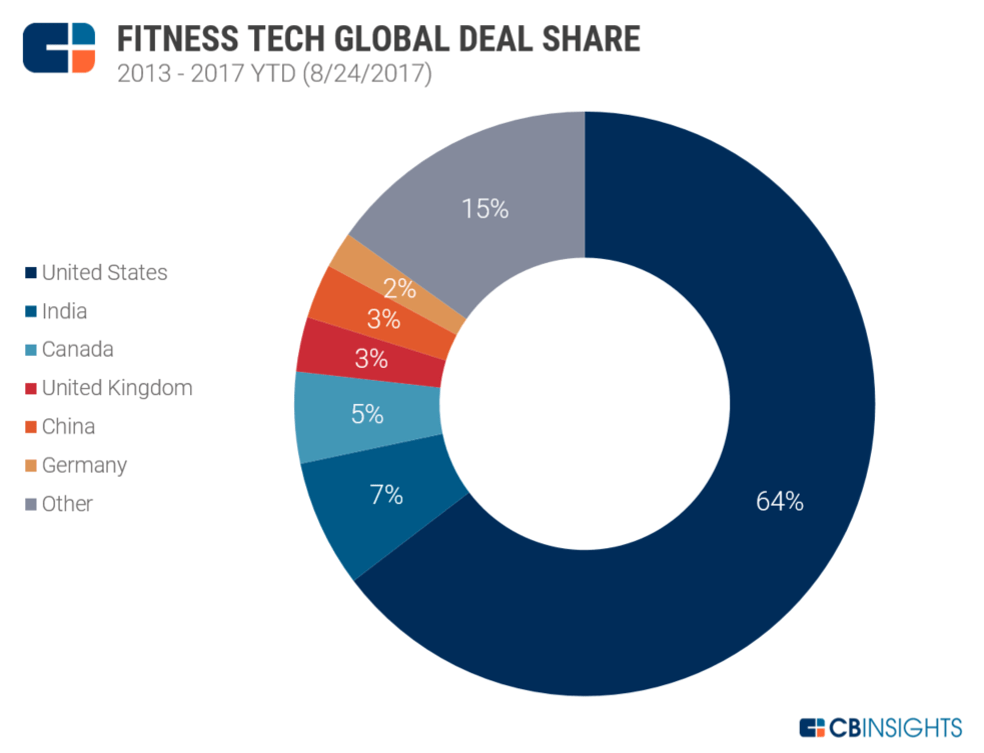 Track all the fitness startups in this brief and many more on our platform
Fitness tech companies are using technology to augment approaches to developing or maintaining physical fitness. Look for Fitness Tech in the Collections tab.
Track fitness tech startups
fitness tech companies AROUND THE WORLD
In the map below, we identify 55+ active, private fitness tech companies based outside of the US that have raised $1M+ in total disclosed funding and held an equity round since the beginning of 2013.
Please click to enlarge.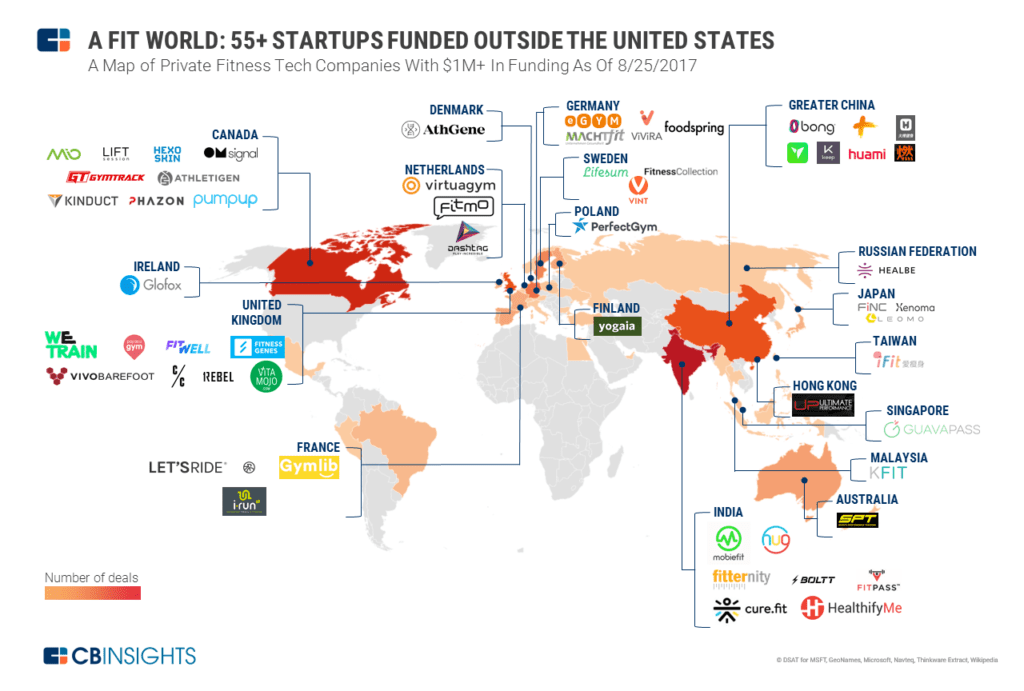 Of the above companies, the most well-funded fitness tech company outside of the US is eGym (described above). The company has raised $60M total in disclosed funding across two rounds: a $15M Series A in Q3'14 and its aforementioned $45M Series C last year.
In examining total funding to all private fitness tech companies within a country, China, despite taking fifth place in global deal share, is the third most well-funded in fitness tech, with nearly $150M in collective disclosed equity funding since 2013.
Europe accounts for nearly 15% of global fitness tech deal share. Beyond Germany and the UK, Sweden and the Netherlands account for nearly 12% and 9% respectively of total fitness tech deals across Europe.
Sweden's most well-funded fitness tech company is Stockholm-based fitness tracking app Lifesum, which has raised $16.7M in total funding, while the Netherlands is home to Amsterdam-based fitness and nutrition tracking app VirtuaGym, which has raised over $3.5M in disclosed funding to date.
UK fitness tech trends include the rise of on-demand and social fitness businesses, with companies such as "pay as you train" boutique gyms 1Rebel and CoreCollective, as well as experiential fitness company WeTRAIN, raising funding in the neighborhood of $1.5M – $2.5M.
Approximately 65% of deals outside the US were early-stage rounds (seed / angel or Series A). Correspondingly, about 7% were mid-stage deals (Series B or Series C) while only 4% of deals were later stage (Series D+, Growth Equity, Private Equity), suggesting an investor focus on newer, earlier-stage startups in a maturing industry.
If you aren't already a client, sign up for a free trial to learn more about our platform.