Q1'20 was slow for fintech unicorn births, but remained active for fintech unicorn exits amid Covid-19.
As the coronavirus crisis continues to roil private capital markets, Q1'20 was one of the worst quarters in 2 years for VC-backed fintech. The quarter saw just 3 unicorn births, to a total of 67 unicorns globally worth a combined $253B (as of 4/22/20). In comparison, Q4'19 saw 8 new unicorns.
The 3 additions were:
Pine Labs

($1.6B valuation)

, which offers a merchant platform and makes software for point-of-sale machines

HighRadius

($1B)

, which aims to automate receivables and payments processes using AI

Flywire

($1B)

, which helps institutions accept international payments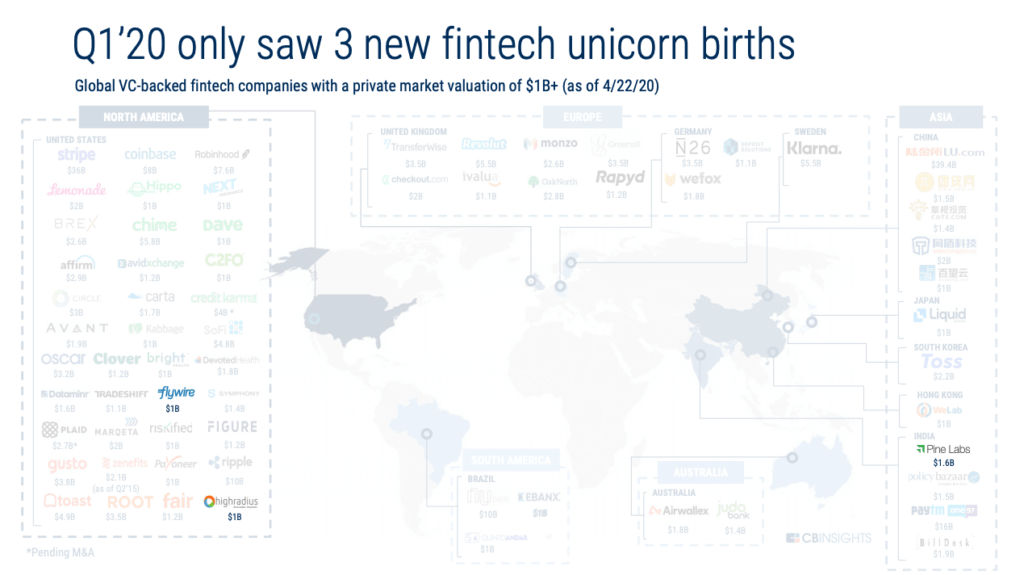 However, unicorn investors still saw big exits amid the pandemic, with Visa's $5.3B acquisition of Plaid —  a deal worth nearly double Plaid's previous $2.7B valuation from December 2018 — and Intuit's $7.1B acquisition of Credit Karma (pending close).
Most of the billion-dollar fintech companies are concentrated in North America, which is home to 38 fintech unicorns — more than half the global total. Following that are Asia and Europe, which both boast 12 unicorns each.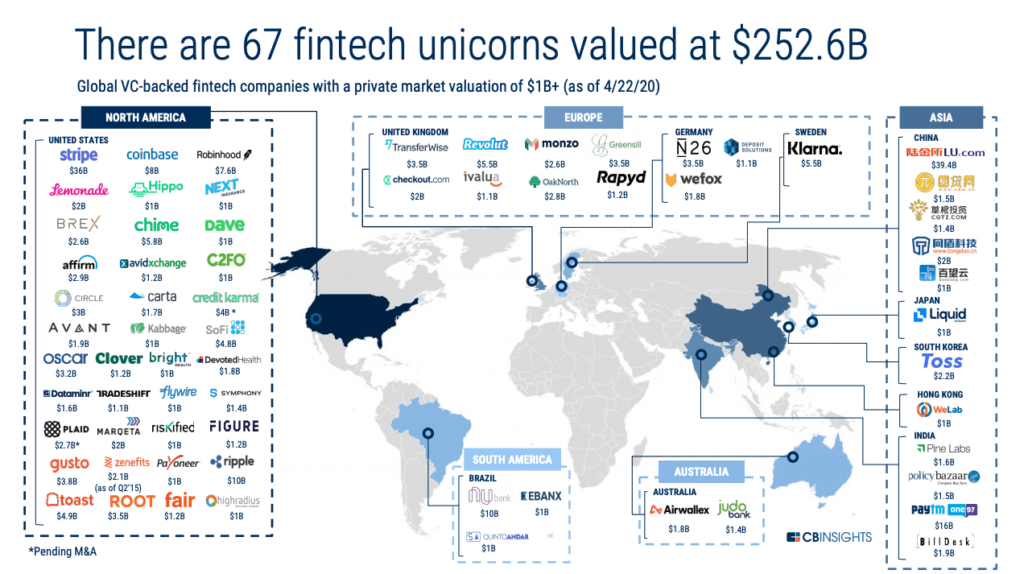 The top-funded fintech unicorns span across different countries, from the China-based Lu.com ($39.4B valuation), US-based Stripe ($36B), Brazil-based Nubank ($10B), to US-based Ripple ($10B). 
Take a look at all of the underlying data and insights in our State Of Fintech Q1'20: Investment & Sector Trends report here.
If you aren't already a client, sign up for a free trial to learn more about our platform.