We rank top fintech investors by the number of fintech unicorns in their portfolios as well as the stage at which they first invested.
Today, there are 50 fintech unicorns across 5 different continents. These include top names like Stripe ($22.5B valuation), Robinhood ($5.6B valuation), and Affirm ($2.9B valuation).
But who's backing these $1B+ companies?
Using CB Insights data, we looked at which investors have backed the most fintech unicorns — and which are in the best position to see big returns, should these companies manage to exit at the valuations they're getting in the private markets.
Top overall fintech unicorn hunters
Key Takeaways
Ribbit Capital has the most fintech unicorn companies in its portfolio (11).
Sequoia Capital has backed the most deals to fintech unicorns (25).
There are now 48 institutional investors with 3+ fintech unicorns in their portfolio.
Banks (or brokerages) with 2+ fintech unicorns in their portfolio include: Fidelity (4), Silicon Valley Bank (2), Morgan Stanley (2), J.P. Morgan Chase (2), Goldman Sachs (2), Fifth Third Bank (2).
Corporates with 2+ fintech unicorns in their portfolio include: Tencent (4), MasterCard (3), Visa (2), Sharepost (2), PayPal (2), Bitmain Technologies (2), and Baidu (2).
Combined, Google's three investment arms (Google, Google Ventures, and CapitalG) have invested in 12 fintech unicorn companies.
BY PORTFOLIO COMPANIES
In terms of total unique fintech unicorns backed, Palo Alto-based Ribbit Capital takes the top spot, with 11 fintech unicorn portfolio companies.
Ribbit is closely followed by Menlo Park-based Andreessen Horowitz, with 10 fintech unicorns. In third place is a tie between Hong Kong-based DST Global, Mountain View-based Google Ventures, and New York-based investors Thrive Capital and Tiger Global Management, with 9 fintech unicorns each.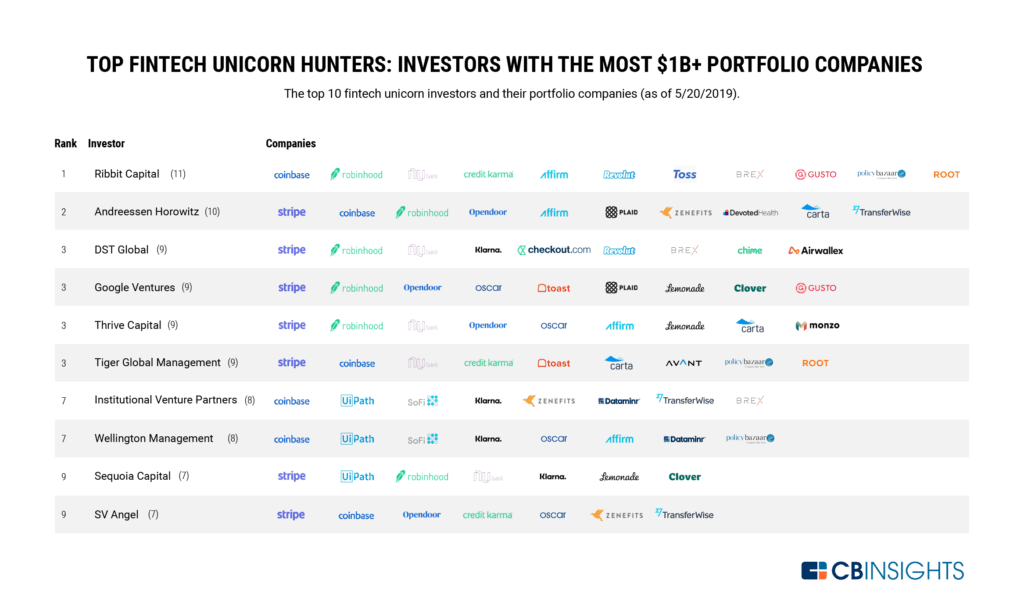 A number of highly valued fintech unicorns have received funding from multiple top 10 investors.
Online payments company Stripe ($22.5B valuation) has been backed by 7 of the top 10 fintech unicorn investors, zero-fee brokerage app Robinhood ($5.6B) has been back by 6, and point-of-sale lending startup Affirm ($2.9B) has been backed by 4.
Top Early-Stage Fintech unicorn Investors
Investors that back these companies in early funding rounds stand to gain more from their exits. We evaluated which institutional investors have backed the greatest number of fintech unicorns at the seed and Series A stages.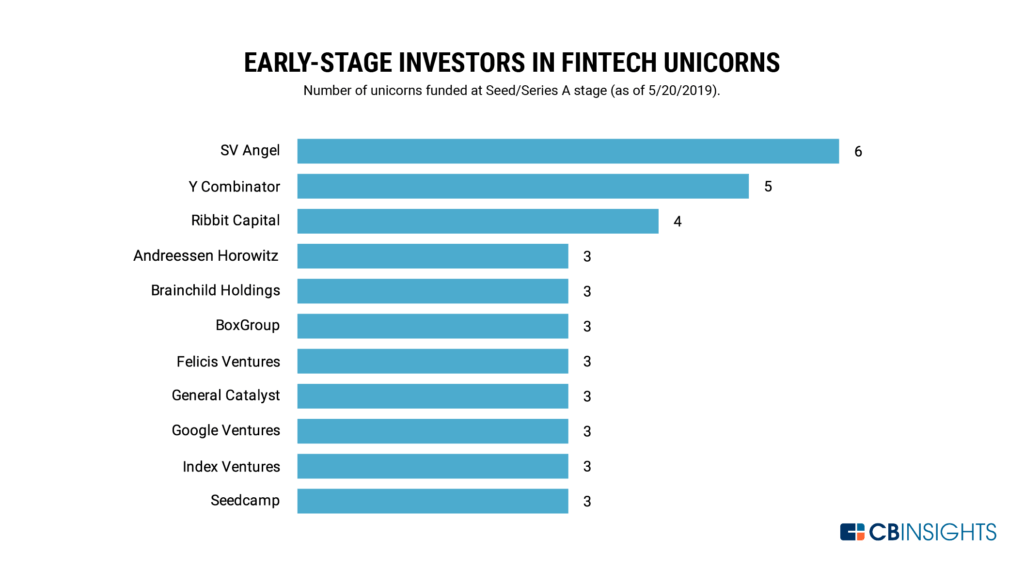 SV Angel holds the top spot with 6 early-stage investments in fintech unicorns. Y Combinator (5) and Ribbit Capital (4) round out the top 3 early-stage investors.
(For a list of top unicorn investors across industries, see our post, Unicorn Hunters: These Investors Have Backed The Most Billion-Dollar Companies.)
If you aren't already a client, sign up for a free trial to learn more about our platform.