Fintech funding rebounded in Q2'20, in part due to the rise of embedded fintech applications and demand for digital banking. We answer some of our readers' most pressing questions on the state and direction of the industry. 
After a difficult first quarter, fintech funding rebounded in a big way in Q2'20. Some of the largest companies in the space raised additional funding, driving mega-rounds to a new quarterly high.
Our recent webinar — The State of Fintech Q2 2020: Funding Rebound Reveals the Next Leg of Fintech Innovation — highlighted key fintech trends and deals from the second quarter of 2020, including the rise of embedded fintech applications and demand for digital banking services.
Below, we answer some of our readers' most pressing questions from the webinar on the state of fintech.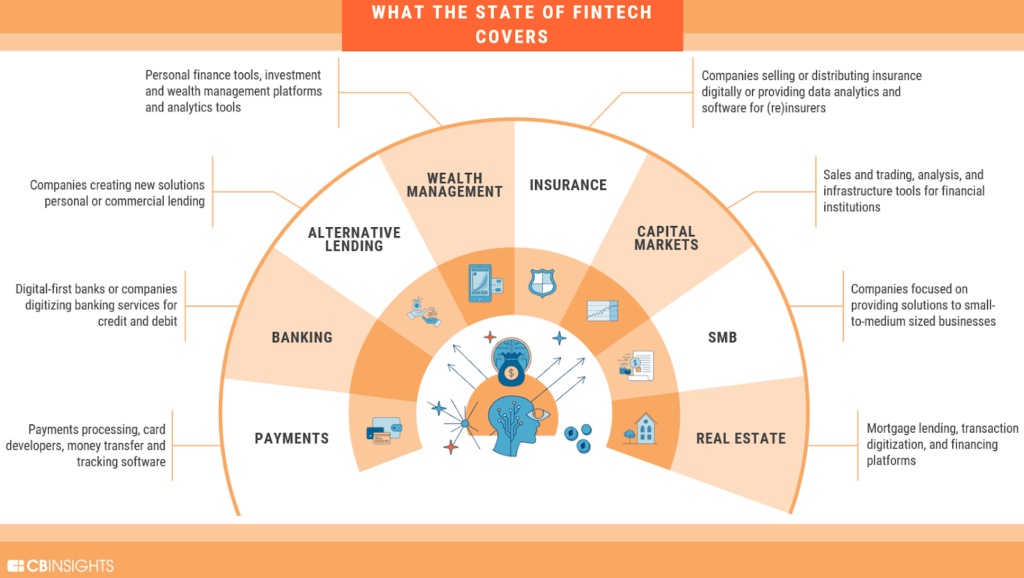 Will all neobanks die as big tech companies launch new products (Facebook Financial, Apple Pay, Samsung Money, etc…)?
It's possible some will, but if they can move quickly to offer new products across lending, investing, and wealth management, it's also possible that the neobanks with sustained customer growth will survive as competitors or potentially become acquisition targets.
There are also plenty of product failures from big tech companies to consider — they may not always succeed in launching services outside their core competencies. The failure of Google+, Facebook Credits, Facebook Places, and Google Wave are some examples of this.
What is the main differentiator regarding open banking?
There are a few technical differentiators that are important:
Types of data offered (ex. payment accounts vs. all accounts). This is the difference between an API provider offering payment account data from the bank's PSD2 APIs (in Europe for example) vs. offering information across the consumer's investment, mortgage, credit card accounts, etc.

Data output quality (enriched vs. raw data). Is the data normalized and cleaned by the API provider? This saves the service buyer a lot of time and improves the user/developer experience.

Account information services (AIS) vs. payment information services (PIS). AIS is an aggregate overview of account information, but PIS offers more granular data on consumer behavior. This allows the developer/buyer of the API service to offer richer features such as recommendations tailored to individual consumers.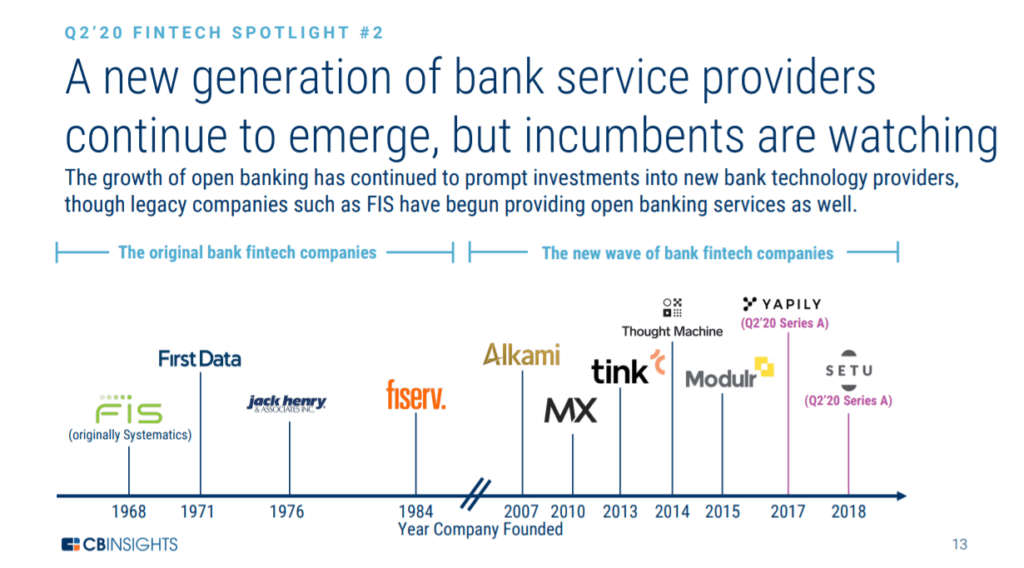 Why are the number of funding cases still decreasing or flat only in Asia?
Asia (China in particular) started reacting to and managing Covid-19 cases earlier than in other regions, which would help explain investors starting to pull back a bit earlier and more aggressively than in other regions. As of Q2'20, there may still have been some hesitation for investors to start deploying capital again. However, the pipeline of companies in Asia is still very healthy.
Are there companies building middleware empowering other companies to offer embedded fintech?
Our funding data primarily shows that B2B companies like Airwallex are building technology internally, then enabling non-financial companies to offer financial services.
This presentation covered a lot of cos working on the later stage — what's being created at the earlier stage?
To recap insights from our State Of Fintech Q2'20 report, here are some examples of early-stage fintech companies that raised funding in Q2'20:
If you aren't already a client, sign up for a free trial to learn more about our platform.