Fintech startups across 44 US states plus Washington DC are transforming payments, investing, insurance, and more.
The fintech space is rapidly maturing.
Investors are backing huge deals, with nearly half of 2019's fintech funding concentrated in 83 mega-rounds (deals worth 100M+). In Q3'20, 25 mega-rounds accounted for 60% of all funding — the highest percentage share since Q2'18, when Ant Financial raised a $14B round.
Furthermore, there's been a host of exit activity from mature fintech startups in recent months, with multiple fintech companies filing for IPOs, going public, or getting acquired, including:
Lemonade, a digital renter and homeowner insurance company, made its public market debut
Opendoor, a real estate iBuyer, plans to go public via a SPAC merger
nCino, which offers cloud software to banks, went public via IPO
This flurry of exits bucks the recent trend of mature startups remaining private, as well as a drought of filings amid the early days of the Covid-19 pandemic.
Using CB Insights data, we mapped out the top-funded fintech startup in every US state.
Collectively, these 44 startups have raised over $12.2B in equity funding, with leading companies including online personal finance platform SoFi (California, $2.5B in total disclosed equity funding), accounts payable automation startup AvidXchange (North Carolina, $1.2B), and restaurant finances management system Toast (Massachusetts, $903M).
See the full map below.
We define fintech broadly to include technology companies that provide services to the financial services industry as well as technology companies that create, distribute, and administer financial products themselves. Our analysis ranks private, VC-backed fintech companies based on total disclosed equity funding. Companies included have raised at least $1M in equity funding and have had an equity deal since 2015.
Please click to enlarge.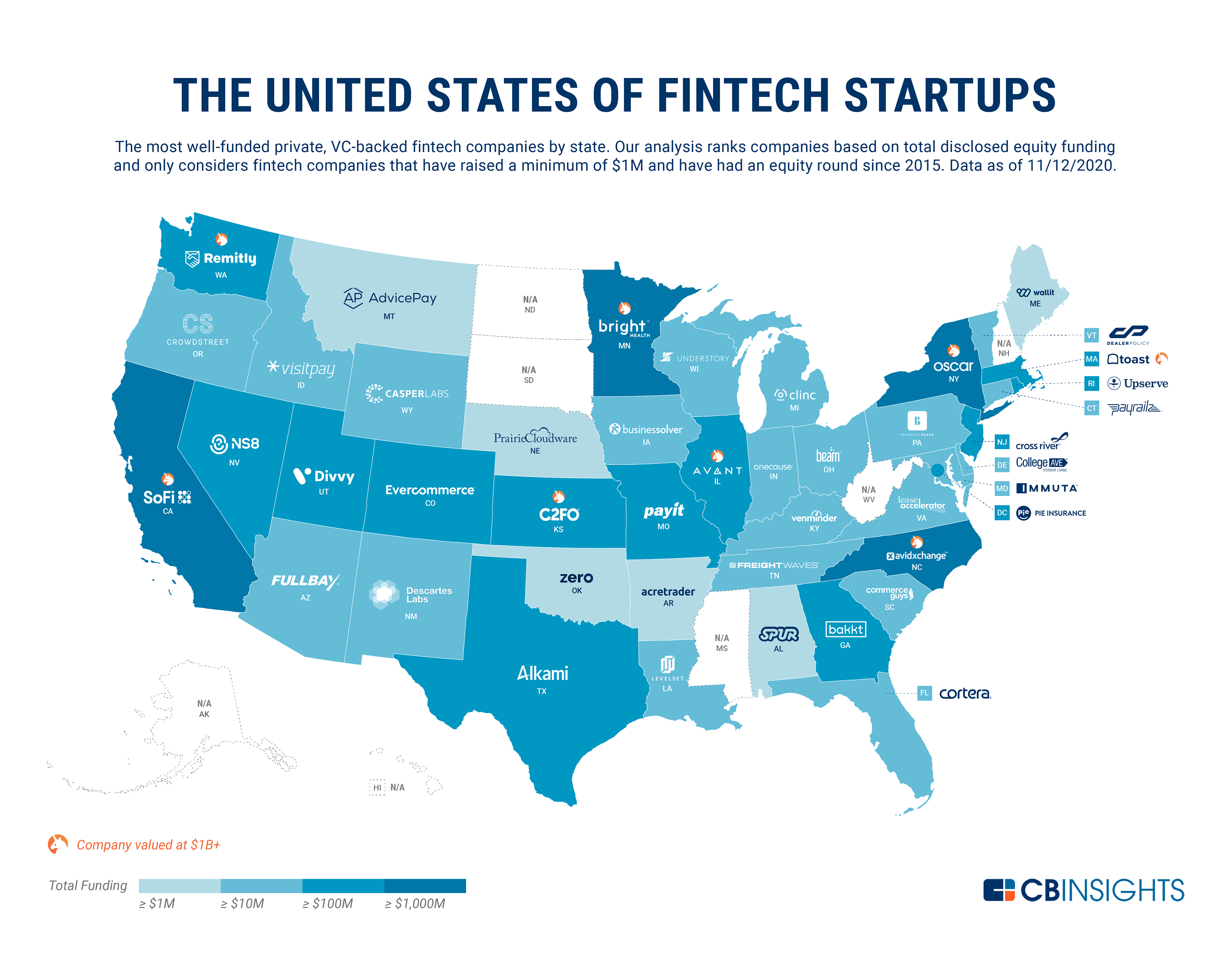 KEY TAKEAWAYS
The most well-funded US fintech startup is SoFi, with $2.5B in disclosed equity funding. The San Francisco-based personal finance platform offers an array of financial products, from an investment platform to home loans to student loan refinancing.
SoFi is followed by Minnesota-based Bright Health ($1.6B in disclosed equity funding), which provides a platform for healthcare plans, including Medicare Advantage plans, and New York-based health insurance upstart Oscar Health ($1.5B).
There are 8 unicorn startups on our map: Toast (MA, $4.9B valuation), SoFi (CA, $4.8B), Oscar Health (NY, $2.6B), AvidXchange (NC, $2.4B), Avant (IL, $1.9B), Remitly (WA, $1.5B), Bright Health (MN, $1B), and C2FO (KS, $1B).
17 startups on the map have raised over $100M in disclosed equity funding, including Utah-based expense management platform Divvy ($253M in funding) and Missouri-based PayIt ($133M), which facilitates payments between citizens and government services.
4 companies have garnered more than $1B in funding: SoFi, Bright Health, Oscar Health, and AvidXchange.
6 startups on this list have raised less than $10M in disclosed equity funding. The startup with the least funding on this list is Montana-based AdvicePay, with $4M.
Since our last update in September 2020, there have been a number of shakeups. In line with the increase in exit activity, New Jersey-based Clover Health announced plans to go public through a SPAC merger. It has been replaced on our map by Cross River Bank. Ohio-based Root Insurance went public via IPO, with Beam Dental taking its spot. Other changes include FreightWaves replacing recently acquired Digital Reasoning Systems in Tennessee.
---
This report was created with data from CB Insights' emerging technology insights platform, which offers clarity into emerging tech and new business strategies through tools like:
If you aren't already a client, sign up for a free trial to learn more about our platform.