Market Map
From mobile wallets to cryptocurrency to point-of-sale financing, Southeast Asia's fintech market is heating up as startups expand into new fintech verticals.
Southeast Asia is becoming a hotspot for fintech adoption across payments, lending, insurance, and investing.
While the region is considered to have relatively limited access to financial services — about 70% of consumers are unbanked/underbanked, according to a report by Bain, Google, and Temasek — rising smartphone penetration and rapid e-commerce growth are driving an increase in the use of financial services. Fintech startups in the region are already offering services like point-of-sale financing, merchant solutions, wealth management platforms, and more.
Annual funding to fintech startups in Southeast Asia reached almost $2.6B in 2018 — an increase of more than 4x compared to the year before. Fintech funding activity in 2020 is on pace to set a new record for the region. Much of this surge in investment has been driven by mega-rounds to companies like Indonesia-based Akulaku, Vietnam-based MoMo, and Singapore-based Deskera.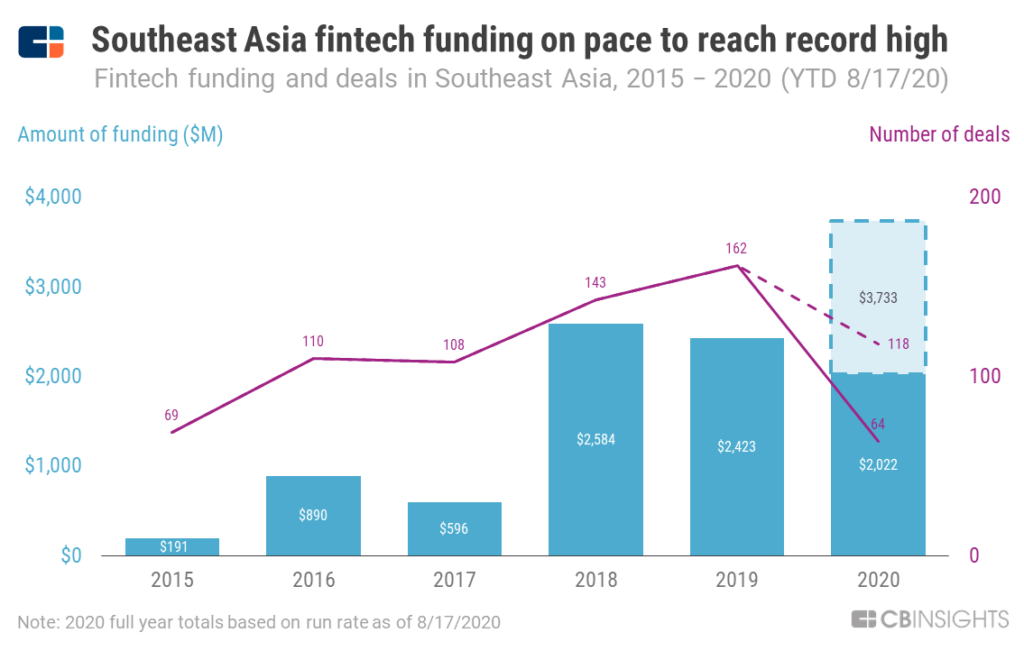 Looking ahead, rising levels of connectivity, changing consumer preferences, and new technology-enabled business models could help further increase access to financial services for Southeast Asia's unbanked and underbanked.
Using CB Insights data, we identified 110+ startups operating in Southeast Asia that are leveraging technology to offer financial products and services to individuals and businesses.