VC-backed fintech companies raised record funds last quarter and saw a string of fintech unicorn births, including Robinhood, Clover Health, and more.
Last quarter set a record for funding to VC-backed fintech companies, which raised $5.2B across 251 deals (as highlighted in the CB Insights Q2 2017 Global Fintech report). At the current run rate, deals are on pace to increase 5% this year, while investment dollars are on pace to grow 19%.
The quarter also saw new unicorn births, with 5 companies reaching new valuations of $1B+: online lending site Tuandaiwang (valued at $1.5B at the time of its unicorn round), invoice and payment company AvidXchange ($1.4B), online investment platform Robinhood ($1.3B), health insurance startup  Clover Health ($1.2B), and cloud-based communication platform Symphony Communication Services ($1B).
Using CB Insights data, we took a closer look at financing trends for global VC-backed fintech companies.
ANNUAL Financing Trends
Deals to global VC-backed fintech startups have grown steadily since 2012, peaking at 944 deals in 2016. While funding similarly grew from 2012 – 2015, last year saw the first decline in annual disclosed equity funding — a slight 4% decrease from a record high of $14.1M in 2015.
In H1'17, fintech companies closed 496 deals worth $8B. At this pace of investment, both fintech deals and funding are on track to reach record highs in 2017.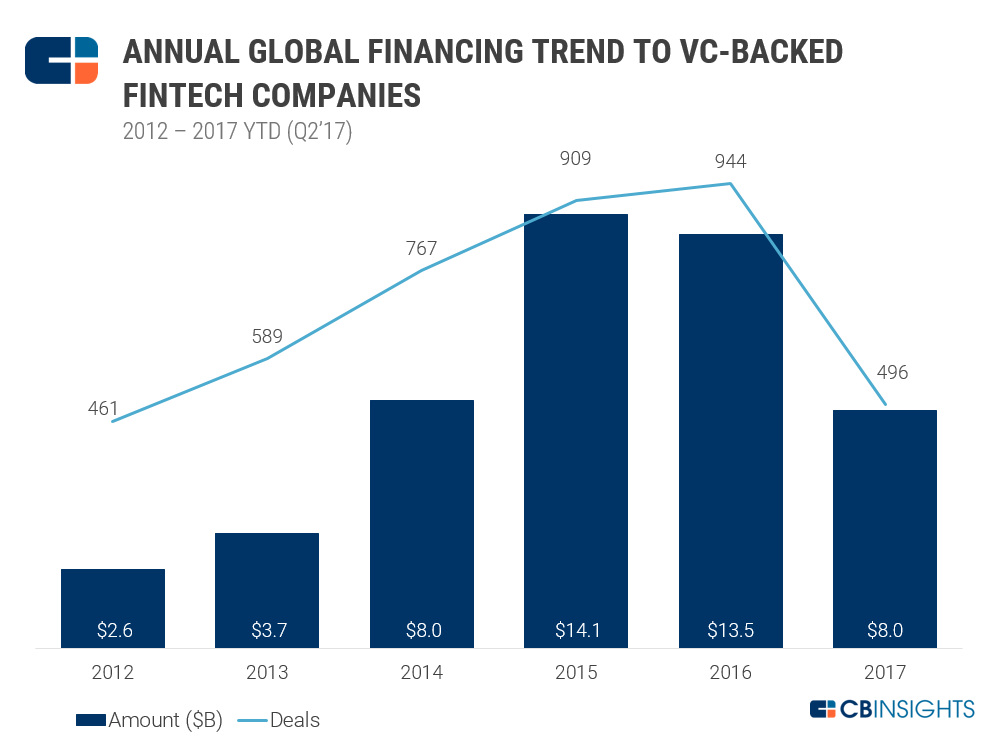 TRACK THE TOP 250 FINTECH COMPANIES AND MANY MORE ON OUR PLATFORM
The financial services industry is being transformed by insurgent startup companies. The Fintech 250 are among the most promising of these companies. Look for The Fintech 250 in the Collections tab.
Track the Fintech 250
QUARTERLY Financing Trends
Funding to global VC-backed fintech companies set a quarterly record in Q2'17, rising 83% to reach $5.2B. Deals experienced less dramatic growth, but still increased 2% from the previous quarter, reaching a five-quarter high of 251.
The spike in funding to VC-backed fintech companies was largely driven by 18 $50M+ deals in Q2'17 (cup from 11 such deals in the same quarter last year). Combined, these investments totaled $3.8B in funding and accounted for approximately 73% of the quarter's total funding.
The largest deal of Q2'17 was a $1.4B corporate minority investment to mobile internet unicorn One97 Communications, the parent of India-based payments giant Paytm. The round — which brought the company's total funding up to $2.8B and boosted its valuation to $7B — was backed by Japanese investor SoftBank Group. This marks the largest investment to a VC-backed fintech company since Q1'12.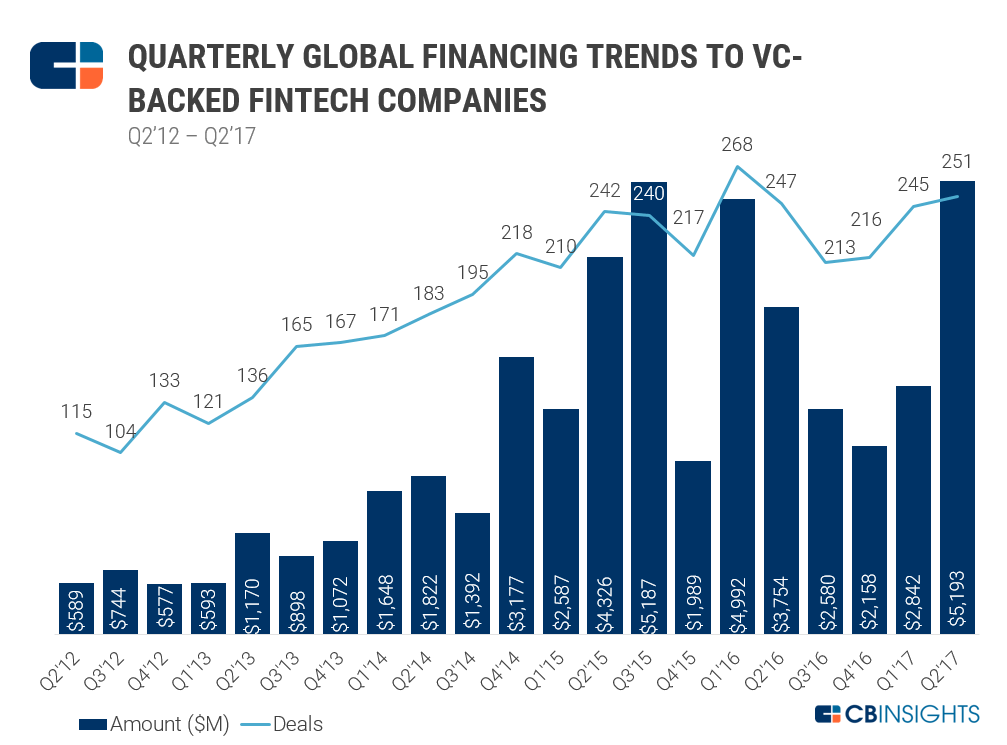 If you aren't already a client, sign up for a free trial to learn more about our platform.