Fintech Smart Money investors are backing digital brokerages, alternative investing platforms, personal finance & savings apps, and more.
The wealth tech industry has shifted from legacy systems to digital and mobile-first platforms. Companies in the space have created products and services that change the way people invest, save, and manage their money.
Wealth tech has attracted $3.7B in total equity funding in 2020 so far (as of October), up 50% from $2.4B the same time last year. The space has also emerged as a major area of investment from some of the most successful VC firms, or "Smart Money VCs," in fintech.
Below, we've used the CB Insights database to identify where the 25 Fintech Smart Money VCs — including Ribbit Capital, QED Investors, Sequoia Capital, and others — are placing their bets in the wealth tech space.
Scroll down to the end of this brief for a complete list of Fintech Smart Money VCs.
WEALTH TECH SMART MONEY FUNDING REACHES RECORD-BREAKING levels
Fintech Smart Money VCs have participated in a total of 81 deals to wealth tech companies since 2016.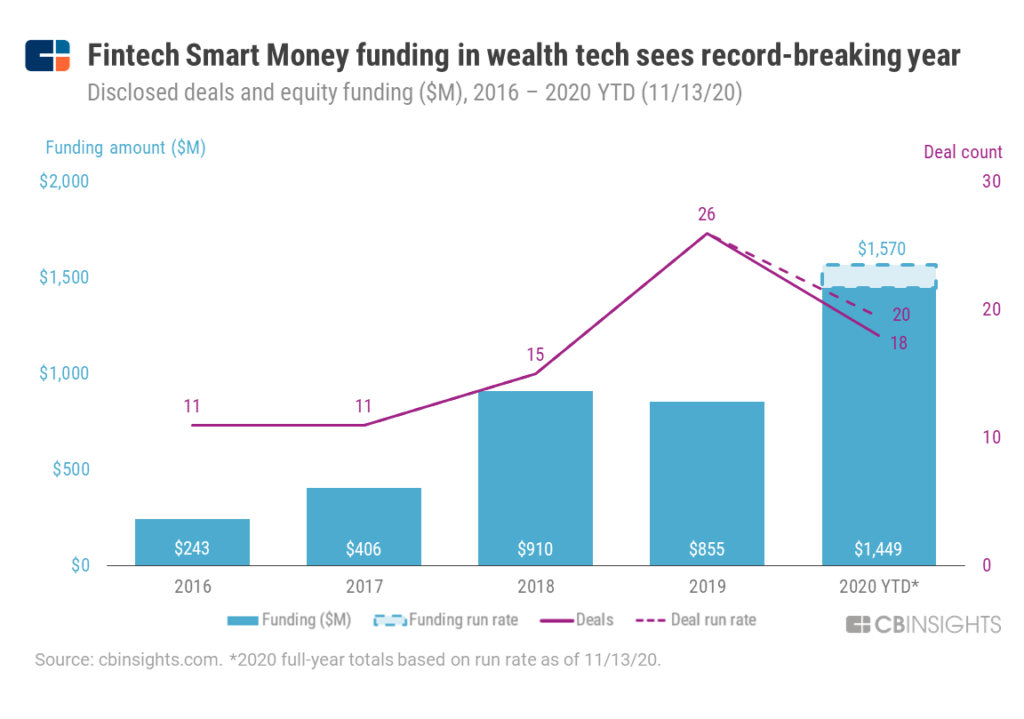 Despite the Covid-19 pandemic, Fintech Smart Money VCs have invested a record-breaking $1.4B in the space so far (as of November 13) in 2020, and the total is projected to hit $1.5B by year end. This represents a 69% increase year-over-year.
The increase in total funding was driven predominantly by Smart Money participation in 4 mega-rounds (deals worth $100M+) to late-stage digital brokerage Robinhood:
A $280M Series F
A $320M Series F-II
A $200M Series G
A $460M Series G-II
Participating Fintech Smart Money VCs include Ribbit Capital, Sequoia Capital, New Enterprise Associates, Institutional Venture Partners, Andreessen Horowitz, and DST Global.
Meanwhile, deal volume is still expected to fall below 2019's high. So far, wealth tech deals with participation from Fintech Smart Money VCs have fallen by 25% from last year's high.
During the pandemic, Fintech Smart Money investors have pulled back on riskier early-stage deals by 26%. Instead, they have participated in more mid- to late-stage rounds, capitalizing on portfolio companies that have weathered the Covid-19 storm. For example, Index Ventures participated in Taxfix's $65M Series C round in April and Felicis Ventures participated in Guideline's $80M Series D in July.
RIBBIT CAPITAL IS THE MOST ACTIVE fintech SMART MONEY VC IN WEALTH TECH
Ribbit Capital is the most active Fintech Smart Money VC investor in wealth tech, participating in 12 deals since 2016. QED Investors comes in second place with 9 deals, while Sequoia Capital and Accel tie for third place with 8 deals.