Digital ID companies are helping fintech providers tackle user verification, combat fraud, and comply with KYC/AML laws. We look at where Fintech Smart Money investors are backing deals in the maturing space.
Fintech Smart Money VCs are showing a strong interest in the digital ID space — a narrow area at the intersection of cybersecurity, regulatory technology (regtech), and fintech.
Of the 25 CB Insights Fintech Smart Money VCs, 15 have placed bets in the digital ID tech space since 2015.
The interest from this group of investors is not surprising, as digital ID startups are enabling fintech companies to verify government documents, authenticate with biometrics, and combat fraudulent logins. This helps to comply with Know Your Customer (KYC) and anti-money laundering (AML) regulations.
As an example, Smart Money-backed Alloy enables customers like corporate card provider Brex to verify account information during onboarding. Alloy's solution helps Brex offer instant card issuing while preventing sign-ups from noncompliant accounts.
Below, we map out where Fintech Smart Money VCs have invested in digital ID companies since 2015. For this analysis, we looked at digital ID companies currently working in fintech applications or with near-term potential to do so.
For more on CB Insights' Fintech Smart Money VCs, see the explanation and full investor list at the bottom of this post.
Please click to enlarge.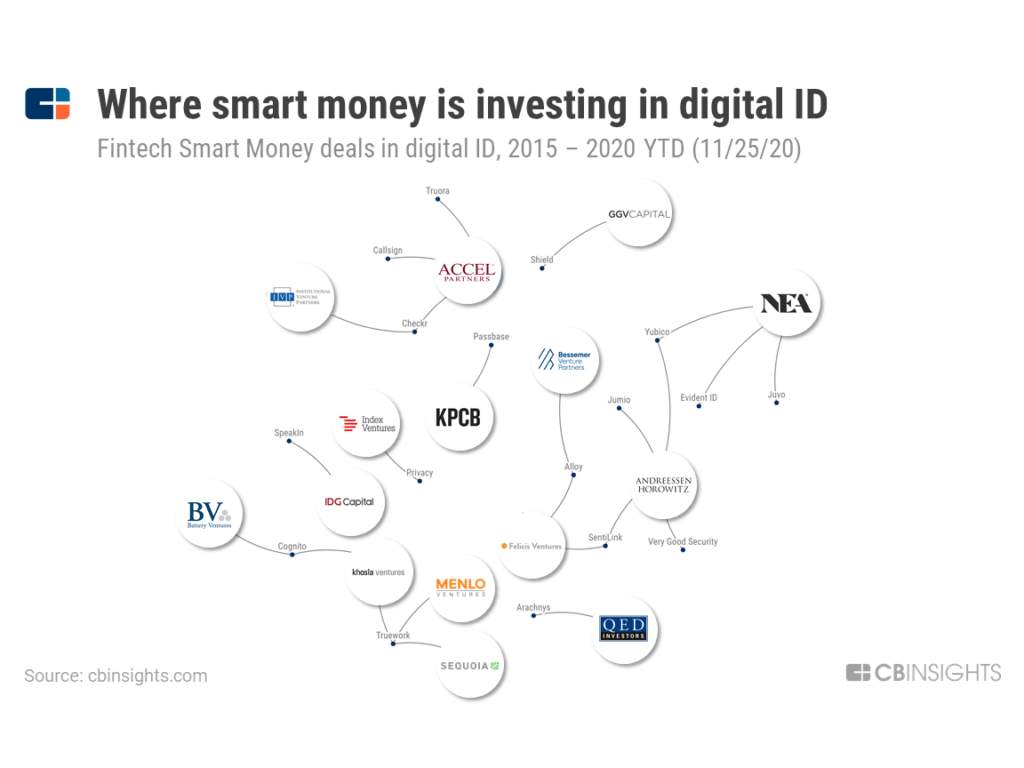 Note: Each line represents at least one private market investment.
Takeaways
Andreessen Horowitz is the most active investor in this space
With 4 unique company investments here, Andreessen Horowitz is the most active Fintech Smart Money investor. Its investments include Jumio and Yubico, which both focus on secure logins and identity, as well as SentiLink and Very Good Security, which work in fraud prevention and data security, respectively.
The next most active VCs are New Enterprise Associates and Accel, with 3 investments each, followed by Felicis Ventures with 2.
Smart Money investors are backing a variety of solutions
Fintech Smart Money investors have backed 17 unique companies in the space, with no single category taking an overwhelming share.
Within the space, the majority of Fintech Smart Money deals went to 2 major categories: background checking (29%) and ID verification & onboarding (29%). Fraud prevention (24%) was another robust area for investment. Outside of these, smaller shares have focused on data security & compliance (12%) and biometrics (6%).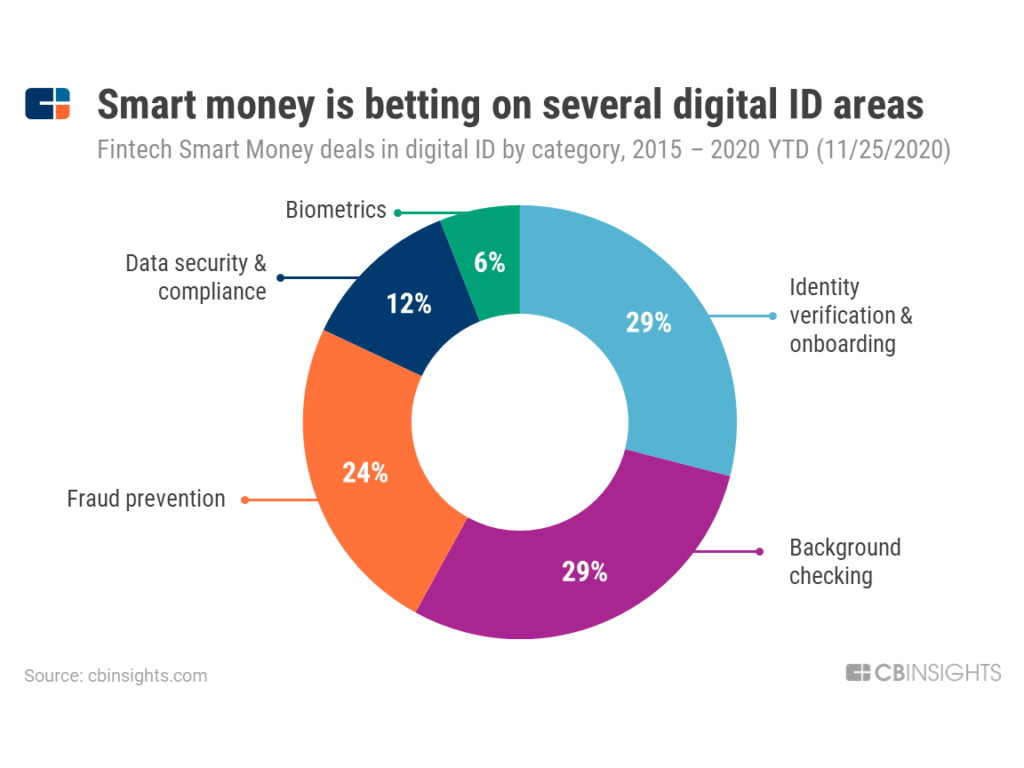 Note: Companies were categorized according to primary use-case.
Multiple Smart Money backers have invested in background checking tools Checkr ($309M in disclosed equity funding) and Truework ($45M), fraud- and KYC-focused Alloy ($56M), anti-fraud tool SentiLink ($14M), and secure login key maker Yubico ($95M).
Other well-funded startups with Smart Money backing include background intelligence provider Juvo ($59M), as well as data compliance and identity checker Very Good Security ($45M).
Despite Covid-19, funding for the broader space holds steady
Across all investors, overall funding to the digital ID in fintech space has already tallied $869M in 2020 year-to-date, although year-end funding will likely fall short of last year's record of over $1B invested. Deals are on track to fall 24% year-over-year, while median deal size has climbed.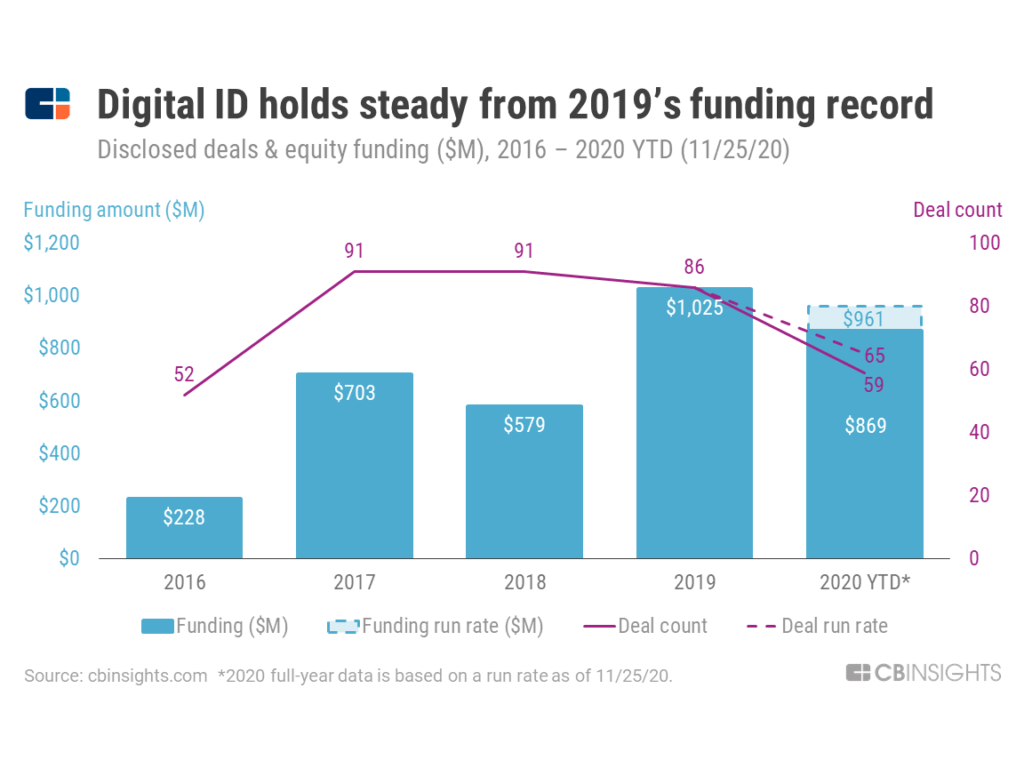 Track All The Digital ID Startups In This Brief And Many More On Our Platform
Startups here are enabling fintech companies to verify government documents, authenticate with biometrics, and combat fraudulent logins.
Track Digital ID Startups
Series A and B rounds are increasing to digital ID startups
Notably, Series A and Series B deals to digital ID startups are growing significantly. Series A deals represent 37% of deals in the year so far, up from 21% in 2019. Meanwhile, seed/angel deal share has declined. This indicates that the startup crop is beginning to mature.