With 5 new unicorn births in Q2'17, deals and dollars to fintech startups are on pace to set records in 2017.
In the first half of 2017, VC-backed fintech companies raised $8B across 496 deals — as we highlighted in our Q2'17 Global Fintech report. If the pace of investment continues, deals and funding to VC-backed fintech companies could hit a new high in 2017.
Last quarter alone, VC-backed fintech companies raised a record $5.2B across 251 deals, on the back of 18 investments worth $50M+. Those financings included rounds that gave birth to 5 new unicorns (valued at $1B+): P2P online lending site operator Tuandaiwang, invoice and payments company AvidXchange, online investment platform Robinhood, health insurance startup Clover Health, and cloud-based messaging platform Symphony Communication Services.
Using CB Insights data, we took a closer look at $50M+ investment trends and the latest VC-backed fintech unicorns.
FREE DOWNLOAD: STATE OF FINTECH Q1 2022
q1 2022 brought a -18% decline in quarterly fintech funding. Download the report to learn more.
$50M+ INVESTMENTS
In Q2'17, VC-backed fintech saw 18 large rounds worth $50M+, a five-quarter high. US-based fintech companies took the lead, raising 12 of the 18 rounds of VC financing.
Investments were diverse, ranging from early- to late-stage companies across categories, from blockchain companies like R3, which raised a $107M Series A, to real estate tech companies like Cadre, which raised a $65M Series C.
Asia came in second with five $50M+ investments. This included one new unicorn: Tuandaiwang, which raised a $292M Series D that valued the company at $1.5B.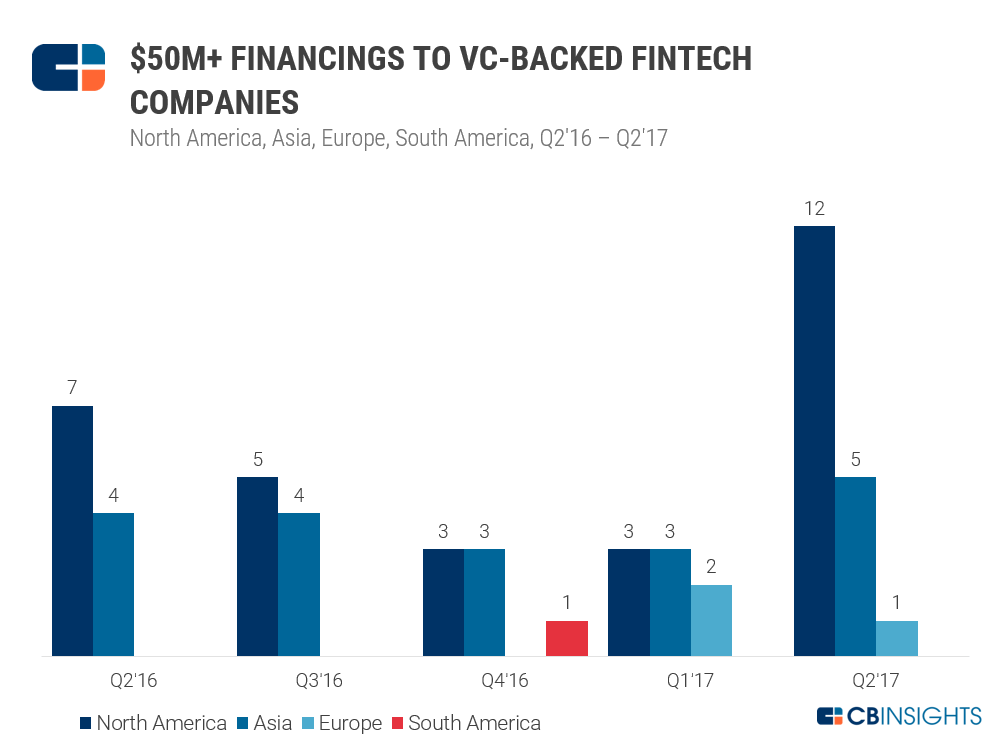 TRACK ALL THE UNICORN STARTUPS IN THIS BRIEF AND MORE ON OUR PLATFORM
Startups valued at $1B+. Look for Unicorns - Billion Dollar Startups in the Collections tab.
Track Unicorn startups
UNICORN BIRTHS
Globally, there are 26 VC-backed fintech unicorns, collectively valued at $83.8B. North America leads with 15 fintech unicorns, followed by Asia with 7 and Europe with 4.
In the US, 4 of the 12 $50M+ VC-backed fintech investments last quarter birthed a new unicorn: a $300M Series  F to AvidXchange that valued the company at $1.4B, a $110M Series C to Robinhood that valued the company at $1.3B, a $130M Series D to Clover Health that valued the company at $1.2B, and a $63M Series C to Symphony that valued the company at $1B. China-based Tuandaiwang, mentioned above, was the only unicorn to emerge last quarter that isn't based in the US.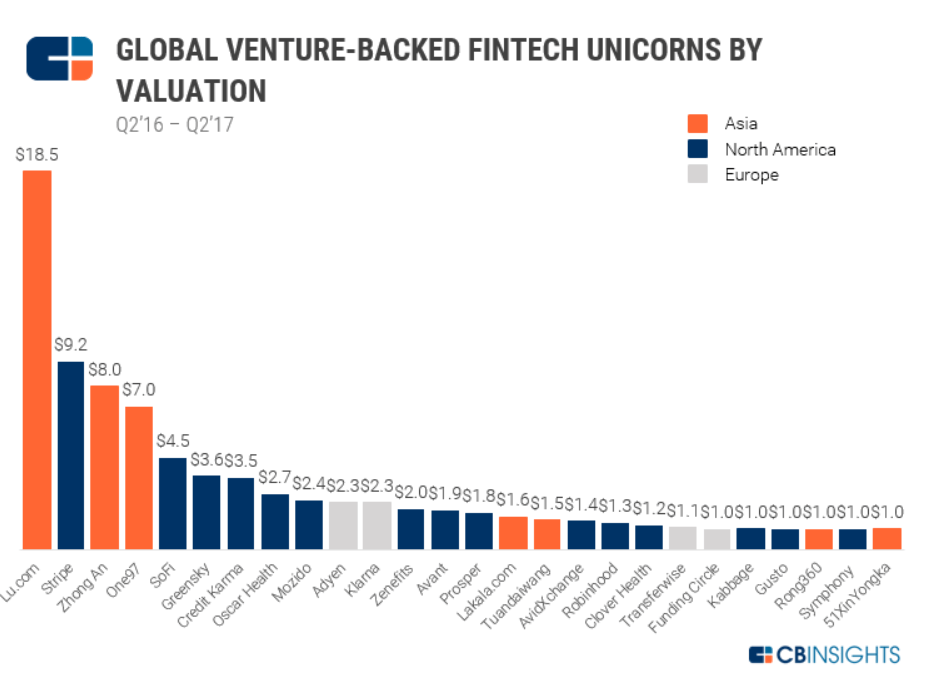 If you aren't already a client, sign up for a free trial to learn more about our platform.