Global VC-backed fintech companies brought in a record $16.6B in 2017. But as investors shift away from early-stage bets, US fintech could be headed for a slowdown.
Global fintech investment has been on a tear over the past several years and 2017 was no exception. Over the twelve-month period, investors deployed $16.6B across 1,128 deals to VC-backed fintech companies. Despite hitting new annual highs, global VC-backed fintech deal activity ended on a downward trend, falling for the second straight quarter in Q4'17.
While the US has been a leader for fintech startup investment, the data signals a potential slowdown in fintech dealmaking as early-stage deals fall and investors concentrate their bets into perceived winners at the growth stage.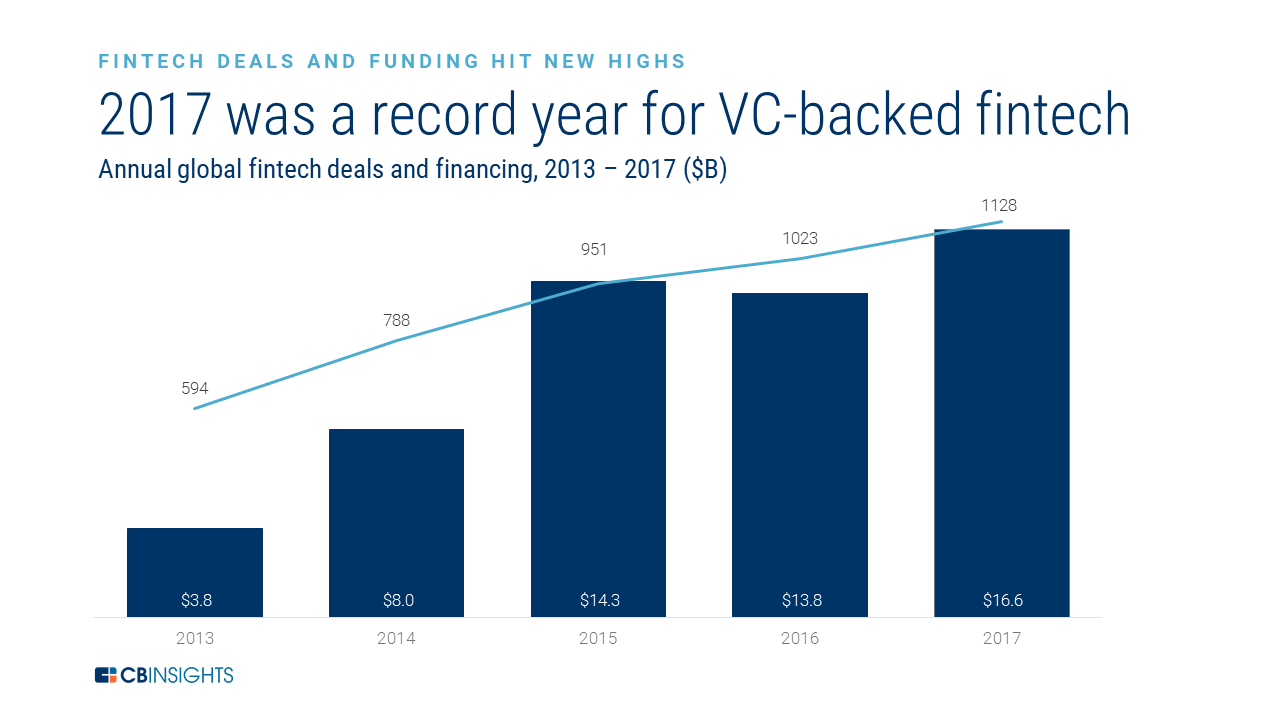 Early-stage fintech deal share is falling; less momentum in the US
In 2013, two-thirds of all global VC-backed fintech deals took place at the early stage (Seed and Series A). But as companies mature and winners emerge across different categories, the share of early-stage deal activity in fintech has decreased.
Of note, 2017 saw early-stage activity drop to 58% of all fintech deals, a 5-year low. Mid-stage (Series B and Series C) fintech deal share was flat at 20%, but late-stage (Series E+) deals grew to 9%.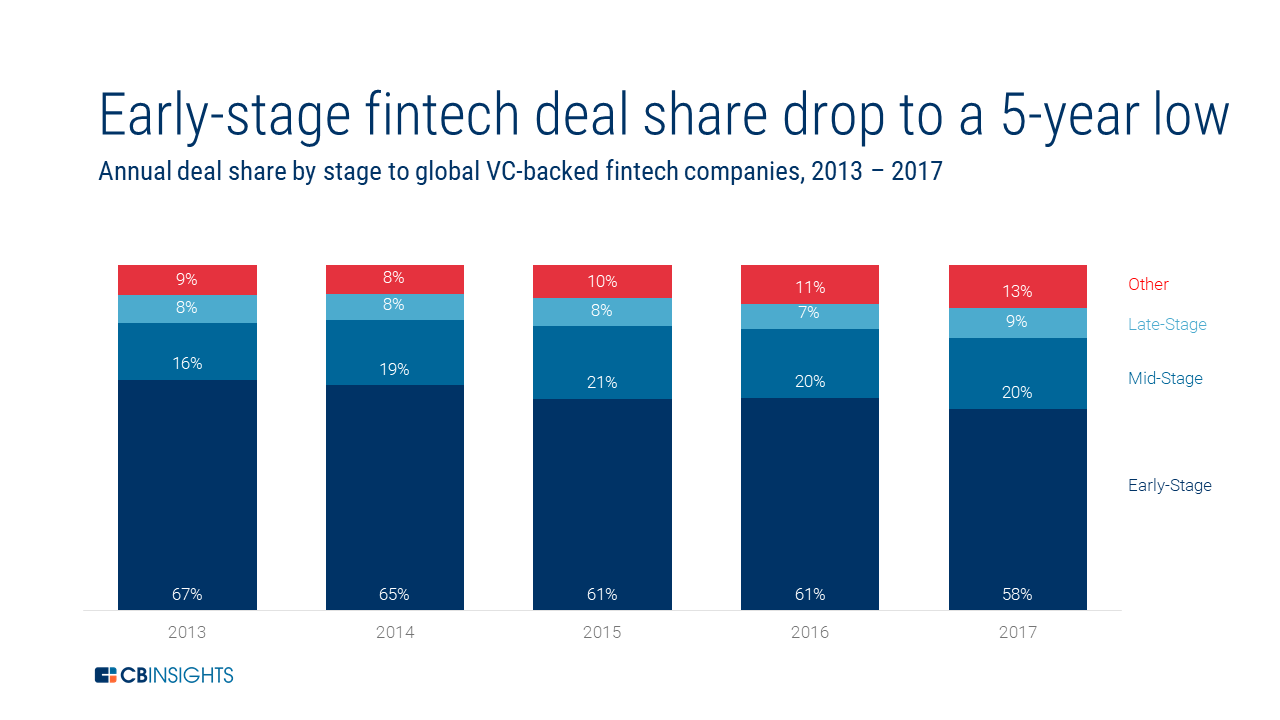 Across the three largest venture markets, the US saw early-stage fintech deal activity fall the hardest. Early-stage fintech deals in North America (including Canada) dropped 23% year-over-year. Conversely, both Europe and saw a strong uptick in early-stage deals, with Europe slightly stronger with 39% year-over-year growth.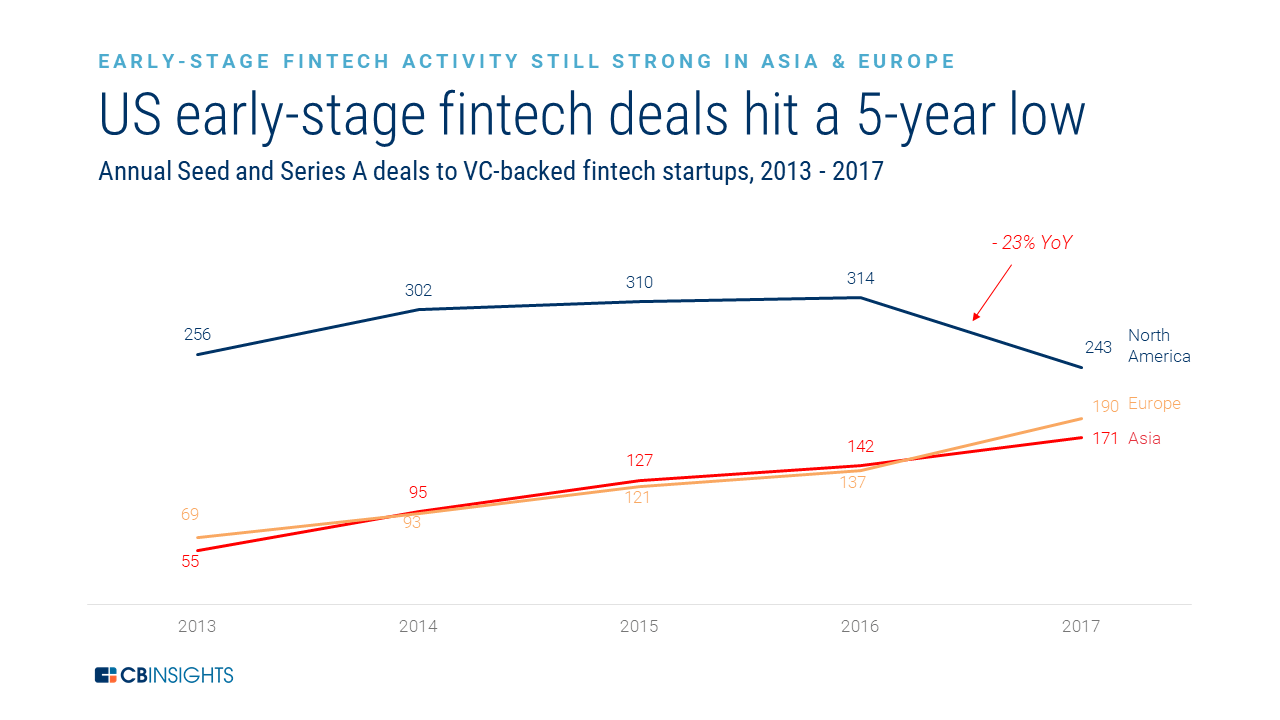 The pullback in early-stage fintech investment is not entirely surprising as some major fintech categories are becoming increasingly crowded and overheated in some markets. For example, alternative lending saw consolidation in 2017 as investment to VC-backed alternative lending companies swung heavily to growth-stage companies like unicorns Kabbage, SoFi, Affirm, and GreenSky, all of which raised $100M or more in 2017.
Investors are making more concentrated bets in fintech
At the opposite end of the spectrum, 2017 saw a record high of 35 mega-rounds ($100M+) to VC-backed fintech companies globally. These 35 fintech deals alone totaled $7.76B in total capital or, in other words, close to half of all fintech funding in 2017.
In the lead, the US saw 20 mega-rounds ($100M+), 5 of which minted new US fintech unicorns. These included later-stage investments to Coinbase, Robinhood, AvidXchange, Affirm, and Clover Health. SoftBank's $100B Vision Fund can also be linked to a few of these mega-rounds with investments to small business lender Kabbage and digital home insurer Lemonade.
Asia and Europe also saw new highs for fintech mega-rounds, though Europe has historically seen fewer large fintech deals perhaps due to a lack of local investors willing to deploy such big checks.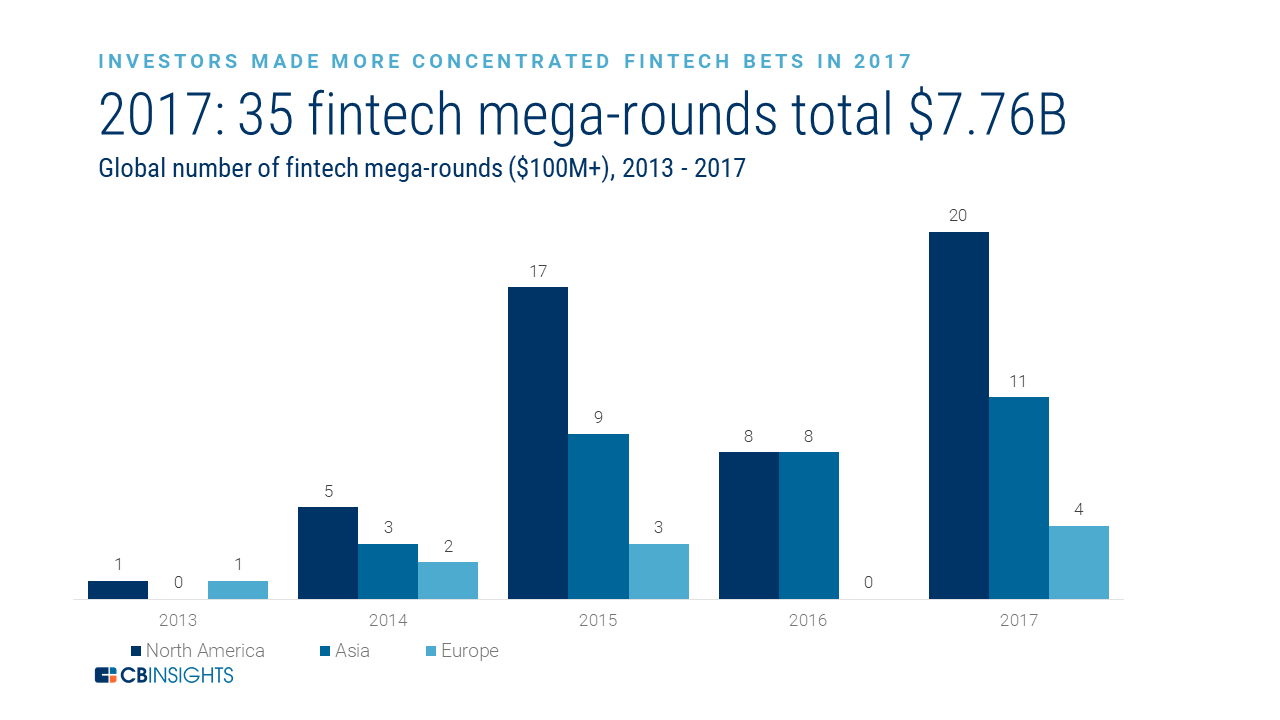 Slowdown in 2018?
With investors in the US appearing to be exercising more scrutiny when it comes to early-stage fintech dealmaking, 2018 could see significantly more geographic diversity when it comes to global fintech deal activity. South America, for example, saw a five-year high in fintech deals in 2017.
Meanwhile, the unprecendented amount of concentrated, mega-rounds in fintech could enable entrenched startups to position themselves strategically for growth by adding new services, expanding to new markets, and perhaps even making acquisitions of their own in 2018. The era of fintech unbundling looks to be headed for rebundling.
If you aren't already a client, sign up for a free trial to learn more about our platform.