A growing number of fintech services are specifically targeting retirees and seniors. From financial management to estate planning, here are the trends driving the nascent space forward.
Fintech is often associated with digital tools targeted at tech-savvy millennials.
But there is a growing market of fintech companies serving the unique financial needs of Baby Boomers and older retirees — and for good reason.
Baby Boomers (those born between 1946 and 1964) represent a massive market opportunity. They make up close to 25% of the total US population and are by far the wealthiest generation — and will continue to be so until at least 2030, according to a 2015 Deloitte study.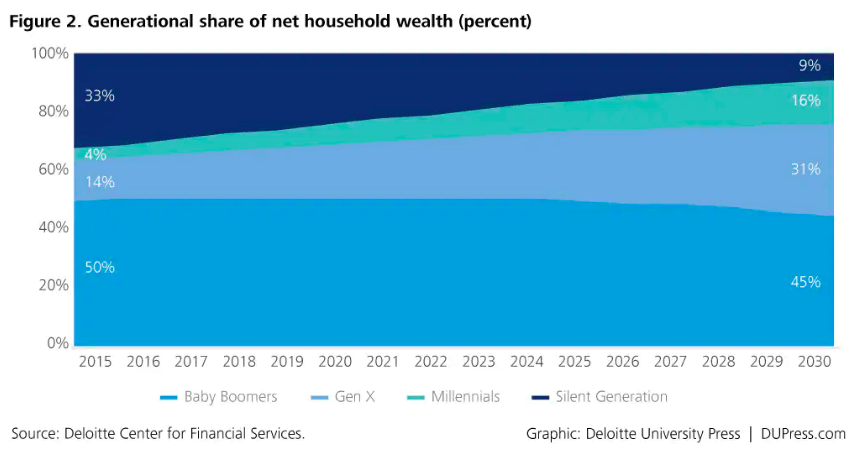 Source: Deloitte
Startups are now eyeing opportunities to develop fintech services aimed at helping older individuals improve their financial well-being, from estate planning to fraud prevention, aiming to provide this potentially lucrative — and increasingly tech savvy — demographic with more power over their finances.
Additionally, some fintech services could be useful for lessening the challenges that families and caregivers face in supporting people who may not be able to handle their finances independently. 
A selection of the fintech services being targeted at senior generations is outlined in our Fintech for Seniors market map.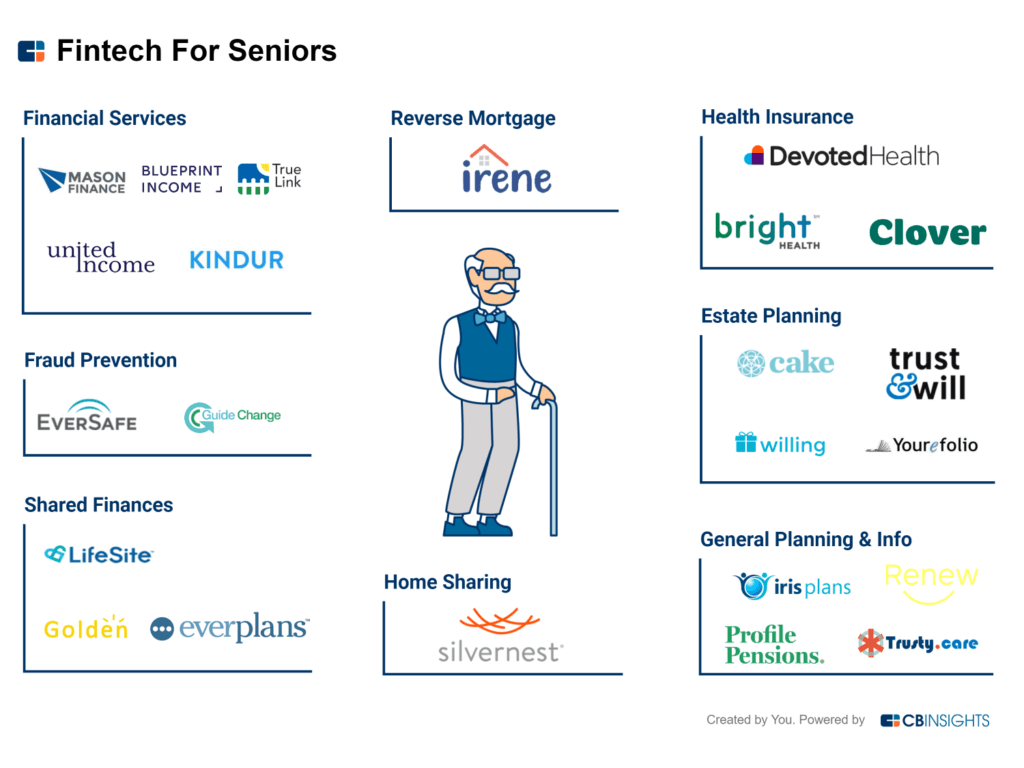 Fintech services for seniors are targeting a range of sub-categories. Expert Intelligence clients can read more about the startups featured in the market map.
Below, we take a deeper look at fintech services specifically targeting Baby Boomers and retirees, and the challenges they are trying to solve.
Table of contents
Financial education tools are being tailored to seniors
Financial planning, information, and educational resources can help Baby Boomers maintain good financial health. While many Boomers and senior citizens may not be aware of the wide variety of fintech services available to them, such as digital banking, a number of tools exist that aim to raise awareness.  
Capital One, for example, has partnered with Older Adults Technology Services and the National Council on Aging to create a series of free online courses to educate seniors about digital banking: Ready, Set, Bank.  

Source: Capital One
There are also nonprofits with the sole focus of improving financial literacy among the public. For example, The National Endowment for Financial Education runs a program aimed at older adults to help them navigate retirement options and make financial plans.
Retirees still need investment services
For the first time in history, the majority of the human population is living well past their sixties. In fact, between 2015 and 2050, the world population of people aged 60+ is expected to nearly double from 12% to 22%.
This means that there will be increasing demand for services that help with investment strategies that will keep paying out long past retirement age.
Kindur, established by alumni from prominent banks, is a finance platform aimed at Baby Boomers in or nearing retirement. The startup helps users to build a tailor-made retirement plan, invest savings into their portfolios, and automate their retirement income through consolidating and converting retirement accounts like 401(k) plans and IRAs.  
Kindur raised $9M in its Series A at the end of 2018 from investors including Anthemis Group, Point72 Ventures, and Clocktower, and raised an additional $1M from Inspired Capital Partners earlier this year.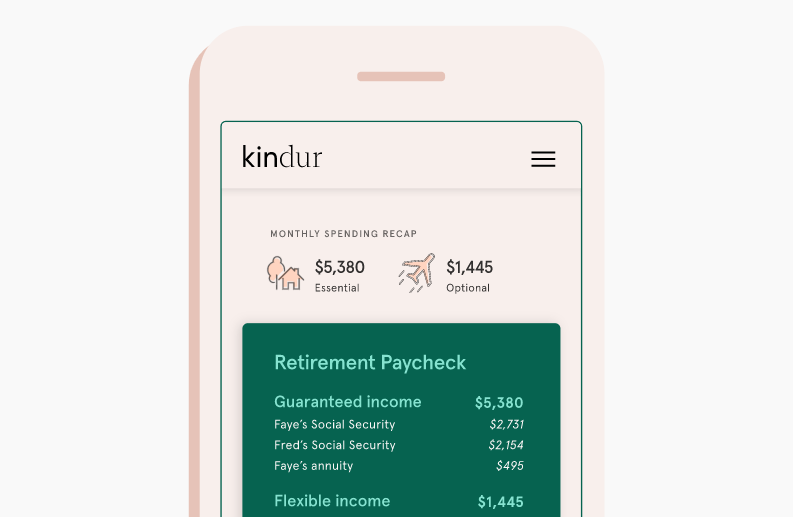 Source: Kindur 
Another example here is Blueprint Income, which provides "personal pensions" that take monthly contributions in exchange for guaranteed lifelong annuities.
Many employers no longer offer traditional pensions the way they used to — in fact, less than 5% of Fortune 500 companies offer pensions to employees today, in comparison with 50% two decades ago. Blueprint Income is targeting this gap with annuity product that only requires a fraction of the initial investment associated with traditional annuities. 
Homeownership provides money-making opportunities
Homeownership rates among Boomers is around 80%, according to Berkeley Economic Review. Reflecting this, some fintech startups are trying to help seniors tap into the value stored in their homes by offering tech-based financing options or platforms for renting out space.  
For example, Figure Technologies, a fintech company focused on combining home equity and blockchain technology, targets customers who are generally over the age of 50 and "cash light and rich in equity." 
The company claims that users can be funded for a home equity line of credit (HELOC) facilitated on its blockchain-based platform in just five days after applying.
Another approach for helping retirees gain more retirement income is home sharing. Startups like Silvernest are looking to help retirees find roommates to share their houses with, with the goal of reducing expenses, creating more opportunities for companionship, and bringing in additional income. According to Silvernest, homeowners using its service can earn around $10,000 per year.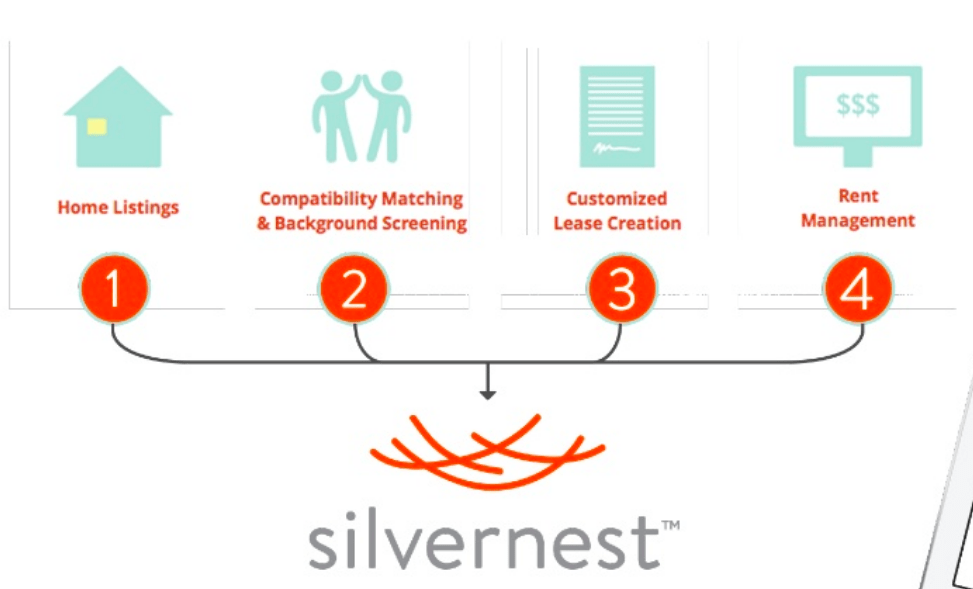 Source: Silvernest
Money management tools are helping people stay independent 
Properly managing finances can be difficult for anyone, but it can become increasingly challenging for aging adults. Everyday tasks such as paying bills, communicating with the bank, and monitoring accounts can burdensome for those that may be dealing with health issues, mobility limitations, or cognitive decline.
There are plenty of fintech platforms available to assist people with financial management, but increasingly, options aimed at seniors are cropping up — such as services for managing trusts and streamlining bill payments.
Keeping up with bills can be a complex process, and forgetting to pay on time can led to otherwise avoidable expenses. Some companies are looking to address this issue with automated tech. SilverBills, for example, manages bill payments on a user's behalf. Funds are deducted from a linked account, and the company charges a monthly service fee.
Online wealth management tools are also becoming more common, such as True Link Financial's investment and trust administration tools. Its software helps users automate their trusts, be they family trusts, individual trusts, or otherwise. 
Virtual assistants can help streamline certain aspects of money management, and many banks are beginning to offer services through these assistants. US Bank, for example, began offering its customers a bank-by-voice feature available through Alexa, Siri, and Google Assistant in 2018. Through their voice assistant, users can check their bank balances, pay credit cards and mortgages, and ask when their bills are due. 
These bank-by-voice services are not specifically geared towards Baby Boomers or seniors, but they may prove useful for those that may not be inclined to use digital banking apps, have vision problems, or find it difficult to visit an in-person branch.
Fintech cos are trying to prevent fraud
Elder financial exploitation is a common issue throughout the United States.
A study published in the American Journal of Public Health found that more than 5% of the elderly population experiences some kind of fraud or scam every year. And according to the Consumer Financial Protection Bureau, approximately 3.5M incidents of elder financial exploitation were committed in 2017 alone. In these cases, seniors aged 70 to 79 reportedly lost an average of $45,300 each. 
In response, several startups are offering services that aim to reduce instances of elder financial abuse. 
EverSafe utilizes machine learning to create a financial profile of its customers, which it then uses to identify signs of exploitation or bad habits in users' bank and credit card transactions. These may include unusual withdrawals, changes in spending patterns, late bill payments, missing deposits, or irregular investment activity, among others.  
Another service being offered to help prevent elder financial abuse is controlled cards. True Link Financial offers a customizable, reloadable card that families can set up for an individual. The goal is to help a parent or grandparent independently make purchases for essentials like food, medications, and entertainment, while blocking transactions that are more likely to be linked to fraud, such as wire transfers, over-the-phone purchases, and international charges.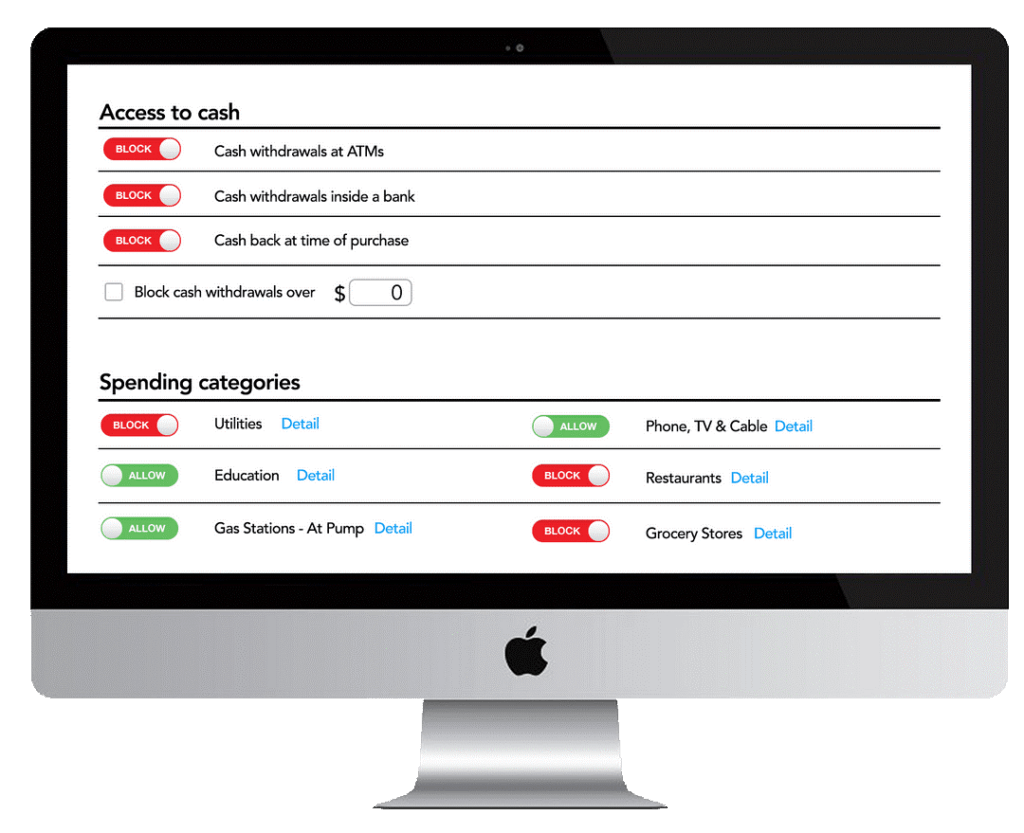 Source: True Link Financial
Some banks have also implemented some elder abuse protections for their customers. TD Bank, for example, allows customers to provide read-only access to a trusted contact so they can assist in monitoring a bank account.
Estate planning gets a digital makeover 
Though the demand for estate planning is not limited to Boomers and seniors, the proportion of people creating wills increases with age, according to AARP. Furthermore, an estimated 2 in 5 Boomers do not have a will, per a survey by Caring.com. 
The trusts and estates industry still largely relies on paper-based documentation and filing cabinets to store wills and information related to insurance policies and financial accounts. But in recent years, several tech-based services have launched to help improve efficiency in this growing industry — expected to worth nearly $200B in 2019.
Fidelity Investments, for instance, offers a free tool called FidSafe that is designed to simplify the digital estate planning process. Users can store, access, and share digital files and information, ranging from wills to lists of passwords. End-to-end encryption and two-factor authentication are used to help keep accounts secure.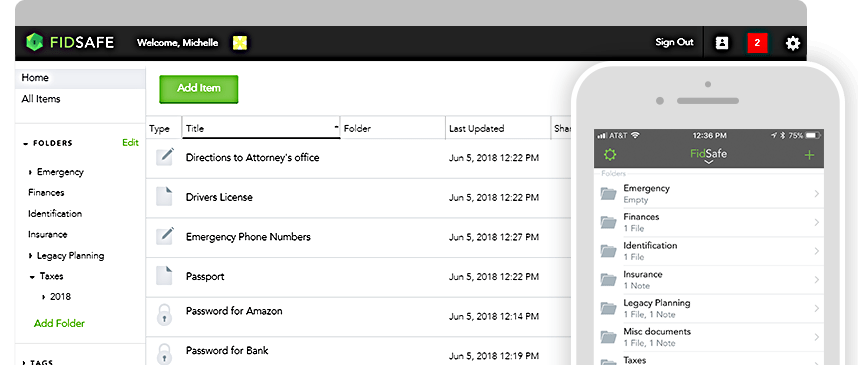 Source: FidSafe
Cake is another online estate planning tool. Similar to FidSafe, Cake allows seniors to create and store end-of-life preferences, such as personal health, legal, funeral, and legacy decisions. Users can grant secure online access to family and friends. 
Another area companies are targeting is the creation of legally binding wills. Online estate planning platform Trust & Will recently partnered with Notarize, a remote notarization service, to create the first end-to-end digital will in the US. The company claims that users can create a customized, state-specific, and legally valid estate plan in just ten minutes using its platform. 
There are also services available to set up a will and estate plan directly from a smartphone. Tomorrow.me offers an iOS and Android app that allows users to create a free will, based upon a template developed with input from attorneys. Once created, the user can print out a PDF of their will and get it notarized to make it official.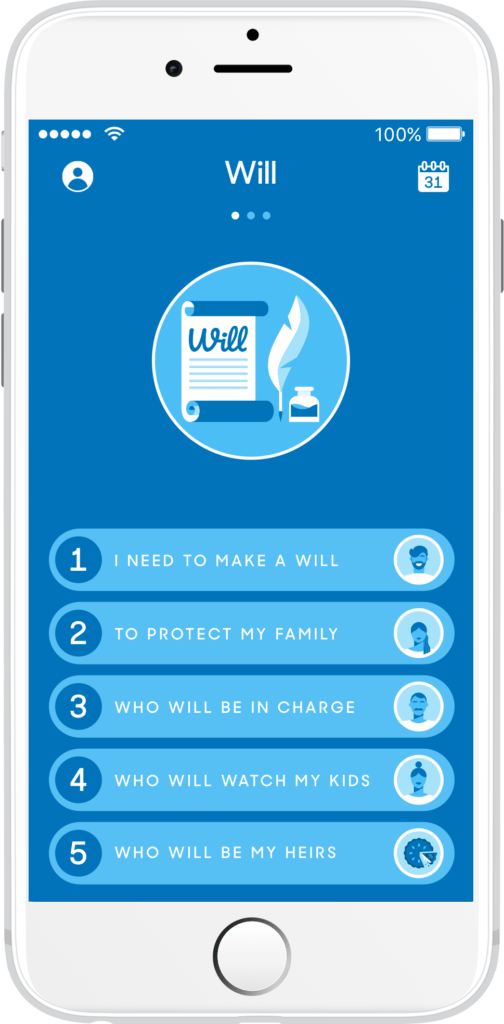 Source: Tomorrow.me
Financial collaboration tools target families & caregivers
As lifespans grow longer, a rising number of adults are providing some form of care for aging family members. In fact, the number of Americans in their sixties that have living parents has more than doubled since 1998. Reflecting this, a number of fintech tools for older people are specifically targeted at those providing care. 
One tool is Golden, a financial assistance app and family collaboration platform that targets Baby Boomers taking care of their parents' financial security. Golden claims its AI technology can assist caregivers with organizing their parents' financial accounts, including features such as paying bills on time, reviewing expenses, and providing fraud alerts, among others. 
The outlook for Baby Boomer fintech
Fintech services aimed at Baby Boomers and retirees is a growing space, with the demand for services set to rise as the average life expectancy continues to go up.
However, these services will need to overcome many potential users' concerns that companies may misuse sensitive personal information or be vulnerable to hackers.
Another potential barrier is that customer acquisition may prove to be more challenging compared to more broadly targeted fintech services, as Baby Boomers and seniors still tend to spend less time on the internet than younger generations — although their average time online is increasing. 
Despite these challenges, the growing number of senior- and retiree-focused fintech services may still find success, as more people look for help with financial management and seek to remain independent for longer. 
If you aren't already a client, sign up for a free trial to learn more about our platform.