From mortgages to robo-advisors to trading software, here's how fintech companies are unbundling Bank of America's front office.
Bank of America and the traditional banking system is being disrupted across a wide variety of core revenue streams.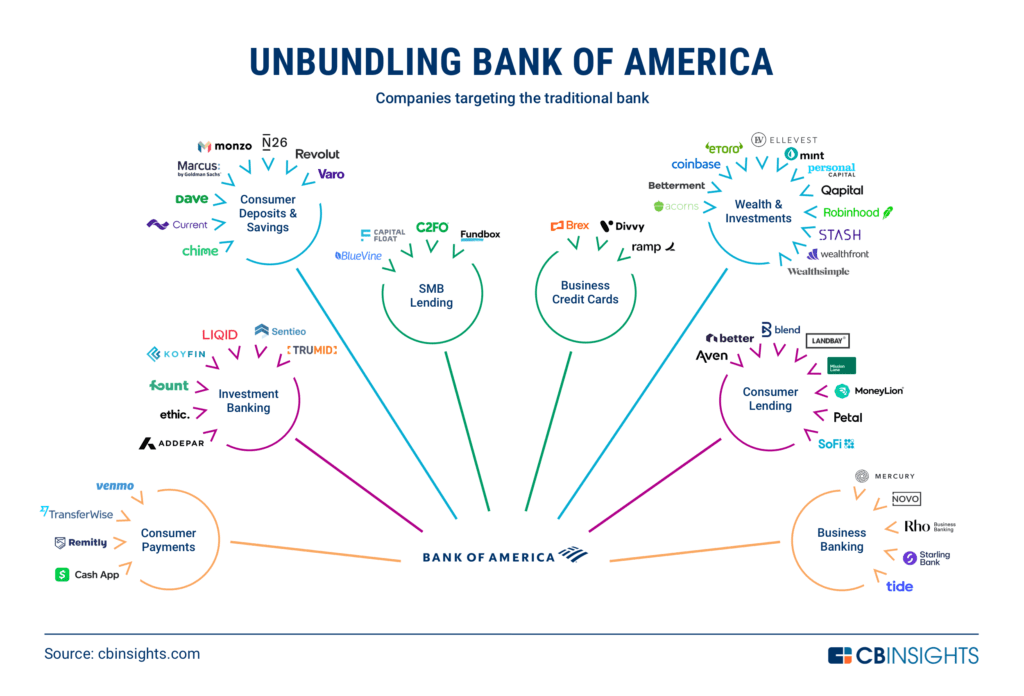 The banking industry has not been spared from the impact of Covid-19. Bank of America, for one, saw profits drop 16% year-over-year (YoY) in Q3'20 to $4.9B. The pandemic has also accelerated recent trends in banking, especially among the millennial demographic, which tends to favor digital banking and online brands over traditional banks.
Tech companies are chipping away at the traditional bank's market share. For example, stock trading app Robinhood's commission-free approach to investing has forced incumbents to follow suit, while products like Venmo and Cash App have disrupted peer-to-peer payments. 
Below, we take a look at how tech companies are unbundling Bank of America's front office, from consumer deposits and payments to equity research and business credit cards. 
Category breakdown 
Consumer payments
Startups here are using consumer payments products like money transfers and peer-to-peer payments to chip away at banks' payments market share. 
International money transfers and remittances are expensive to complete, and they make up a massive market: Remittances are worth an estimated $743B, according to CB Insights' Industry Analyst Consensus. 
Remitly

and

TransferWise

are digital platforms that facilitate international money transfers. TransferWise is valued at $5B, as of July 2020.
Products enabling peer-to-peer (P2P) payments are also targeting the traditional bank's hold on payments systems. 
Investment banking
Investment banking services are more difficult to unbundle, given significant regulatory restrictions for the industry. However, some startups are enabling the digitization of traditional banks or are providing auxiliary services directly to banking clients like institutional investors. 
Though equity research services used to be offered for free to clients as part of a bundle with trading services, regulations like the EU's MiFID II now require that banks must charge for research directly. This has provided an opportunity for other research providers to gain market share among banking clients.  
Companies in the asset management arena are assisting with or replacing traditional asset management divisions by providing software and services for businesses, institutional investors, and more.  
Companies like

Fount

and

Liqid

are digital asset managers with robo-advising capabilities. Liqid has raised a total of $44M in disclosed equity funding.

 

Addepar

is

a platform that helps financial advisors leverage data and customizable reports to communicate portfolio performance. Valued at $594M, Addepar most recently raised a $117M Series E round in November 2020.

Ethic

is a digital asset manager that helps institutions create custom sustainable investment portfolios.
Sales and trading operations within banks can be lucrative. Now, alternative brokerage platforms and software that provide access to stock market information and stock brokerage are gaining traction, potentially eating into bank revenues.
For example,

Trumid

is an online trading platform providing corporate bond market professionals with direct access to liquidity. Trumid raised a $200M Series E round in July 2020 at a $1B valuation.
Consumer deposits & savings
Consumer deposits and savings are the bread and butter of any traditional bank, and Bank of America is no exception. The company is the second-largest lender in the US based on assets, and it made $3.3B in net income on deposits in the first 3 quarters of 2020. This makes the sector an attractive target for fintech companies. 
There is no shortage of startups aiming to grab deposit market share from traditional banks. Companies like

Chime

,

Monzo

,

N26

,

Revolut

,

Varo Money

,

Current,

and

Dave

all offer digital banking services to consumers. 

Other companies focus on savings accounts. Goldman Sachs' Marcus offers savings accounts and personal loans — a departure for the investment bank, which did not have a consumer arm until recently.
SMB lending 
Companies in this category target small- and medium-sized businesses (SMBs) for business loans and working capital financing.   
Business credit cards
Similar to the constraints on small businesses and startups looking for banking products, unproven companies have difficulty accessing credit. Startups here are targeting this demographic by leveraging alternative data for risk analysis. 
Brex

and

Divvy

provide corporate credit cards for tech companies and other early-stage businesses. Similarly,

Ramp Financial

provides a corporate credit card and an expense management platform.
Wealth & investments
Banks are losing their edge in investing and wealth management as consumers flock to trade brokerages, personal finance management tools, and robo-advisors. Fintechs are catering to millennials and Gen Z consumers through digital, self-directed investment platforms that forgo the traditional financial advisor. 
Companies allowing individuals to trade stocks or alternative asset classes have long operated outside of traditional banks. Startups here are growing in popularity, especially as the Covid-19 pandemic has led to a significant increase in day-trading.  
Companies like

Robinhood

create opportunities to buy and sell stocks and other assets without charging commissions on trades like traditional banks. In fact, the popularity of the app has forced

more traditional trading businesses

to remove commissions for their customers. 
Personal finance apps work with banks as well as other financial institutions to provide a holistic view of an individual's finances. 
Personal finance managers like

Mint

,

Personal Capital

, and

Qapital

link to a user's bank accounts, investment accounts, loans, and other financial products to track spending, assist with budgets and goals, and provide investment allocation and savings advice. Mint, owned by Intuit, claims

over 20M users

. 
Robo-advisors use technology to allocate investments for individuals, rather than depending on the user to choose their own stocks or on a wealth manager to allocate stocks on the user's behalf.  
Investment managers like

Betterment

,

Wealthfront

, and

Wealthsimple

automatically allocate investments based on a user's goals and risk profile.  

Similarly,

Ellevest

is an investment advisor that is targeted toward women, creating investment strategies that

reportedly

factor in pay gaps or potential career breaks in order to build wealth.
Unlike traditional brokerages, which require that investments are made in whole shares, micro-investing apps offer fractional share investments — some for as little as $1 investments into a stock. These enable new demographics to invest. 
Consumer lending
Companies in this category provide credit and loans to consumers. 
Traditional banks require certain credit scores to qualify consumers for credit lines or credit cards. By assessing credit risk through alternative measures, startups may have an opportunity to gain consumers typically overlooked by traditional banks. 
Companies like

Mission Lane

and

Petal

provide credit cards for younger consumers or those without a substantial credit history by

analyzing existing spending patterns and banking history

. Petal raised a $55M Series C in September 2020. 

San Francisco-based

Aven

provides users with a credit card that pulls from an individual's home equity line. 
Some consumer fintech companies are using personal loans to help consolidate credit card debt, finance large purchases, and provide cash advances.
Although mortgage rates are hitting all-time lows, mortgages remain a money-maker for traditional banks. Bank of America saw over $35B in residential mortgage loan production in the first 3 quarters of 2020.
Companies like

Landbay

and

Better

offer digital mortgage platforms to help purchase or refinance homes. Better has reportedly funded

$25B in loans since 2016

.  

Blend

provides software to financial institutions to help streamline their digital mortgage lending businesses. The company has raised a total of $385M in equity funding since 2012, including a Series F in August 2020 that valued the company at $1.7B.
Business banking
Companies using new methods to evaluate the health of small businesses and unproven startups are gaining traction among a typically underbanked segment.  
Mercury

,

Novo

, and

Rho Business Banking

specifically target startups and entrepreneurs, which may be unable to take advantage of traditional banking due to lack of assets and credit history. 

UK-based

Tide

and

Starling Bank

are digital banks that each serve over 200,000 businesses.
If you aren't already a client, sign up for a free trial to learn more about our platform.