From Stash and Acorns to Venmo and SoFi, here are the fintech companies bringing new digital bank account products to customers — and what other fintechs might be the next contenders.
One of the biggest trends in fintech today is the rise of digital banking products like mobile checking accounts and new debit cards.
From Square to Paypal, a host of fintechs are creating products that let consumers spend money directly out of digital accounts using a physical card.
In particular, fintechs are targeting their young, engaged client bases, creating products that build on their core values. SoFi, for example, allows users to see all their assets and liabilities in one place, while Square uses vendor partnerships to offer credit card-like rewards for its debit card.
This strategy makes sense, as younger clients are most open to trying new fintech products: about 60% of US bank customers say they are willing to try a financial product from a tech firm they already use, and that number rises to 73% for customers aged 18 — 34.
Additionally, this rise of these new products comes at a time when consumers are opting for debit cards over credit cards.
US consumers aged 18+ make an average of 70 payments per month, with debit cards accounting for 32% of those purchases, according to a 2017 study by the Boston Fed. Cash is the second most common payment method (27%), while credit cards fall in third place (23%).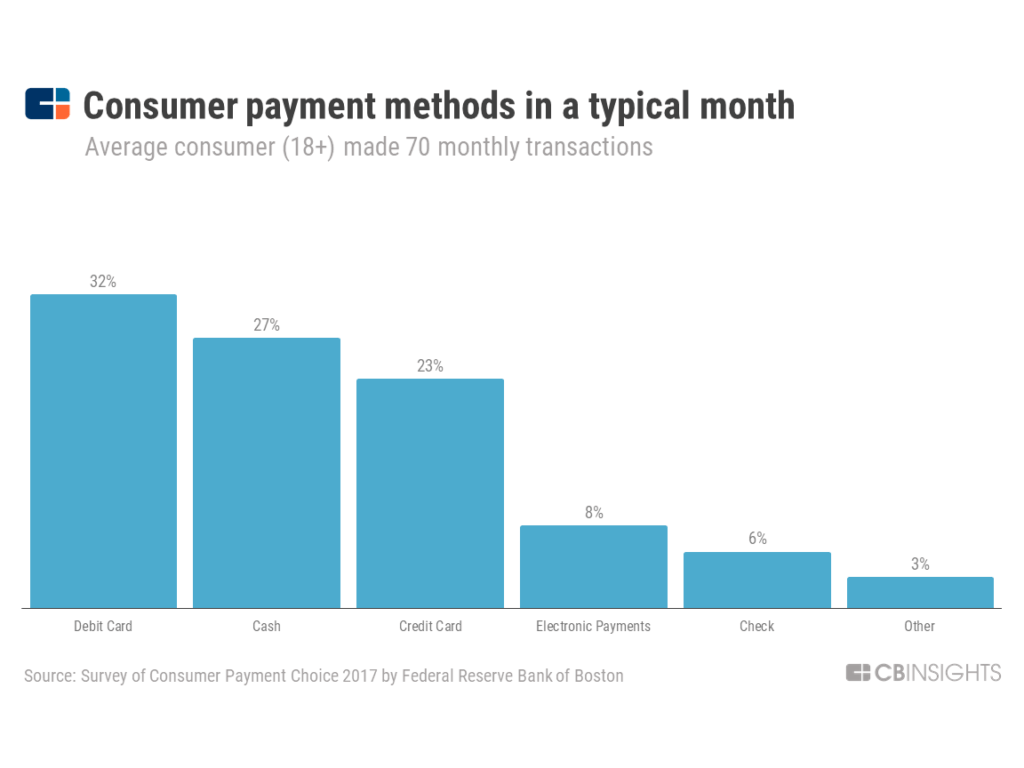 Below, we breakdown how six non-bank fintechs — Square, Venmo, PayPal, Acorns, SoFi, and Stash — are creating new digital products and their strategies for enticing customers to sign up.
How the products work
These companies come from diverse fintech backgrounds — P2P money transfers, wealth management, lending — but all are rushing to create checking account alternatives within their pre-existing products. These new products are designed to track and monitor spend, and aim to convert monthly active users (MAUs) into daily active users (DAUs).
Notably, these fintechs are circumventing banking regulations via partnerships with companies like Green Dot and StoneCastle, enabling them to offer debit products without becoming official deposit takers. This backdoor around banking regulations could prove to be extremely fruitful for fintechs in the future.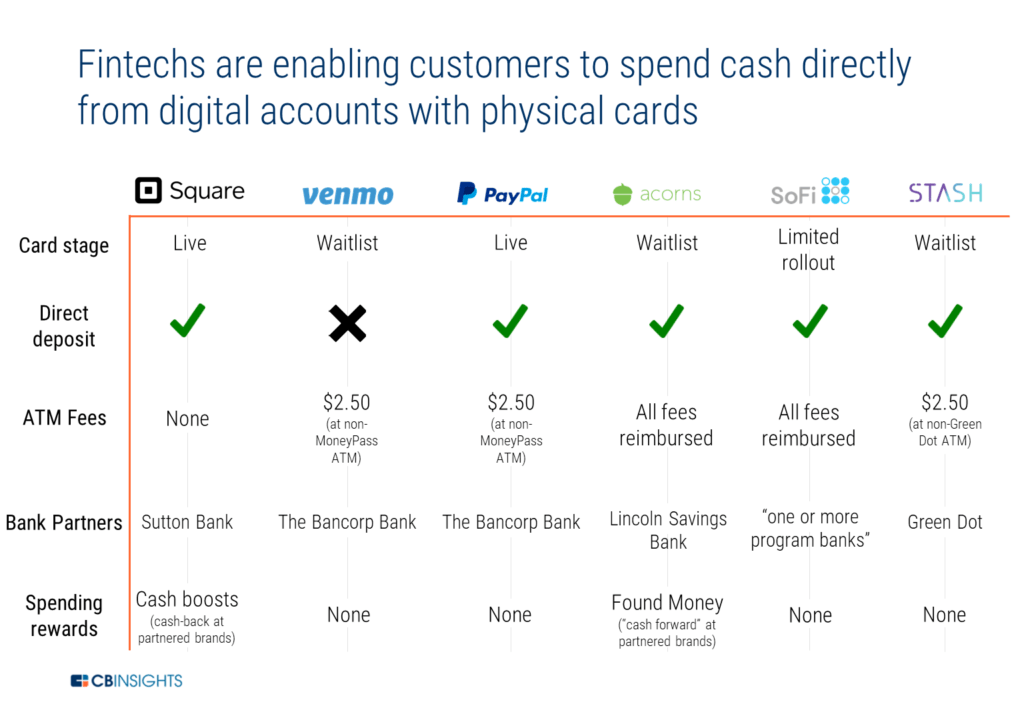 Below, we dive deeper into the new types of banking products offered by these upstarts.
turning Digital p2p payments into debit cards
The Square Cash Card is a prepaid debit card that allows consumers to spend a "cash" balance. Users can increase their cash balance in a variety of ways: bank transfer, direct deposit through bank partnerships, or via in-app P2P exchanges.
PayPal subsidiary Venmo's forthcoming Venmo Card operates in a similar fashion. The card will allow users to instantly unlock their Venmo funds in the real world, without first "cashing out" to a bank account.
Transactions made with the card will be funded solely by a Venmo account balance. To prevent low balances, Venmo has introduced automatic reloads, which refill Venmo balances via linked bank accounts as soon as the balance breaks a set threshold.
Finally, the PayPal Cash card allows users to spend funds directly from their Paypal account. Unlike Venmo's topping up strategy, if a user's PayPal funds are insufficient for a purchase, the purchase will be declined.
mobile-first bank accounts
SoFi Money is a new mobile-first all-in-one checking and savings product. The account enables customers to spend funds with its debit card, but while funds remain in the accounts they earn 1.10% APY. SoFi Money is completely free and charges no fees.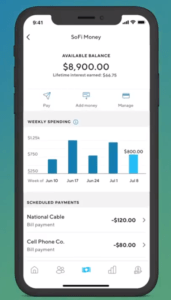 SoFi Money is integrated SoFi's larger product suite, allowing users to see all assets and liabilities in one place.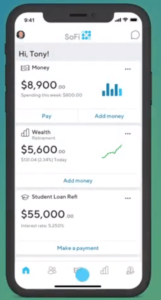 Stash Banking is a mobile-first bank account that focuses on financial coaching, providing guidance on spending, saving, investing, and retirement planning.
The card will help the company collect insights on users' spending habits. Stash could then use that data to suggest actions to users through its app (probably along the lines of, "this month you can afford to move $50 into your investment account").
The account requires no minimum balance and no set-up, monthly, or overdraft fees.
Finally, the Acorns Spend card offers a two-pronged product: a mobile checking account that can be filled up via transfers, checks, or digital direct deposits, and a debit card, which allows users to spend directly from their accounts.
Acorns charges $3 a month for its three products, Acorns, Acorns Later, and Acorns Spend. Other than the recurring monthly charge, Acorns charges no added fees.
Strategies for enticing customers
These new cards, linked to digital accounts, are wildly popular even before their products are released. For example, the Acorns Spend card has added 175,000 people to its wait list since the start of June.
These companies have been able to generate these signups through three channels: card design, rewards, and application UX.
creative design catches users' eyes
You might not expect to find the "instagrammability" trend surfacing in the world of debit cards, but fintech companies are hoping to draw millennials to physical cards with colorful, minimalist designs.
Fintechs can distinguish their debit cards from traditional bank cards through clean layouts, customization, and heavier materials.
Personalization in card design can help buoy customer loyalty and relationships. As chip readers become more ubiquitous, vertical layouts (as with Venmo, Acorns, and SoFi) are the logical card orientation of the future, and also give cards a distinctive look.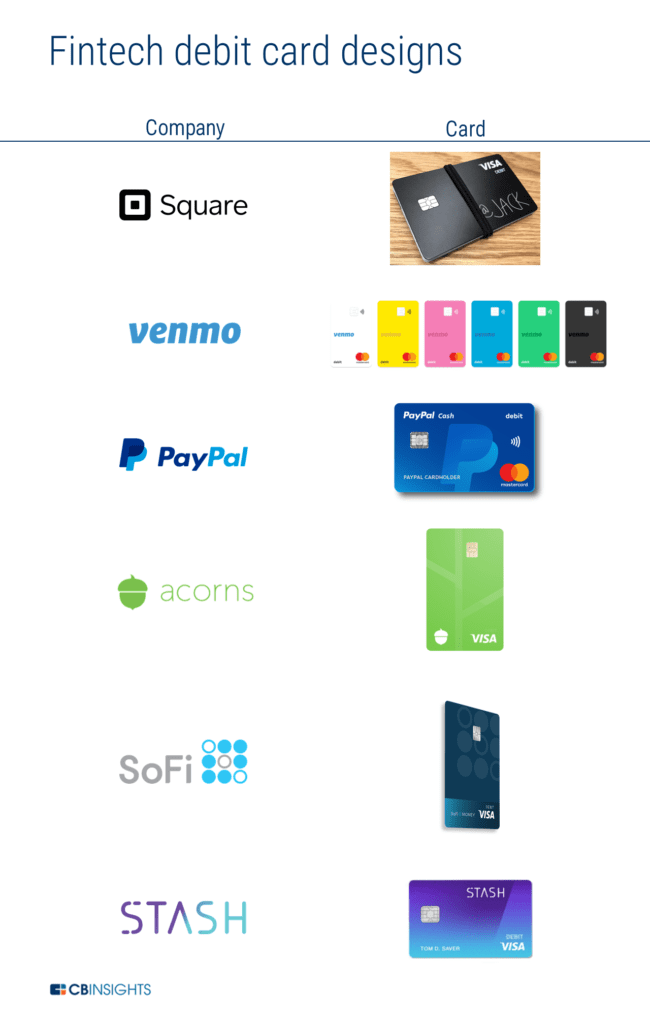 bringing credit card-like rewards to debit cards
Square and Acorns have attracted signups by offering credit card-like rewards with their debit cards. As of now these are the only companies on this list offering rewards for spending.
The Square Cash Card rewards program incentivizes card use by offering instant cash "boosts" at popular merchants. For example, Square's most noteworthy reward is $1 off any $1.50+ purchase from a coffee shop.
Because this reward is instant, a $4 cold brew actually costs $3, as seen in the screenshot below.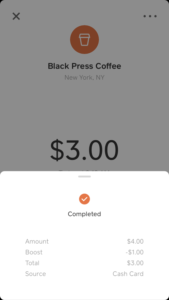 Square has partnered with other top brands (including Shake Shack, Whole Foods, and Chipotle) to offer other cash boosts, and claims to be expanding the list.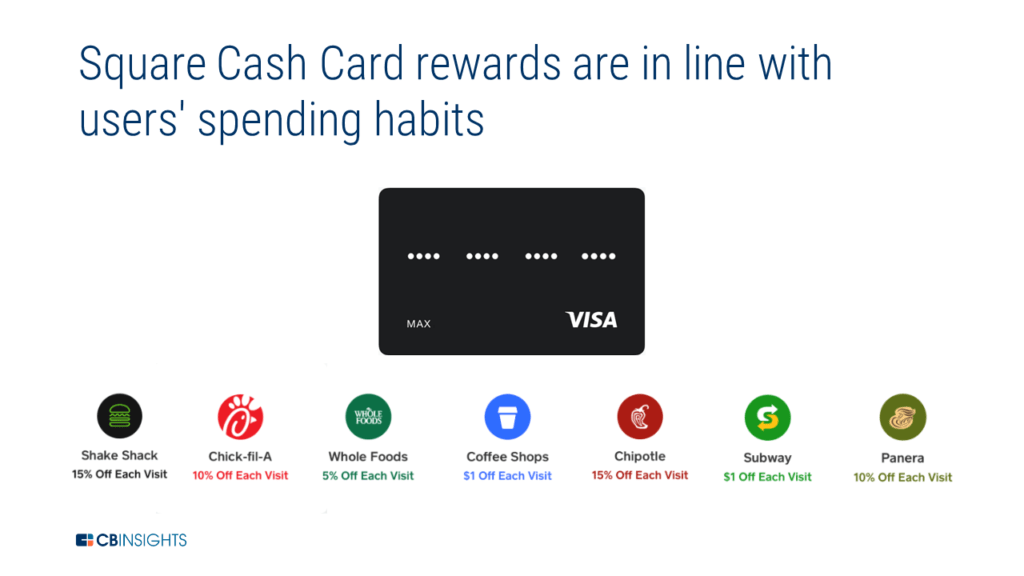 Boosts can be used once every 2 hours and can be swapped to a new category every 24 hours.
Meanwhile, Acorns' Spend card features a rewards program called Found Money. When users shop at any of the 200+ brands Acorns has partnered with, the brand will provide "cash forward."
"Cash forward" is a term coined by Acorns that's essentially the same as cash back — but rather than customers receiving cash today, money is automatically invested on their behalf.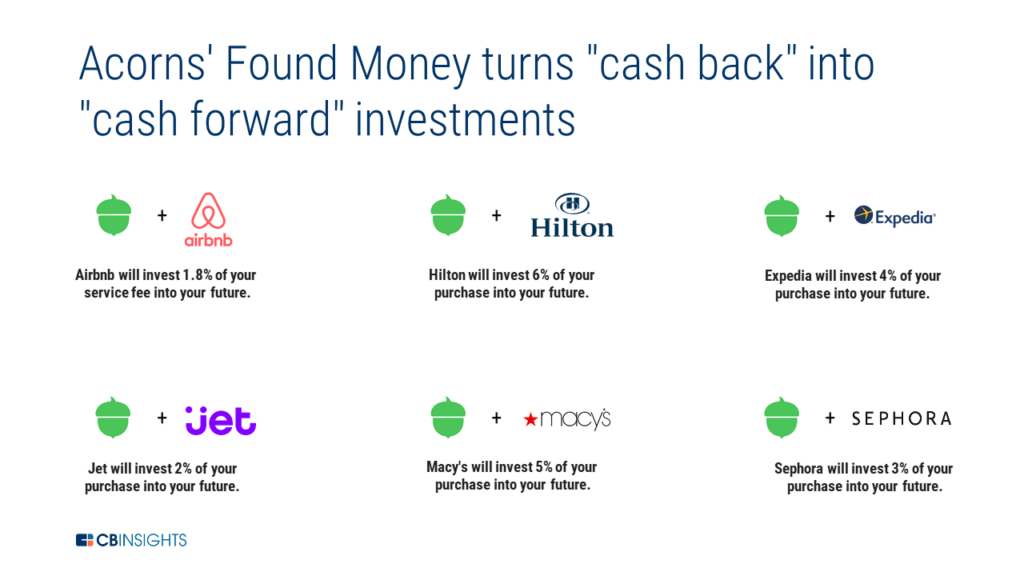 Found Money is an add-on to Acorns' signature "roundup" services. It also has a Chrome plug-in to support online shopping.
ux to help target existing clients
Simple UX in existing apps has been another major draw for consumers signing up for these products. Fintechs can integrate applications and wait lists in order to target existing users.
For example, the Square Cash Card is seamlessly integrated into the app, allowing users to order the card in just a few clicks. Below is a step-by-step walk through of the Square Cash Card application process.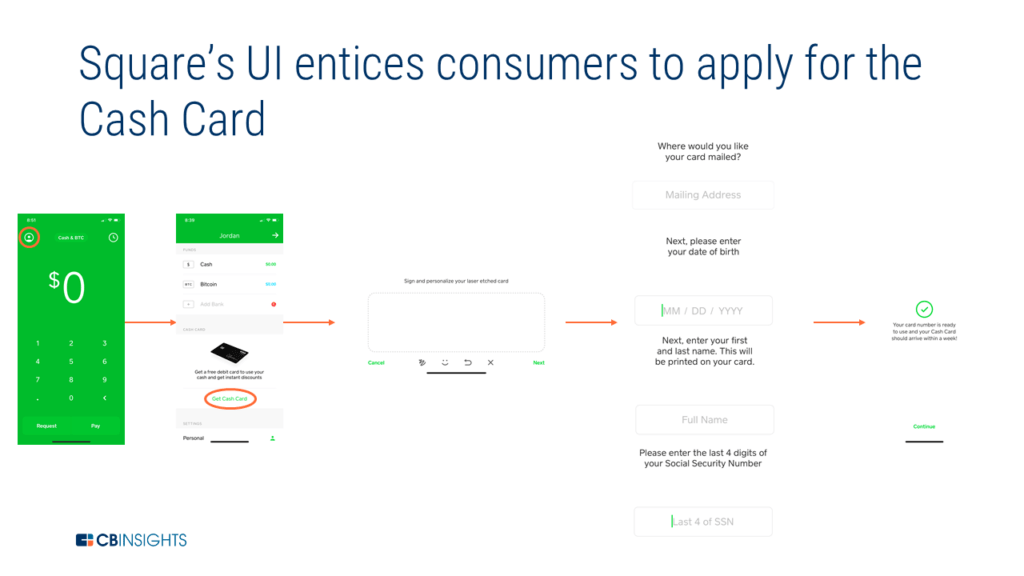 Moreover, Square Cash integrates P2P and card transactions into one feed, making the app interface intuitive.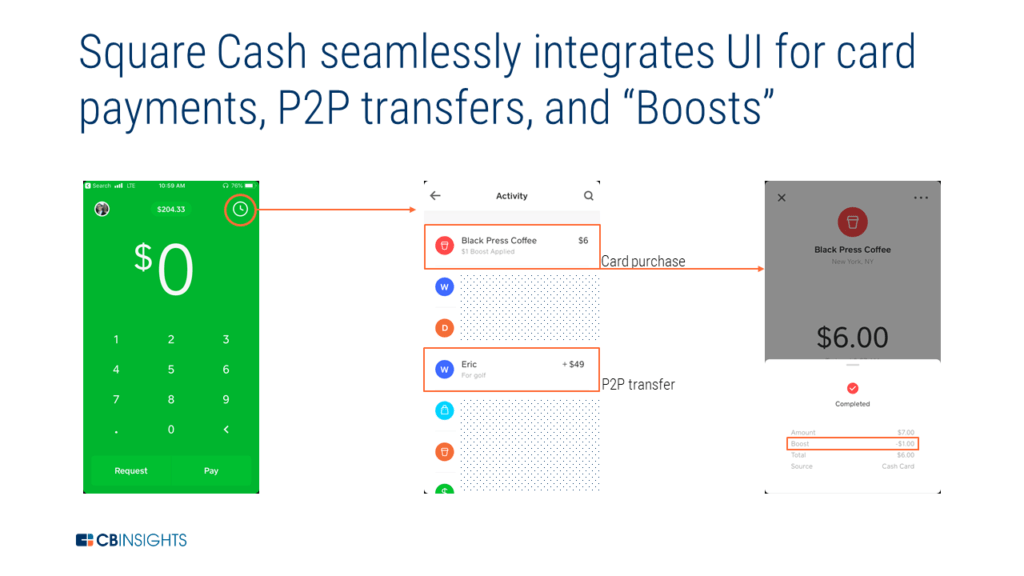 For cards still in the waitlist stage, companies are aggressively promoting the new cards within their apps.
Venmo Card's waitlist has been strategically placed at the top of the app's menu, and requires just one click to join.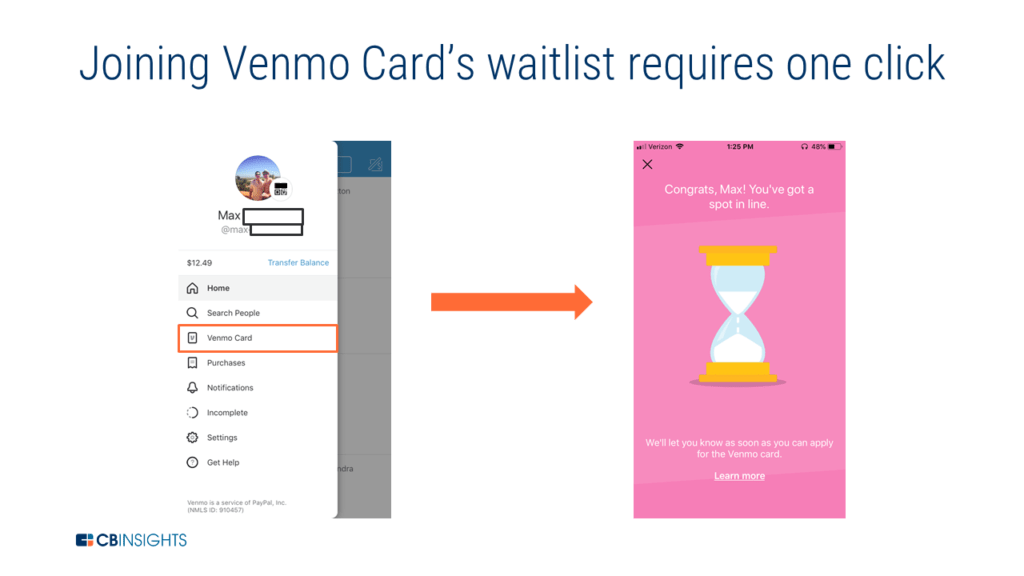 When the card does roll out, users may have the option to post their card purchases on the Venmo news feed. Encouraging social media-like interactions could help increase stickiness and card usage.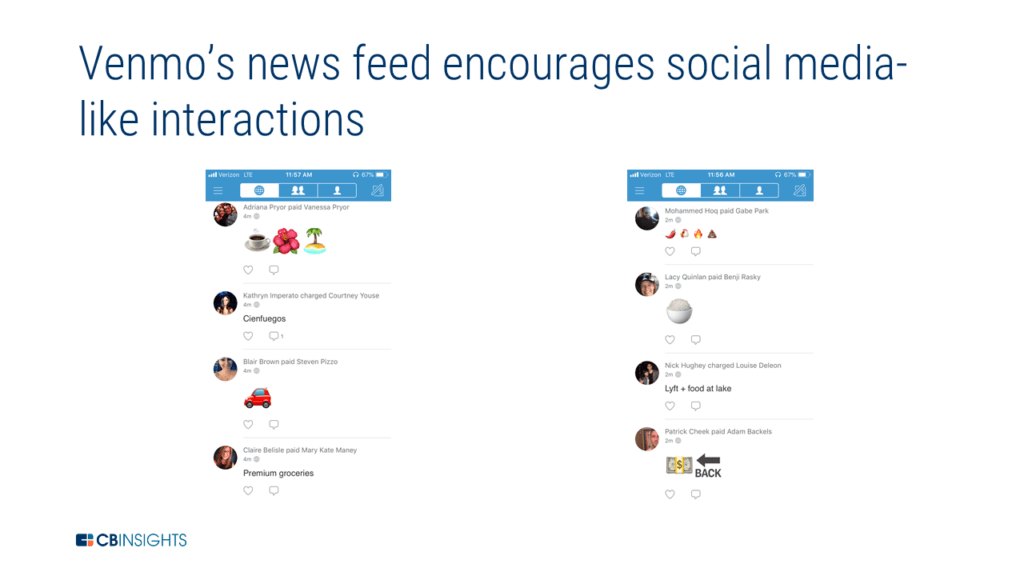 Acorns is taking a similar strategy with its waitlist, pushing its card to existing customers. Upon opening the app, customers receive a prompt to preorder the card. Acorns displays this prompt again on the news feed within the app.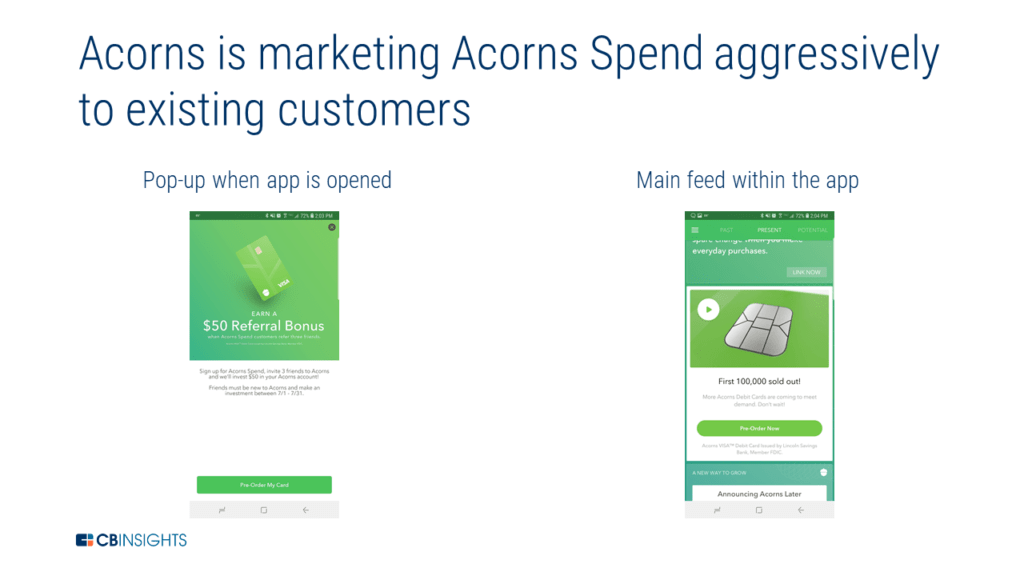 Who could be next?
With fintechs seeing early traction on these new products, it would not be surprising to see other startups follow suit. Here are a few potential contenders who could jump on the bank account/debit card trend next:
Robinhood
Rumor: Robinhood is in talks to offer banking services.
Source: Bloomberg, June 2018
What to watch for: Robinhood's goal is to bring free financial services to the masses. Adding a hybrid checking/savings account could be a good move for the company, because it would give customers the ability to transfer funds between accounts and then spend them.
This product would also make sense for Robinhood because the company does not make money based on AUM.
Klarna
Rumor: Klarna is expanding into new markets, with new products.
Source: PYMNTS, July 2018
What to watch for: Klarna has already mastered payments and IOU's in Europe, and is now expanding into the US. The company has confirmed it is working on a checking account/debit card product that could be similar to some of the above products.
Wealthfront
Rumor: Wealthfront is thinking about banking products.
Source: Bloomberg, June 2018
What to watch for: Banking products could present an opportunity for Wealthfront to expand its offerings and add more customers. Adding traditional banking features would give customers more flexibility and increase brand loyalty.
That said, there would also be drawbacks. Wealthfront makes money directly based on AUM, which means any product that decreased AUM would directly hurt their business.
Concluding thoughts
With millions of existing customers and large millennial user bases, fintechs are in a prime spot to expand their product lines. Debit spending through checking accounts is the easiest way to do this, as younger consumers are attracted to the transparency and instantaneous nature of debit spending.
This will help convert MAUs into DAUs, as customers are drawn to the apps to monitor daily spending and rewards. While current products — like investing and P2P money transfer platforms — do not require daily attention, frequently used products like a debit card can easily make these fintechs an integrated part of their clients' daily lives.
This should worry mainstream banks. Daily use and sleek, user-friendly platforms will increase adoption and customer loyalty for fintechs, making it easier for them to roll out new products. The more products fintechs can incorporate into their apps, the less need customers will have for traditional banks' services.
If you aren't already a client, sign up for a free trial to learn more about our platform.