In September 2020, CB Insights announced our third annual Fintech 250 — a list of the 250 most promising private fintech companies across the globe. We take a look at where these companies are now.
In 2020, 250 fintech companies from 25 countries made it to the CB Insights Fintech 250. They were selected from a pool of nearly 16,000 companies based on factors including patent activity, business relations, investor profile, news sentiment analysis, proprietary Mosaic scores, market potential, competitive landscape, team strength, and tech novelty.
Since announcing our list, 14 of the winners have gone public or announced plans to go public, while 6 have been acquired. In addition, 49 have become unicorns, bringing the total for the list to 81, valued in aggregate at $508B.
Many of the winning fintech companies have also entered strategic partnerships, launched new products, and raised additional funding rounds since we initially published the list. In total, 120 of the 250 companies have raised funds, totaling nearly $25B across 153 deals since September 1, 2020.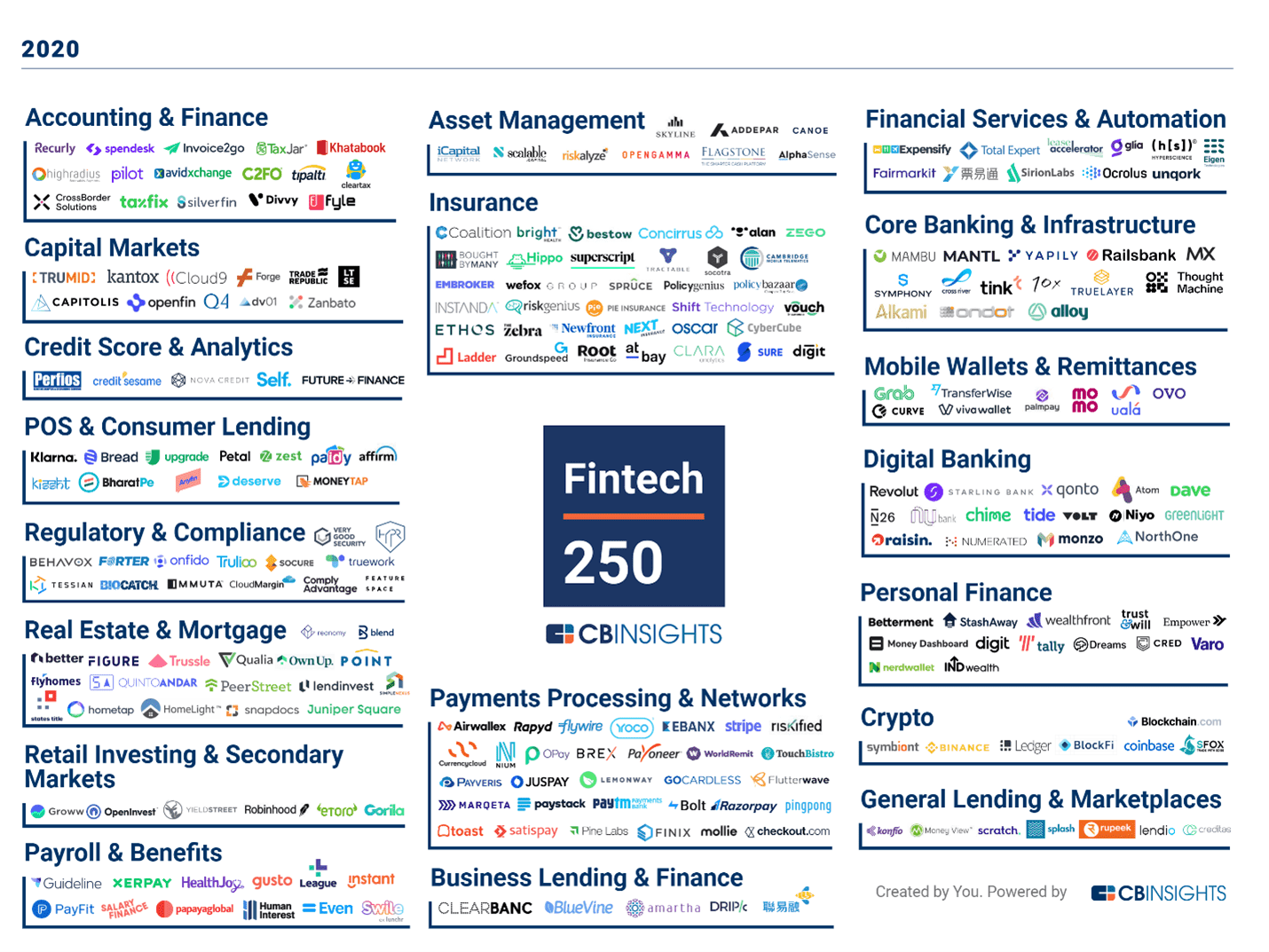 Fintech exits: 14 public exits and 6 acquisitions
Since the release of the Fintech 250 2020 list, 7 companies have gone public via an IPO, 7 have gone public (or announced plans to go public) through a SPAC transaction, and 6 have been acquired.
One of the most anticipated public offerings so far this year was cryptocurrency exchange Coinbase, which offers services ranging from consumer trading to prime brokerage and institutional custody. The company debuted in April 2021 through a direct listing.
Also notable was Affirm, a buy now, pay later provider, which went public in January 2021. Root Insurance, a telematics-driven auto insurer, was the only company from the Fintech 250 to go public last year. SPAC transactions among the cohort include home-financing company Better.com, trading and asset brokerage firm eToro, and title insurance company States Title.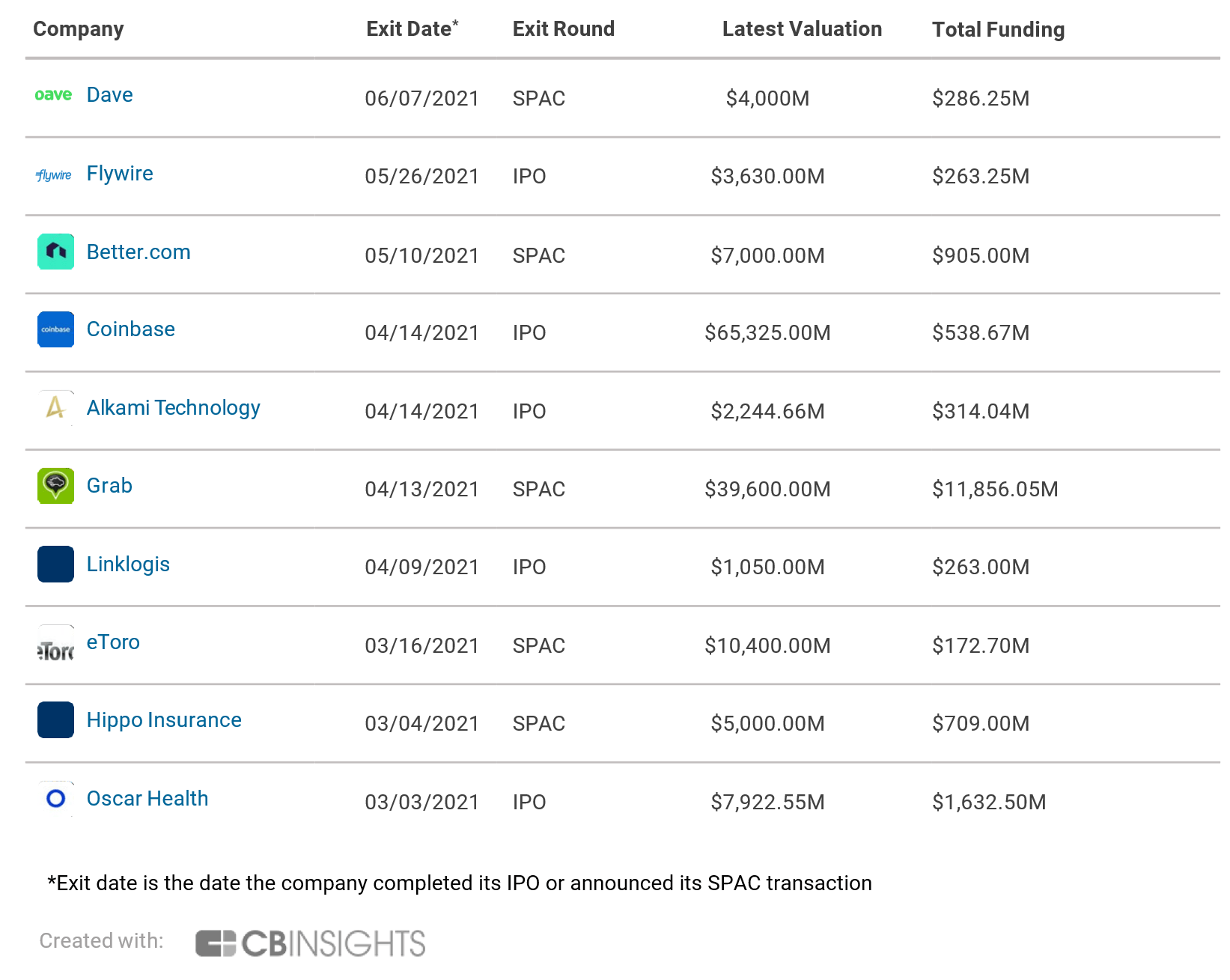 In addition to public exits, the Fintech 250 companies have seen 6 acquisitions. Most recently, Bill.com acquired business expense management platform Divvy for $2.5B in May 2021.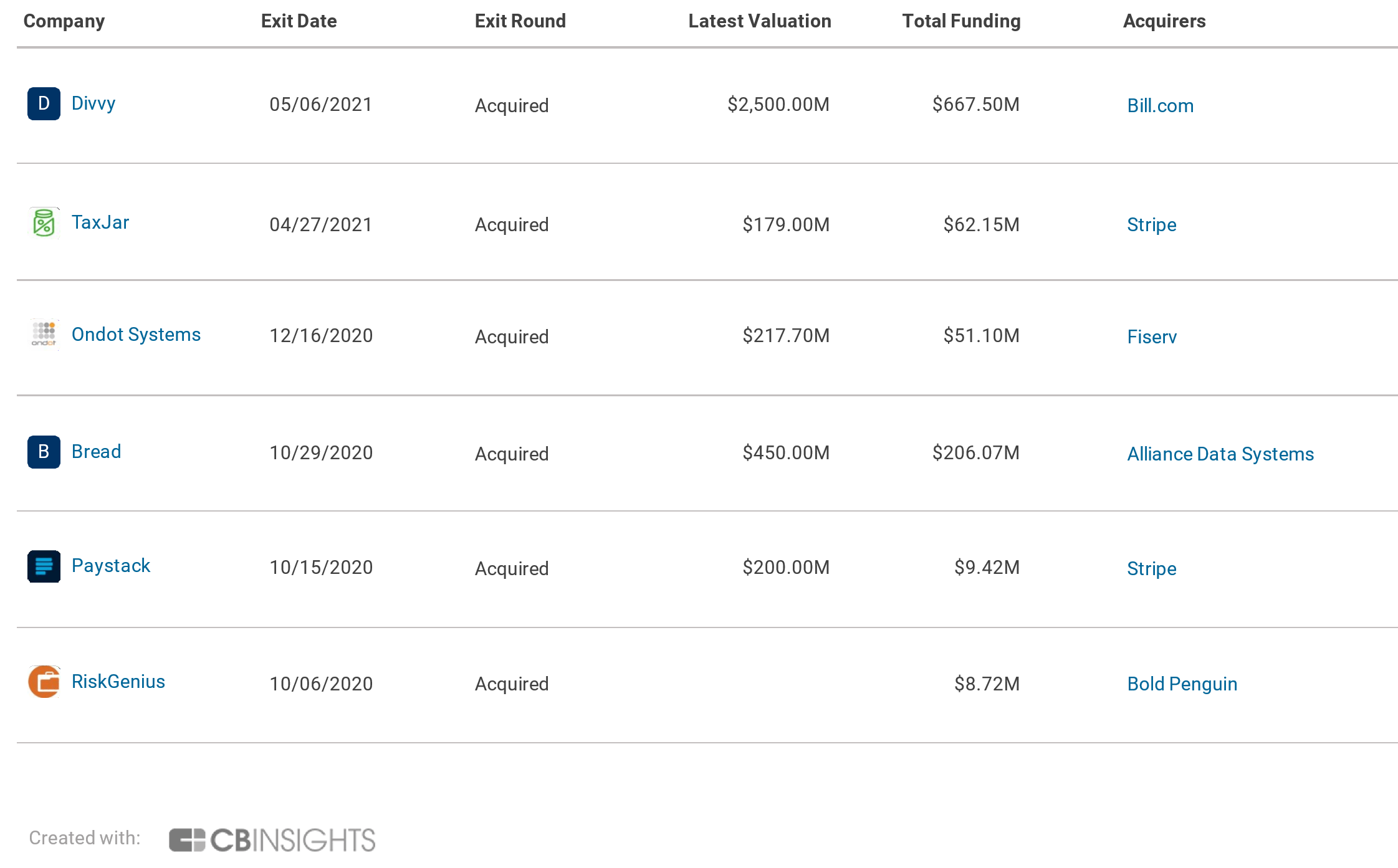 Funding: Winners raise nearly $25B more
Since September, nearly half of the Fintech 250 list (120 companies) have raised a combined $24.6B in equity funding from investors. In 2021 alone, Fintech 250 companies have raised $18.5B in funding, which exceeds the total raised by all 250 companies in 2020.
Additionally, 62 companies have raised $100M+ equity rounds since September 2020. These mega-rounds span the fintech ecosystem, including banking, trading, insurance, payments, and blockchain applications.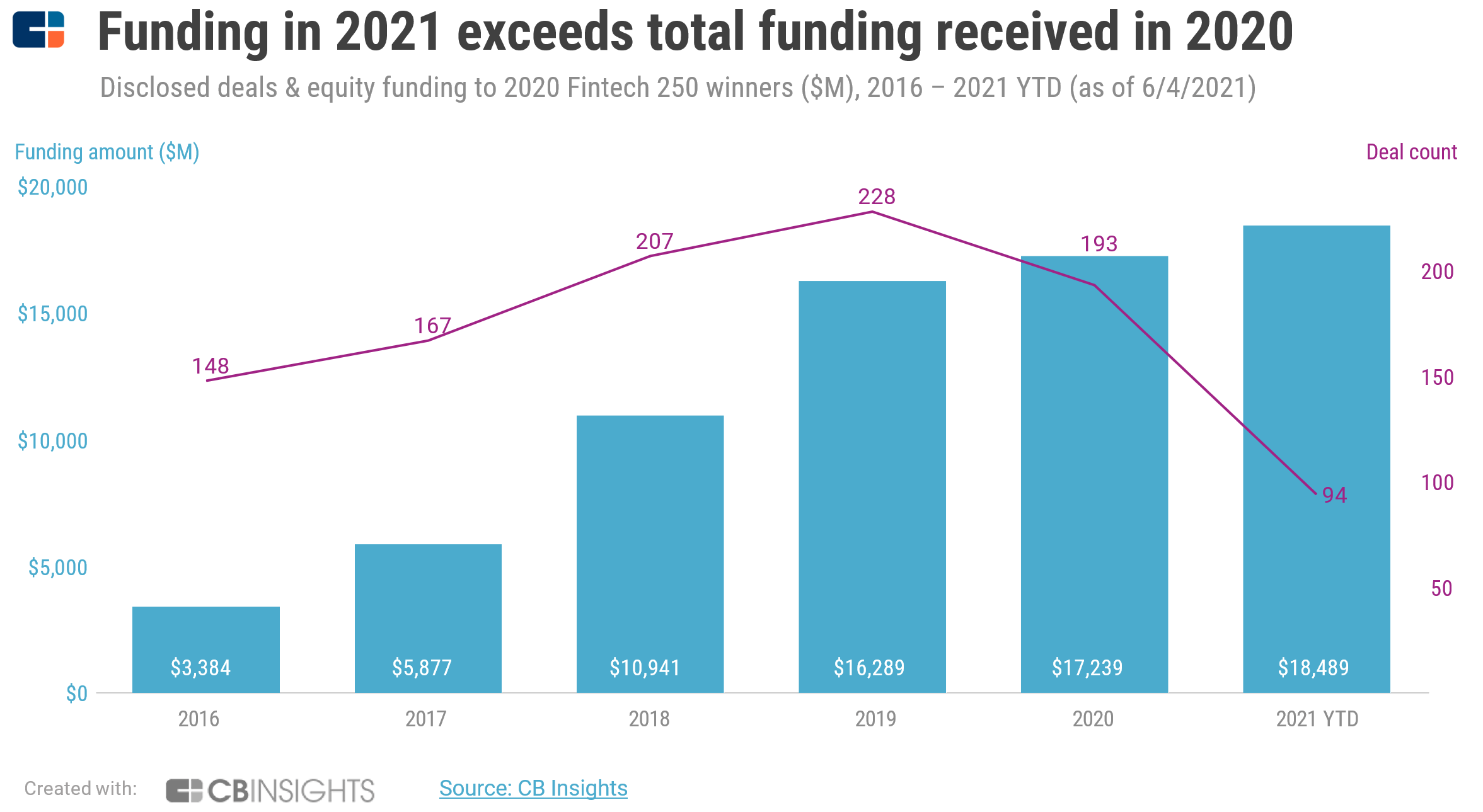 Notable fintech partnerships: 380+ new partnerships since publication
Since September 2020, Fintech 250 companies have actively facilitated over 380 new partnerships to expand services and scale operations. We highlight 5 notable partnerships below:
To read more about recent fintech trends, check out our 2021 State of Fintech Report.
If you aren't already a client, sign up for a free trial to learn more about our platform.