From more affordable egg freezing services to employer-backed fertility plans, these companies are looking to break down the traditional barriers to fertility care for both women and men.
The first months of 2019 have seen a surge of early-stage funding to the fertility sector.
Deals to companies ranging from a fertility benefits provider to a millennial-focused fertility clinic are indicative of a growing demand for more accessible fertility services.
These deals have also coincided with a funding spree to women's health startups — another area that's historically been largely overlooked. In April, female hygiene company Cora raised a $7.5M Series A round, while smart tampon company NextGen Jane raised a $9M Series A.
This uptick in funding has helped fertility evolve from an obscure topic to one that's gaining more visible, mainstream attention. (Check out our future of fertility post for a deeper look here.) As a result, men's fertility is also drawing more interest, as evidenced by early-stage startups here recently raising capital.
Track all the women's healthcare startups in this report and many more on our platform
A growing crop of startups are helping improve women's healthcare. Look for the Women's Health Startups in the Collections tab.
Track Women's Healthcare Startups
These deals are helping drive innovation and bring a new level of transparency to fertility issues.
Below, we look at the latest investments in the fertility market and how they're signaling a new direction for both female and male fertility.
Table of Contents
The fertility market opportunity
Egg freezing becomes a main focus for millennials
New D2C testing kits offer more affordable insights
New male fertility startups focus on sperm tests & storage
The growing demand for employer fertility benefits
THE fertility market OPPORTUNITY
The global fertility services market, which caters to people who are unable to conceive naturally, is worth roughly $25B, according to CB Insights' Industry Analyst Consensus.
Examples of fertility services here include in vitro fertilization (IVF), surrogacy, and artificial insemination.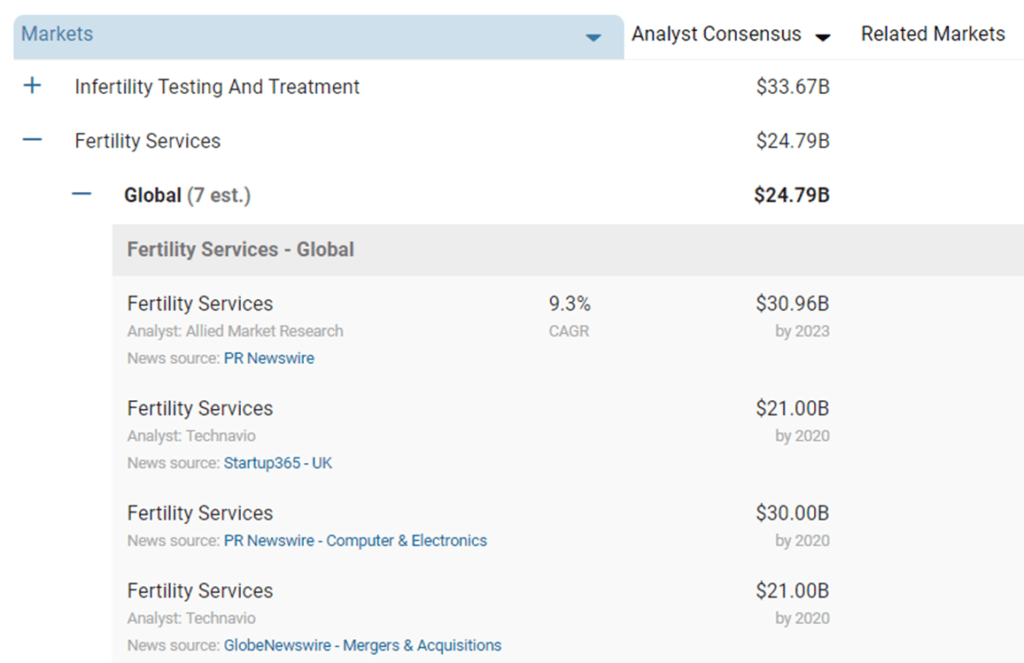 These services often come with a high price tag, and often, education around these topics is not easily accessible.
New entrants to this industry hope to disrupt this model, from beginning to end.