Fashion is one of the most wasteful industries in the world, but thanks to new technology and consumer demand for more eco-friendly practices, that's starting to change.
Fashion is one of the world's most wasteful and polluting industries.
ALTERNATIVE PROTEINS, FITNESS TECH, AND GAMING SURGED IN Q3'20
Consumer product startup investment activity spiked in Q3'20 as funding reached an all-time high. Download our free report now.
The textiles industry alone uses nearly 26.4T gallons of water and 98M tons of oil per year, according to a 2017 report. Half a million tons of microfibers from clothing are leaking into our oceans each year. The equivalent of one garbage truck of textiles is wasted every second.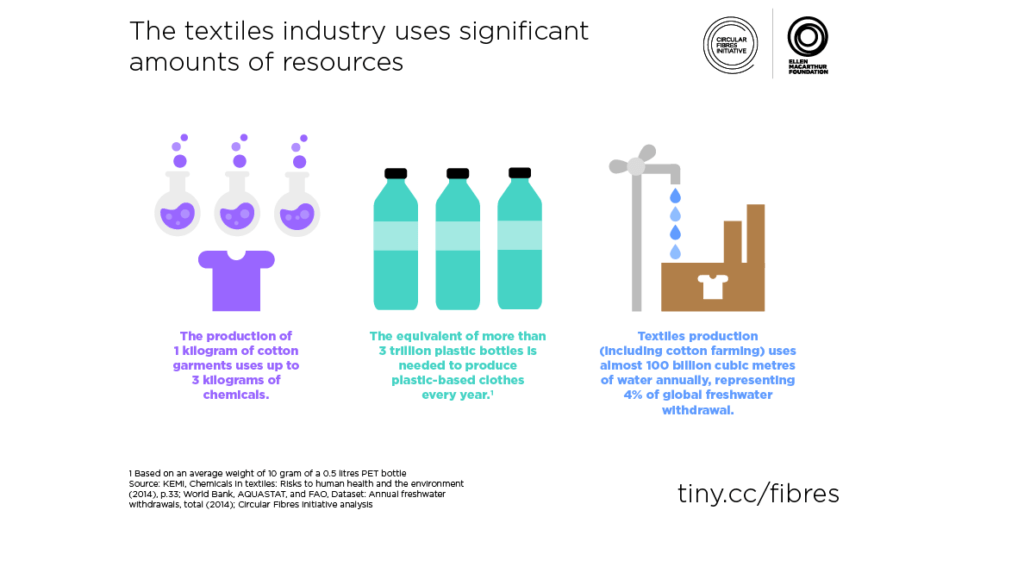 Source: Ellen MacArthur Foundation
The fast fashion model, wherein designs move swiftly from runway to stores, is considered a major contributor to these problems. Fueled by social media, consumers want to get a hold of the latest trends as quickly as possible, and retailers must rapidly increase production to meet demand.
But this can lead to overproduction and huge amounts of waste — fast fashion retailer H&M, for example, reported a global inventory of unsold clothes worth $4B in 2018.
Even luxury brands are contributing to this problem. In 2017, British luxury fashion label Burberry burned £28.6M (around $37M) worth of unsold bags, clothes, and perfume.
And it's not only unsold merchandise that's problematic. After use, 73% of clothes either end up in landfills or are incinerated.
If these practices continue, the fashion sector could consume a quarter of the world's carbon budget by 2050. But with increasing consumer demand for more sustainable products and a rising focus around eco-friendly practices, the fashion world is taking steps to lessen its negative impact on the environment.
In this report, we examine how fashion brands are leveraging technology to make clothing production and consumption more sustainable, from the use of plant-based textiles and bacteria-based dyes to leveraging a blockchain-based supply chain to increase transparency.
We also look at the challenges these efforts face and what the future might hold for the industry.
table of contents
Tech innovations shaping a more sustainable fashion industry
Reducing consumption in the fashion industry
Tech innovations shaping a more sustainable fashion industry
alternative textiles
One way the fashion industry is looking to reduce waste and pollution is by using alternative fabrics.
Natural fibers, such as cotton, are resource-intensive. Making one cotton shirt requires 713 gallons of water — approximately what one person drinks in 2.5 years. Synthetic materials like acrylic, polyester, and nylon degrade very slowly, and can contain harmful chemicals.
Some fashion brands are turning to agricultural waste products such as leaves and rinds to create more eco-friendly textile alternatives.
For example, British company Ananas Anam turns pineapple leaves into a leather textile called Piñatex. Fibers are extracted from pineapple leaves and after processing, emerge as a non-woven mesh forming the base of the textile.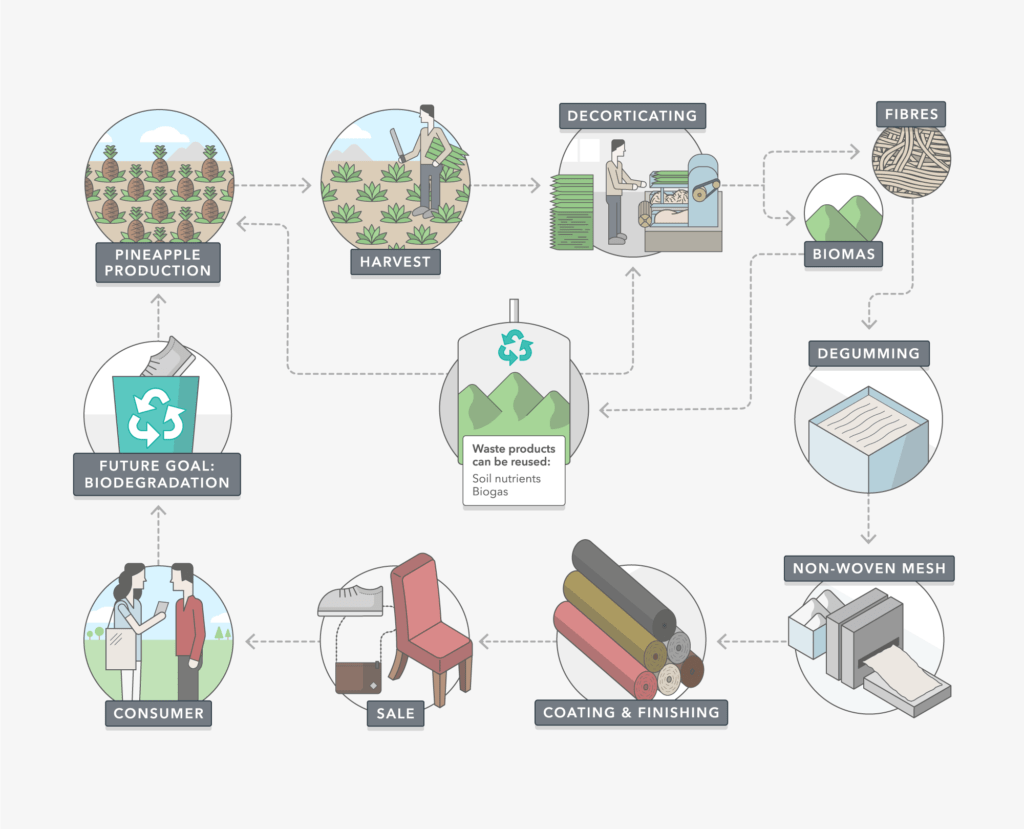 Source: Ananas Anam
Ananas Anam does not use any substances that are hazardous to the environment, and its non-woven mesh is biodegradable.
The startup has caught the attention of some high-profile designers — menswear brand Hugo Boss crafted limited-edition sneakers using Piñatex.
Another startup exploring biodegradable fabrics is Italy-based Orange Fiber. The company extracts cellulose from the rinds of juiced oranges and converts it into a material resembling silk. When combined with other yarns, the fiber can be made into garments. Italian fashion label Salvatore Ferragamo launched a capsule collection of dresses, pants, and shirts made from orange fiber in 2017.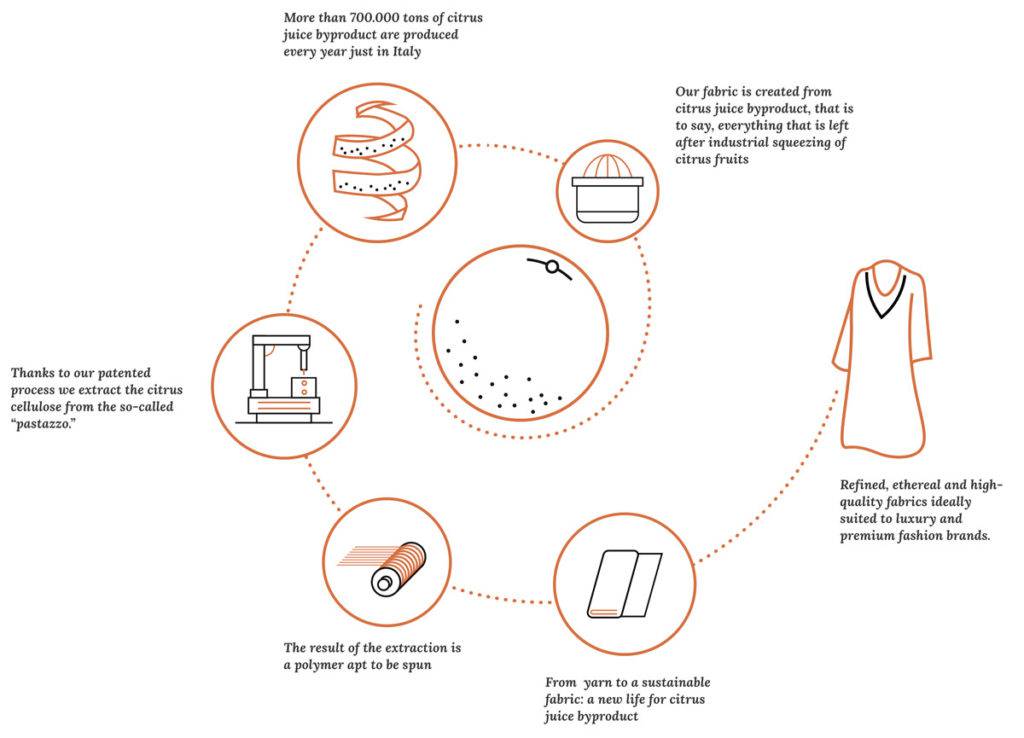 Source: Orange Fiber 
For now, natural textile sources seem to be geared toward low-volume, high-priced brands like Hugo Boss and Ferragamo. More investment may be needed from large brands to tailor these textiles to their high-volume requirements.
regenerative farming
Because of its use of cotton and other raw agricultural materials, the fashion industry and its supply chains are directly linked to soil degradation and biodiversity loss.
Now fashion brands are beginning to look to regenerative agriculture to curb these negative effects on the environment.
Regenerative agriculture works to restore soil health through practices such as composting, avoiding synthetic fertilizers & pesticides, and planting crops that grow year-round to enrich the soil and prevent erosion. The resulting natural CO2 sequestering could help to reverse the effects of climate change.
French luxury brand Kering has partnered with the Savory Institute, a nonprofit organization supporting regenerative agriculture, to help identify and develop a network of regenerative farms.
Kering, which hopes to cut its environmental impact by 40% over the next 6 years, will use Savory's Ecological Outcome Verification (EOV) methodology in its supply chains for leather, wool, and cashmere. EOV tracks ecosystem functionality to assess the health of the land and farming systems that support the production of these materials, which will help Kering build a more sustainable and transparent supply chain.
Kering and the Savory Institute hope that the resulting network of farms will provide an example of restorative practices for other companies to follow so that they can be incorporated in fashion and luxury supply chains more broadly.
Other brands such as Patagonia and Prana are also investing in regenerative farming. Both companies are allies of the Regenerative Organic Alliance (ROA), which is working to create a Regenerative Organic Certification to set a standard for what can legally qualify as regenerative farming.
Patagonia CEO Rose Marcario is a member of ROA's board, and the company is working on pilot projects to make existing organic cotton farms in India fully regenerative. It hopes to incorporate regenerative cotton from the farms into its product lines within the next 6 seasons.
Regenerative farming seems to be a promising solution for the fashion industry's sustainability problems, but it still has significant obstacles to overcome. Once the ROA's certification is finalized, achieving it will present an added cost for farmers.
Because the process of converting an organic farm to a fully regenerative one takes multiple years, farmers might have a hard time investing without a brand paying the premium. Fashion companies must be willing to support farmers who do not have the financial resources to shift to regenerative methods.
Making fashion circular
To reduce clothing and textile waste, the fashion industry is embracing the circular economy — a shift from the "take-make-waste" linear system to a restorative one that designs out waste, keeps materials and products in use for as long as possible, and regenerates the environment.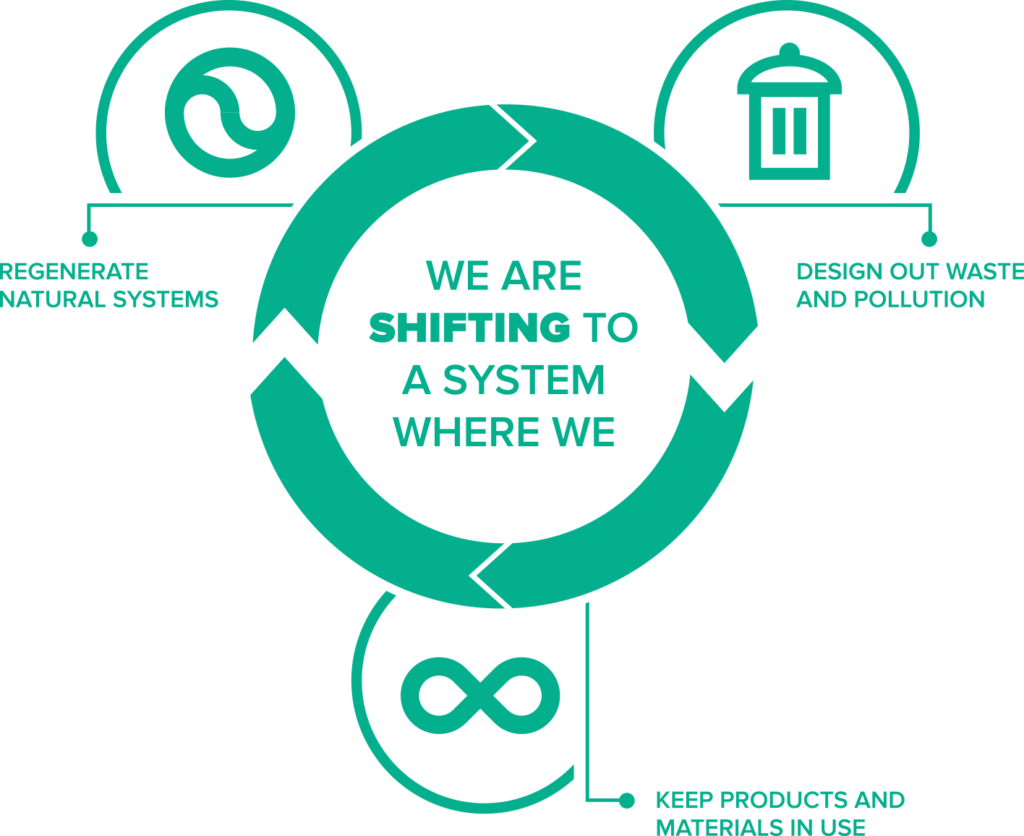 Source: Ellen MacArthur Foundation 
Leading brands such as Burberry, Gap, H&M, Nike, and Stella McCartney have joined forces to create the Make Fashion Circular initiative, which aims to transition the fashion sector to a circular operating model. The brands are working with city officials, fashion producers, and designers to focus on business models that keep clothes in use, incorporate more renewable materials, and recycle old clothes into new ones.
For example, Make Fashion Circular has teamed up with New York City to launch the #WearNext campaign, in which participating stores serve as drop-off points for old, unwanted clothes. From there, the clothes are recycled into new items instead of ending up in landfills.
Startups in the industry are also working to implement low-waste, circular practices. T-shirt brand For Days, which has raised $5M in seed funding, envisions a zero-waste, closed-loop system.
Through its membership program, customers can send back their used tees in exchange for new ones as often as they want, making the model well-suited for fast fashion consumers. The company recycles these shirts to be made into other shirts.
Some brands are innovating through the creation of new materials, including New Zealand-based Formary, which is creating new textiles from fiber waste, like WoJo (wool with jute from Starbucks' surplus coffee sacks), Juton (jute and cotton), and Mibu (wool with rice straw, a waste product burned after harvesting rice).
H&M collaborated with the Hong Kong Research Institute of Textiles and Apparel to develop a hydrothermal method for recycling cotton and polyester blends into new fibers. This innovation is being put into practice at H&M's textile recycling facilities in Hong Kong.
Other brands are focused on turning recycled materials into apparel.
London-based Petit Pli created a children's clothing line made from recycled fabric and constructed from a single fiber, making it easier to recycle. But what makes the clothing line unique is a pleated design that stretches both horizontally and vertically, allowing Petit Pli's clothes to grow as kids grow. Not only does Petit Pli encourage a circular economy, but it also avoids the wasteful nature of constantly buying clothes that kids easily outgrow.
Allbirds' shoe laces and Adidas' Ultra Boost Parley shoes are made from recycled plastic bottles.
Girlfriend Collective's activewear is made from recycled fishing nets and cupro, a fiber derived from cotton waste.
Spanish brand Ecoalf uses recycled tires for its flip-flops and recycled cotton for its shirts.
Transitioning to the circular economy can have massive environmental benefits in the long run.
The Ellen MacArthur Foundation claims that "a circular economy development path could halve [Europe's] carbon dioxide emissions by 2030, relative to today's levels," and reduce consumption of primary materials such as fuel, pesticides, synthetic fertilizers, and agricultural water by 53% in 2050.
Additionally, the circular economy could provide new revenue streams for fashion companies through the reuse of clothes that would have otherwise been discarded — the fashion industry stands to gain approximately $560B from recycling clothes that are currently either underutilized or incinerated.
But creating a circular economy would require a different type of supply chain — one that takes back products instead of discarding them. Brands need to incentivize customers and make it convenient for them to return old or used garments and apparel, just like For Days' model.
Closing the loop can also be a complex, drawn-out process that can be a challenge to scale.
For example, the Futurecraft.Loop performance running sneaker, which is still in beta mode, took five years for Adidas to craft. It's made from a single polymer that can be easily recycled, but the company has yet to figure out a suitable recycling process — from collecting used sneakers to reusing the material from them.
Automated manufacturing
Automation opens up the possibilities for a local supply chain, which requires less transportation and could result in reduced pollution. It could also minimize concerns around labor conditions in offshore manufacturing facilities.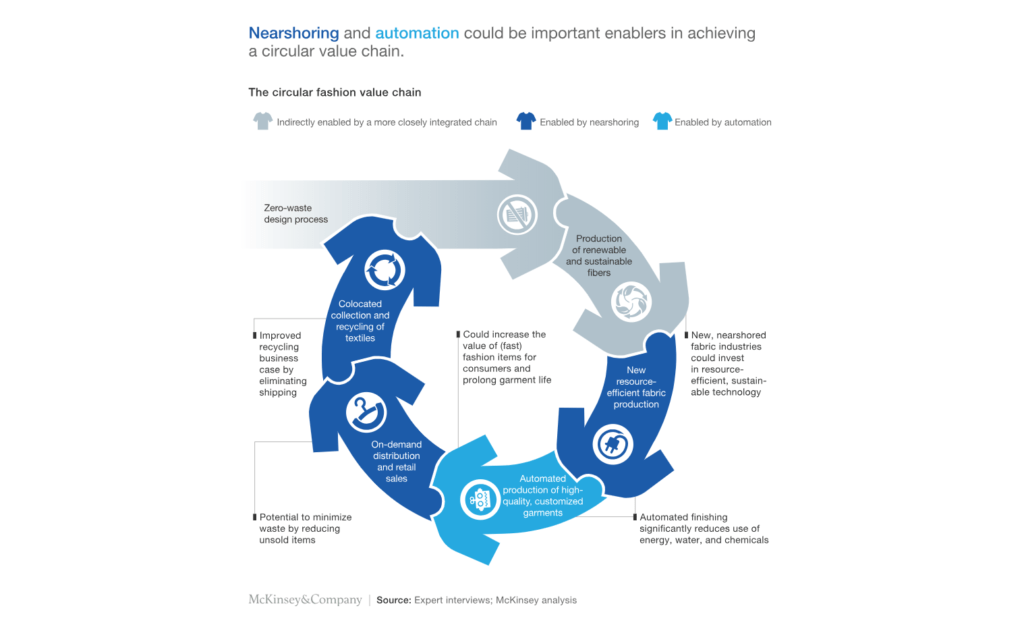 Source: McKinsey 
To that end, sewing bots (or "sewbots") are making their presence known in the manufacturing floor, helping with everything from spinning and weaving fabric to assembling complete towels, pillows, and even T-shirts.
Early-stage startup Sewbo has developed an industrial robot that works with temporarily stiffened fabrics to sew a fully assembled shirt. Softwear Automation's sewbots, on the other hand, have vacuum-powered robotic grips that feed fabric into a sewing machine, adjusting it accordingly using machine vision.
Fashion for Good, a global initiative to make fashion more sustainable, estimates that Softwear Automation's sewbots can help lower emissions by around 10% by creating products closer to consumers and reducing material waste.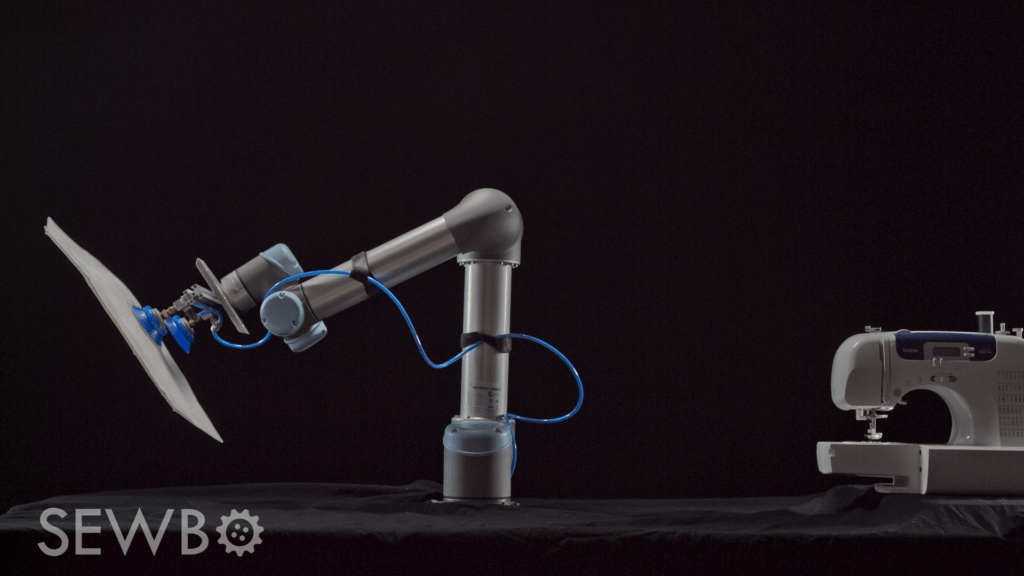 Source: Sewbo 
3D printing technology could also help automate the manufacturing process.
Adidas teamed up with 3D printer startup Carbon to create 3D printed midsoles for its Futurecraft 4D shoes. Other industry players produced footwear in the same vein, including Under Armour's Architech shoes with 3D printed cushioning and support, as well as Reebok's Liquid Floatride Run shoes with 3D printed outsoles and laces.

Source: Under Armour 
3D printing could have an even bigger impact when paired with sustainable materials. For example, Tamicare's Cosyflex technology enables 3D printing of finished fabrics from natural latex and viscose fibers. This eliminates waste from cutting and trimming and removes the chemical hazards of the fabric dyeing process.
Fast fashion retailers, especially, could benefit from automated manufacturing, which would allow them to manufacturer clothing at a faster pace. Emerging brands like Fashion Nova have become leaders in a so-called "ultra-fast fashion" trend.
The company works with clothing manufacturers located near its LA headquarters, enabling faster prototyping. With automated manufacturing, the process could speed up even more, especially in an ever-changing fashion scene, where the trendy designs of today may render unpopular tomorrow. It would allow retailers to react to emerging fashion trends, and manufacture a product more quickly than by traditional means.
But while automation may reduce emissions and improve labor conditions, it could be at the expense of people's jobs. 86% of wage workers in the garments industry in Vietnam are at high risk of automation, according to a 2016 report by the International Labour Organization. The same is true for 88% of wage workers in Cambodia's garments industry.
A more transparent supply chain
With the advent of "slow fashion," a movement focusing on sustainable materials and fair labor conditions, consumers are becoming more conscious of how and where their clothes are made.
Blockchain technology has the potential to address this shift, enabling a traceable supply chain by recording each step on a decentralized, distributed ledger.
London designer Martine Jarlgaard collaborated with blockchain startup Provenance for a proof-of-concept implementation of blockchain in the fashion supply chain. Upon scanning a garment's smart label, consumers can view a digital history of the garment's journey — from shearing alpaca fleece in the farm to knitting and assembling in a designer's studio.

Source: Provenance 
SourceMap, a social network platform for the supply chain, allows farmers, textile mills, and sewing factories to communicate with brands using their products and services. SourceMap has teamed up with Provenance, using the company's blockchain technology to verify communications between brands and suppliers.
Meanwhile, EON has created a digital thread that looks and feels like a normal thread but uses RFID technology to store information about what garments are made of. Applied DNA Sciences has created a tagging system to tag and track fabrics, fibers, and yarns throughout the supply chain.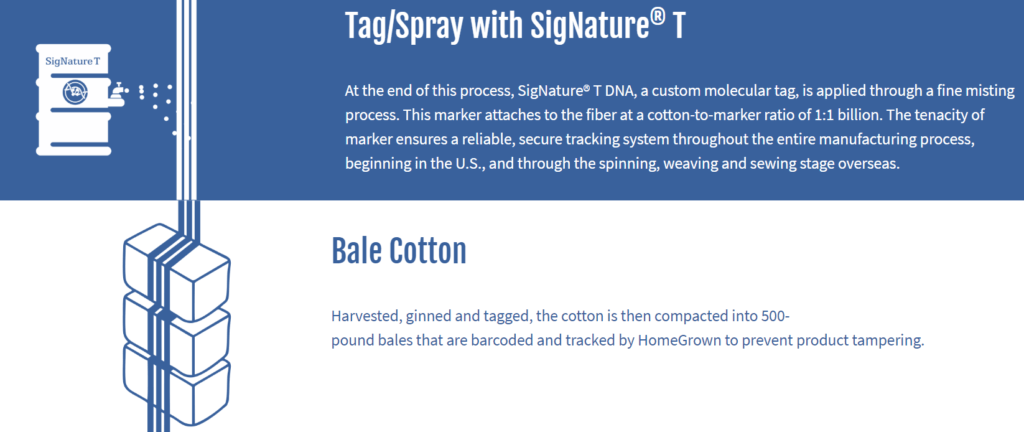 Source: Adnas
These applications are still in prototyping or commercialization phase. They may need more time for refinements and it might take a while before they go mainstream.
But efforts to create a more transparent supply chain could provide accountability for brands, build brand trust, and appeal to consumers who want proof that the brands they're supporting are employing environmentally sustainable materials and processes.
Over 65% of consumers are willing to pay more for sustainable products, with 42% of millennials and 37% of Gen Z saying they want to know what goes into products and how they're made before buying them. Moreover, a 2018 survey found that sustainability is likely to be a crucial buying factor for mass market apparel consumers by 2025.
Future-forward biotech
Most garments are made from cotton, which requires heavy use of fertilizers, insecticides, and water for irrigation. Other synthetic fibers — including acrylic, nylon, and polyester — are laced with chemicals and are nonbiodegradable. Dyeing fabrics also pollutes rivers and wastes a huge amount of water.
To mitigate these effects, companies are exploring alternative fiber and dye sources.
Biomaterials company AlgiKnit has developed degradable yet durable bioyarn from kelp, a seaweed naturally occurring in coastal waters that absorbs carbon dioxide and can grow without any fertilizer. The company, which recently closed a $2.2M seed round of funding, has created prototype sneakers knitted from its bioyarn.

Source: Aaron Nesser
California-based startup Bolt Threads uses bioengineering inspired by spider webs to spin silk proteins into fibers. Modern Meadow, another startup in the space, uses the principles behind cell biology to create animal-free, lab-grown leather.
Agricultural waste is also a lucrative source of new fibers. MycoWorks combines corn husks and sawdust with mycelium, the vegetative tissue of mushrooms, to produce leather. And Germany-based QMILK is turning sour milk into silky fibers.
In a similar vein, PrimaLoft, a company known for its synthetic microfiber insulation used in outdoor clothing, altered the molecular structure of polyester to contribute less to plastic pollution. The company attached a simple sugar to the polyester polymer, turning it into a more attractive food source for microbes and thereby speeding up the biodegradation process.
When it comes to minimizing pollution in the fabric dyeing process, bacteria could be key. Pigments naturally secreted by bacteria could be used to dye textiles, as evidenced by findings from Faber Futures in the UK and Kukka and TextileLab Amsterdam in the Netherlands.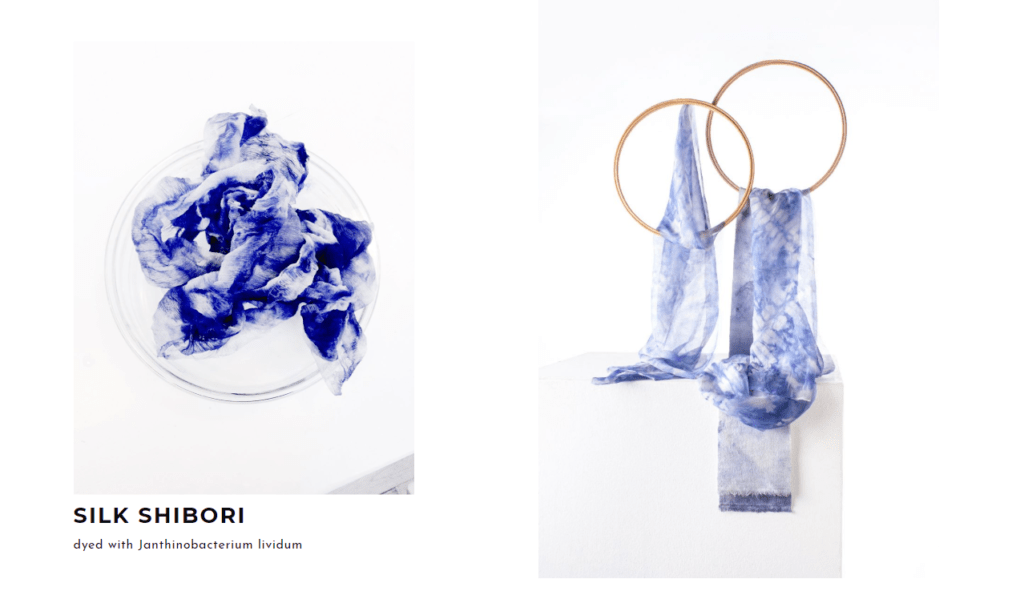 Source: Kukka
These biotech innovations are not as resource-intensive as conventional fibers or fabrics. They require no oil or fertilizers, contain less harmful chemicals, and use little to no water.
But they're still in their early stages, so more funding is needed for further development and exploration on how to scale these innovations on an industrial level.
Reducing consumption in the fashion industry
Aside from innovations in manufacturing, the fashion industry is also making waves in merchandising. Fashion companies are changing the way consumers think about clothes — from disposable to reusable.
Turning pre-loved into re-loved
The secondhand economy is projected to reach $64B by 2028, according to CB Insights' market sizing tool. Driving this expansion is the resale market, which itself has grown 21 times faster than retail in the last 3 years.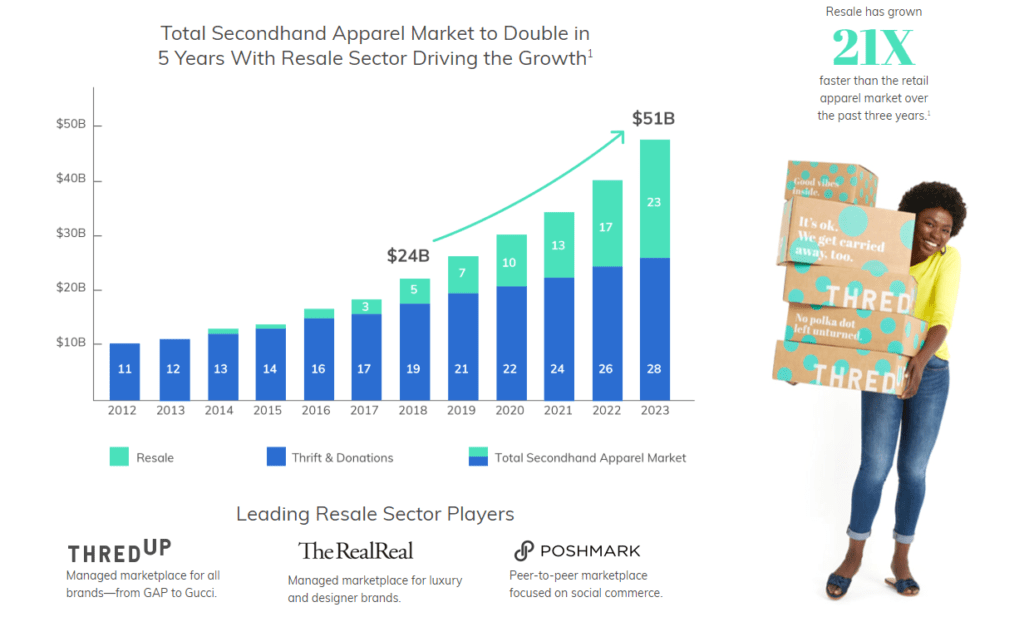 Source: ThredUp
Secondhand stores are nothing new, but startups are helping these brick-and-mortar outfits find another life online — and raising significant funding. For example, ThredUp, which has raised over $125M in funding, is a resale website for buying and selling secondhand clothes.
Online luxury handbag resale marketplace Rebag recently raised a $25M Series C funding round, bringing its total funding to over $50M. Vinted follows the same model, but with the added bonus of allowing members to swap items.
The RealReal, which will reportedly undergo another round of funding to raise its value to $1B, is a consignment shop for pre-owned luxury apparel. Designer Stella McCartney has partnered with the resale company, offering shopping credit for users consigning her items.
clothing rentals
Renting clothes is a more sustainable alternative to buying. It emphasizes access rather than ownership and capitalizes on the sharing economy, providing consumers a budget-friendly way to wear expensive designer items while maximizing the life cycle of the clothing.
Rent the Runway, for example, offers a wide selection of designer dresses and clothing that can be rented at a fraction of the original cost. The fashion rental company closed a $125M round of funding in March, raising its value to $1B.
Seattle-based startup Armoire curates a rental closet for customers for a monthly fee. Armoire builds this closet using a combination of professional stylists and machine learning algorithms that take into account a user's fit, shape, size, and other style preferences. The company raised $3M in funding in 2018.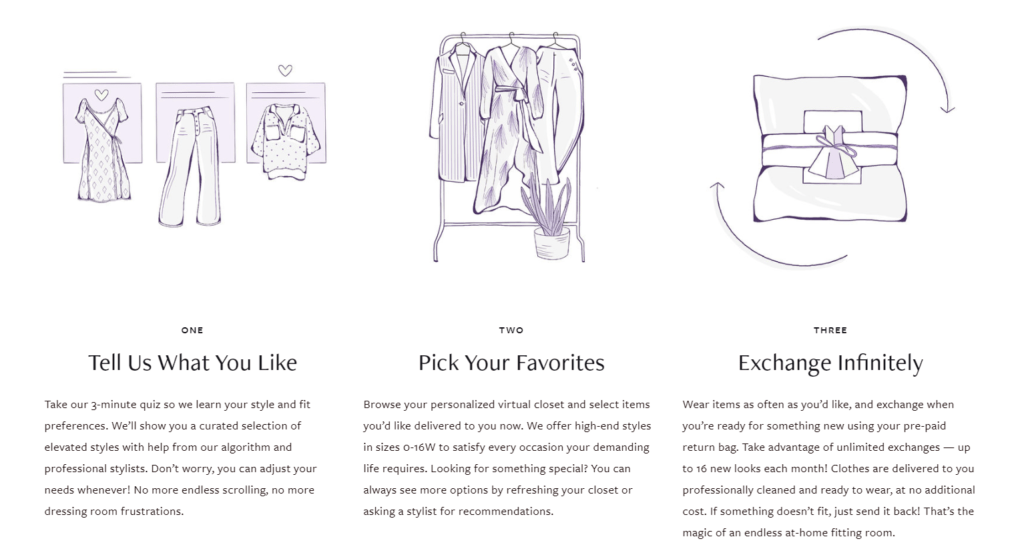 Source: Armoire 
Rather than buying a new dress every time an event arises, Designerex users can rent dresses from other platform users. The Australia-based startup, which is launching in the US in 2019, has been called "Airbnb for dresses." This saves shoppers money and reduces clothes waste.
Mend and make new
Another way brands are promoting longer clothing life cycles and limited waste is by offering repair services to encourage consumers to wear their clothes more and make them last longer.
A leader in sustainability, outdoor clothing and gear company Patagonia has repair and care guides on its website and operates Worn Wear, a recycling and repair program.
Women's clothing brand Eileen Fisher is doing the same, buying back clothes and reselling them through its Renew program. Garments in good condition are washed and cleaned; those needing minor repairs are sewed and fixed; and those damaged beyond repair are repurposed and remade into something new — artworks, pillows, or wall hangings.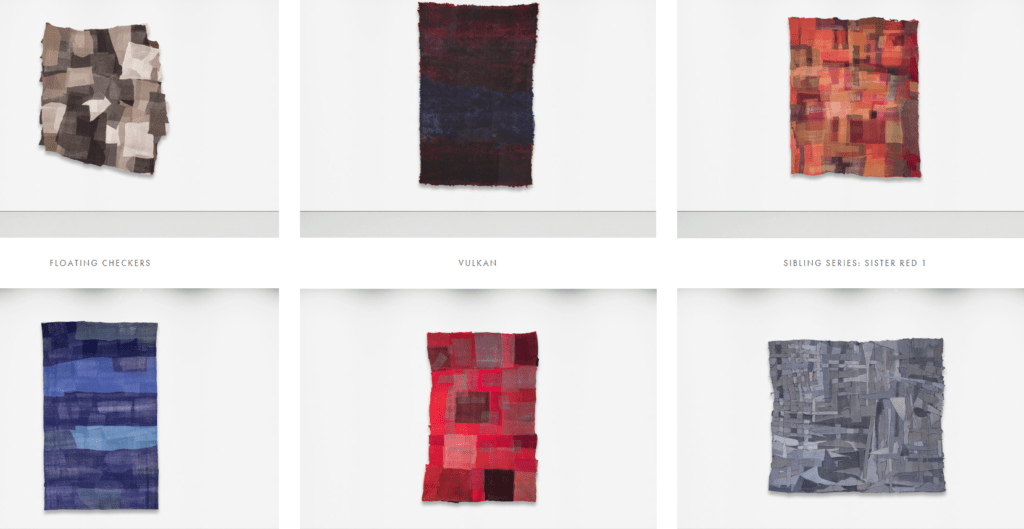 Source: Waste No More
Meanwhile, a growing number of consumers are taking matters into their own hands with the rise of repair cafes — places where people can bring items to be fixed for free — and the visible mending movement.
With visible mending, people turn rips and flaws into deliberate works of art using colorful threads, patches, and stitching patterns. Dutch fashion collective Painted Series holds workshops where people mend broken garments with gold thread.
Sustainability on the runway
During New York Fashion Week's preview of its Fall 2019 collection, designers and industry leaders took the opportunity to discuss fashion's connection climate change, highlighting many of the issues discussed above.
The United Nations hosted a conference focusing on how the fashion industry generates waste and pollution, and how it can adopt more sustainable practices.
Designer Luka Sabbat, in partnership with the Natural Resources Defense Council, launched a conceptual fashion line for a future fueled by climate change, featuring an air-filtering bandanna, a fireproof and water-resistant jacket, and a go-bag for climate refugees.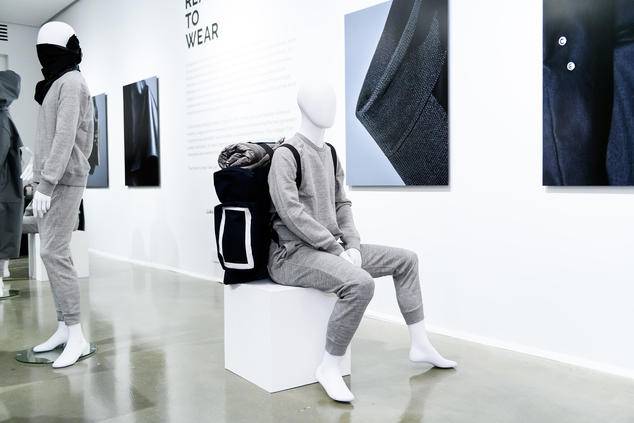 Source: Darian DiCianno via NRDC
With a spoken-word performance by environmental activist Xiuhtezcatl Martinez serving as a soundtrack, models walked the runway wearing Collina Strada's collection made of 75% deadstock fabrics and beads recycled from ocean trash.
Meanwhile, Chromat unveiled its bright and playful swimwear collection featuring upcycled fabrics and sustainable Lycra from discarded fishing nets.
Closing thoughts
As one of the world's most wasteful industries, fashion has a long way to go to achieve sustainability. But highlighting its contributions to climate change in highly publicized events like New York Fashion Week and working with cities and organizations to implement eco-friendly, regenerative practices are steps in the right direction.
The industry is beginning to lay the groundwork for a cleaner, less wasteful future by adopting circular business models, using natural textiles, and investing in regenerative farming practices — but these developments must be perfected and scaled.
Mainstream brands, smaller retailers, and suppliers must work together to raise awareness about waste in the industry, continue identifying new sustainable sources, and create convenient ways for consumers to maximize the use of their clothing.
It's a massive challenge — but it's also a massive opportunity for innovation in the space.
If you aren't already a client, sign up for a free trial to learn more about our platform.