Online luxury unicorn FarFetch is getting serious about going public. The online luxury marketplace has generated sales of $200M in 2016 but targets a whopping $5B valuation at IPO, another sign that the online luxury space is heating up.
A number of high-profile tech companies have lined up to IPO since the beginning of 2018, with Dropbox and Spotify filing to go public in the coming weeks.
And now luxury e-commerce marketplace FarFetch could be next.
According to reports, the company, which offers online distribution to luxury brands through its e-commerce platform, could be moving forward with a US listing, targeting a valuation close to $5B, despite pulling in only $206M in revenues in 2016.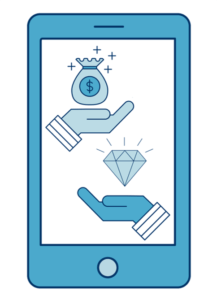 The news comes only a few weeks after French luxury house Chanel took a minority stake in FarFetch and is yet another sign that the online luxury market is heating up.
We used the CB Insights platform to examine how the online channel is becoming a central piece of luxury houses' strategy, and why FarFetch likely thinks it can ride this wave and target a tech company valuation.
FarFetch is targeting A Tech company valuation
A decade after its founding in London, FarFetch is exploring a US listing.
The luxury-focused marketplace was valued at $1.5B when it raised a $110M Series F in May'16, but reports suggest that JD.com's $397M investment in Jun'17 gave FarFetch a significantly higher valuation.
FarFetch is now reportedly targeting a $5B valuation for its public listing.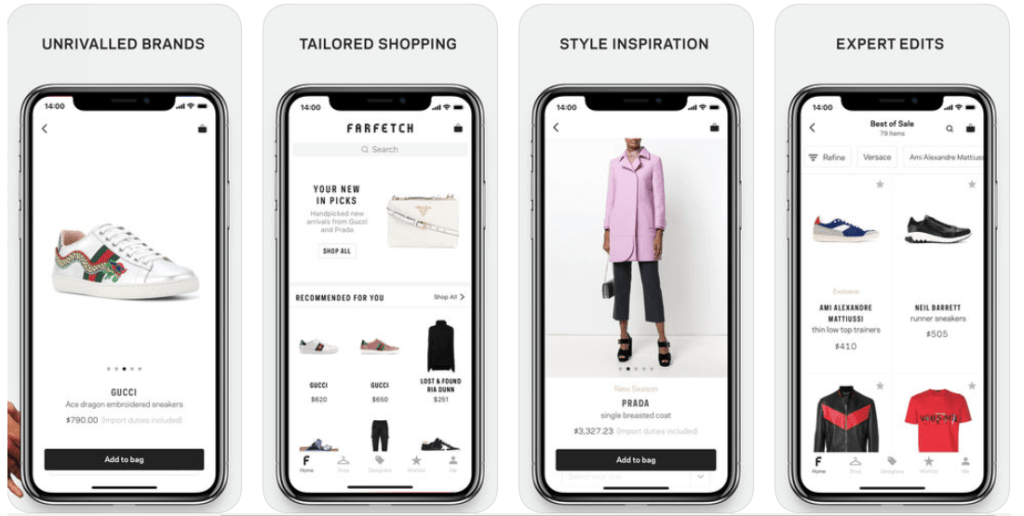 Farfetch's app
That price may be far fetched given that the company generated sales of around $206M in 2016. While that's growth of 74% over 2015, it's nowhere near competitor Yoox Net-A-Porter's $2B in sales in 2016.
Just like Stitch Fix did for its Nov'17 IPO, FarFetch could pitch itself as a tech company to justify its sales-to-valuation mutiple. Notably, FarFetch is only planning to list in the US, the largest equity market for tech companies, instead of the UK where it is based.
We compared multiples of FarFetch against a number of publicly listed comparable companies: Amazon, LVMH, Yoox Net-A-Porter, and Stitch Fix, selected based on the sector they operate in, including e-commerce and luxury, as well as business model. (In the case of Yoox, since the company is in the process of being acquired, we used its unaffected share price, right before the acquisition.)
Based on a target equity value of $5B and estimated sales of $358M in 2017, FarFetch would be valued at 14.0x price/sales. The sales figure assumes a 74% growth rate for FarFetch last year and a 1.36 average exchange rate, both the same as in 2016. That is far more expensive than Amazon, which currently trades at 4.3x sales in 2017.
FarFetch would need to generate sales of $1.8B to justify a $5B valuation, based on the average 2.7x price/sales ratio of its peers. In fact, even if the company was valued on par with Amazon, it would still need to generate over $1B in sales to achieve a $5B valuation, representing a massive 400% growth rate between 2016 and 2017.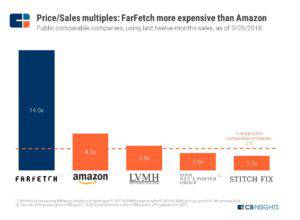 But adding sales growth into the equation gives a totally different picture.
If we combine the price/sales (PS) and sales growth rates (G), we get a "PSG" ratio which puts Farfetch and its public comps on a similar footing.
By this measure, FarFetch's valuation does not seem that crazy — but it would still value the company above its closest competitor, Yoox Net-A-Porter — based on unaffected share price prior to its acquisition by Richemont.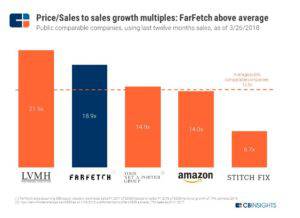 Farfetch is more than a luxury e-tailer
Farfetch's target valuation is likely a reflection of its ambitions beyond the company's luxury e-commerce offerings.
In addition to its e-commerce site, the company is also selling technology solutions aimed at improving the in-store experience for luxury houses.
Unveiled in Apr'17, FarFetch's "Store of the Future" is an operating system for in-store technologies.
The company has already launched a number of applications, including a universal login used by a retailer's customers to check-in when they enter a store and allowing sales associates to access information about them, as well as a mobile-based in-store assistant which shoppers can use to access items, ask for different sizes and colors, and check out, among other functions.
This technology was part of why Chanel took a minority stake in the company last month. Chanel will be buying in-store technology solutions from FarFetch.
If FarFetch succeeds in selling its technology to more luxury houses and fashion retailers, it could be far more than a digital-first luxury retailer but a luxury-retail-as-a-service company. This could justify its $5B target valuation at IPO and help Farfetch become a key player in the transformation of luxury retail.
Online has become a major concern for luxury houses
FarFetch's core value as a luxury e-commerce marketplace could also allow it to ride a trend that is finally gaining steam. Luxury fashion companies are finally taking e-commerce seriously, after years of shying away from selling online for fear that their brands may be perceived as down market.
Using CB Insights earnings transcripts tool, we've looked out how many times some luxury companies — LVMH, Richemont, Ralph Lauren and Tapestry — talked about the online channel during their earnings calls.
From the chart you can see that mentions are going up, although perhaps not at the rate you'd expect, given overall trends in retail — this may be another sign of FarFetch's opportunity to disrupt this market.
Online and e-commerce mentions peaked in 2017, with luxury houses acknowledging the opportunity in selling their brands online.
But some have moved faster than others.
Ralph Lauren mentioned these terms 479 times over the past 5 years, compared with only 55 from LVMH over the same period.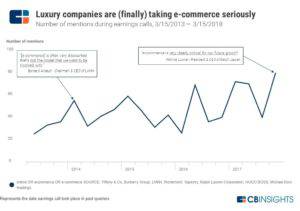 With luxury brands still behind on setting up their own online platforms, FarFetch offers a way to reach e-commerce luxury consumers without a big infrastructure investment.
The Acquisition opportunity
Some luxury houses have been actively investing in luxury fashion marketplaces to help shore up their e-commerce capabilties.
This includes Richemont's pending acquisition of Yoox Net-A-Porter at a valuation of $6.7B. The Switzerland-based luxury company had first invested in Net-A-Porter in 2010 and acquired a minority stake in the newly merged entity Yoox Net-A-Porter in 2015.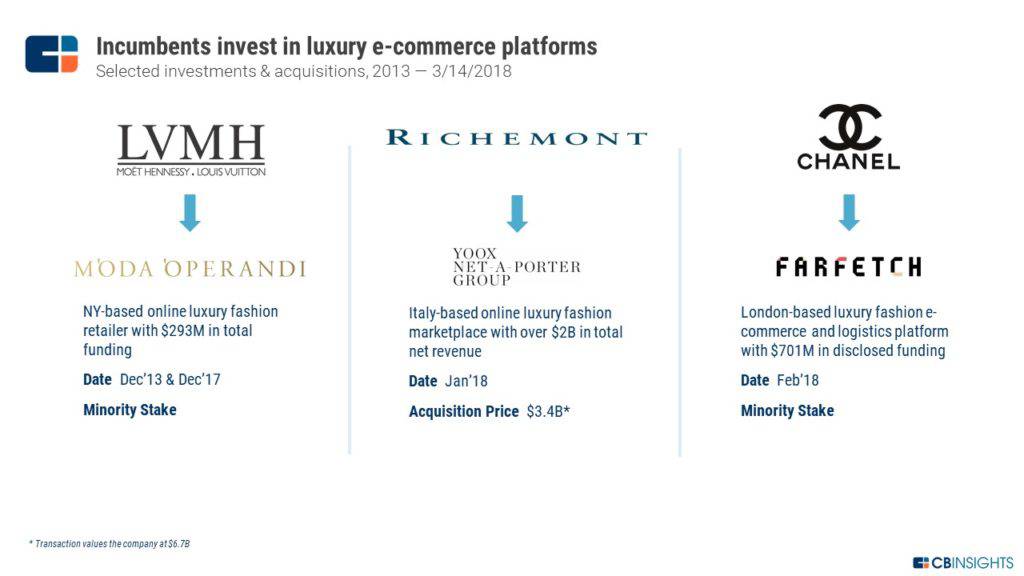 Luxury houses' growing appetite for online startups could signal an uptick in M&A activity in the near future.
It also suggests that before FarFetch goes public, the company could end up being acquired by another luxury house.
In either case, it's strength as a luxury e-commerce marketplace and its additional luxury-as-a-service offering will help FarFetch position itself as a tech company that is catalyzing and disrupting the luxury segment — perhaps a $5B company after all.
If you aren't already a client, sign up for a free trial to learn more about our platform.