Q3'20 has been the second consecutive record quarter for big tech investments, despite the global pandemic. Here's where FAMGA is investing.
During the Covid-19 pandemic, some tech giants are taking advantage of the uncertainty to make strategic moves.
25 Industries & Technologies That Will Shape The Post-Virus World
Get the free download to learn how industries are using tech to reimagine nearly every facet of their operations.
Facebook, Amazon, Microsoft, Google, and Apple (FAMGA) stocks have all outperformed the overall market since the Covid-19 outbreak was declared a pandemic on March 11, as consumers spend more time and money online.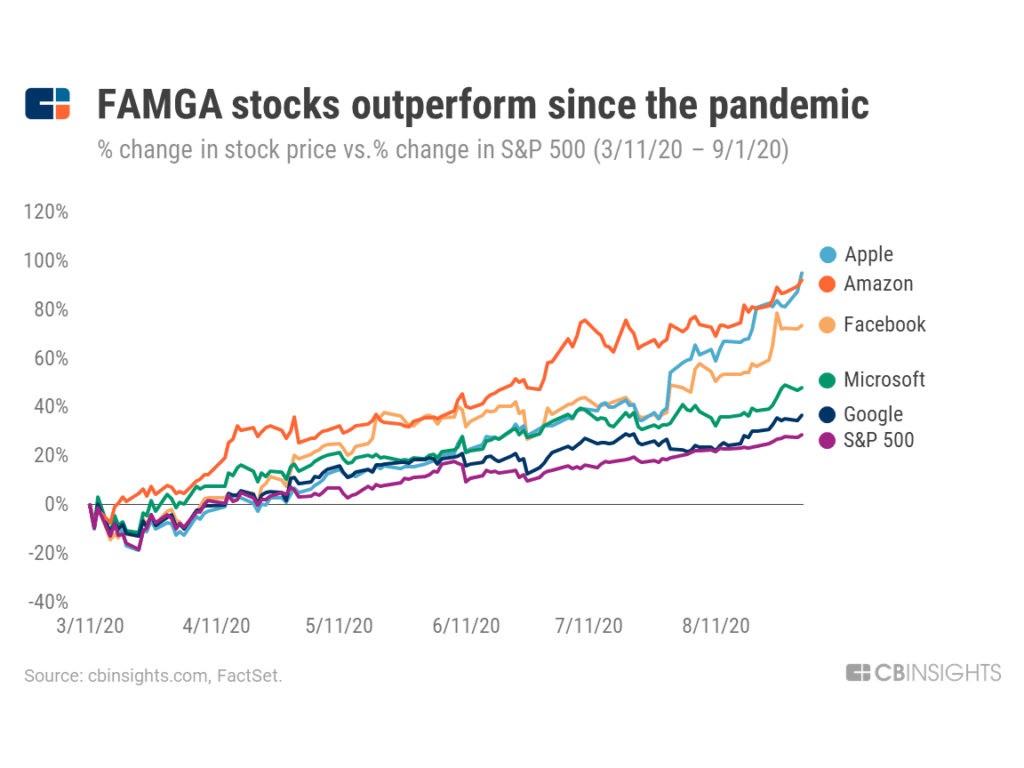 Below, we take a look at FAMGA's recent investments amid the Covid-19 pandemic, and what they may mean for the future of big tech.
Funding trends for big tech companies 
FAMGA has set funding records for 2 consecutive quarters — the companies participated in 9 deals in Q2'20 totaling a record $6.1B in investments, but Q3'20 funding has already surged past that number as the firms make much larger bets amid the pandemic.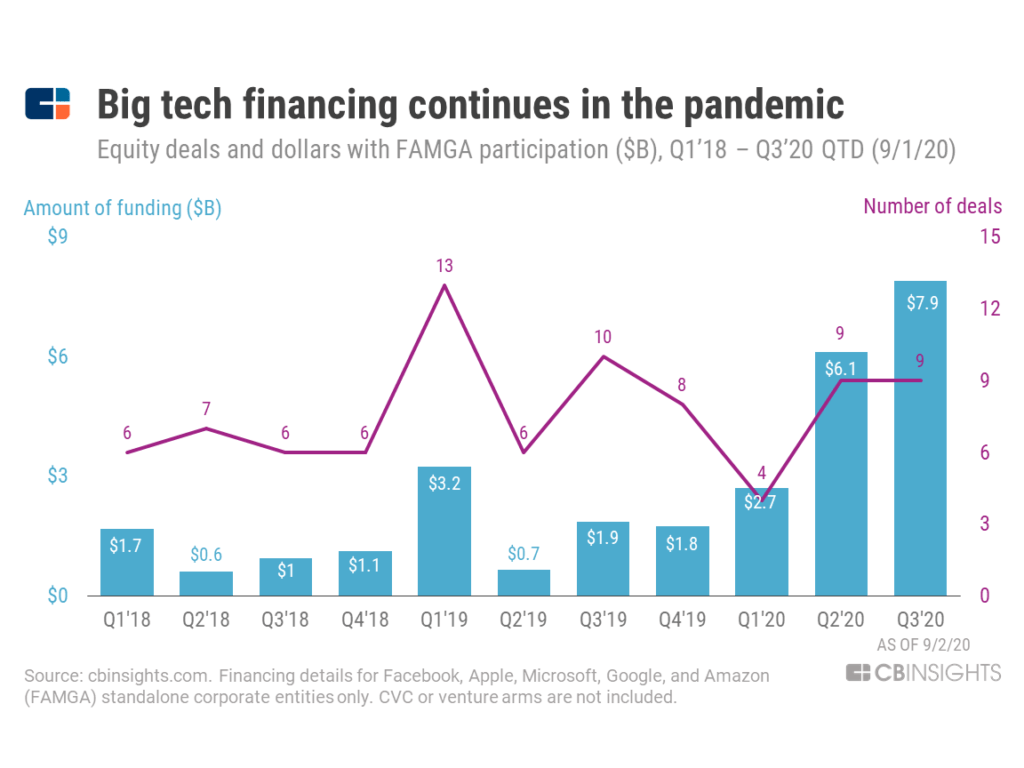 In Q3'20, quarterly equity funding with FAMGA participation again hit a record high of $7.9B across 9 deals. 2020 annual funding has already far surpassed 2019's total, making this a record year despite the coronavirus outbreak.
The following business social graph highlights only equity investments since the start of the pandemic (3/11/20) for each tech giant's standalone corporate entity. It does not include venture investments from any CVC arms or investment funds. 
Please click to enlarge.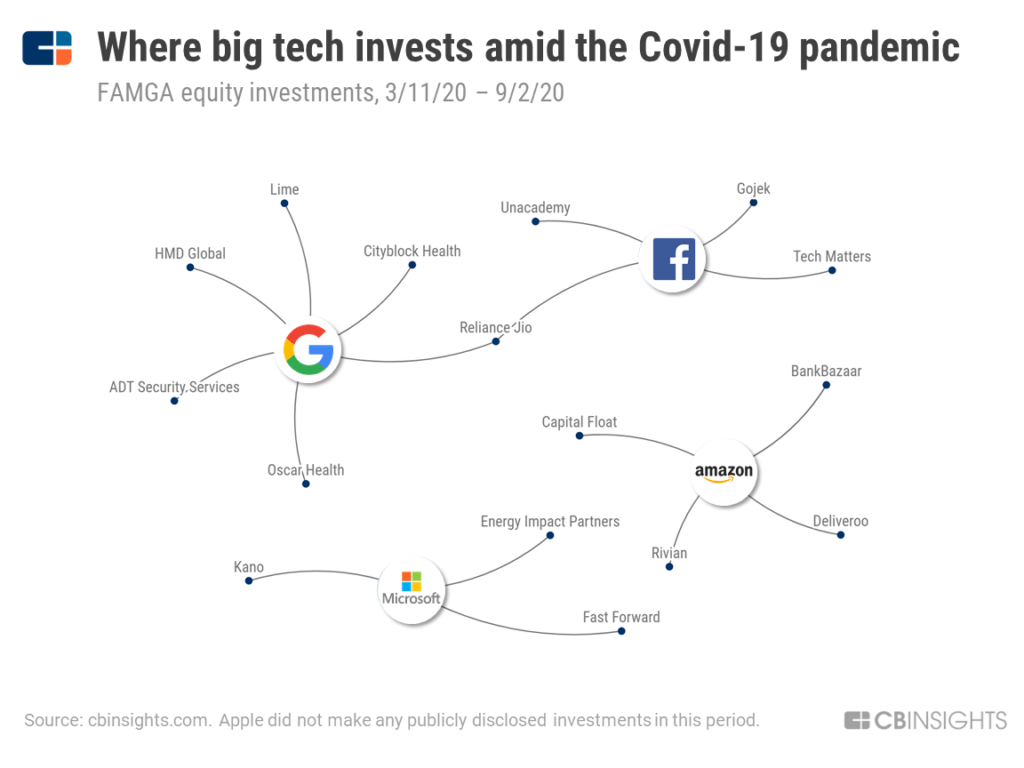 Key takeaways 
Alphabet is the most active big tech investor 
Alphabet, Google's parent company, has made the most investments of the FAMGA cohort since the start of the pandemic, participating in 6 deals since March. Most of these investments (4 rounds) occurred in Q3'20, including a massive $4.5B corporate minority investment into India's largest telecom operator Reliance Jio. Google bought a 7.7% stake in the company, and the tech giant announced it would be working with Jio on the development of a low-cost Android phone for Jio's 500M expected Indian customers. 
Reliance Jio also received a $5.7B round from Facebook (under its subsidiary Jaadhu Holdings) in April 2020.   
Other investments include a July $54M Series B in digital health startup Cityblock Health with Redpoint Ventures, 8VC, Thrive Capital, and others, and a $170M Series E in scooter share company Lime with Bain Capital Ventures, Uber, and Google Ventures.  
FAMGA focuses in on India 
A third of the investments made by big tech companies in the past 6 months have gone to India-based companies.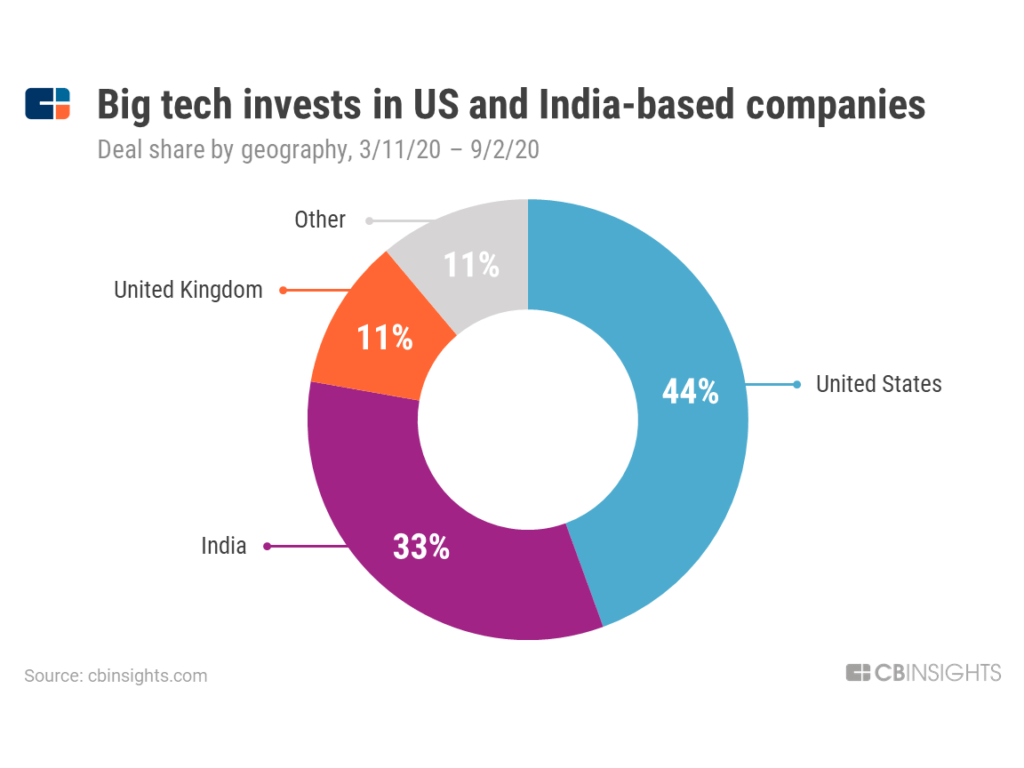 Two of Amazon's 2020 investments have gone to India-based companies. Since the pandemic declaration, the e-commerce giant has participated in a $3.8M Series D tranche to loan & insurance policy aggregation platform BankBazaar and a $15M Series E to SMB lender Capital Float. These India-based fintech investments highlight that Amazon is looking to further deepen its footprint in the region.
In April, Facebook invested $5.7B for a 10% stake in Reliance Jio, 3 months before Google's investment into the company. Facebook's investment was reportedly the largest corporate minority financing ever made by a tech company globally as well as the largest foreign direct investment in technology in India's history.
Reliance Jio has raised more than $20B since April 2020 and is now valued at about $58B, with funding from investors like Intel Capital, Qualcomm Ventures, KKR, and General Atlantic. 
Microsoft and Apple are the least active investors 
Excluding Apple, which has made no publicly disclosed equity investments since the pandemic began, Microsoft is the least active investor of the group. It has participated in 3 equity investments — all in July — including: 
A $50M corporate minority round to

Energy Impact Partners

, a PE firm focused on low carbon investments 

A $3M round to tech non-profit accelerator

Fast Forward

 

A $1M round to coding education startup

Kano

 
These 2 big tech companies likely did not invest heavily in the market due to their spend elsewhere — Apple and Microsoft were the most acquisitive big tech companies across the same period. 
If you aren't already a client, sign up for a free trial to learn more about our platform.