US corporates are currently using facial recognition for everything from fast food orders to trying on makeup to issuing life insurance policies, and more.
Although we most often notice facial recognition when unlocking a smart phone or laptop, it will soon play a major role in everything from travel to shopping and even fast food.
Biometric technology such as facial recognition can quickly and accurately identify individual people and their emotional state, making it a powerful tool for ensuring security and preventing fraud.
But it can also make life more convenient by seamlessly checking weary travelers into their hotel rooms or empowering hospitals to deliver better patient care.
Facial recognition is still an emerging technology, with major US-based corporations actively pursuing it in a wide range of verticals from energy to insurance, and beyond. While it is popular from a business perspective, some observers consider the technology controversial from a civil liberties standpoint — for example, San Francisco recently banned the use of facial recognition for law enforcement purposes.
Whether allowing people to pay for goods and services with selfies or helping busy rental car drivers to get on the road in record time, we look at how several US corporates are using facial recognition technology today.
1. Tech companies are developing facial recognition services for law enforcement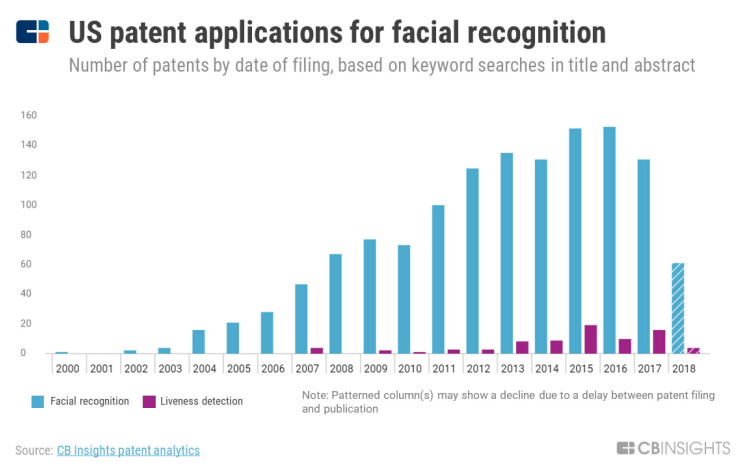 In the US, interest in facial recognition tech is surging, according to CB Insights' patent analysis tool — and several companies are developing the tech for law enforcement applications.
Amazon, for example, is selling its facial recognition tech — called Amazon Rekognition — to law enforcement agencies. The service promises "real-time analysis" of video streams and "face-based user verification" among other features. In addition, the company filed a patent in 2018 that explores additional layers of authentication, including asking users to perform certain actions like "smile, blink, or tilt his or her head."
Seattle-based Axon AI (fka Taser International), which is focused on developing technology for law enforcement, is reportedly looking to add facial recognition tech to its software products. The company has filed for patents incorporating facial recognition tech, which would help "identify individuals and blur out sensitive information in police footage," according to the Financial Times.
Veritone, an AI company, has developed facial recognition software known as IDentify, which compares images to those in an offender database to help match potential suspects. The system has been described as "remarkably accurate," according to Deputy Chief Julian Harvey of the Anaheim police department.
---
2. Automotive manufacturers tap facial recognition to control access to cars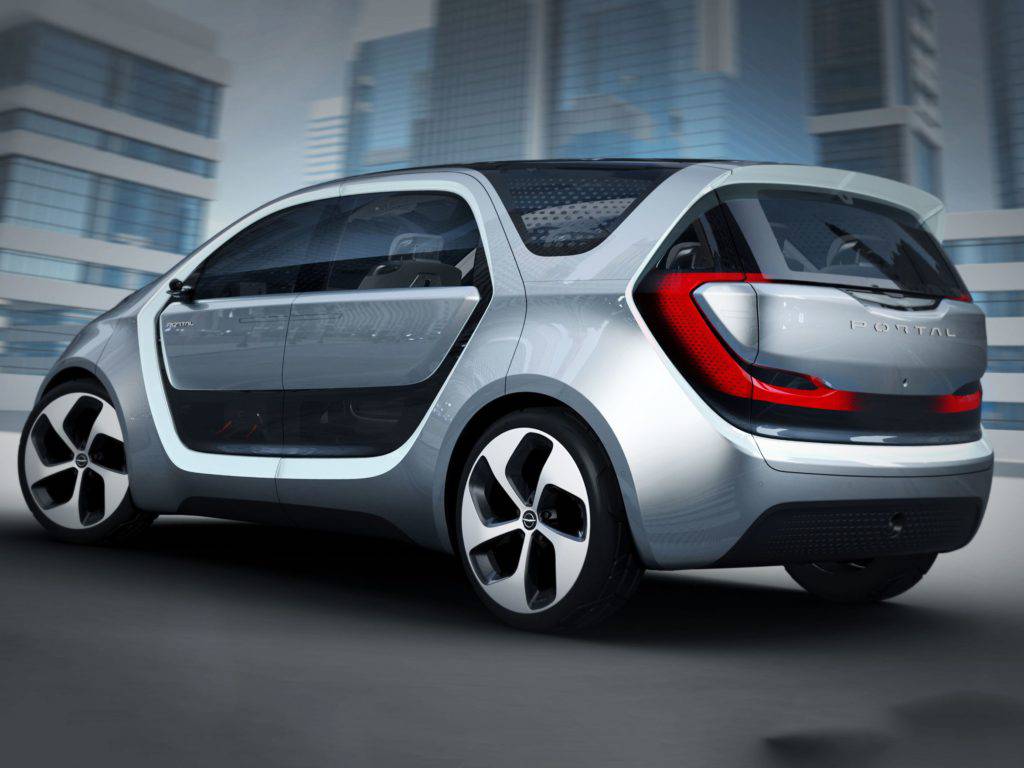 Automotive manufacturers are testing facial recognition for driver authentication, which could help cut down on instances of car theft.
Ford and Intel have teamed up on a project called Project Mobil, in which a dashboard camera uses facial recognition to identify the primary driver of a vehicle or other authorized drivers, such as family members. One use case could be blocking the car from starting if someone other than an authorized driver sits in the driver's seat.
This in-car facial recognition approach can also be used to personalize the driving experience for each driver, calibrating the car's settings to whoever is driving — such as automatically adjusting the music volume, driver's seat position, or even vehicle speed.
Ford was also granted a patent for a keyless biometric device that authorizes drivers to operate vehicles using a variety of biometrics, including facial recognition, in 2015. This smartphone-controlled device was also envisioned as being able to issue temporary access to a car.
Chrysler took this concept a bit further with the Portal minivan, which debuted at CES in 2017. Using technology jointly developed by Panasonic Automotive and Sensory Inc, the Chrysler Portal concept car allowed a driver to sit in the seat for an initial scan and then fill out a profile on their driving preferences. From that point on, an exterior camera identified the driver as they walked to the vehicle — automatically adjusting the seat, radio, and preferred climate control settings before they entered the car. The company is hoping this technology will be showroom-ready by 2020.
---
3. Banks use facial recognition for authentication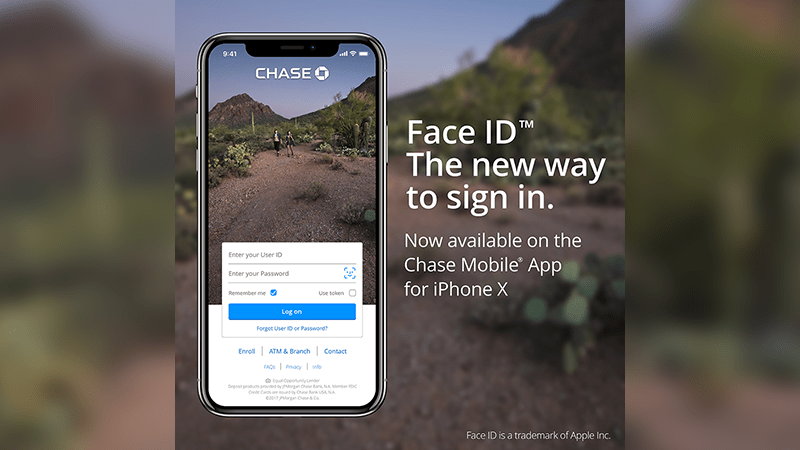 Few sectors place as high a premium on security and fraud prevention as the banking industry, and US-based banks are already using facial recognition with both priorities in mind. Chase, HSBC, and USAA use Apple's FaceID to let customers securely log into their mobile banking apps, while UK-based Lloyds Bank is testing similar features using Microsoft's biometric authentication technology.
Bank of America is reportedly working on such capabilities, as well.The bank was granted a patent for an authentication system using a variety of biometrics, including facial authentication, in May 2019.
Financial institutions are also using facial recognition to streamline payments. MasterCard, for instance, has been experimenting with a feature it calls "selfie pay" since 2016, in which customers use a phone camera to approve online purchases. Amazon filed a patent for a similar payment method in 2016.
---
4. Beauty brands are letting customers try on makeup virtually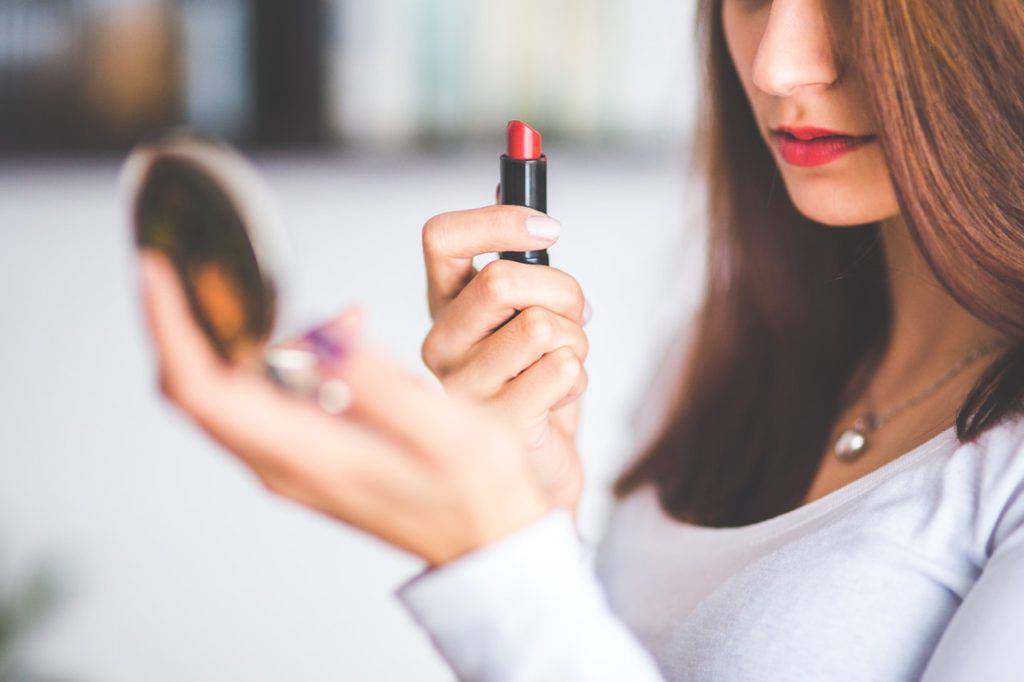 Beauty brands are finding facial recognition appealing as well, integrating it into the process of shopping for makeup.
Covergirl is using facial recognition in its Custom Blend App to help customers find foundation shades that complement their skin tones. While MAC is using facial recognition technology for brick-and-mortar makeup shopping, allowing customers to virtually "try on" makeup using in-store augmented reality mirrors.
---
5. Energy companies are leveraging facial recognition for security, payments, and driver health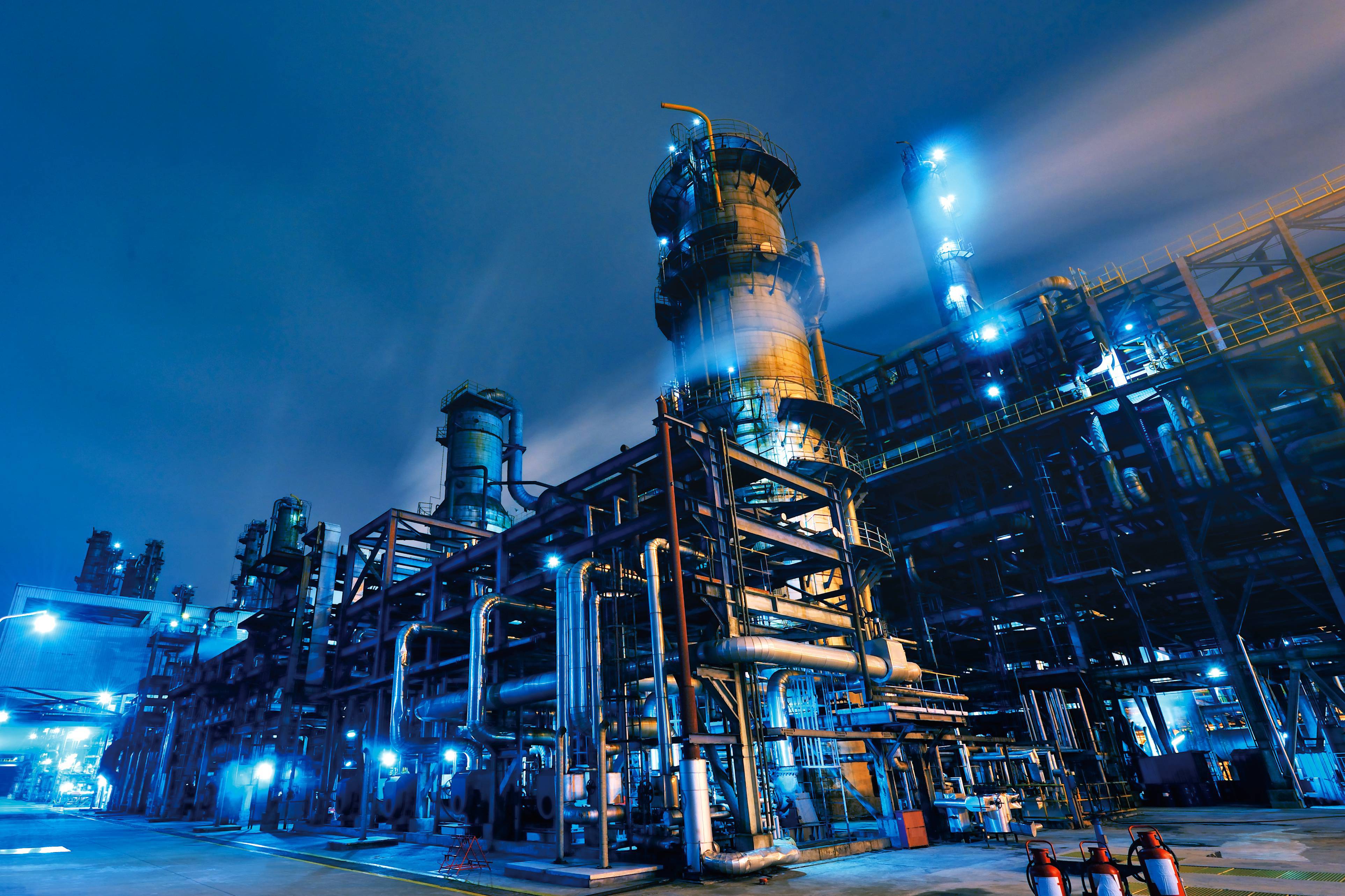 Energy companies are using facial recognition for a wide range of applications, including safety, security, and payments. Chevron is apparently experimenting with facial recognition technology to detect fatigue in truck drivers — with the aim of improving safety and productivity along fuel transport routes.
Facial recognition technology is also being deployed for security purposes at plants, helping to ensure that only authorized personnel are permitted entrance to sensitive locations. One company currently pitching this solution to the energy sector is Digital Barriers.
Additionally, energy companies are using this tech to streamline the process of paying for fuel. In 2018, ExxonMobil partnered with WEX to launch DriverDash, a fuel payment app for fleet drivers that allows the use of facial recognition to authorize and document transactions.
---
6. Food and beverage brands are offering a personalized experience by recognizing customers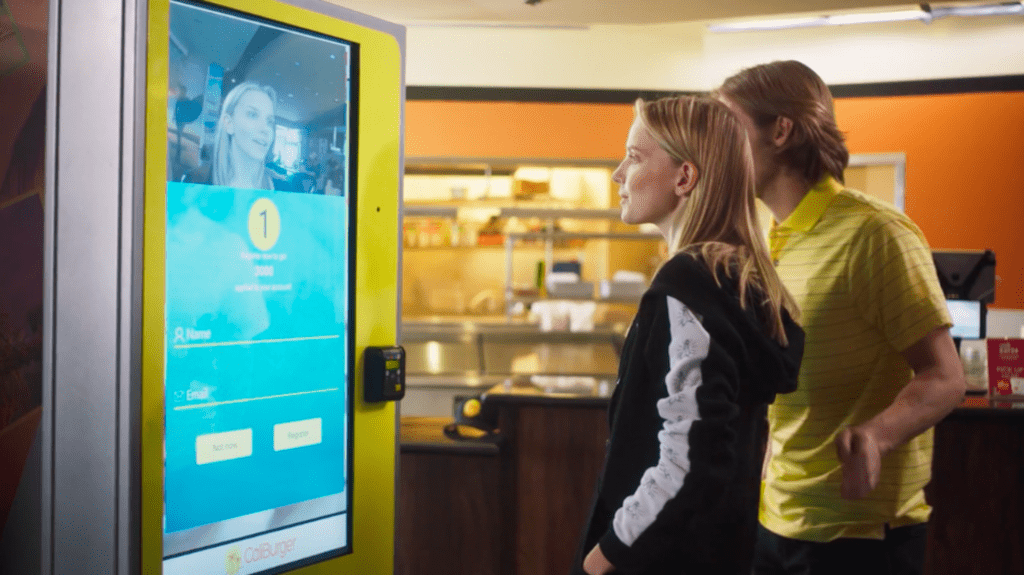 Food and beverage corporates are seeking to create a better customer experience using facial recognition technology. California fast food chain Cali Burger lets patrons quickly access their loyalty program account at a kiosk using facial recognition — allowing them to see what they've purchased previously, view personalized recommendations, and receive special discounts.
KFC has tested similar programs in China since 2017, allowing customers to pay for a meal using a facial detection payment system provided by Chinese tech giant Alibaba. BurgerFi, a Florida chain, is also using facial recognition technology to streamline ordering and remember customers' individual preferences. While candy maker Lolli & Pops is using facial recognition to personalize the customer experience for its VIP customers in a similar fashion.
Some food companies have integrated facial recognition into marketing campaigns. Frozen pizza brand DiGiorno, for example, used facial recognition for a 2017 marketing campaign where it analyzed the expressions of people at DiGiorno-themed parties in an effort to gauge people's emotional reactions to pizza.
Beverage giant Coca-Cola has used facial recognition in a number of ways across the world. Examples include rewarding customers for recycling at some of its vending machines in China, delivering personalized ads on its vending machines in Australia, and for event marketing in Israel.
McDonald's, another American giant, is currently using facial recognition in its Japanese restaurants to assess the quality of the customer service provided there, such as by analyzing whether its employees are smiling while assisting customers.
---
7. Healthcare firms are using facial recognition to boost patient care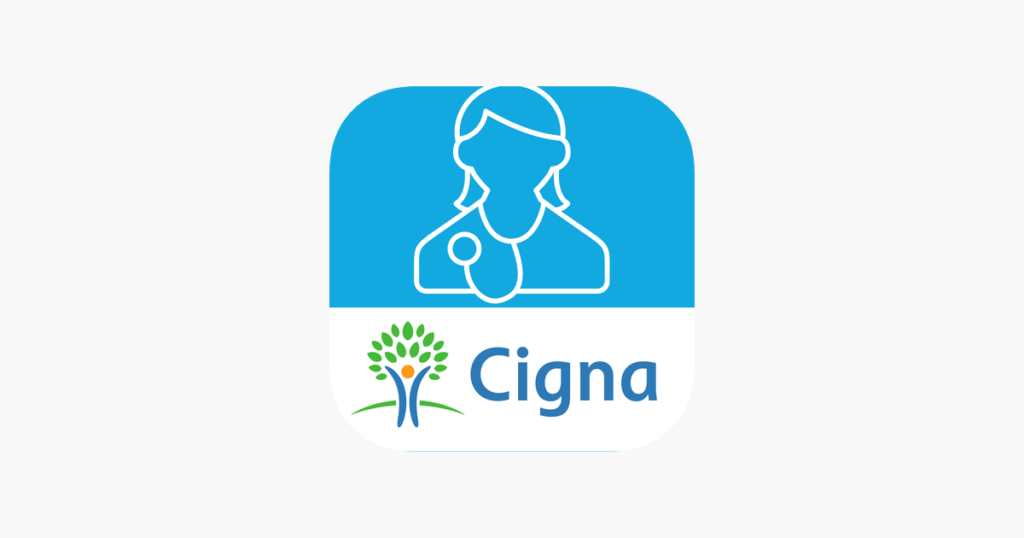 Healthcare companies are exploring the use of facial recognition for a variety of purposes, including fraud prevention during the insurance claims process and helping to improve care for patients.
US-based health insurer Cigna allows customers in China to file health insurance claims which are signed using a photo, rather than a written signature, in a bid to cut down on instances of fraud.
Hospitals, meanwhile, are looking to use facial recognition to help with patient care. Use cases being tested include using facial recognition to access patient records, streamline patient registration, detect emotion and pain in patients, and even help identify certain genetic diseases. As biometric technology becomes less expensive, adoption within the healthcare sector is expected to increase across a number of areas.
---
8. Hotels greet guests with help from facial recognition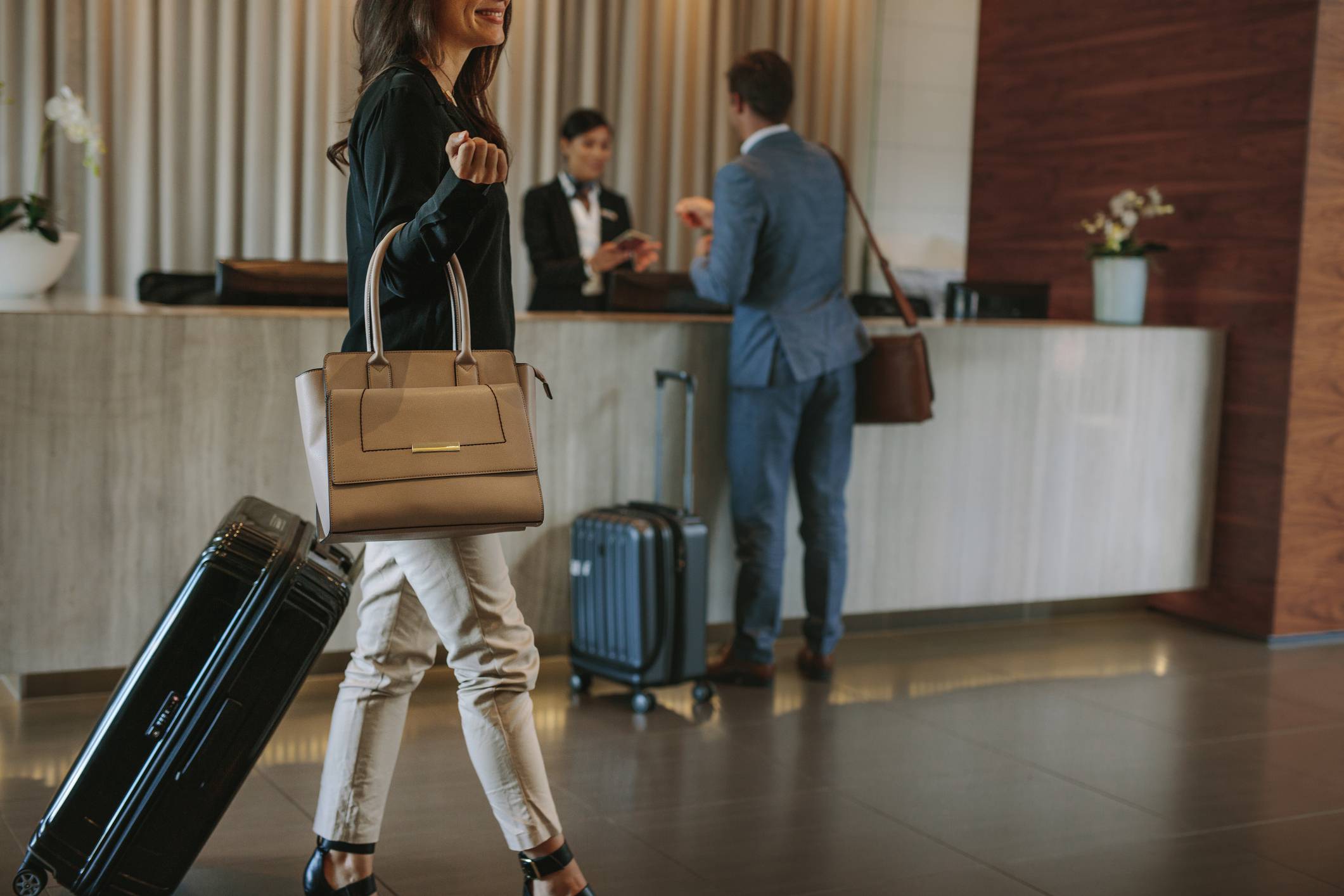 The hospitality industry is using facial recognition in an attempt to enhance hotel stays. In 2018, Marriott began experimenting with facial recognition to speed up the check-in process at two of its hotels in China. Should the test be successful, Marriott plans to begin rolling this technology out to its hotels throughout the world.
Facial recognition could be used to help provide a better experience for guests in other ways. For example, some industry observers speculate that concierges could use facial recognition in combination with augmented reality technology like Google Glass to automatically identify a guest before they arrive at the desk, silently call up their customer profile, and offer them a personalized greeting.
---
9. Insurers are pricing premiums by analyzing faces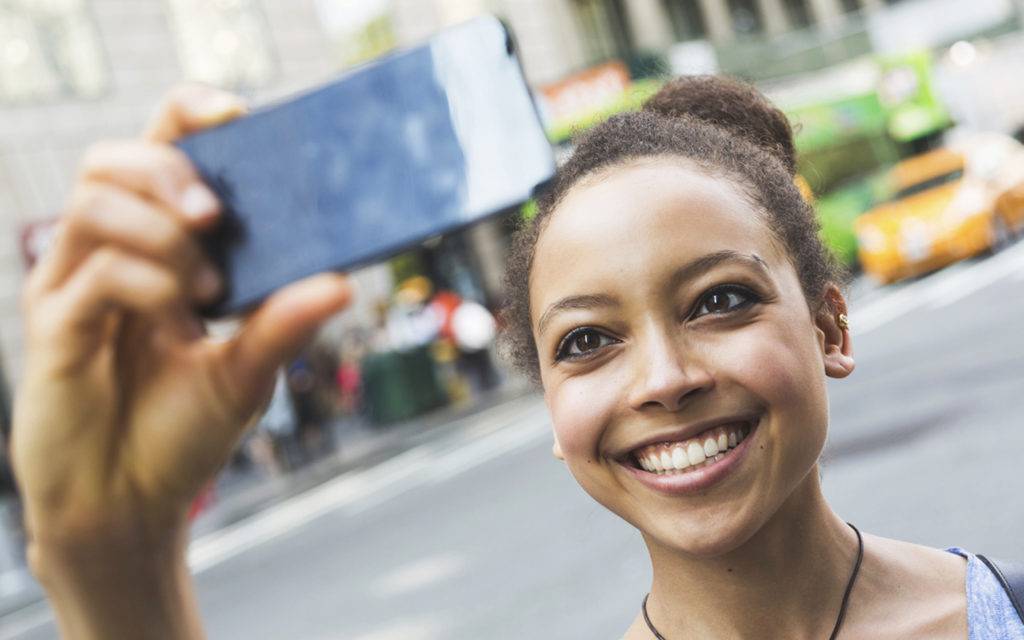 It could soon be commonplace for insurers to leverage facial recognition technology to provide quotes for life insurance policies.
Lapetus, an insurtech startup, has developed facial recognition technology that evaluates common health conditions, such as smoking-related ailments, to aid insurers in pricing life insurance premiums. Lapetus is currently testing this product, Chronos, with a number of insurers.
US insurer Legal & General America partnered with Lapetus to launch an online tool known as SelfieQuote in 2018. Targeted at younger consumers, the tool quickly generated a life insurance quote from a submitted photo by estimating the person's age, gender, and body mass index (BMI) using facial recognition tech — though the service has since been taken offline.
In the future, insurers may seek to combine such technology with data from fitness trackers and other devices — providing companies with more ways to assess a potential customer's health.
---
10. Retail giants track faces to combat theft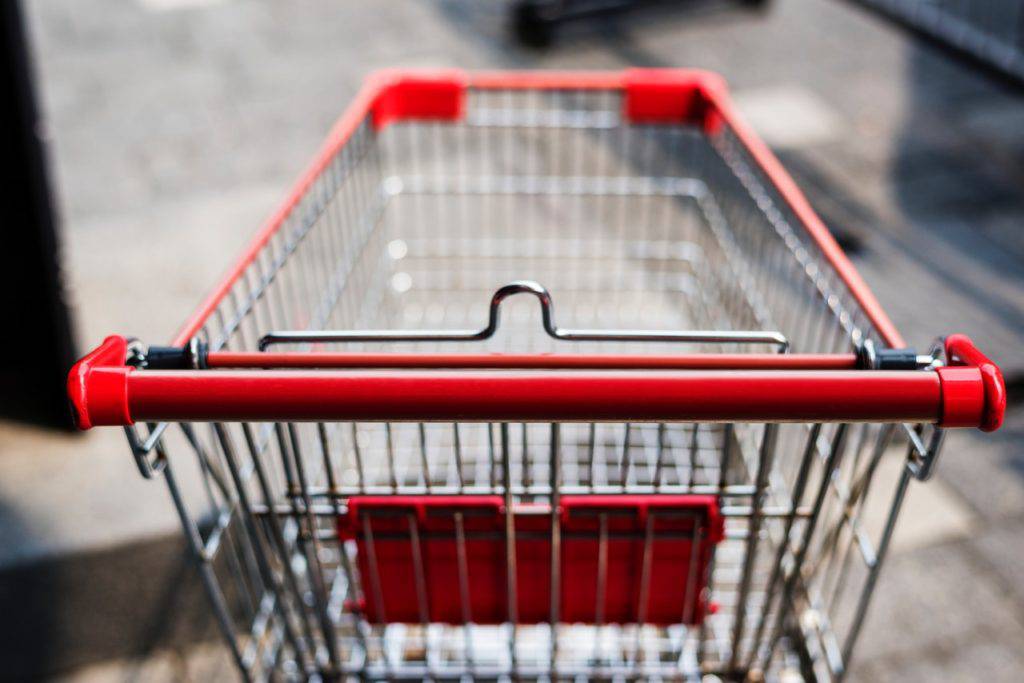 Retailers have demonstrated interest in facial recognition for preventing shoplifting and analyzing customer sentiment, though they are not always willing to discuss whether they are currently using it in their stores.
Target and Walmart have experimented with facial recognition to combat shoplifting and fraud. Lowe's has also acknowledged that it uses facial recognition for this purpose, while Saks Fifth Avenue has reportedly used facial recognition in its Canadian stores.
Separately, Walmart is apparently developing facial recognition technology to analyze customers' moods while they are checking out at its stores. Walmart received a patent in March 2018 which described a method to track shoppers' movements around stores in a variety of ways, including via facial recognition. The retail giant could potentially use this technology to design more efficient stores or to optimize the placement of in-store displays.
Meanwhile, Facebook submitted a patent for in-store facial recognition tech that would provide retail staff with customer information drawn from social media profiles in a bid to deliver a more personalized service.
---
11. Travel companies are using facial recognition to bolster security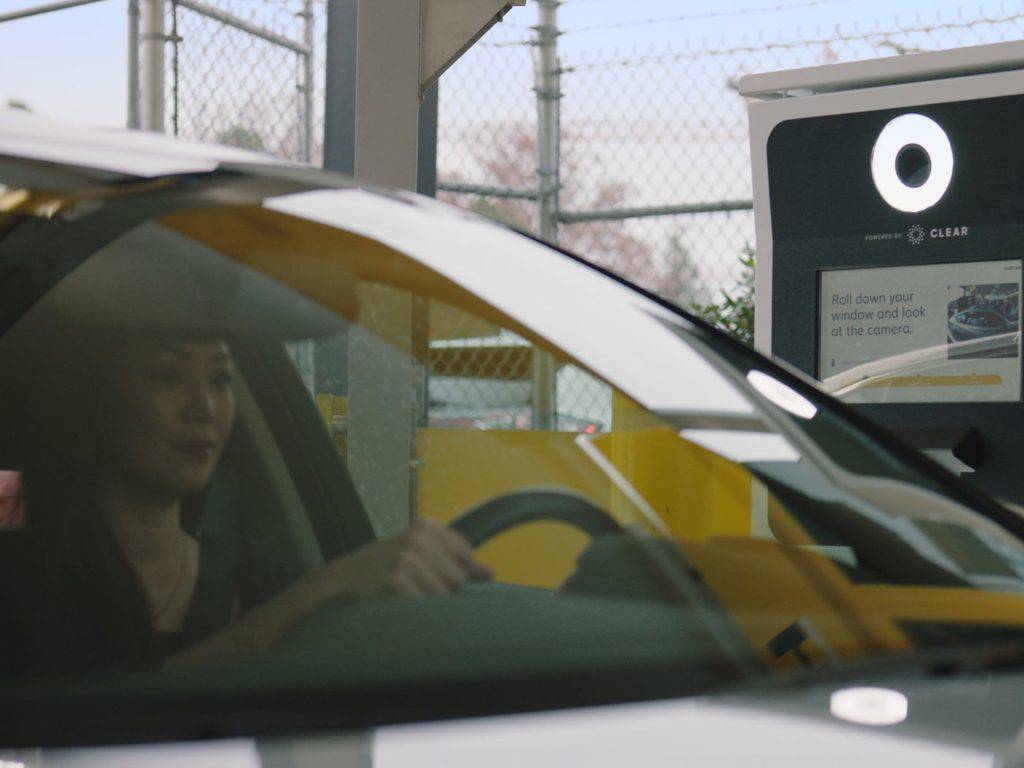 US-based airlines are deploying facial recognition to enhance security at airports across the country. Delta, JetBlue, and American Airlines are reportedly among airlines supporting security-focused facial recognition initiatives as part of a broader Department of Homeland Security push to use more facial recognition tech in US airports.
Aside from security, facial recognition is being used to help travelers board flights and rent cars. JetBlue, for example, is using facial recognition to streamline passenger boarding on some international flights, while Hertz is testing a biometrics-enabled service called Hertz Fast Lane for pre-enrolled customers — the company claims it speeds up the rental process by 75%. Hertz hopes to roll out this service to more than 40 major airports by the end of 2019.
If you aren't already a client, sign up for a free trial to learn more about our platform.