Facebook's latest foray into finance highlights a tool to track personal finances and help forecast spending.
Facebook wants to provide more financial advice.
A recently approved patent from the company highlights a tool to "compare a user's financial transactions to financial transactions of a group." Simply, Facebook is offering a financial planning tool that allows users to benchmark their financial habits against their peers' behavior.
While this would be an entirely new product for the social network giant, Facebook is no stranger to the world of finance. The company has pursued at least 124 patents in finance-related categories. And before proposing its cryptocurrency project, Project Libra, Facebook secured several patents related to digital currencies.
We've also previously highlighted how Facebook's WhatsApp is building out WhatsApp Pay for payments in developing countries.
This recently granted patent (which was originally filed in 2013) takes a slightly new tact for the social network giant. The proposed idea resembles a personal finance management (PFM) tool that informs consumers about where they stand financially, benchmarked against the crowd.
HOW THE PATENT WORKS
Facebook's patent envisions a product similar to Mint or Qapital, where users could connect credit cards, checking, and savings accounts to track and manage their finances. Facebook would also supply in-system purchase data to get a full picture of their transaction history. Then, as is common with other PFM tools, Facebook would provide a breakdown by category (money spent on clothes, gas, etc.) and make budget recommendations.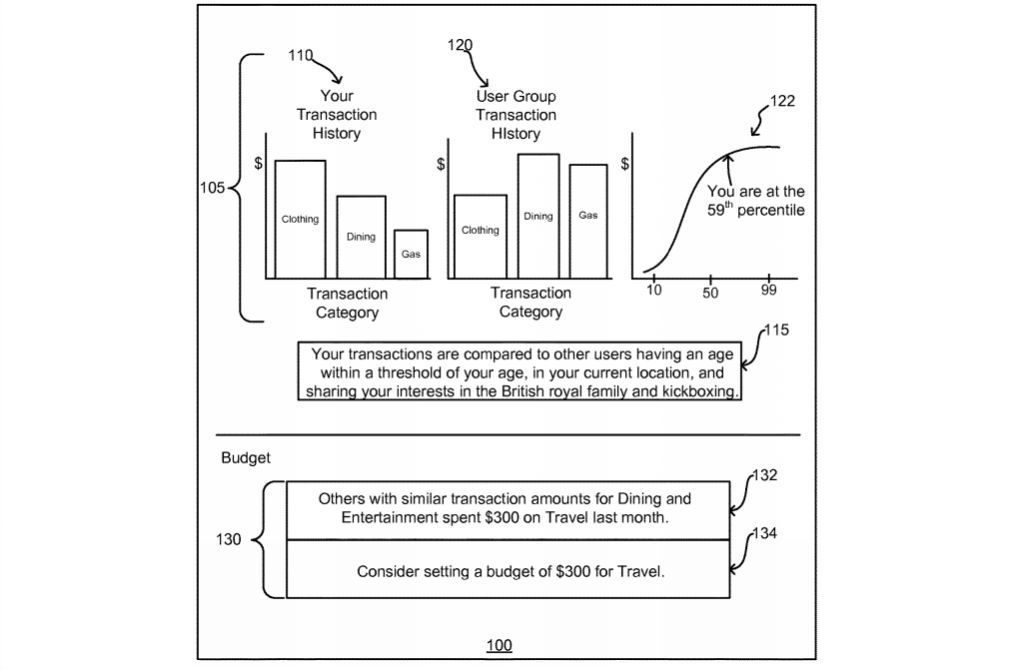 The interesting spin is that Facebook would also compare an individual user's spending habits to those of his or her financial peers. That group of peers would be determined by the social network based on users' shared characteristics, such as demographics, location, occupation, niche interests, and more. 
In the above example, the patent shows the message, "Your transactions are compared to other users having an age within a threshold of your age, in your current location, and sharing your interests in the British royal family and kickboxing."
The patented tech would also allow users to search hypothetical scenarios and budgets. For someone anticipating a move to New York, for example, the patent says, "the user may select characteristics for a group of users living in New York in order to anticipate his own financial transactions upon moving."
WHY IT MATTERS
Facebook wants to become increasingly embedded into peoples' financial lives.
Facebook's massive base of engaged daily active users across a variety of products — from Instagram's checkout, to WhatsApp Pay, and possibly even Project Libra — means the company already has incredible insight into people's financial lives. A consumer-facing PFM tool would not only encourage people to think of Facebook as a financial destination, but also influence users to upload more of their buying histories and financial data, creating a flywheel effect.
Finally, there's competitive pressure to move into financial services. For example, Apple released a similar PFM tool with its Apple Card, which gives users simple spending breakdowns in the Wallet app.
As people's financial lives move increasingly online, Facebook aims to capture more of that value.
If you aren't already a client, sign up for a free trial to learn more about our platform.