A newly published Facebook patent allows users to pay for goods through messaging bots on its app, highlighting the company's continued expansion into commerce.
Facebook wants users to order their morning lattes via chat.
The company's patent application published last week entitled "Processing Payment Transactions Using Artificial Intelligence Messaging Services," outlines a messaging bot that interprets and responds to users' purchase requests. Instead of opening a merchant's app to search for and buy products, users could visit the company's Facebook page, engage a messaging bot, and place orders within the chat.
The patent adds further context to Facebook's support for payments in Messenger, a version of which is currently in closed developer beta.
An illustration from the patent below shows a chat between a user and a bot for a coffee shop. The bot relays information about how much a latte at the shop costs and the user confirms that they'd like to order the drink. Then the bot asks how the customer would like to pay, places the order, and issues an order number and pick-up time.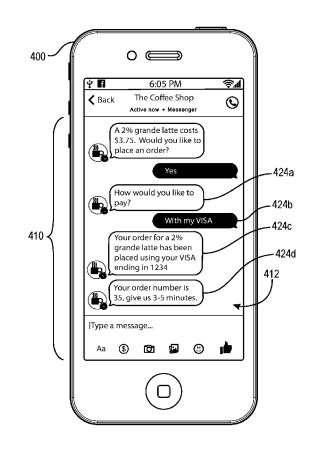 Specifically, the bot uses natural language processing (NLP) to interact with the user and analyze their messages. It understands customers' product requests, confirms the purchase, and initiates payment based on the context of the exchange.
Paying through chat bots might reduce some payment pain points. The company's patent filing says that at present, "many conventional electronic payment systems have several drawbacks that often cause users frustration, confusion, and result in an unsatisfactory payment process." In many cases, consumers must visit a standalone app to buy from a specific merchant.
Chat bots, on the other hand, process payments without redirecting the user to another window or out of the chat, providing a simple one-stop interface. Combined with Facebook's broader marketplace and checkout options, users might no longer have to rely on multiple platforms to purchase goods from different sellers.
This is certainly not Facebook's first attempt at integrating e-commerce on its platform, and Facebook's e-commerce plays have seen mixed results when compared to other social media heavyweights. China-based WeChat, for example, transitioned from a standalone social network to a robust e-commerce marketplace and mobile payments service. China saw more than $15T worth of mobile payments volume in 2017, with WeChat accounting for about 40% of that number.
Still, Facebook might not be so far behind. Merchants currently accept payments on the social platform via mobile storefront options, and 80 million small businesses are already on Facebook. Facebook also supports peer-to-peer payments; users can save their banking details and send funds to friends and family directly within Messenger.
And with this patent, Facebook could provide a more social e-commerce experience; chat bots offering customer service, search, and payments, could ultimately create a more streamlined experience for businesses to sell via social storefronts.
If you aren't already a client, sign up for a free trial to learn more about our platform.