We analyzed 5 years of earnings transcripts from Facebook and found that the company mentions Instagram more than Oculus, Messenger, or WhatsApp.
While Facebook wasn't the first social network to emerge, it has grown to become the largest. In Q4'17, the company reached 2.13 billion total users and 1.4 billion daily active users globally. At its peak in February 2018, Facebook's market capitalization exceeded $560B.
And despite recent scrutiny over its management of user data, it seems unlikely the incident will dramatically slow Facebook user growth.
In addition to growing users organically through internal product innovation and expansion to new markets, the company has also used product acquisitions to grow users, namely buying WhatsApp and Instagram.
To further understand this strategy, we analyzed Facebook's quarterly earnings calls since 2012. Notably, while WhatsApp and Messenger are still a significant topic of conversation, Instagram has become a dominant focus for the company.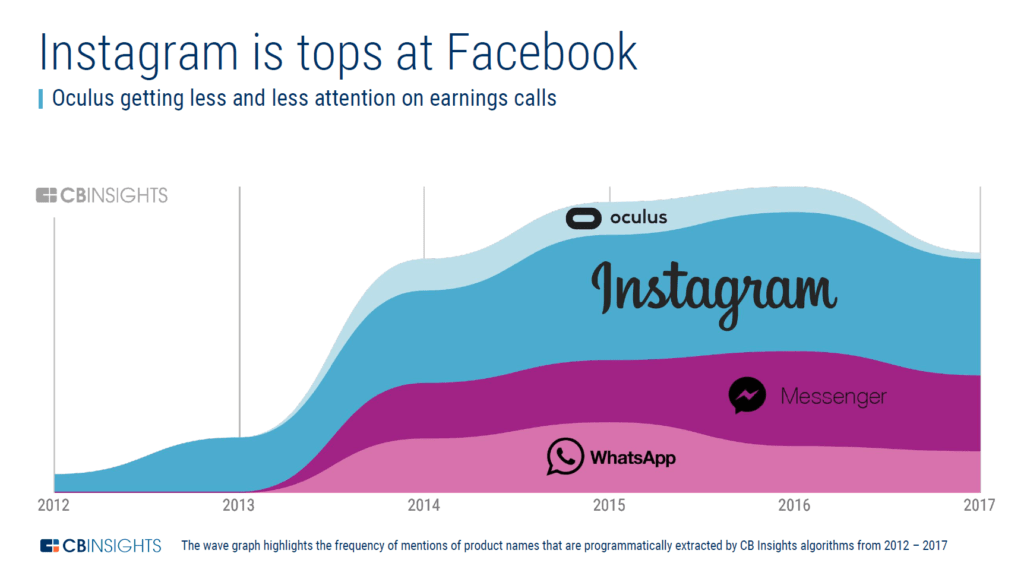 Facebook acquired Instagram in September 2012 for approximately $747M. At the time, Instagram had roughly 80 million users. As of late last year, the number of users has grown to over 800 million monthly active users and 500 million daily active users.
By comparison, recent estimates suggest that Snapchat has 187 million daily active users.
For these reasons, it's not surprising that Instagram is a main topic of conversation at Facebook. The platform provides a significant — and growing — source of revenue for the company. On a May 2017 earnings call, COO Sheryl Sandberg discussed the importance of the Instagram mobile ad platform:
"We're pretty excited about what's happening in the Instagram ad space because Facebook and Instagram are the two most important mobile ad platforms. And there's a special property with Instagram, which is that the increasing visualization of ads and the creative canvas it offers with the science behind the Facebook targeting and measurement system is really a pretty unusual combination. We're also seeing very broad adoption, including small customers. We are pretty excited to have 1 million advertisers and 8 million Instagram business profiles on the platform."
On a November 2017 earnings call, Sandberg mentioned that Instagram had over 2 million advertisers – 100%+ growth over her May 2017 report:
"Today, we're announcing that Facebook has over 6 million active advertisers, and we recently announced that Instagram has over 2 million advertisers. The vast majority of these are small and medium-sized businesses, which are a major source of innovation and create more than half of all new jobs globally. These businesses often have small ad budgets, so the ability to reach people more effectively is really valuable to them."
And when she reflected on 2017 during a January 2018 earnings call, Sandberg again emphasized the rapid growth of the Instagram ad platform:
"As people and businesses shift to mobile, Instagram continues to grow quickly. There are more than 2 million active advertisers on Instagram and we announced in November that more than 25 million businesses have profiles on Instagram up from 15 million in July. Instagram is a business as mobile visual shop and we're seeing more people seek out businesses there. About two-thirds of the visits to Instagram business profiles are from people who don't follow them and this is helping bring in new customers."
---
This report was created with data from CB Insights' emerging technology insights platform, which offers clarity into emerging tech and new business strategies through tools like:
If you aren't already a client, sign up for a free trial to learn more about our platform.