Facebook is doubling down on product innovation hires as it bulks up for a future in which VR and AR play a large role in social experiences. With government scrutiny increasing, policy and legal hires are also being prioritized.
Facebook's hiring reveals how the company is prioritizing different areas of its business and betting on emerging tech like AR/VR.
We analyzed 2,000+ open job listings at Facebook by department and keywords. The analysis revealed the Menlo Park, California-based social media giant is rapidly increasing headcount to strengthen its specialized product and product innovation teams.
These include its Oculus virtual reality unit and Building 8, where it's known to be developing next-generation consumer tech including augmented reality, drones, as well as brain-machine interface technology that would allow people to type messages with their brain.
The product units — Oculus, Instagram, WhatsApp, Building 8, and Workplace by Facebook — accounted for over 17% of all open job postings by Facebook. Oculus is the unit within the product teams with the most job openings by far, with more than 9% share of total job openings at Facebook.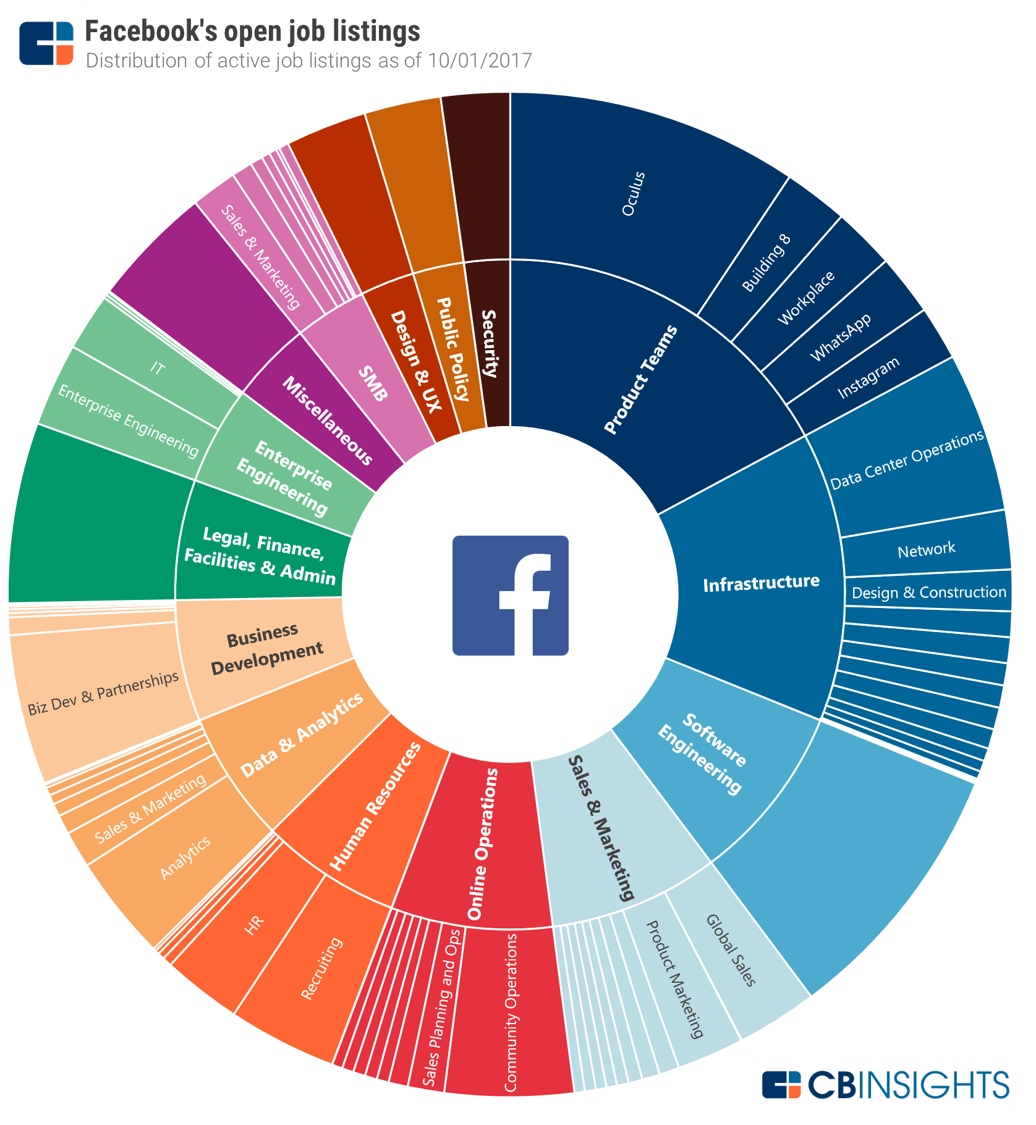 With its $2B acquisition of Oculus in 2014, Facebok created buzz for being at the forefront of futuristic consumer VR technology. But so far the tech has not gained wide adoption by consumers.
It's eyebrow-raising that Facebook is hiring so aggressively for this unit, and an indication the company believes there is still an advantage to be had by investing early in VR, despite spotty consumer adoption.
Facebook has announced plans to integrate Oculus with its social media platform through Facebook Spaces. Other Facebook units like Instagram, WhatsApp, and Workplace have surprisingly few job listings, less than 50 each, in contrast to their growing user base. Workplace, which competes with workplace collaboration tools like Slack and Atlassian's Hipchat recently signed Walmart as a client.
The company's also heavily hiring for core infrastructure teams as it expands the footprint of its data centers and networking operations efforts globally.
Facebook's infrastructure team is the second biggest area for hiring, accounting for over 14% of all job openings. As it gains strongholds in developing countries, the need for data centers and networking operations in a strong infrastructure unit indispensable. Other teams with substantial job openings are software engineering, sales & marketing, and online operations.
Facebook has been under scrutiny for allowing Russia-based organizations to buy ads during the 2016 US elections. The media buzz around this recently prompted Mark Zuckerberg to issue a statement assuring Facebook's commitment to tackle this issue by upping manpower and tech to control ad buys.
Facebook's increasing regulatory and legal overhead is also reflected in the 40+ job postings for its public policy team.
If you aren't already a client, sign up for a free trial to learn more about our platform.