We look at major events, patents, and news mentions to determine what Facebook may be up to in blockchain and digital currency.
Could blockchain be an answer to scandal-plagued Facebook?
While a "Facecoin" might not lay the company's many controversies to rest, it could potentially address everything from centralized single sign-on to cheaper payments processing. A variety of different signals point to Facebook getting serious about blockchain and digital currency.
For one, in January 2018, Facebook CEO Mark Zuckerberg mentioned cryptocurrency when disclosing his annual project for 2018:
"There are important counter-trends to [the rise of Big Tech] — like encryption and cryptocurrency… I'm interested to go deeper and study the positive and negative aspects."
Since then, the company has created a formalized group dedicated to exploring blockchain.
However, using the CB Insights platform, we learned Facebook has been experimenting with digital currency tech for quite some time.
From a new org structure to patent trends, we used the CB Insights platform to highlight Facebook's blockchain ambitions and the possibility of a Facebook cryptocurrency — FaceCoin.
Timeline of major events
Facebook began its first exploration of blockchain in mid-2016, when the company reportedly tasked a single corporate development staffer with investigating the technology.
We mapped out major news coverage related to Facebook's cryptocurrency efforts. (CB Insights subscribers can run the search here.)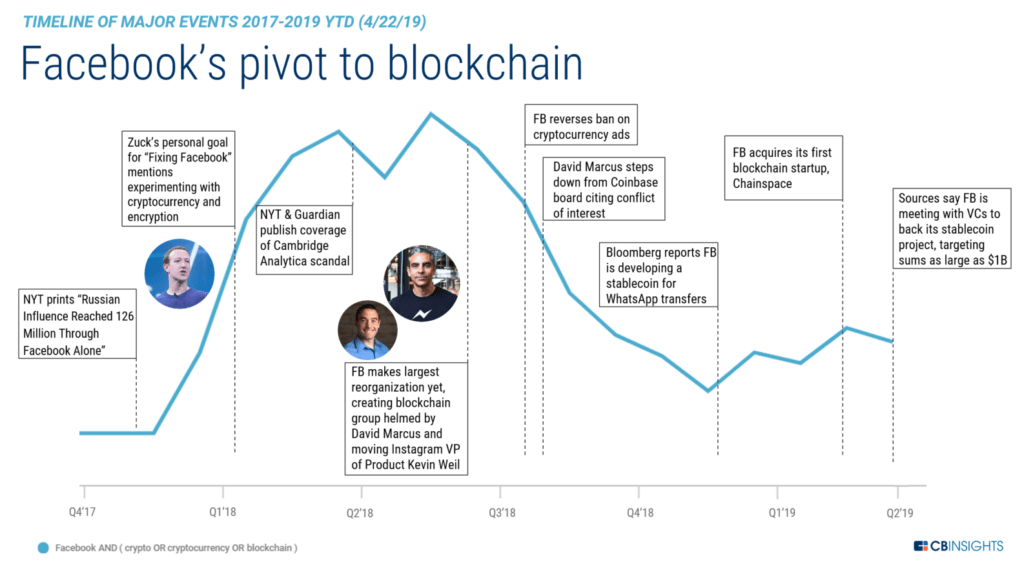 Major events include:
November 2017 — Early publicity about Russian election interference using Facebook

Jan 2018 — Zuckerberg's personal goal for "Fixing Facebook" mentions experimenting with cryptocurrency and encryption

March 2018 — NYT and the Guardian publish coverage on the 

Cambridge Analytica scandal

, working with Christopher Wylie

May 2018 — Facebook announces its largest reorganization ever, creating the blockchain group run by former Messenger boss (and ex-PayPal president) David Marcus, while also moving Instagram VP of Product Kevin Weil to the project

June 2018 — Facebook reverses ban on cryptocurrency ads

August 2018 — David Marcus steps down from the Coinbase board, citing a conflict of interest
December 2018 — Bloomberg reports that Facebook is developing a stablecoin, or a cryptocurrency pegged to a basket of currencies, for transfers within its WhatsApp service
March 2019 — Facebook acqui-hires Chainspace, which focused on smart contracts and payments, in its first blockchain acquisition
What we know about Facebook's blockchain strategy
Facebook now serves as one of the internet's most important de facto identity layers, with more than 2.5B platform users.
Across the web, Facebook's "single sign-on," called Facebook Connect, makes it easy for users to sign in to other sites with their pre-existing Facebook login credentials. This seamless user experience gives the company even more user data for targeted advertising. 
Critics, especially in blockchain circles, note that Facebook's outsized role has concentrated power — nearly everyone's online ID is now owned by a single company where the majority of voting power is held by one person, Mark Zuckerberg.  
Presently, a whole new class of identity-focused startups are aiming to disrupt tech giants' grip on the identity layer using blockchain technology.
So what is Facebook's strategy?
The company's reorganization in May 2018 was the company's largest yet, and the most transparent move around blockchain to date. The reorg spawned a new group run by David Marcus, who previously led Facebook's chat app Messenger (which now allows P2P payments), as mentioned above.
David Marcus confirmed the existence of the group in a Facebook post where he stated: "I'm setting up a small group to explore how to best leverage Blockchain across Facebook, starting from scratch."
Former Instagram VP of product Kevin Weil and at least 10 others also joined the blockchain division. The addition of major talent indicates the company could be building something notable.
One report from an unnamed Facebook Blockchain insider said the company was making a long-term bet that would most likely resemble its investments in AI:
"Rather than targeting a specific vertical, such as payments, Facebook's blockchain group would provide a foundation from which the firm will be able to target an array of possible opportunities."
What FB could build with blockchain and digital assets
As Facebook looks to redefine itself and expand its offerings, blockchain could be a significant lever to pull. Among many possibilities, tech commentators have theorized Facebook could build:
Coin incentives for e-commerce
Micropayments for services and content creators
Banking apps
Exchanges (competing with the likes of Coinbase)
Identity tech
Firstly, Facebook's massive scale gives it a serious advantage in coin distribution. AngelList founder Naval Ravikant has posited that Facebook could adopt an extreme version of the popular "airdrop" model — distributing crypto tokens as widely as possible to increase the likelihood it gets used as money — as a path toward adoption.
But floating a widely-used coin is just the beginning. FaceCoin's influence could extend into payments, e-commerce, banking, and more.
Josh Constine of TechCrunch wrote that a theoretical FaceCoin could kick-start adoption by offering an immediate 3% discount on everything purchased using the coin. Because FaceCoin would be circumventing traditional partners and processing fees, they could pass the savings on to consumers.
Considering that Facebook has reportedly asked banks for data partnerships, the company may have financial services ambitions. Perhaps the company could build a branchless challenger bank, leveraging its scale and technical know-how.
As Facebook's blockchain ambitions evolve, it could edge into Coinbase's cryptocurrency exchange territory, similar to Robinhood. Notably, when David Marcus assumed the blockchain role within Facebook, he stepped down from his position on the board at Coinbase, citing a conflict of interest.
In identity tech, the company could build a login layer like Facebook Connect for decentralized apps (dApps), which can have onerous login processes.
As blockchain startups aim to turn popular services into dApps, Facebook could gain from expanding its online ID abilities even further. Facebook could perhaps deliver a compelling enough identity UX that kick-starts a wave of consumer adoption.
Finally, a FaceCoin could be used to incentivize users to engage with Facebook platforms. With recent hacks and negative press, users might be on the fence about uploading a family photo album or updating a status. But if the company could incentivize users with, say, one FaceCoin per uploaded photo, the company could encourage users to spend even more time on the platform.
In any event, resource-rich Facebook, with top tech talent, and near-ubiquity among consumers and businesses, may eventually need a new appeal to users. By all accounts, the company sees blockchain tech as a possible avenue.
Patents show Facebook's longstanding interest in cryptocurrency
Facebook has been pursuing IP related to digital currency as far back as 2007, when it applied for a patent that allowed "giving gifts via a social network and displaying icons representing assets … the assets include real assets, digital assets, and virtual assets."
Of course, that 2007 patent predates even the dawn of the first blockchain protocol, Bitcoin. But Facebook has a long track record of envisioning tech related to digital assets. We looked at patents related to digital currency below.
(Clients can examine the patent search here.)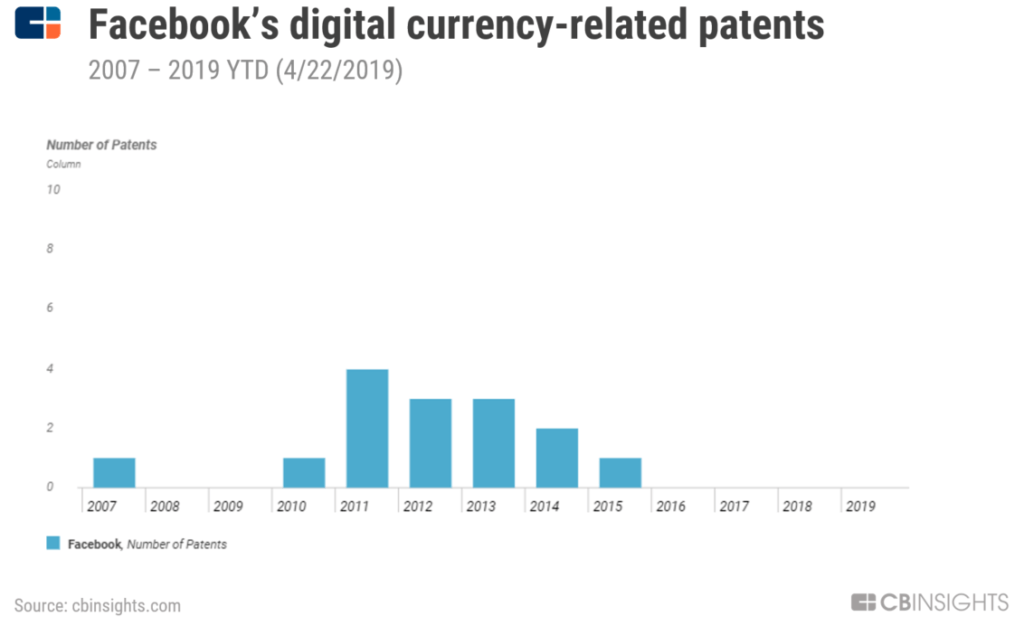 Interestingly, the company's related patents have tapered off in recent years. This could be due to the fact that much of blockchain innovation happens with open-source software, or the company's recent applications have yet to be approved.
But even if the hunger for patents has slowed, clearly Facebook has long been serious about building technology related to digital currency.
More recent applications include titles such as: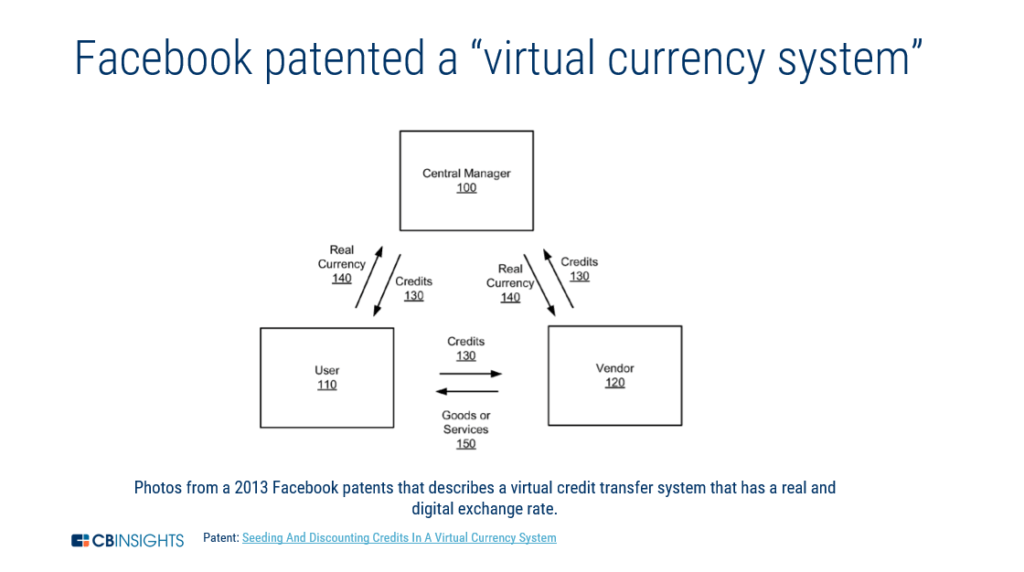 If you aren't already a client, sign up for a free trial to learn more about our platform.