We take a look at how Facebook, Amazon, Microsoft, Google, and Apple are looking to transform user experiences beyond the smart speaker and home assistant.
The race to conquer voice is on.
Facebook, Amazon, Microsoft, Google, and Apple (FAMGA) have all established themselves as big players in the voice space across the US. Each is making significant investments in startups, research, and development — betting that voice is poised to become the next big platform for consumers and businesses.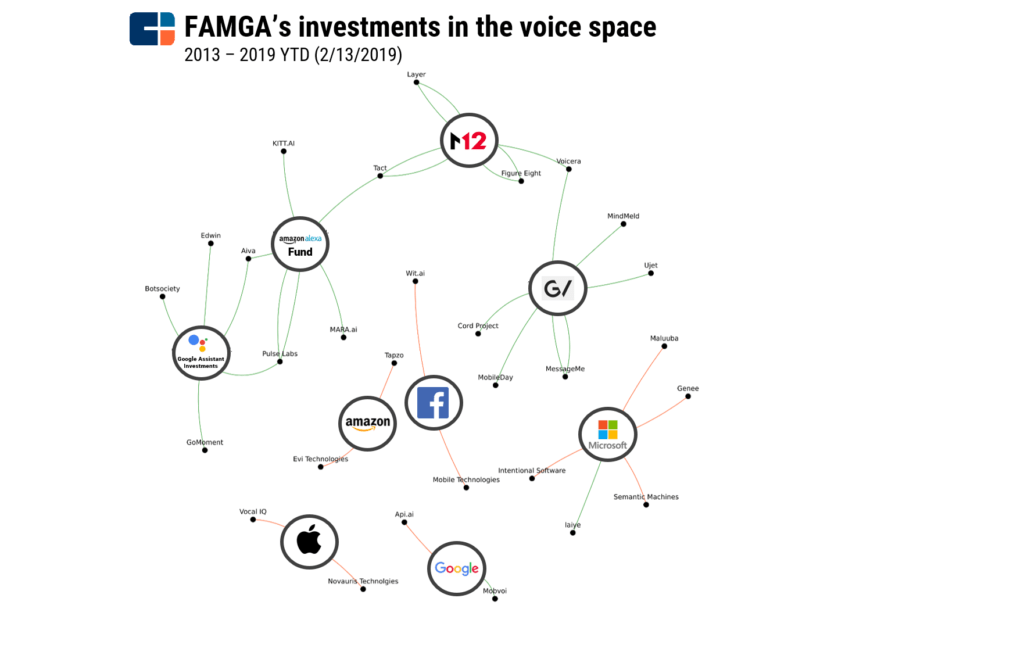 Select investments in the voice space. 
Since Amazon first introduced Alexa in 2014, for example, smart speakers have grown dramatically year-over-year, with estimates that over 118 million homes have smart speakers. 
But when it comes to the potential of voice, smart speakers are just the tip of the iceberg.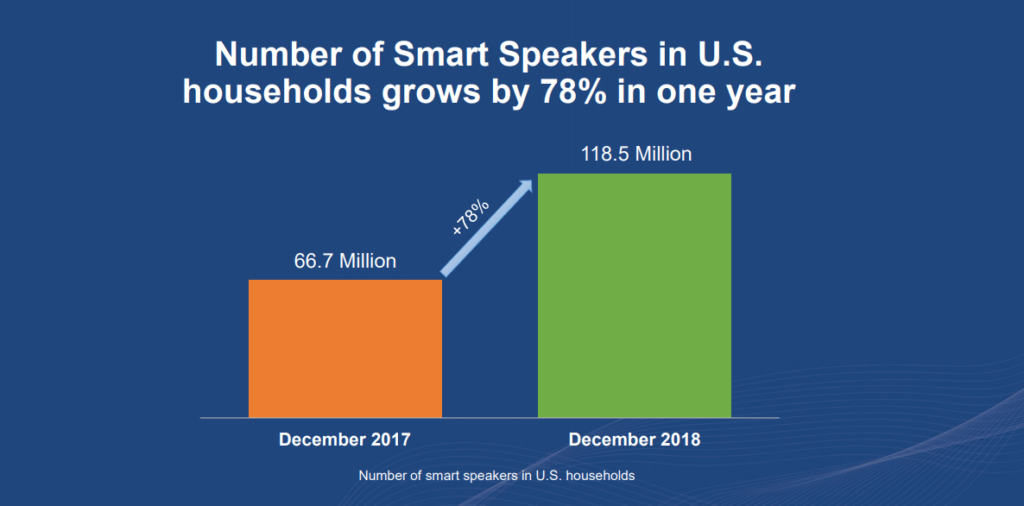 Source: The Smart Audio Report
Amazon and Google, in particular, are looking at new industries and investments into search and natural language processing (NLP) capabilities. Google is releasing voice capability in over 30 languages, is moving into areas like healthcare and travel, and looking to develop its AI technology Duplex to enable "natural conversations." Amazon, the early device leader, is looking to expand Alexa's reach beyond the home through auto integration.
Microsoft and Apple are focusing on developing patents to dig into privacy and security, factors that are still hampering voice, with Microsoft going so far as to patent a way to whisper commands into smart devices. Facebook had taken a backseat in the past few years, but finally decided to jump into the voice space with its smart speaker Portal.
The voice recognition space is expected to reach $49B, according to CB Insights' industry analyst consensus.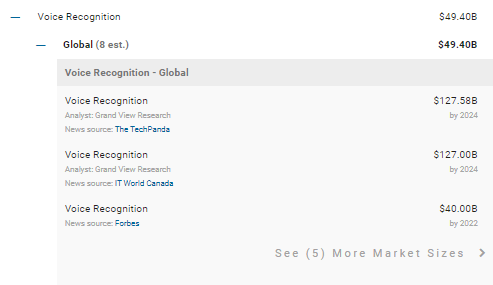 In this analysis, we look at how each company is tackling the voice industry today, and how their initiatives are evolving over time. We also dive into the Chinese market to see how US big tech stands to compete.
Table of Contents
What's happening now with Google
Google is focusing on accuracy, particularly in search and conversational artificial intelligence (AI). One area this can be seen is in its language capabilities. Until late 2018, both Amazon's Alexa and Google Assistant trailed behind Apple's HomePod language offerings.
In 2019, Google is poised to have capabilities for 30 languages — including the ability to understand users who speak more than one language at a time.
Google (as well as Apple) also has the advantage of a popular smartphone interface. Not only does it supply a trove of data on how Google customers are using products, but the interface allows the company to create easy integrations — making use between home, office, and car quite seamless.
And all of this data has let Google see that consumers are using voice for tasks beyond making calls and asking for directions. Voice queries are continuing to rise, and Google has been using AI to understand the differences between how users approach text search versus voice search — and ways to determine intent.
Where Google is competing (against Amazon specifically) is with its accuracy, both in search and task requests.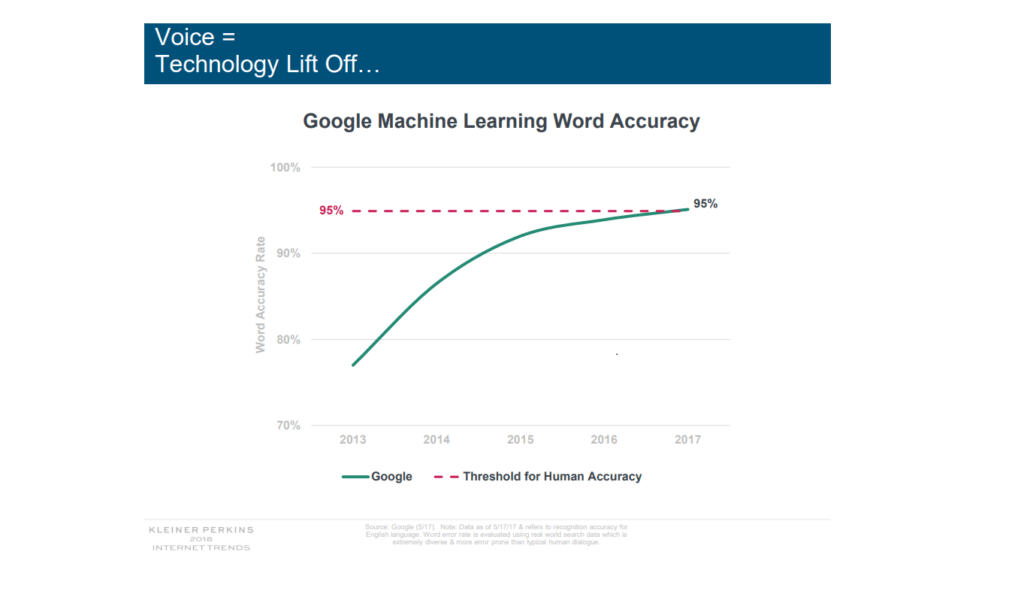 Source: KPCB
Google is already gaining traction with the help of Duplex.
Its technology has been developed to interface with Google Assistant, which is meant to carry out phone conversations with a human on a user's behalf to perform tasks such as making appointments or reservations.
Duplex has been developed to sound as human as possible, even including "ums" and "ahs" in its cadence. And while this does indicate a new development around authenticity and accuracy of voice bots, it has also raised some ethical concerns too.
The main issue revolves around deception. If someone is speaking with a bot that sounds, reacts, and even laughs like a human, should the "real" person on the other end of the line be told they are speaking to a robot?
The original demo did not have the bots make the distinction. However, after some push back, Google released a statement:
"We are designing this feature with disclosure built-in, and we'll make sure the system is appropriately identified. What we showed at I/O was an early technology demo, and we look forward to incorporating feedback as we develop this into a product."
Google is focused on gaining the edge in how natural sounding and error-free its voice tools and search are to users. Its acquisition of api.ai is one example of how Google is looking to leverage NLP for real-world conversational AI and expand that into areas beyond search.
Google creates a new fund for voice
Recently, Google created a new venture fund for investments in voice.
Google Assistant Investments has made fewer than 10 investments thus far, but has looked to build partnerships in healthcare and hospitality.
This is where consumers can see the direct impact of Google's focus on NLP technology. Two investments, in particular, showcase Google's interest in voice in these industries.
Patient-facing voice services as the next frontier in healthcare
Along with Amazon Alexa Fund, Google Assistant Investments seeded Aiva Health, a patient-focused voice operating system that is being deployed in hospitals and care homes. Through smart speakers, patients can use voice to request assistance, and medical professionals can respond and track requests through mobile apps.
Google Assistant is also helping patients in the Novant Health system. Through voice, patients can access information including office wait times, appointment schedules, and directions, with answers and information sent to the user's phone.
These investments tie in with Google's increasing push into healthcare and provide another entry point for patients through Google Home and Google Assistant.
A new way to converse with the concierge
Hospitality is another industry where Google is placing its focus.
GoMoment is in Google Assistant Investments' portfolio. It is an AI-powered chatbot that welcomes hotel guests and answers questions. It can also measure guest satisfaction and reduce call time for hotel services.
Google is also deploying "Interpreter Mode" via Google Assistant. Already under pilot programs at a few hotel chains, it allows for two people to have their conversation translated in real-time. The conversation is translated both via a Google Home smart speaker or the Google Assistant app, and appears on a tablet as well, allowing both parties to engage.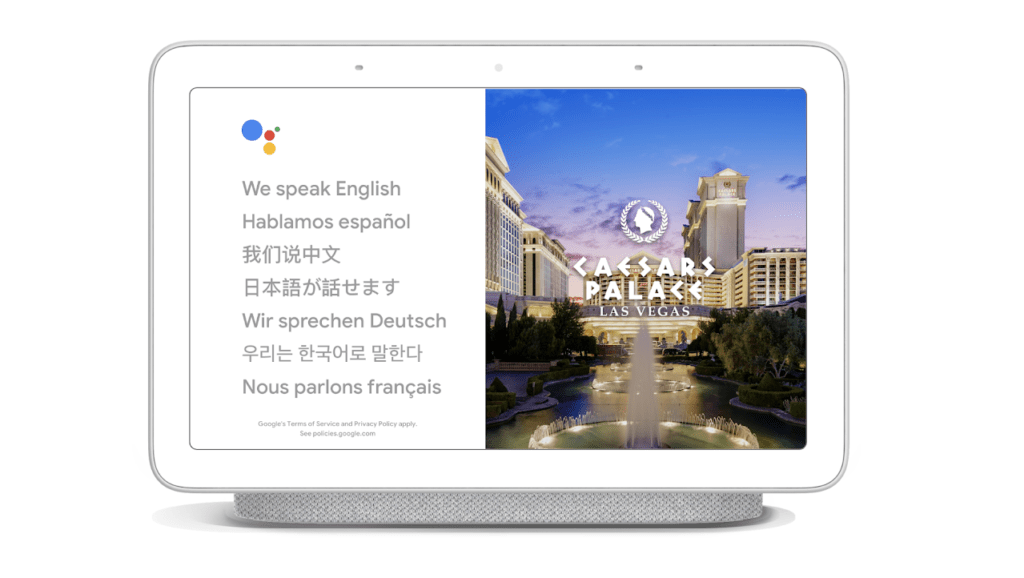 Source: Google
This is another way Google hopes to grab market share of the hospitality industry. With a Google Home in a hotel room that's integrated into enterprise hospitality systems, guests can procure event tickets, order room service, get weather updates, and check their travel information via voice instantly.
What's happening now with Amazon
Although Google has been making inroads, Amazon is still the undisputed owner of the smart speaker market with Alexa.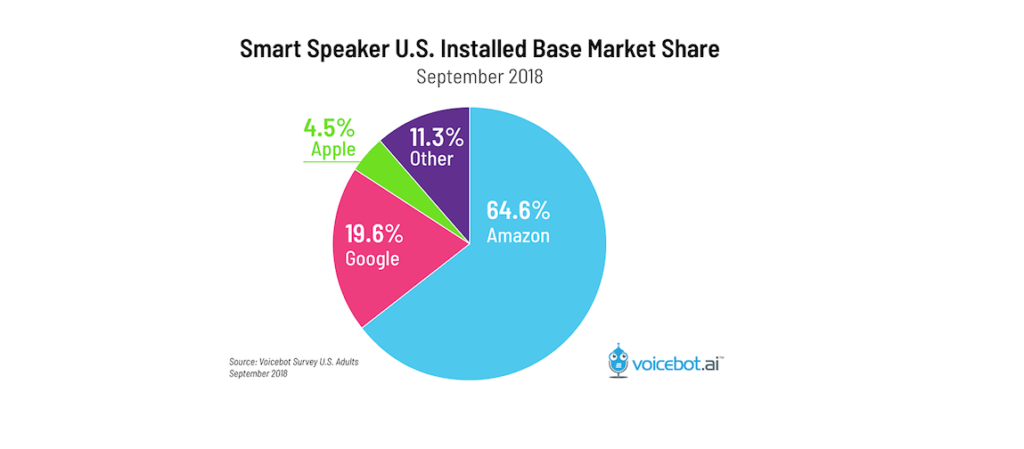 Naturally, Amazon has been focusing on improving its voice offerings through e-commerce.
Where Amazon holds a real advantage over its other FAMGA competitors is in the simple reality that every Alexa is directly connected to one of the world's largest online stores.
Amazon is tapping into the intersection of voice and e-commerce through Amazon Choice — a label given to various products across the site which Amazon designates as "highly rated, well-priced products available to ship immediately."

Source: Forbes
There are 2 interesting factors when it comes to Amazon Choice and voice search, according to OC&C Strategy Consultants: Items with the Amazon Choice designation typically see a sales boost of 3x over those without choice status. And, perhaps even more significantly, 85% of consumers end up selecting the product Amazon suggests.
For Amazon, the potential for brands to get in as the Amazon Choice suggested product on Alexa is going to represent a new twist to e-commerce shopping.
But research shows that only 30% of smart speaker owners use them for shopping.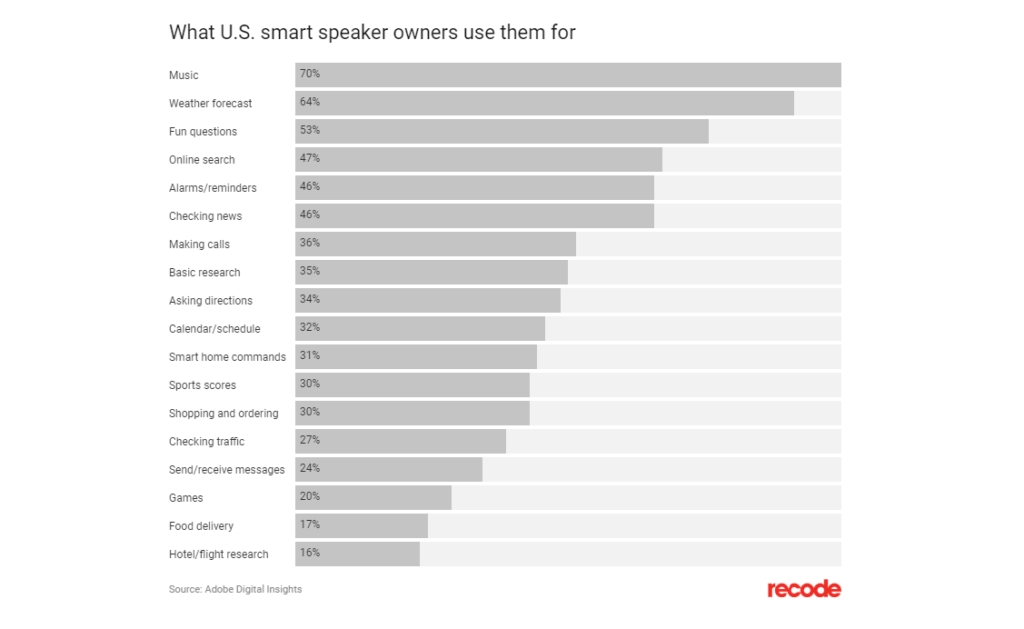 Source: Recode
With Amazon, specifically, the company is not near where it had hoped to be when it comes to voice shopping: Only 2% of Echo owners reportedly tried to purchase items via Alexa in 2018.
But, that doesn't mean there isn't potential.
Amazon is working to position itself, with its built-in advantage on the retail and e-commerce side, to dominate the voice shopping space.
Amazon plans to do this by getting more smart products into homes that interface with Alexa. Another is teaming up with Microsoft, a company that can compete with Apple and Google and gives Amazon an operating system to work with. Beyond that, the company is looking to partner with CPG companies to advertise Alexa capabilities.
Until that penetration happens, however, Amazon is looking to expand into new arenas. The company has always been at a disadvantage outside the home compared to Google and Apple, but it is looking to change that and is planning for new voice-activated devices, which would give the company a greater advantage on the data collection front.
Alexa, let's go on a road trip
When it comes to voice, Amazon isn't interested in keeping Alexa home. Until recently, Alexa has been at a disadvantage when it comes to use outside the home. Where Google and Apple have phone interfaces with assistants built in for use on the go, Alexa has been strictly an at-home product. 
Until now.
With the recent rollout of Echo Auto, which according to Amazon has over 1 million pre-orders, the company is trying to appeal to those consumers who want more options to use voice assistants hands-free.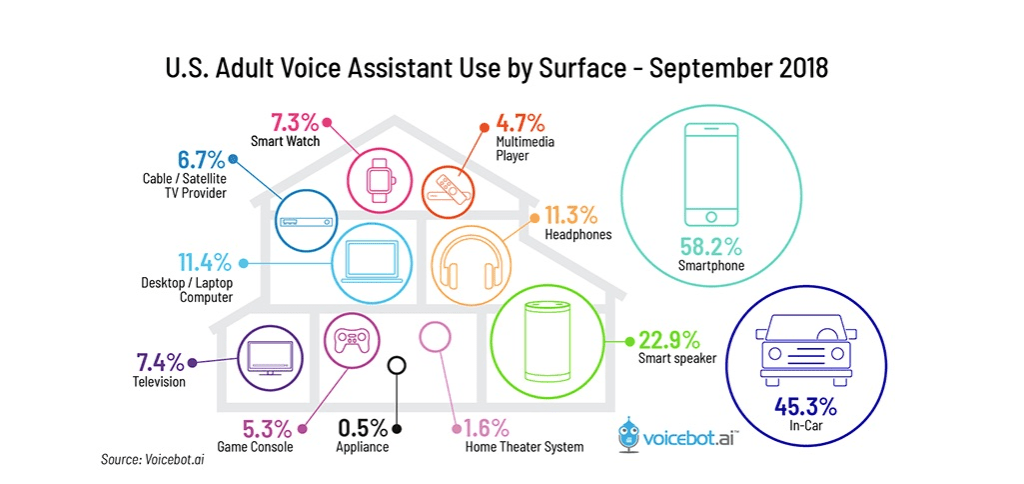 Source: Voicebot.ai
Echo Auto allows users to tap into any Alexa skill set. It provides a totally hands-free experience for making calls, directions, podcasts, music playlists, and controlling smart home devices.
Survey data shows that using voice assistants in cars is already very popular, so it's a natural fit for big tech. 
"You want to keep your hands on the wheel and eyes on the road, so using your voice makes more sense." — Ned Curic, vice president of Amazon's Alexa Auto division
Amazon is currently in talks with major car manufacturers, including BMW, Toyota, and Ford, to integrate Alexa into their smart infotainment systems. And a number of other manufacturers like Infinity, Jaguar, and Mercedes-Benz are adding Alexa skill compatibility to newer models. 
The smart appliance is here
Do consumers want to talk to their home appliances? Amazon believes the answer is yes.
Amazon has created the Amazon Connect Kit (ACK), allowing developers to access to Alexa home skills APIs so they can add new and custom capabilities to thousands of home devices and small appliances.
Alexa has been a rising priority for Amazon, with mentions of the assistant peaking in 2018. Its move into voice-activated smart appliances shows the potential for Alexa expansion.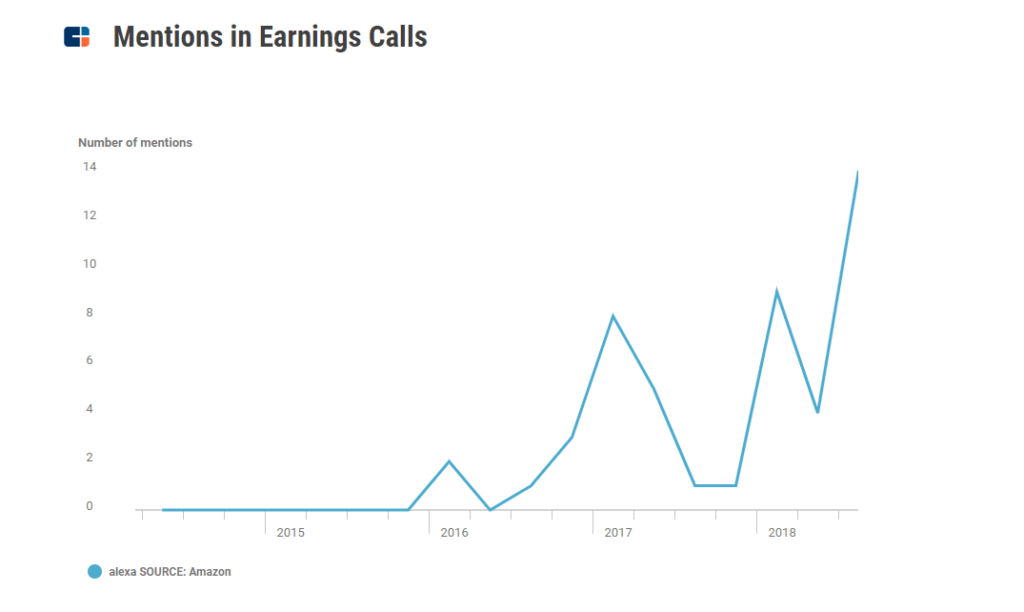 In its Q2'18 earnings call, Jeff Bezos highlighted just how important voice is to the future of the company.
"There are now tens of thousands of developers across more than 150 countries building new devices using the Alexa Voice Service, and the number of Alexa-enabled devices has more than tripled in the past year. Our partners are creating a wide variety of new Alexa-enabled devices and experiences."
Amazon now claims to have 28K smart home devices enabled with Alexa across 4,500 unique brands.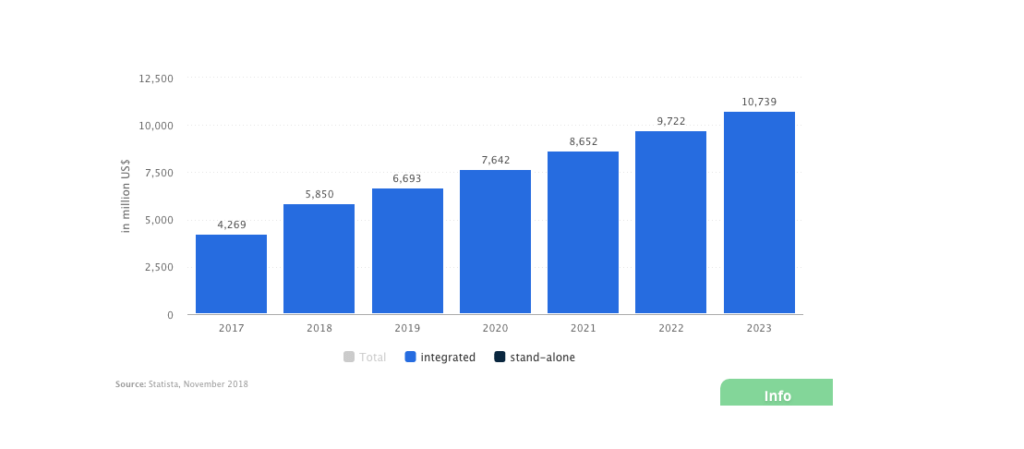 US smart appliances market revenue
The revenue of smart appliances is only expected to grow as market penetration increases. Major appliance brands including LG, Samsung, Whirpool, Kenmore, Bosch, and GE offer large portfolios of smart appliances that connect to both Alexa and Google Home. 
A smart microwave is already available for sale through AmazonBasics. And new skills partnerships with both Moen and iRobot allow users to turn on showers and activate a Roomba through voice instructions.
Amazon is using ACK as an entryway to tap into a fully integrated smart home controlled by Alexa.
What's happening now with Apple
Back in 2011, when Apple first launched Siri, it ushered in a new world of voice-activated assistants. Its late-stage entry into the smart speaker race, the HomePod, has struggled to compete with the established market share of Google and Amazon.
Industry analysts cite a few significant flaws with the HomePod versus its biggest competitors — it's not as versatile as Amazon's Alexa or as "smart" as Google's AI system.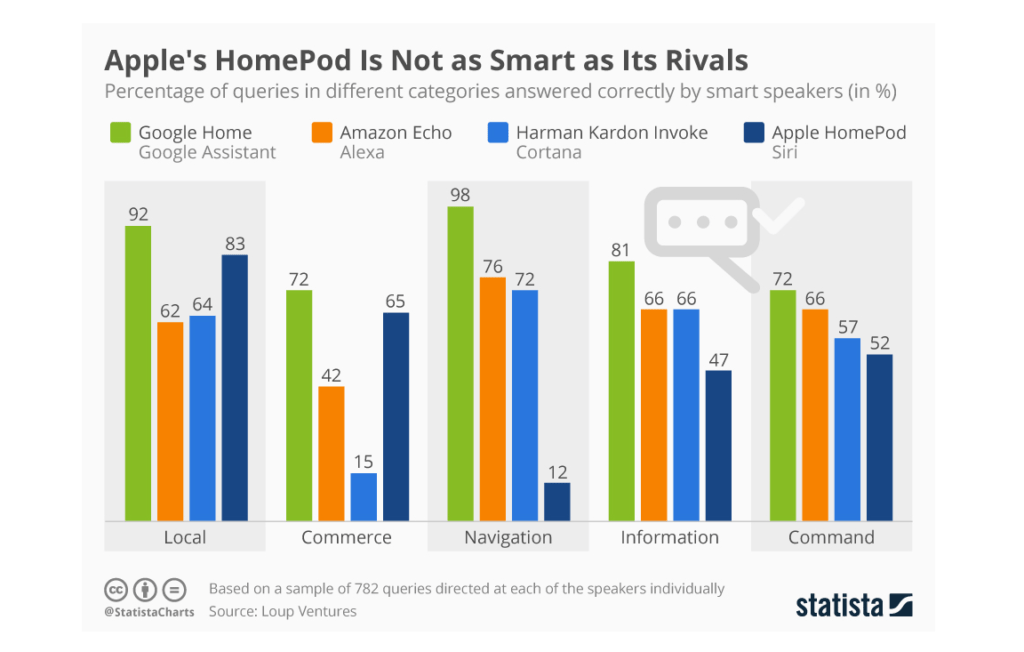 Source: Statista
For dedicated Apple users, those issues don't matter. But, for those who aren't fully connected into the Apple universe, it's difficult to take full advantage of all of its offerings.
One area where the HomePod excels is in privacy and security. Its 2018 acquisition of Silk Labs, which develops on-device AI operating software that removes the need for cloud processing, speaks to that focus.
Making voice work offline
Security and privacy are becoming increasingly important for voice users. Apple has filed two patents recently, both with a focus on voice and security.
The first, an offline personal assistant aims to activate Siri via voice even when it's not connected to the internet. With the HomePod, voice conversations are not recorded because the majority of actions are not transmitted through the cloud but via the device.
Here, Apple takes a different approach to its main competitors Google and Amazon, which store interactions on company servers using the cloud. This leaves the potential of security concerns, and consumers want to know what data is being recorded and stored.
Apple is looking to develop ways to use voice activation within the device itself.  
This patent would create a system where speech-to-text would operate via the user's device, and not through Apple's servers. The device would be able to perform the request based on pre-determined tasks stored within the operating system. Users would have the opportunity to operate Siri both on and offline.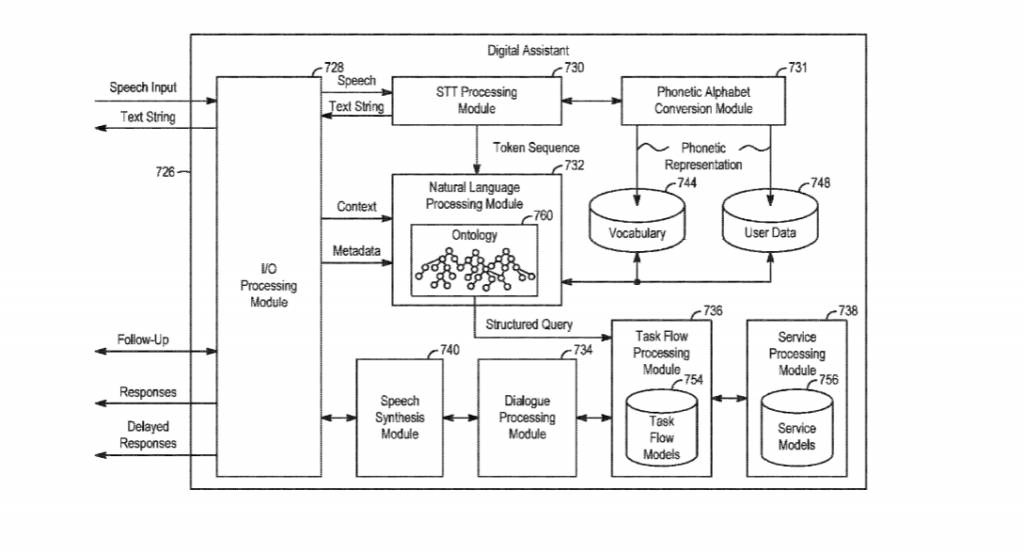 Source: USPTO
A related patent that also takes security into consideration was recently granted for "voice prints."
This would allow Siri to identify and distinguish between multiple users through voice identification. A practical application here would be for HomePod, allowing a number of users to have individual setups on one device.
Teaming up with Salesforce
Your home isn't the only place Apple wants you to use your voice to get things done. The tech giant is teaming up with Salesforce to build Apple voice technology into apps. Users will be able to use Siri for updates and requests instead of navigating between systems.
Salesforce is one of the most popular enterprise-level tools available in sales and marketing, and it also has an army of third-party software developers who will be able to tap into their back-end technology and find new and better ways to integrate with Apple's iPhone and iPad.
Apple CEO Tim Cook told Reuters of the partnership, "If you look at enterprise in general, voice has not been used as much as in consumer…We're changing the way people work, and that's always been at the heart of what Apple is about — changing things for the better."
What's happening now with Microsoft
Although Microsoft was a relatively early entry into the smart speaker race with Cortana, it has struggled to compete with Google and Amazon.
It appears that Microsoft has pivoted away from direct competition with Google and Amazon and is instead looking for integration partnerships and has teamed up with Amazon.
Now, Windows 10 and Alexa users have cross functionality between systems. Cortana users can talk to Alexa via Windows 10 and Alexa users can access Cortana for reading emails on Outlook.
This is a strategic partnership by both of the tech giants, with each gaining a foothold in a space they otherwise didn't have an easy entry into.
Microsoft will gain a new audience of potential customers who see a Cortana and Alexa integration as an excellent productivity option, especially with potential on the enterprise side where Alexa skills could be used for simple work-related tasks.
Enterprise business users are looking to Microsoft Cortana to play a role in bringing voice to work in the next few years.

Source: Voicebot.ai
Microsoft's recent acquisition of Semantic Machines, a company developing conversational AI, highlights just how important this partnership with Alexa could be for introducing a voice-powered productivity suite.
Patenting whispers
Recently, Microsoft was granted a patent for what it's calling a "silent voice input." It allows users to activate voice commands using whispers, allowing people to embrace voice in public.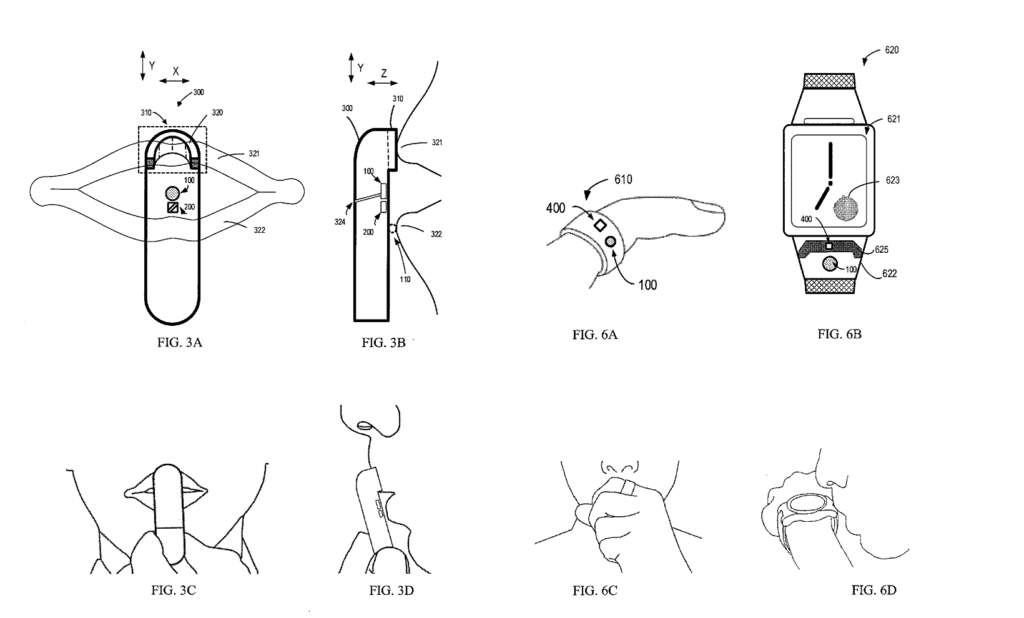 Currently, most consumers use voice exclusively in their homes and cars, and they tend to avoid using voice commands in public.
This technology would go in a number of devices, from phones to smartwatches to remote controls. The patent design, as it stands, gives off a "James Bond" feeling of whispering into a smartwatch.
New approaches to voice biometric technology is something Microsoft is very interested in. The company recently accepted ID R&D, a voice biometrics company, into its IoT & AI Insider Labs program.
What's happening now with Facebook
While Facebook has voice-related ambitions, it has been a very late entry into the market. That delay might cost the company in terms market share.
Most of Facebook's exploration into voice is based around rumors that it is developing voice code. This code would allow consumers to use speech recognition on Facebook and Facebook Messenger.
Some recent moves by the company suggest it is putting most of the voice focus on chatbot technology for the time being.
Its acquisition of wit.ai, a tool that can add a voice interface to apps, and the announcement of built-in NLP in its messenger app show that Facebook is looking at the potential of conversational AI in chatbots in the future.
Facebook deploys Portal
In late 2018, Facebook introduced Portal, its entry into the home smart speaker market. It aims to be a step up from just voice by having an AI-based video interface and a smart camera that is interactive.
Facebook also went the partnership route by teaming up with Amazon.
Portal does interface with Alexa via voice for users to access skills. For some, this came as a surprise, because if Facebook is relying on Alexa — and not its own proprietary voice system — it will not be able to collect user data.
Of course, the main issue that Facebook will likely need to overcome with consumers is nervousness around privacy issues. In the last year, the company has been hammered with bad news about privacy. Thus far, the earnings haven't taken a hit, but sales of Portal have reportedly been sluggish.
Facebook recently upgraded the system with fixes, especially around when the camera was activated, based on consumer concerns.
Spotlight: Voice across the Chinese market
The rise of smart speakers and voice is not solely limited to big tech initiatives across the US market.
The Asia Pacific region, and China in particular, has seen a huge rise in smart speaker and smart home sales, with no signs of slowing down.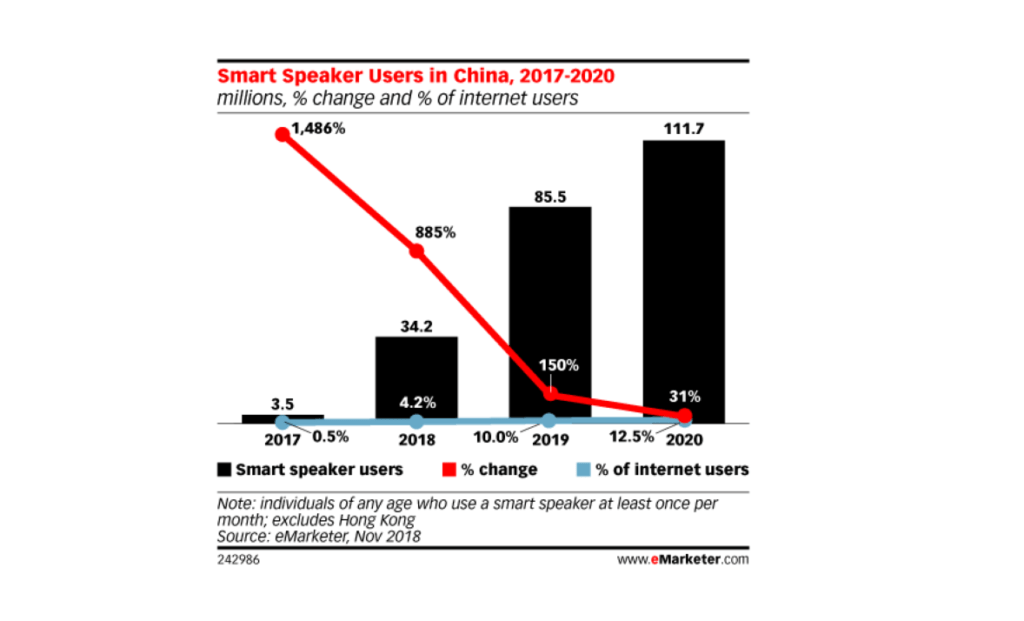 It's not US-based companies that are behind the growth — Chinese brands Alibaba and Xiaomi "accounted for 94% of all smart speaker sales in China during the first quarter of 2018."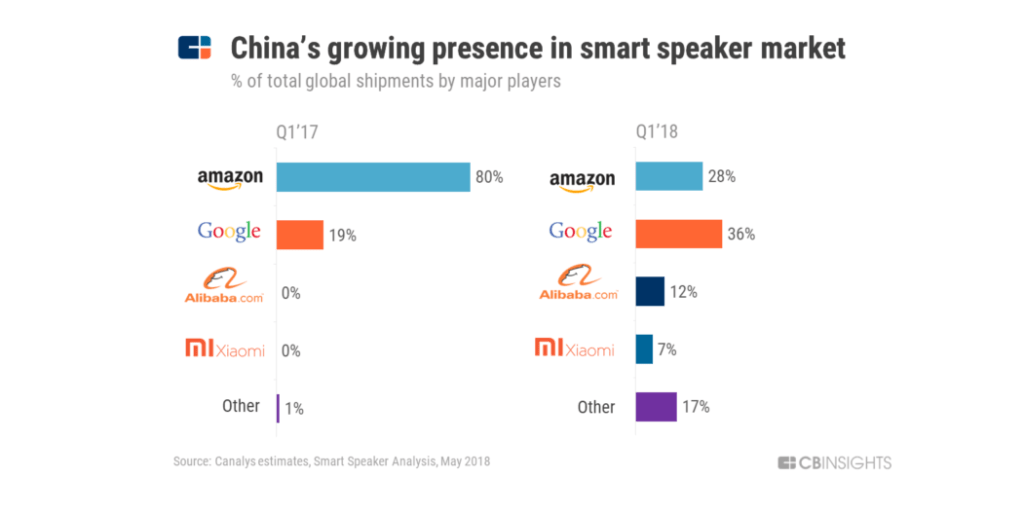 In recent years, both Alibaba and Xiaomi made significant cuts in their pricing in order to attract customers to their products and began to eat into Google and Amazon's growth in the region.
Another company to watch is Baidu. Currently, it's the largest search engine in China.
Like Google, it's taking a search assistant approach to its AI and voice systems versus Alibaba's Amazon-style methods in e-commerce. Its DuerOS system can be found in its smart speaker as well as in over 100 smart devices supported by more than 16,000 skills developers.
There are other developments to note that have the potential to disrupt the smart speaker market in China.
First, Apple unveiled HomePod in China in January 2019. Unlike Google Assistant and Alexa, HomePod supports both Mandarin and Cantonese, the two most popular languages in China.
While that does give Apple an inroad, the main competitive factor will likely be based on price. The HomePod in China will cost significantly more than smart speaker offerings from Alibaba and Baidu.
Huawei is another Chinese company that has smart speaker and voice technology, and now the company is looking to expand outside the Chinese market.
While its Xiaoyi system current partners with both Amazon and Google, Huawei's consumer CEO Richard Yu told CNBC of his plans to develop its AI technology for other markets.
"In the beginning, we are mainly using Google Assistant and Amazon Alexa. We need more time to build our AI services … Later we will expand this outside of China."
If that expansion does take place, Huawei will be in direct competition with Google, Apple, and Amazon. And that's something that the other big Chinese tech brands will be watching closely as voice takes over the region.
If you aren't already a client, sign up for a free trial to learn more about our platform.