Emerging trends in the auto and mobility space are transforming the way vehicles are designed and how people interact with them. We take a look at how Google, Apple, Amazon, Microsoft, and Facebook are capitalizing on these changes.
Monumental shifts are taking place in the automotive sector.
Autonomous driving, vehicle connectivity, shared mobility, and the digitization of automotive retail are all presenting new challenges for traditional auto players.
In response, Facebook, Amazon, Microsoft, Google, and Apple (FAMGA) are stepping up to leverage their strength in software development and cloud computing, and integrating their operating systems into the connected vehicle.
The tech giants are also investing in startups across the auto and mobility space.
The graphic below shows private market deals only. Note that Alphabet includes Google as well as Alphabet's investing arms GV, capitalG, and Gradient Ventures. Amazon includes the Amazon Alexa Fund.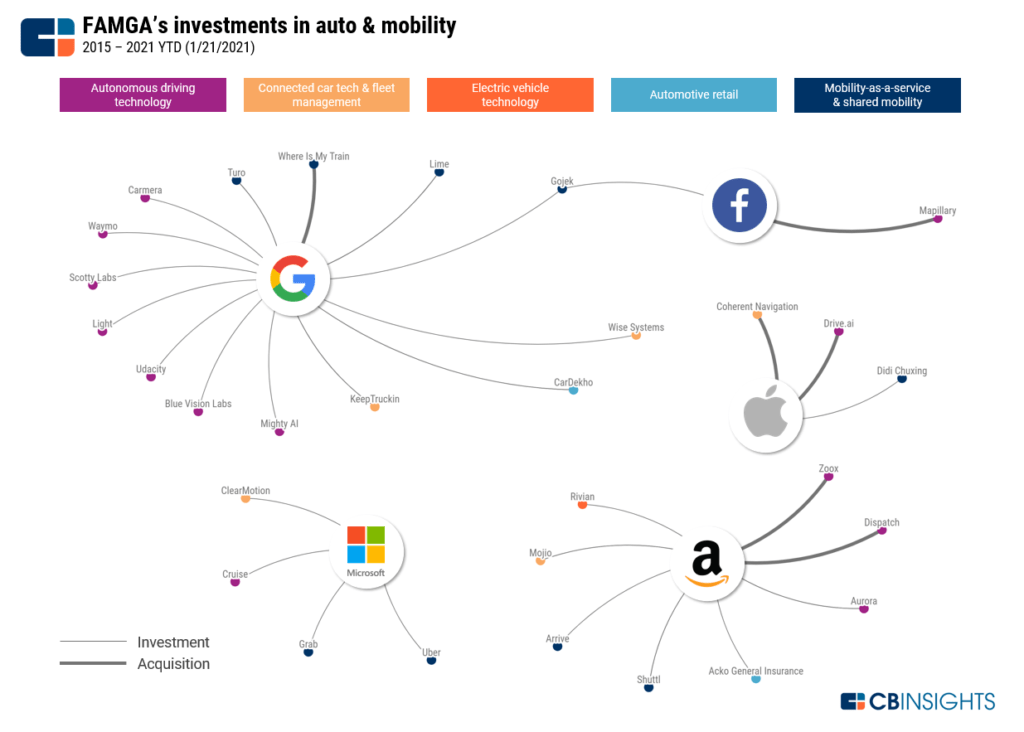 Below, we analyze how each company is exploring opportunities in the auto industry across the following categories:
Autonomous driving technology: Includes companies designing autonomous vehicles, or developing full-stack self-driving solutions and the components that help train and guide autonomous vehicles (e.g. perception software, sensor hardware, HD mapping, and simulation).
Connected car tech & fleet management: Startups developing software or hardware technology that enables in-vehicle connectivity and connectivity-related applications, such as telematics, media, and vehicle-to-infrastructure communication.
Electric vehicle technology: Companies developing electric vehicles, EV batteries, and charging infrastructure.
Automotive retail: Companies involved in renting, selling, trading, or purchasing cars, RVs, trucks, and fleets. This includes auto financing companies, vehicle auction services, online classified advertising companies with a focus on auto, and dealership software platforms.
Mobility-as-a-service & shared mobility: Companies developing solutions to streamline the way people move themselves. This includes companies providing on-demand access to passenger vehicles and micromobility solutions, as well as those integrating multiple modes of transport — including public transit — into one service.