With several $1B+ acquisitions and multiple smaller deals across the globe, Expedia, TripAdvisor, Ctrip, and Priceline have focused on consolidating their positions while scouting for new growth areas in travel tech.
Four online travel agencies (OTAs) have played a big role in shaping the state of travel search and booking: Expedia, TripAdvisor, Ctrip, and The Priceline Group.
Today, TripAdvisor ranks first among OTAs in number of users, while Expedia, The Priceline Group, and China-based Ctrip lead the industry in gross bookings.
But the continued dominance of the big four OTAs is not guaranteed. Early-stage travel tech startups are gaining traction, deals to travel tech startups are on track to set a record high this year, and Airbnb is expanding quickly, posing a threat to traditional industry incumbents.
Struggling to secure their positions at the top, Expedia, TripAdvisor, Ctrip, and Priceline have been active in the private markets, with a combined 25 acquisitions and 10 startup investments in the travel tech space since 2013. These moves are aimed at consolidating market share, moving into new geographies, and expanding the travel giants' service offerings.
Using the CB Insights Business Social Graph, we visualized where the four big OTAs — Expedia, TripAdvisor, Ctrip, and The Priceline Group — are placing their bets in travel tech.
Please click to enlarge. Orange lines represent acquisitions; green lines represent investments.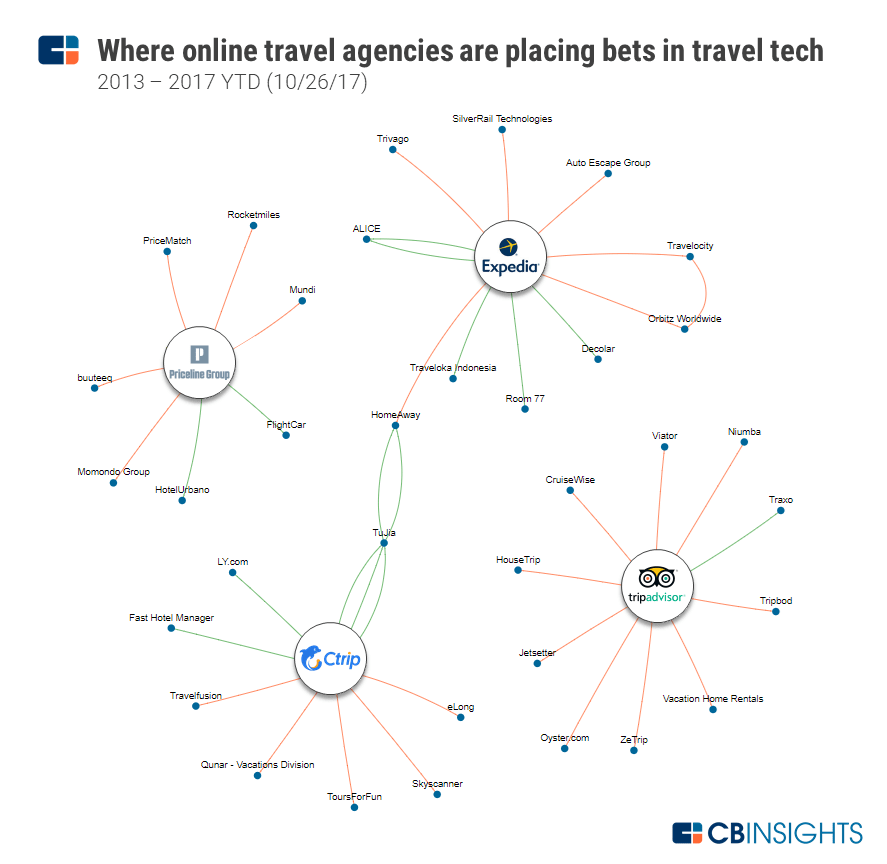 Notable activity
With investments in or acquisitions of 10 travel tech companies each, Expedia and TripAdvisor have been the most active investors since 2013. Over the same period, Ctrip participated in deals to 8 companies and The Priceline Group participated in deals to  7.
Expedia: The travel search and booking giant has made the group's largest acquisition, spending $3.9B to acquire vacation home rental site HomeAway in 2015. Expedia has also made the largest investment, backing a $350M tranche of Series B funding to Indonesian travel unicorn Traveloka in Q3'17.
Expedia is also moving into adjacent parts of the travel value chain, investing in hotel operation system ALICE and acquiring railroad travel startup SilverRail Technologies.
TripAdvisor: Spun out from Expedia in 2011 as a stand-alone reviews platform, TripAdvisor has used acquisitions to expand its offerings.
Since 2013, the company has acquired cruise booking platform CruiseWise, home rental sites Niumba, Vacation Home Rentals, and HouseTrip, and trip planning platforms Tripbod, Viator, and ZeTrip. More recently, TripAdvisor branched into corporate offerings by investing in Traxo, a data analytics provider for travel companies.
Beyond the travel tech industry, TripAdvisor has also made 10+ deals in the restaurant booking and reviewing space, mainly in Europe.
Track all the Travel Tech startups in this brief and many more on our platform
Startups disrupting where we go and how we get there. Look for Travel Tech Startups in the Collections tab.
Track Travel Tech Startups
Ctrip: The largest Chinese OTA, Ctrip has placed bets on two of the most prominent Chinese travel tech startups. The company has repeatedly invested in vacation rental services provider TuJia ($764M raised, valued at $1.5B), and has also backed online leisure travel service provider LY.com, China's most well-funded travel tech startup with $1.25B in disclosed funding.
Other deals have helped Ctrip expand beyond China, such as its $1.74B acquisition of London-based flight search engine Skyscanner in Q4'16.
The Priceline Group: The travel incumbent, whose brands include Priceline, Booking.com, and Kayak, has acquired 5 companies and invested in 2 more since 2013.
Notably, the company has consolidated its position among OTAs by acquiring competitors in searching and booking — including London-based Momondo Group and Brazil-based startups Mundi and HotelUrbano
However, The Priceline Group has also bet on a wider range of services, including hotel management platforms, by acquiring buuteeq and PriceMatch; loyalty programs, by acquiring Rocketmiles; and peer-to-peer car sharing, by investing in FlightCar.
As with competitor TripAdvisor, The Priceline Group has also entered the restaurant booking segment, spending $2.6B to acquire US-based OpenTable (not shown above) in 2014.
If you aren't already a client, sign up for a free trial to learn more about our platform.