While deal flow remains even, a $1B+ raise by Roivant Sciences is boosting funding in the European pharma sector to record highs.
Equity funding to private European pharmaceutical companies has already broken records this year, and is on track to reach nearly $3B in 2017.
One of the largest deals ever to a private European pharmaceutical company occurred earlier this year when Switzerland-based Roivant Sciences raised $1.1B from Founders Fund and SoftBank Group in August.
Other ongoing developments in the European pharma space include Immunocore's trial to advance its treatment for uveal melanoma (eye cancer), Bill & Melinda Gates Foundation-backed Kymab's active vaccine programs for malaria and HIV, and Mission Therapeutics' drug development pipeline, which includes treatments for everything from immuno-oncology to neurodegenerative disease.
Using CB Insights data, we analyzed yearly and quarterly equity investment trends to private pharmaceutical companies in Europe, as well as funding by deal stage.
ANNUAL FINANCING TRENDS
In 2017 YTD, private pharmaceutical companies have already seen a record 107 deals worth $2.2B in disclosed equity funding.
At the current run rate, deals in 2017 are on track to grow 32% from the 2016 high of 106. Funding is also on pace to rocket 102%, reaching over $2.8B by the end of this year.
The upswing in funding is largely due to Roivant Sciences' $1.1B mega-round (mentioned above). Roivant, which is already putting some of its money to use with a $116M investment in hepatitis B biotech company Arbutus Biopharma, is structured as the parent company for a growing list of companies with diverse therapeutic focuses.
Other largest deals in the space since 2013 include a $320M Series A by UK-based Immunocore, a $120M Series B by Austria-based Nabriva Therapeutics (which made its IPO in Q3'15), and a $110M Series F by German unicorn CureVac, all three in 2015. CureVac and Immunocore have both been backed by the Bill and Melinda Gates Foundation, while Nabriva counts OrbiMed Advisors, Wellcome Trust, and Novartis Venture Funds among its many investors.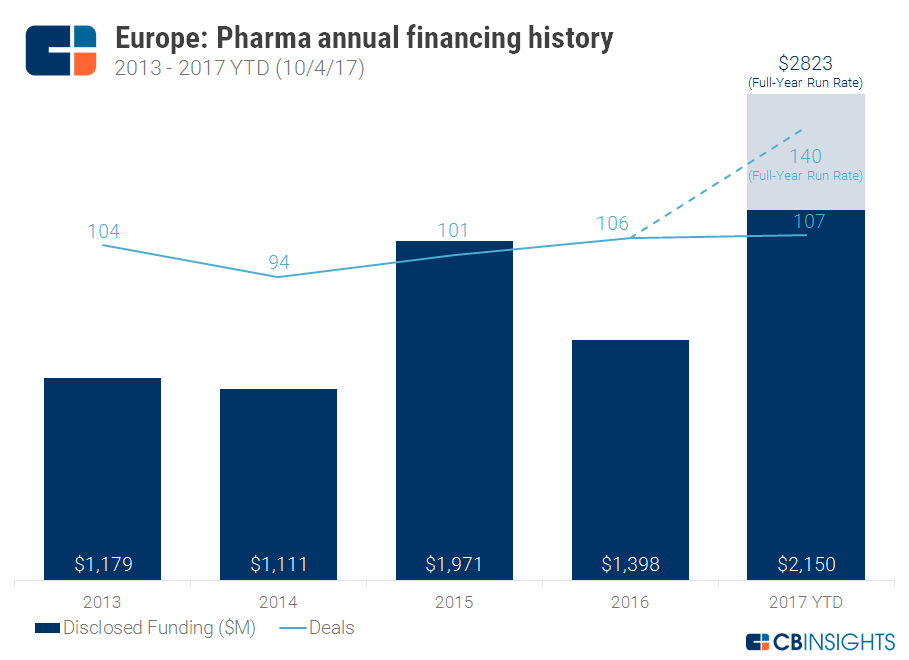 QUARTERLY FINANCING TRENDS
Total disclosed equity funding for Q3'17 saw a massive uptick due to the Roivant round. Without Roivant, total funding in Q3'17 would have been $287M, down from $338 in Q2'17. Despite this large upswing in funding, deal flow in Q3'17 remained relatively steady, clocking in at 32 deals (compared to 33 in the previous quarter).
After Q3'17, the second-largest quarter since 2013 was Q3'15, which saw the $320M Series A of Immunocore.
In addition to Roivant, the largest deals of last quarter included the $80M Series C of London-based Autolus, the $55M Series B of Oxford-based Replimune, and the $21.8M Series A of Switzerland-based Vicarius Pharma.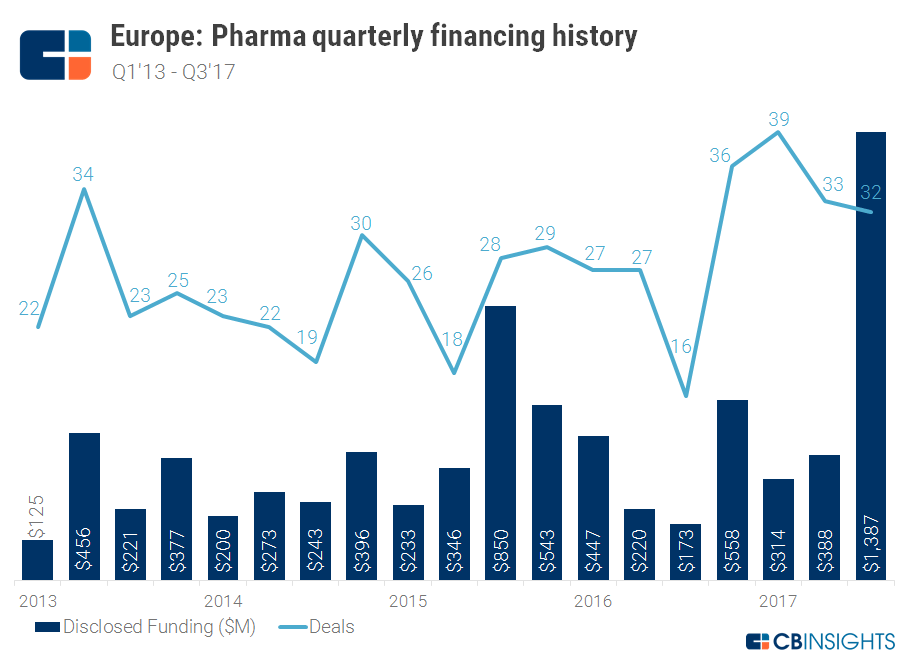 DEAL SHARE BY STAGE
The past 2 years have witnessed significant growth in the attention paid to very early-stage pharma startups in Europe: last year saw an 8 percentage point growth in seed / angel stage deal share.
In 2017 YTD, seed / angel stage deals have made up 27% of total deal flow, including seed deals to Switzerland-based Cellestia Biotech and Germany-based Zimmer BioTech. Cellestia is advancing an oral treatment for specific types of leukemia and lymphoma, while Zimmer BioTech is developing a drug for the treatment of actinic keratosis.
Series A deals in the sector have been falling since 2015, and currently represent 25% of total deal flow, down from 30% in 2016.
Mid- to late- stage deals this year have remained relatively consistent with 2016 figures. Series B and C deals have taken 19% of total deal share in 2017 YTD, on par with 2016, while Series D+ are down slightly to 4%.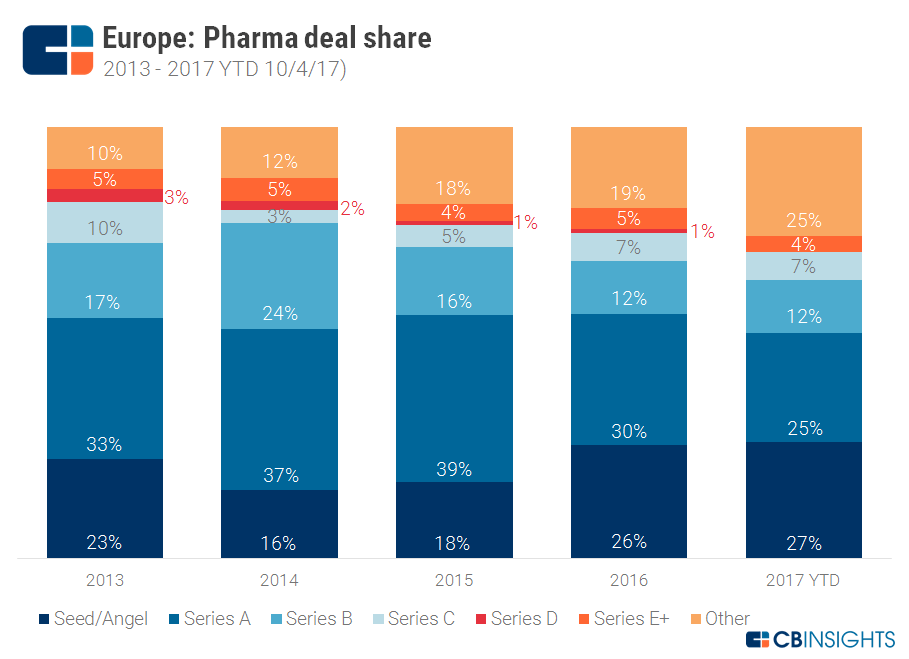 If you aren't already a client, sign up for a free trial to learn more about our platform.