Market Map
The European fintech space continues to grow as startups take advantage of a favorable regulatory environment. Our market map highlights 90+ startups enabling e-commerce, powering cross-border payments, and more in the region.
European fintech is evolving rapidly, as investors pour funds into Europe-based fintech companies. 
While deals to the group rose only slightly between 2018 and 2019, funding jumped 61% over the same period, from $4.9B to $7.9B. Run-rated through the end of 2020, funding is expected to rise this year, while deals could fall, indicating market maturation as investors back perceived winners.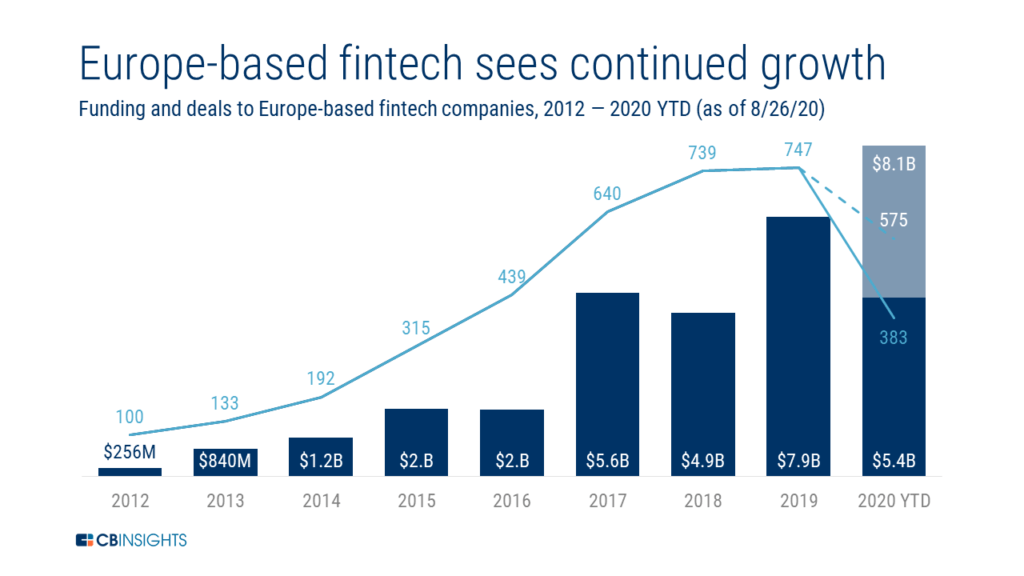 Fintech-friendly regulatory initiatives are driving much of this activity. Open banking and the European Commission's Second Payment Services Directive (PSD2) have made it easier for fintech companies to form, get regulatory approval, exchange data with incumbents, and ultimately acquire customers.
Taken together, funding inflows and favorable regulation have sparked a new generation of fintech startups that are building a new infrastructure layer into financial services, as well as offering digital-first, branchless banking apps.
Fintech startups are also developing tools to help online merchants build sites, increase checkout conversion, and reduce fraud.
Using CB Insights data and the Fintech Collection, we've identified over 90 companies rethinking financial services in Europe.