We mapped out the top-funded digital health startup in every European country, from the UK's Oxford Nanopore Technologies to Finland's Oura Health.
Digital health startups in Europe have raised nearly $7B across 1,300+ deals since 2015. While the US still represents the majority of the digital health market, 2019 was a record year in funding and deals for digital health startups in Europe, which notched $2.4B across 300+ deals.
Recent investments have gone to leading healthcare companies such as Oxford Nanopore Technologies in the UK, Doctolib in France, and KRY in Sweden.
One emerging area of focus is telehealth, which has garnered increased attention amid the Covid-19 pandemic.
Using CB Insights data, we identified the most well-funded digital health startups across Europe. Collectively, these startups have raised more than $2B in disclosed equity funding. 
See the full infographic below, as well as the complete list of startups at the end of this post. For more on top-funded digital health startups, check out our map of the most well-funded US digital health startup in every US state.
We define digital health to include companies in the healthcare space that use technology and software as a key differentiator. Our analysis ranks companies based on total disclosed equity funding and only considers digital health companies that have raised equity funding since 2015. We exclude subsidiaries and majority-owned startups.
Please click to enlarge.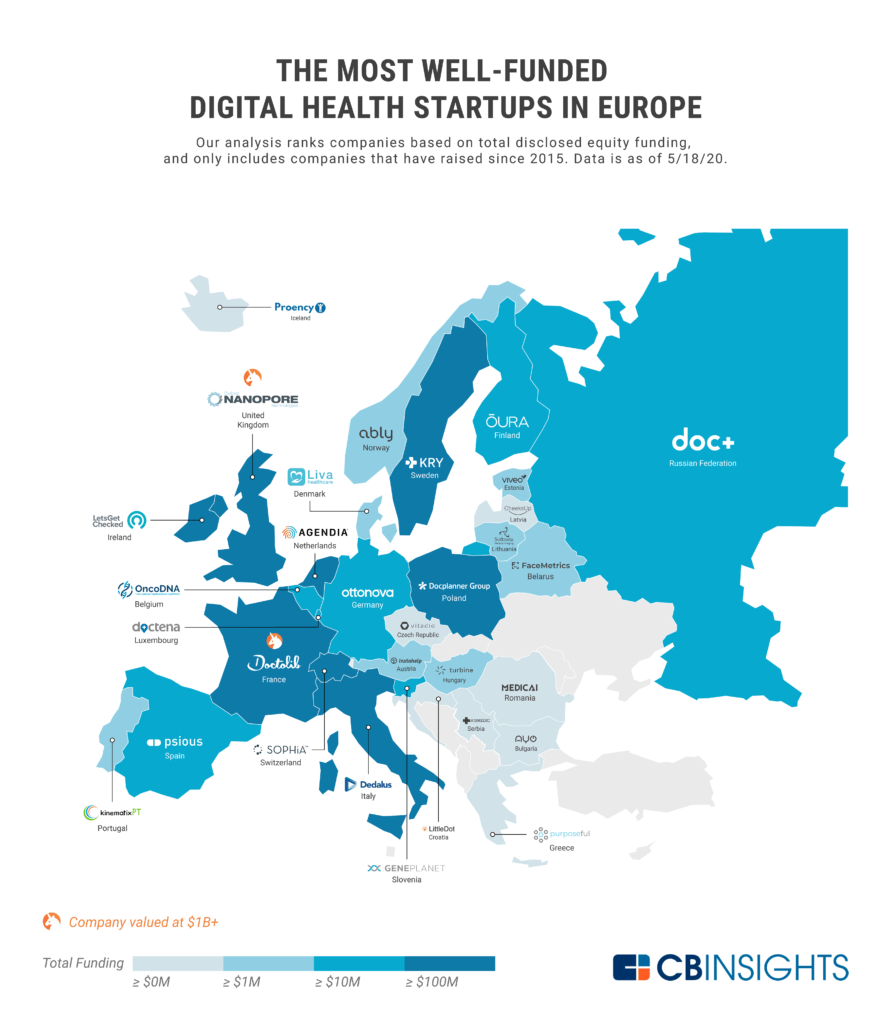 KEY TAKEAWAYS
The top-funded digital health startup in Europe is UK-based DNA sequencer maker Oxford Nanopore Technologies, with $740M in total disclosed equity funding.

Rounding out the top 3 most well-funded startups are telehealth provider

Doctolib

in France ($267M in equity funding) and telehealth app

KRY

in Sweden ($251M).

Two of the 32 companies featured in our map are unicorns with disclosed valuations of $1B+:

 Oxford Nanopore Technologies ($2B valuation, UK) and Doctolib ($1.1B, France). 

Eight countries boast top-funded startups that have raised more than $100M in equity funding, while 7 countries have top-funded startups that have raised between $10M and $100M. 

The least well-funded startup on the map is Iceland-based mental health platform

Proency

, which has received $20K.

Telehealth is one of the major themes for startups in our graphic. Three of the top 10 startups have a remote care or telemedicine focus, including Doctolib (France), which provides a platform for doctors to manage appointments and offer video consultations; KRY (Sweden), which offers an app to connect doctors with patients; and LetsGetChecked

(Ireland), which is developing a variety of remote testing kits that allow users to test themselves at home.

Another popular area of focus is genomics. This area is being explored by companies like Oxford Nanopore Technologies (UK), Agendia (Netherlands), and SOPHiA Genetics (Switzerland). Oxford Nanopore Technologies makes nanopore DNA sequencers used across cancer research, microbiology, plant science, and more. Agendia develops genomic tests for breast cancer, while SOPHiA Genetics offers an AI platform for genomic analysis.
See the most active investors in digital health startups in Europe here, and read more about funding trends in the region here. 
Track all the digital health startups in this brief and many more on our platform
Startups working on digital health have the potential to change how medical care is practiced and delivered. Look for Digital Health in the Collections tab.
Track digital health startups
If you aren't already a client, sign up for a free trial to learn more about our platform.