Looking for a slice of the fashion resale pie, Etsy acquired one of Gen Z's favorite shopping apps. Here are the top-line bullets you need to know.
E-commerce site Etsy, known for its marketplace of vintage and homemade goods, acquired clothing resale rival Depop in a $1.6B deal in an effort to tap into the Gen Z market. 
London-based Depop has an ethos fit for the zeitgeist, focusing on social shopping and ethical, sustainable fashion. More than 90% of the app's 30M+ users are under the age of 26, while Etsy boasts a firmly Millennial user base. 
In 2020, Depop saw revenue and gross merchandise sales double from the previous year to $70M and $650M, respectively. It previously raised $100M from backers like Balderton Capital, Holtzbrinck Ventures, and General Atlantic. 
While the pandemic halted investor appetite in 2020, fashion resale companies have already garnered nearly $2B across 21 deals this year.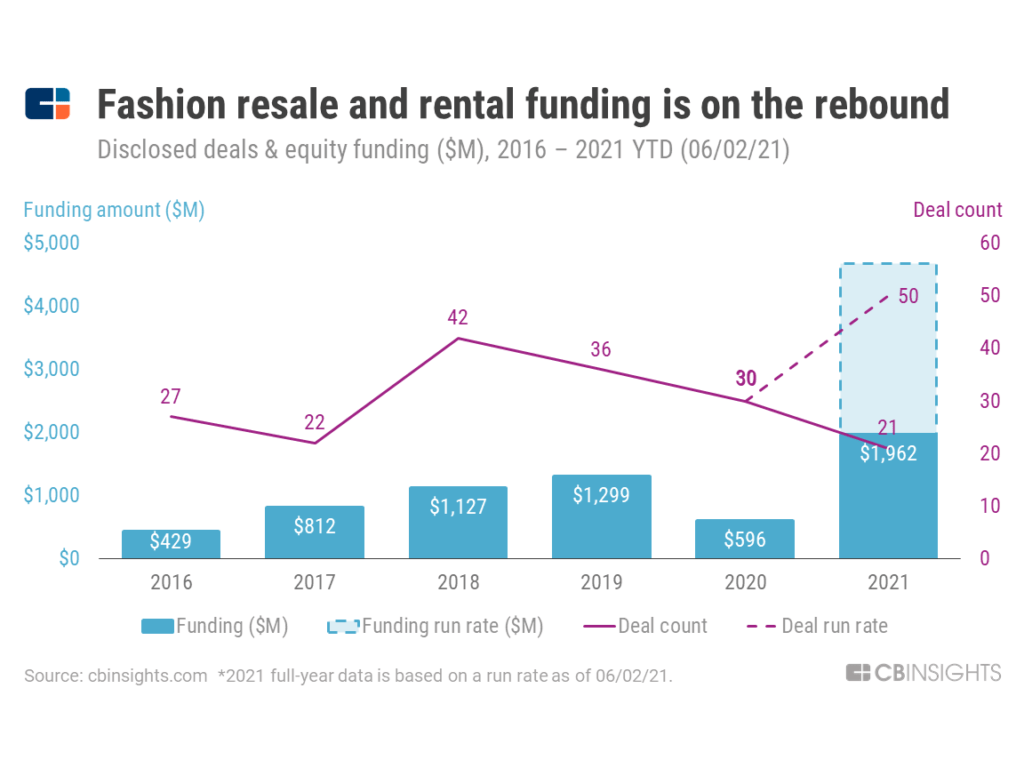 Clients can check out more companies operating in the broader e-commerce space in our Expert Collection here.
WHAT YOU NEED TO KNOW:
Investors are hungry for the fashion resale market.

The

$42B

market has minted a number of large competitors in a booming, crowded industry.These include Poshmark, TheRealReal, and StockX, as well as recent entrant

Rent the Runway

, which previously focused exclusively on the rental business. Notable deals went to Lithuania-based Vinted, which has raised more than $560M at a $4.5B valuation, and France-based Vestiaire Collective, which hit unicorn status in March. Recent exits include Poshmark and ThredUp, which debuted in eye-popping IPOs in January and March 2021, respectively. Poshmark's performance has trended down amid growing losses, cratering by 52% since the beginning of the year, while ThredUp is up 22% year-to-date. 
Younger shoppers have been driving the shift toward sustainability

, with more than half saying they're willing to pay more for

sustainable products

. The pandemic also spurred some growth in secondhand retail as consumers looked to earn extra income, clean out closets, and were forced to shop online while brick-and-mortar stores were closed. 
WHAT'S NEXT?
Luxury brands are already exploring resale models to reach younger audiences, ensure authentication, and further own the consumer experience.

As the pandemic forced stores to close, resale platforms offered a way for brands to make up for losing business and reduce their growing inventory. But for luxury brands specifically, owning this channel allows them to ensure the authenticity of resold goods on secondary markets and seize greater control over the experience consumers have with their goods — a critical strategy. France-based luxury conglomerate Kering, which owns Gucci and Balenciaga, took a 5% stake in Vestiaire Collective in March, with Kering CEO François-Henri Pinault

affirming the trend

: "Pre-owned luxury is now a real and deeply rooted trend, especially among younger customers." Chanel remains the exception in resale adoption, asserting its goods will only be sold "

in a very small number of carefully chosen and controlled luxury retail environments

." 

White-label platforms are enabling brands to launch their own rental/resale channels.

Branded resale marketplaces allow retailers to tap into the burgeoning resale market, capture recurring revenue, and connect with new customers.

Treet

, for example, helps retailers launch their own branded resale marketplaces, while

Loopt

offers a white-label service for platforms to run their own rental subscription services. Brands like Lululemon and Levi's tapped

Trove

, which has raised $44M to date, to manage the logistics of their buyback and resale programs. 

Resale models may soon extend beyond fashion.

Other industries, such as home goods and furnishing, may look to capitalize on similar models to capture greater revenue. For example, luxury furniture resale website

1stDibs

, which has collected $247M in funding to date, is reportedly looking to go public at a

$1B valuation this year

. The electronics resale market is already seeing some traction as well; refurbished electronics marketplace

Back Market

recently raised a $335M Series D to hit a $3.2B valuation. 
If you aren't already a client, sign up for a free trial to learn more about our platform.