The Post-Covid World
The Covid-19 pandemic has highlighted some of the major challenges facing manufacturers. We dig into 5 novel technologies that could improve supply chain resilience, boost production speed and flexibility, and more.
The Covid-19 pandemic has shaken the global manufacturing industry.
This sweeping disruption has brought attention to some of the major ongoing challenges facing the sector and has highlighted the need to boost supply chain resilience, speed up production, and make products with higher degrees of precision.
Adding to this, the associated economic uncertainty has heaped pressure on manufacturers to increase efficiency and bring down costs. 
But a number of emerging technologies could help address some of these challenges — transforming the space and complementing its steady march toward automation.
For example, embedded metrology is helping reduce manufacturing waste. High-speed sintering promises to make factories more adaptable. And light-based manufacturing could make it cheaper to produce highly intricate designs.

Using CB Insights data, we explore 5 emerging technologies that could reshape the manufacturing space and create new opportunities.
Table of contents
1. Generative design
Whether fabricating new consumer products or producing new drugs, efficiency is one of the most common bottlenecks in manufacturing — but in many cases, this can be improved by the design of the manufactured product itself.
Even in ideal conditions, it takes time, effort, and significant investment to bring a new product to market. During a large-scale crisis like the Covid-19 pandemic, this problem can be exacerbated as manufacturers seek to respond to rapidly changing needs.
Generative design, an emerging field that uses machine learning to create products based on a broad set of criteria, could help speed up the manufacturing process and make it more adaptable in the future.
What is generative design?
Generative design is a process in which artificial intelligence (AI) and machine learning algorithms quickly produce multiple iterations of a design based on predefined specifications, including structural composition, materials, and available manufacturing methods.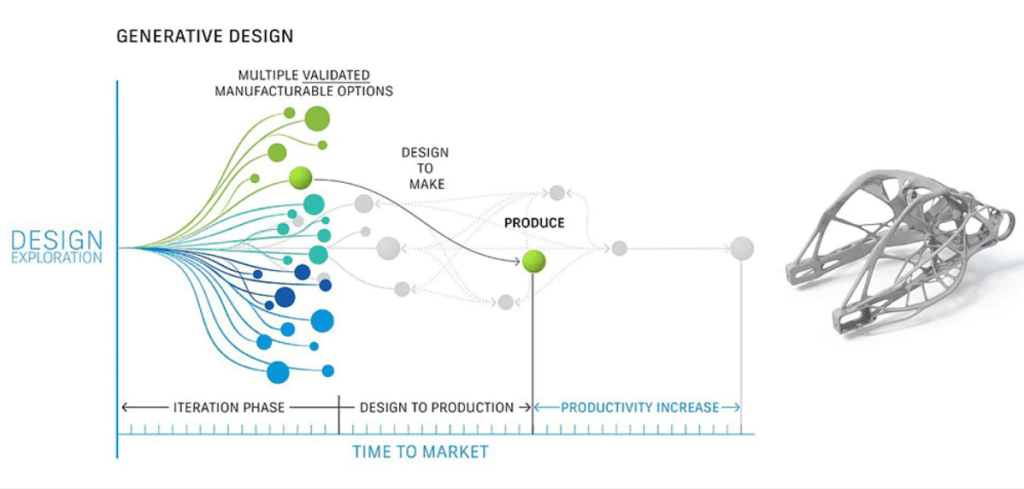 Source: Autodesk
Once a generative design system has been provided with these initial parameters, neural networks generate a broad range of designs to help identify the most efficient combinations of materials and specifications. Designers can tweak these permutations as they go, providing the neural network with data from which to "learn" about the designer's preferences.
How generative design is reshaping production
Some industries have already applied generative design to create products that are more efficient to build and more effective in their use.
Aircraft manufacturer Airbus, for instance, relied on generative design to create a new partition for its A320 passenger aircraft, resulting in a design that was 45% lighter than previous iterations. Airbus estimates this could reduce its fleet's annual carbon emissions by almost 500,000 metric tons.
Covid-19 has created an additional impetus for speed that could accelerate the adoption of generative design approaches.
For example, shortages of space in healthcare facilities have translated to a need for the rapid construction of emergency field hospitals, and generative design could make such operations faster, more efficient, and more cost-effective.
Chicago-based design and construction consultancy VIATechnik is working with the Quebec Wood Export Bureau (QWEB) to develop generative-designed, prefabricated structures for use in disaster relief efforts around the world.
VIATechnik's virtual design and construction technology allowed the firm to create generative iterations of QWEB's prefabricated buildings based on a range of criteria, including climate, terrain, and population density.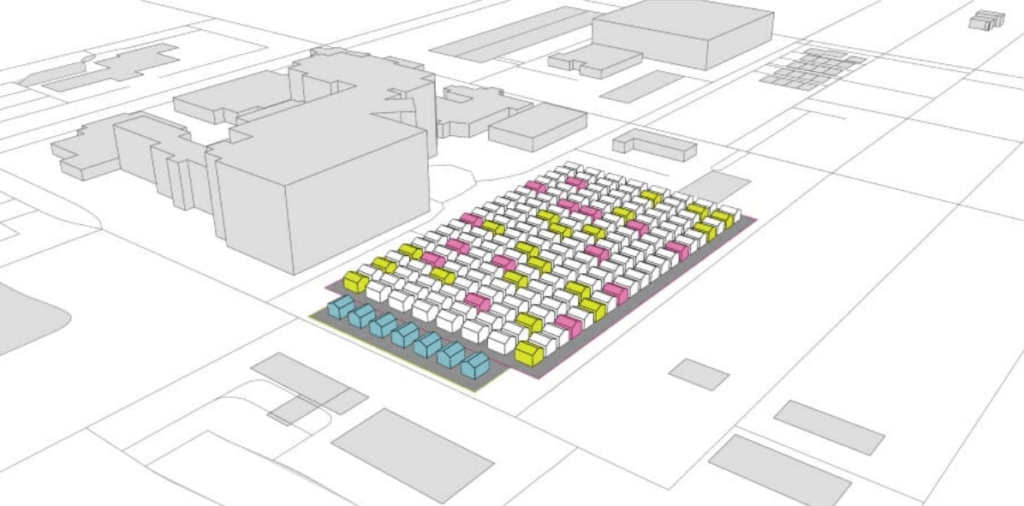 A visualization of a rapid-response field hospital created by VIATechnik's generative design technology. Source: VIATechnik

The generative nature of the designs means that planners can quickly and easily modify the specifications of the prefabricated structures based on changing needs, while still meeting criteria that allows them to be manufactured quickly. 
One subset of the medical field that could also benefit from generative design is drug discovery.
Developing and manufacturing a new drug is often a lengthy process — averaging about a decade — and can cost billions of dollars.
IBM is looking to sidestep some of these delays and costs in its efforts to tackle Covid-19 by using generative modeling techniques. The company is designing antiviral molecules that specifically target the proteins of the underlying SARS-CoV-2 virus.
Researchers at IBM have trained neural networks to create simulations of molecular interactions and design structures that more effectively bind to SARS-CoV-2 proteins. This approach has the potential to speed up the discovery and production of new antiviral drugs that could help combat Covid-19 and other novel viruses in the future.
Challenges and opportunities in generative design
The generative design market is expected to grow to $321M in the coming years, according to CB Insights' Industry Analyst Consensus market sizing tool. However, while generative design has the potential to speed up the time it takes to make a new product, the technology isn't without its drawbacks.
For now, generative design systems are still reliant upon the input and guidance of human operators. This increases the cost of implementing a generative design system, since skilled operators are required to train the underlying AI.
Advancements in AI technologies may eventually allow generative design systems to operate more autonomously in the future, but the technology has yet to reach this level of sophistication.
The output of generative design systems is also largely dependent on the performance of the associated machine learning algorithms. Poorer-quality algorithms will result in poorer-quality designs.
Generative design systems may be able to rapidly iterate on hundreds of permutations of a design or molecular sequence in short periods of time, but this will be of little use to manufacturers if the resulting permutations are inferior to those created by conventional approaches.
2. Embedded metrology
The pandemic has underscored the need for adaptable manufacturing in times of crisis — as seen with companies like Ford and General Motors retooling their factories to make ventilators. But the uncertain economic conditions stemming from Covid-19 have also increased pressure on manufacturers to keep costs down and boost efficiency.
With defects being one of the leading causes of industrial waste, embedded metrology is a manufacturing technology that could reduce the cost of production while also boosting precision and adaptability.
What is embedded metrology?
Embedded metrology is an approach in which precision measurements are made at the same time as individual components are manufactured.
Typically, quality assurance (QA) checks of individually machined components are done on a batch basis at the end of the manufacturing process. Manufactured parts are randomly selected for QA testing and measured to ensure accuracy. In the event that the selected parts do not meet minimum quality standards, the affected batch is remanufactured.
An operator observes a Hurco machine utilizing in-process metrology in a factory environment. Source: The Engineer
Embedded metrology — also known as metrology-assisted assembly — relies on sophisticated sensors installed on specialized machinery and robotic manufacturing systems, which allow individual components to be precisely monitored and quality-tested as they are made.
This ensures that every component, rather than a random sample of components, is measured, avoiding the need to remanufacture entire batches if not necessary and reducing the likelihood of deficient products being shipped.
This approach could be especially useful for building components for use in aerospace, automotive, and medical applications, because even microscopic inaccuracies in individual parts can pose significant safety risks to passengers and patients and expose manufacturers to legal liability.
How embedded metrology is changing precision measurements
While Covid-19 has revealed critical vulnerabilities in global manufacturing supply chains, it has also highlighted the urgent need for flexible production environments that can be rapidly reconfigured to meet emerging needs. By reducing waste, decreasing lead time, and increasing overall accuracy, embedded metrological systems will be essential in creating a more adaptable global supply chain.
Global precision metrology group Renishaw provided an example of this in action when it began producing ventilators to meet the sudden demand for breathing apparatuses across Britain's National Health Service (NHS).
Working to specifications developed by the Ventilator Challenge UK consortium, Renishaw's production facilities in Gloucestershire and southern Wales have been producing machined components for use in ventilators using embedded metrology systems.
"Ventilators are intricate and highly complex pieces of medical equipment and it is vital that we balance the twin imperatives of speed of delivery with the absolute adherence to regulatory standards that is needed to ensure patient safety." — Dick Elsy, CEO of HVM Catapult and leader of Ventilator Challenge UK consortium
Prior to the emergence of Covid-19, Renishaw had never manufactured machined components for use in ventilators. But the company used embedded metrology to help manufacture the intricate parts needed to assemble ventilators without compromising on speed or accuracy and with minimal waste.
This kind of flexibility is likely to become increasingly important in the coming years, particularly if more governments around the world seek to mitigate supply chain vulnerabilities by encouraging onshoring of some manufacturing operations.
Challenges and opportunities in embedded metrology
Embedded metrological systems are transforming manufacturing by increasing accuracy, reducing waste, decreasing overall production time, and saving money. While metrology is likely to become more tightly integrated into manufacturing as a whole in the coming years, certain types of metrology systems may become more commonplace than others, most notably non-contact metrology.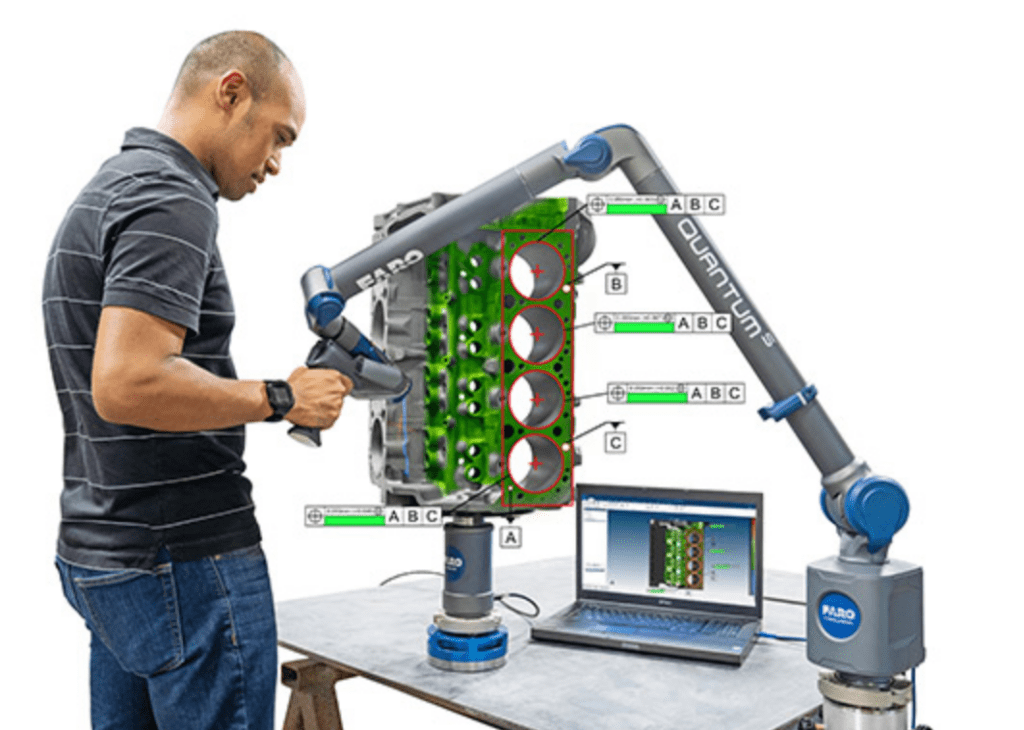 A non-contact metrology inspection system manufactured by Faro. Source: Faro
Non-contact metrology systems typically rely on laser scanning, optical interferometry, and X-ray-computed tomography to conduct inspections without having to be maneuvered to measure a machined part. These technologies will likely see greater adoption in the near future as non-contact metrology is well-suited to help automate facilities.
However, despite the many benefits of embedded metrological tools in the assembly process and the sophistication of emerging metrological technologies, there remain barriers to the widespread adoption of the tech.
Several industries, including the medical devices sector, are likely to require additional final validation of individual components in order to comply with stringent regulatory requirements. This is especially relevant to the production of advanced critical-care machinery that contains highly sensitive components, which non-contact metrology systems may not yet be able to validate.
Another consideration facing manufacturers exploring embedded metrological systems is the cost of deployment. While assembly lines featuring embedded metrological systems can be set up as new factories are built, retrofitting existing hardware with embedded metrological measuring devices could be impractical or cost-prohibitive for many factories.
3. High-speed sintering
The impact of Covid-19 on global supply chains was swift and profound, but the blow to China's manufacturing sector was particularly pronounced at the beginning of the pandemic. Amid the country's outbreak, manufacturers reported operating at half their ordinary capacity, with many suffering substantial, prolonged reductions in their workforces.
While many factories in China have since resumed close-to-normal operations, the resiliency of global supply chains has become a significant concern for manufacturers around the world.
With many companies seeking to shore up vulnerabilities highlighted by the pandemic, 3D printing has once again emerged as a potential solution to some of the challenges of intricate, and at times fragile, international supply chains.
Although 3D printing, also referred to as additive manufacturing, has become increasingly commonplace over the past 10 years, the tech has not yet reached the potential that early hype promised. This could be changing, however, thanks to advancements in high-speed sintering.
What is high-speed sintering?
High-speed sintering (HSS) — sometimes known as ultrafast 3D printing — combines the benefits of 2 existing additive printing techniques: selective laser sintering and binder jetting. These allow HSS printers to print across significantly larger surface areas and use a broader range of materials.
Depending on the parameters of the individual printer, HSS can be 10-100x faster than ordinary 3D printing. According to its inventor Neil Hopkinson, an HSS printer with a print bed measuring 1 square meter could feasibly produce a flat-pack chair in just a few minutes.
HSS leverages economies of scale to become increasingly efficient with more objects on the print bed.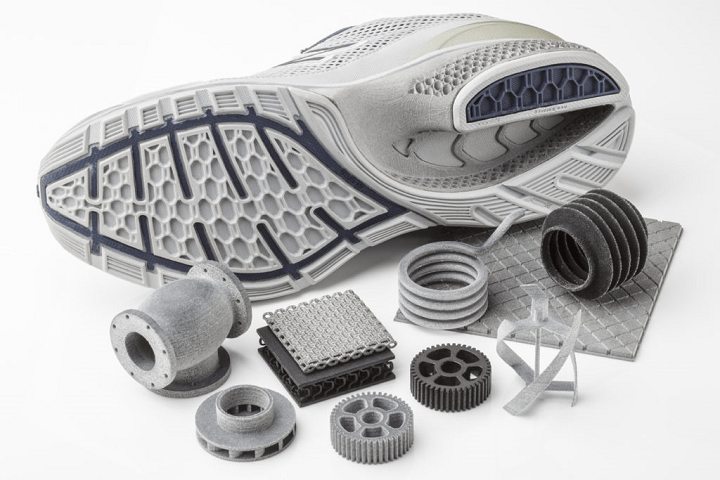 Source: Xaar
In HSS, the strength and density of the printed product can be actively controlled by adjusting the amount of infrared light absorbed by the heat-sensitive ink used in the process. This dimension sets it apart from conventional 3D printing.
During initial tests of HSS, this capability allowed researchers to adjust the density of a printed product by up to 40%, a capability that could bring down manufacturing costs for some products.
At present, HSS printing techniques are best suited for various types of thermoplastics, which are commonly used to manufacture a wide range of products from airplane window panes to motorcycle helmet visors. HSS is also suitable for working with elastomers, which are frequently used to produce medical prostheses and fabrics such as nylon.
How high-speed sintering is changing rapid prototyping and production
Some companies have already begun exploring the possibilities of HSS. Among them is German chemical manufacturer Evonik, which develops thermoplastic powders and elastomers for use in HSS within the commercial 3D printing industry.
However, while HSS shows great promise, it is not yet widely used as a production method. This is primarily because additive manufacturing has mostly focused on rapid prototyping as opposed to rapid production.
"Our everyday products have been improved considerably — for example, the all-electric car — yet the systems used to build these cutting-edge products are stuck in a previous decade. Innovation in spaces like high-speed metal additive manufacturing would pave the way for even better end products of the future." — Lior Susan, founder of Eclipse Ventures
Developments in sintering technologies, particularly emerging technologies allowing for the 3D printing of objects using metals, will dramatically reshape how products are manufactured.
For example, China-based polymer printing company Farsoon Technologies has developed a method for the additive printing of objects using copper. This technique has allowed Farsoon's scientists to print copper heat exchangers — a feat that signals a major shift in potential use cases for conventional additive manufacturing and HSS technologies.
Challenges and opportunities in high-speed sintering
The prolonged disruption to China's manufacturing centers caused by Covid-19 was felt keenly around the world as the pandemic took hold. This prompted a number of governments and companies to reassess their manufacturing capabilities in a bid to make supply chains more resilient, a process which may drive investment in emerging manufacturing technologies like HSS in the coming years.
But ultrafast 3D printing could accomplish far more than shoring up vulnerabilities in distributed global supply chains. The tech will allow manufacturers to respond much more quickly to emerging crises, from pandemics to natural disasters, by offering a more flexible, adaptable manufacturing base.
However, there are limitations to the applications of HSS, one of the most notable being the materials used in ultrafast 3D printers. Although Farsoon Technologies' additive copper printing technique carries potential across a large range of manufacturing applications, the metal powders necessary for this and similar processes pose significant safety risks due to their highly combustible nature.
Even though HSS printers can produce components very quickly, the safety precautions necessary to work safely with metal powders, as well as the often-lengthy post-production processes required when working with printed metal objects, could diminish some of the initial productivity gains.
Another potential challenge facing HSS is accuracy. For example, while current 3D printing technologies have been used to produce medical and personal protective equipment (PPE) such as masks and nasal swabs, the products often don't meet the fluid barrier and air filtration standards necessary to safely treat Covid-19 patients in clinical environments.
HSS and 3D printing technologies are unlikely to single-handedly solve broader supply chain problems, but the tech is set to play a growing role as it matures.
4. Light-based manufacturing
The disruption caused by Covid-19 has added pressure to manufacturers to reduce costs and increase precision. Though still nascent, light-based manufacturing may one day help address these challenges across a broad range of industries.
What is light-based manufacturing?
Light-based manufacturing is an emerging technology in which light is used to manipulate tiny fragments of material suspended in a liquid. These fragments are then heated to fuse them together, creating a finished product.
The process is entirely contact-free, which could make it well-suited for the manufacturing of highly sensitive electrical components, such as microprocessors. The technique was pioneered by researchers in Dr. Steven Neale's Micromanipulation Research Group at the University of Glasgow.
Light-based manufacturing relies on an advanced optical trapping technique known as "optoelectronic tweezers" to hold and manipulate small objects suspended in the liquid.
"The forces formed by these optoelectronic tweezers have been compared to Star-Trek like tractor beams that can move objects through a medium with nothing touching them. This conjures up images of assembly lines with no robotic arms. Instead, discrete components assemble themselves almost magically as they are guided by the patterns of light." — Dr. Steven Neale, University of Glasgow
The tweezers themselves are formed by a layer of silicon that creates an electrical field in the areas exposed to light, which reacts with particles or beads suspended in the liquid above the silicon. This technique allows for the manipulation of particles measuring as small as a nanometer — less than half the diameter of a strand of human DNA.
How light-based manufacturing is changing component assembly
Although light-based manufacturing shows promise for applications in the semiconductor and microprocessor industries, it is still an experimental technology in the early stages of R&D and is not yet being used commercially. However, researchers around the world are already beginning to unlock the potential of light-based manufacturing.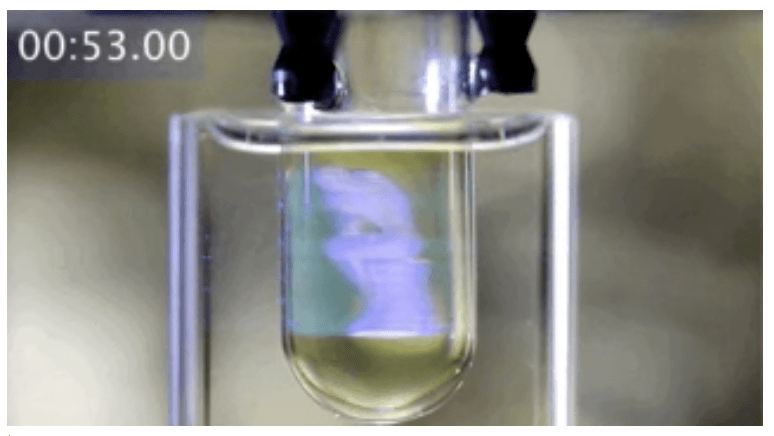 Rodin's "The Thinker" recreated in miniature using light-based manufacturing techniques. Source: University of California

Hayden Taylor, an assistant professor of mechanical engineering at the University of California, Berkeley, is working on a technique known as computed axial lithography, which functions similarly to Neale's method. In Taylor's technique, the print volume is rotated relative to the light source, allowing for all points of a 3D object to be created simultaneously rather than sequentially.
Neale and his team are also researching the potential use of light-based manufacturing in the production of high energy density capacitors as an alternative to conventional batteries in mobile devices.
Others are exploring using optoelectronic tweezers in biotechnological applications, such as the manipulation of individual cells. Dr. Shuailong Zhang, a former member of Neale's group in Glasgow, and researchers at the University of Toronto have developed an optoelectronic microbot for planned use in biotechnological research and drug delivery.
The microbot can be programmed to perform a range of actions at sub-millimeter dimensions, including the isolation of individual cells, the control of cell-to-cell interactions, and RNA sequencing.
Challenges and opportunities in light-based manufacturing
Aside from potential applications in the production of intricate electronic components, light-based manufacturing has the touted advantage of helping to reduce costs in mass-production environments. The use of optical tweezers could allow for faster, easier manipulation of tiny parts and, in some cases, could eliminate the need for costly robotic machinery to precisely move and solder individual components.
"Optoelectronic tweezers are cost-effective and allow parallel micromanipulation of particles. In principle, we can move 10,000 beads at the same time. Combining this with our freeze-drying approach creates a very inexpensive platform that is suitable for use in mass production." — Dr. Shuailong Zhang, University of Toronto
However, while the technique itself may prove cost-effective in the mass production of microscopic electrical components, existing factories cannot be easily modified or reconfigured to shift from traditional mechanized assembly lines to light-based manufacturing techniques. This may slow adoption of the tech even as it becomes more capable.
5. Nanotechnology
Nanotechnology — the science of working with matter at the molecular scale — has long been a mainstay of science fiction. But in recent years, nanotechnology has led to the production of new types of products in industries ranging from textiles to surgical medicine.
Amid the Covid-19 pandemic, some researchers are even turning to nanotechnology to help manufacture products to combat infectious diseases.
What is nanotechnology?
Nanotechnology is an umbrella term that encompasses a range of scientific disciplines focused on the manipulation of matter at the atomic, subatomic, and molecular levels. It is sometimes conflated with nanorobotics, a specialized subset of nanotechnology focusing on the development of microscopic robots.
There are 2 primary approaches to using nanotechnology in manufacturing (nanomanufacturing): top-down and bottom-up.
As the names imply, one technique is reductive, and the other is additive. In top-down nanomanufacturing, a larger block of material is systematically reduced until only the finished microscopic product remains. In bottom-up nanomanufacturing, components and products are built by gradually adding atomic- and molecular-level particles until the product is finished, in an iterative fashion analogous to traditional 3D printing.
How nanotechnology is changing what can be made
There are already dozens of everyday applications of nanotechnology across a range of sectors. Chemical manufacturers rely on nanocatalysts to create chemical reactions necessary to produce certain products, such as creating biodiesel from waste cooking oil. The automotive and aerospace manufacturing sectors make extensive use of nanocomposite coatings to reduce surface corrosion. Researchers are also using carbon nanotubes to improve water filtration systems.
In response to the Covid-19 pandemic, some nanotechnologists are examining ways in which nanoparticles can be used to create more effective protective equipment for medical personnel and frontline workers.
For example, researchers at KAIST in South Korea have developed a nanofiber technology that could improve the efficacy of medical face masks. Common face masks, such as the N95 masks typically used by medical professionals, are single-use only — the masks lose some of their protective properties when exposed to water, making them difficult to clean.
The team of scientists at KAIST, led by professor Il-Doo Kim, claim that their nanofiber mask fabric can effectively filter fine particulate matter even after being hand-washed more than 20 times.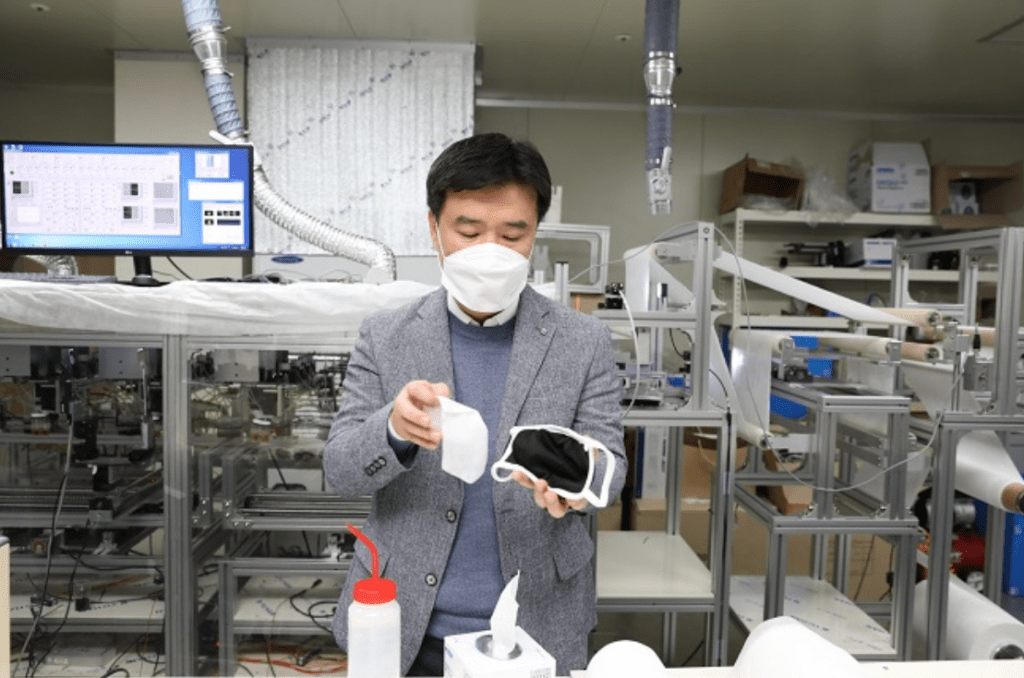 Professor Il-Doo Kim of KAIST demonstrates his team's nanofiber fabric for medical face masks. Source: KAIST
Nanomanufacturing is also being used for other preventative measures to control the spread of Covid-19. Researchers at Hong Kong University of Science and Technology (HKUST) developed an antiviral coating using nanotechnology that releases disinfectant over time from millions of microscopic nanocapsules. Researchers claim the coating, which can be applied to surfaces via an aerosol spray, can offer antimicrobial protection for up to 90 days after application.
Challenges and opportunities in nanotechnology
The Covid-19 pandemic has demonstrated a global need for inexpensive, easily manufactured, high-quality medical equipment to fight sudden outbreaks of disease. Many countries, including the US, have struggled with chronic shortages of PPE, and the efficacy of some of the PPE that medical professionals do have has been called into question by frontline medical staff and policymakers alike.
Nanotechnology may seem an unlikely solution to combat pathogens, but such approaches could become increasingly necessary as bacteria develop greater microbial resistance to antibiotics and even alcohol-based disinfectants.
Challenges relating to scaling nanomanufacturing for mass production could hinder its broader adoption across the manufacturing landscape — though its role in niche applications and in enabling the production of new types of intricate products is set to keep growing.
Smart factories in a post-Covid future
The global spread of Covid-19 has revealed weaknesses in supply chains that have forced many manufacturers to reconsider how, where, and when products are made. Challenges related to speed, resilience, cost reduction, and precision have been brought to the fore amid the economic disruption and sudden surge in demand for certain products.
Taken together, emerging technologies that help to address these challenges may also deliver on some of the bigger promises of "Industry 4.0" — a term for the growing prevalence of digital industrial tech — as factories continue to become smarter, leaner, and more adaptable.
If you aren't already a client, sign up for a free trial to learn more about our platform.