Deals and funding in the electronic health records space are rebounding as specialty-specific solutions and international markets drive renewed demand. We take a look at where top investors are placing their bets.
Healthcare delivery organizations have pumped billions into the electronic health record (EHR) market over the last 12 years.
EHR workflows underpin the clinical, operational, and financial performance of a healthcare delivery organization. These platforms are crucial in managing everything from patient scheduling to treatment planning to revenue cycle operations.
The passage of the American Recovery and Reinvestment Act in 2009 funneled $36B in subsidies to hospitals to coax them into buying EHRs. Prior to this, less than 10% of US hospitals used EHRs. Today, that number sits north of 95%.  
Because EHR implementations can cost health systems billions and disrupt operations for years, vendor turnover is rare, and the US hospital market for EHRs has become saturated. As a result, investments have been on a downward slant since 2014, with 2019 among the weakest investment years of the last decade.
However, investment activity recovered somewhat in 2020 as buying activity picked up in the ambulatory and post-acute markets.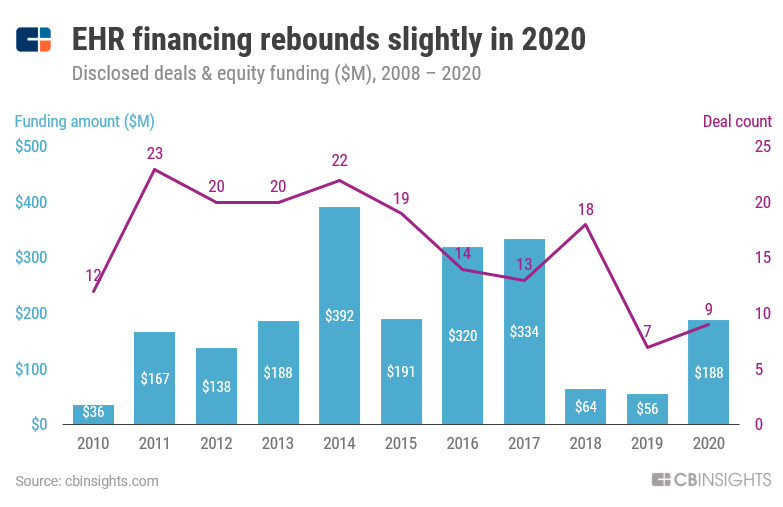 In this analysis, we look at the top investors backing EHR vendors, and where they're placing their bets.
Top investors in electronic health records
Since 2008, the EHR market has seen interest from venture capital and private equity firms alike. Today, both are represented among the most active investors in the space.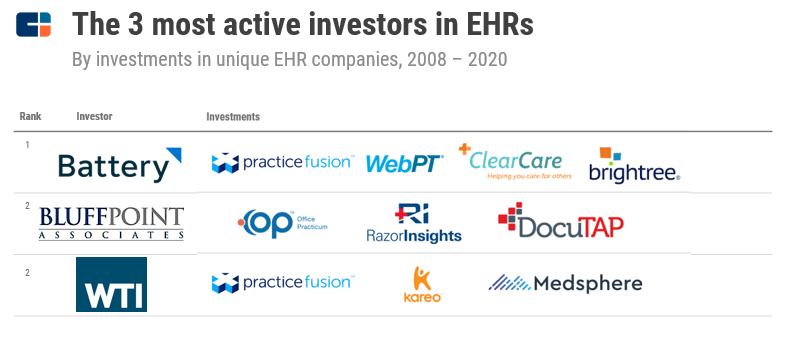 Venture capital firm Battery Ventures is the most active investor in the EHR space and has focused on EHR players building niche solutions that cater to clinical specialists.
In 2016, Battery Ventures led a $60M Series C round for home health EHR vendor ClearCare, which was acquired in 2019 by WellSky. The firm also led a 2014 growth equity round for physical therapy EHR vendor WebPT, which was sold in 2019 to Warburg Pincus. Battery Ventures also had early money in Brightree, a vendor building post-acute care EHR systems, which was later acquired by ResMed for $800M.
Rounding out the top 3 investors in the space are private equity firm Bluff Point Associates and venture debt fund Western Technology Investments.
Bluff Point Associates participated in back-to-back Series A and Series B rounds for DocuTAP, an urgent care EHR vendor that went on to become a market leader before being sold to Warburg Pincus.
Western Technology Investments has backed multiple late-stage rounds for Kareo, which has become a key player in the small practice, ambulatory EHR market.
Emerging themes across investments
Recognizing the saturated hospital market, investors have shifted focus from traditional hospital EHR systems to ambulatory, post-acute, home health, and specialty-specific vendors.
The image below represents investments from the top 10 most active investors in the EHR space. Please click to enlarge.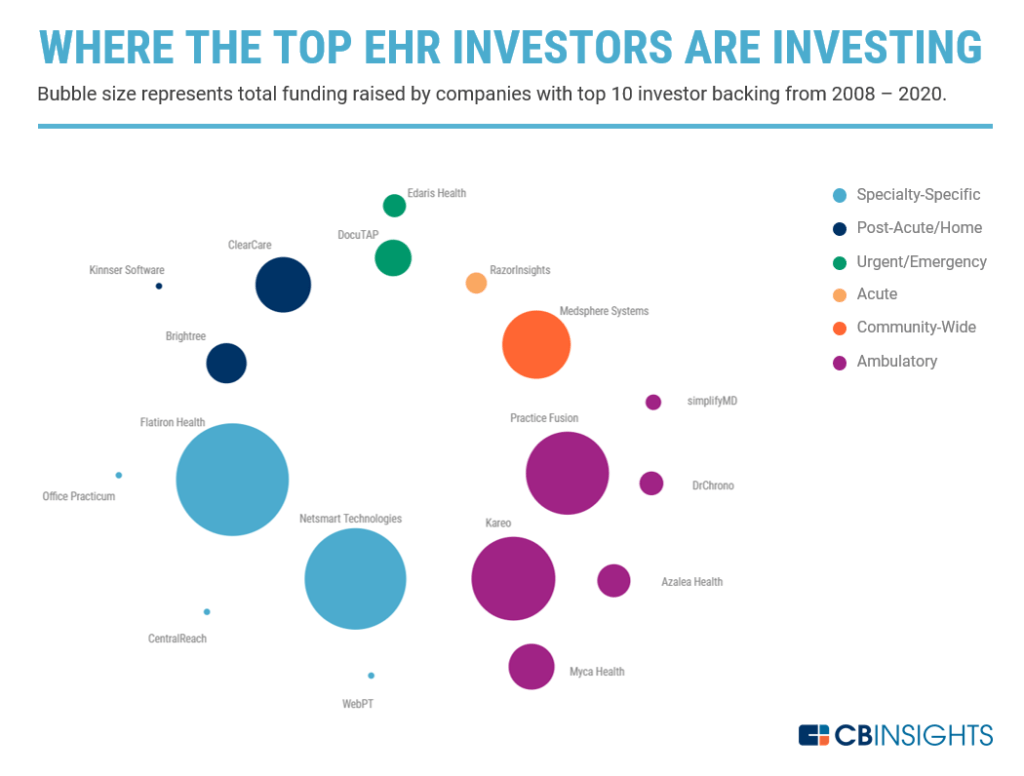 Specialty-specific EHRs attract the most investments
Vendors building EHRs for specialists have led in investment activity, accounting for 38% of all new deals over the last 5 years.
Specialty-specific EHR vendors are finding growth opportunities in markets that have struggled to adopt existing EHRs, such as pediatrics. This environment is far less susceptible to vendor lock-in due to the number of SaaS vendors entering this market with plug-and-play solutions for specialists.
Among top investors, Bluff Point led a private equity round for Office Practicum, a pediatrics-focused vendor, in 2011.