From patient engagement to clinical workflow to revenue cycle automation, here's how Epic is being unbundled.
Epic Systems — and the broader electronic health records market — is being disrupted across many of its core functions and revenue streams.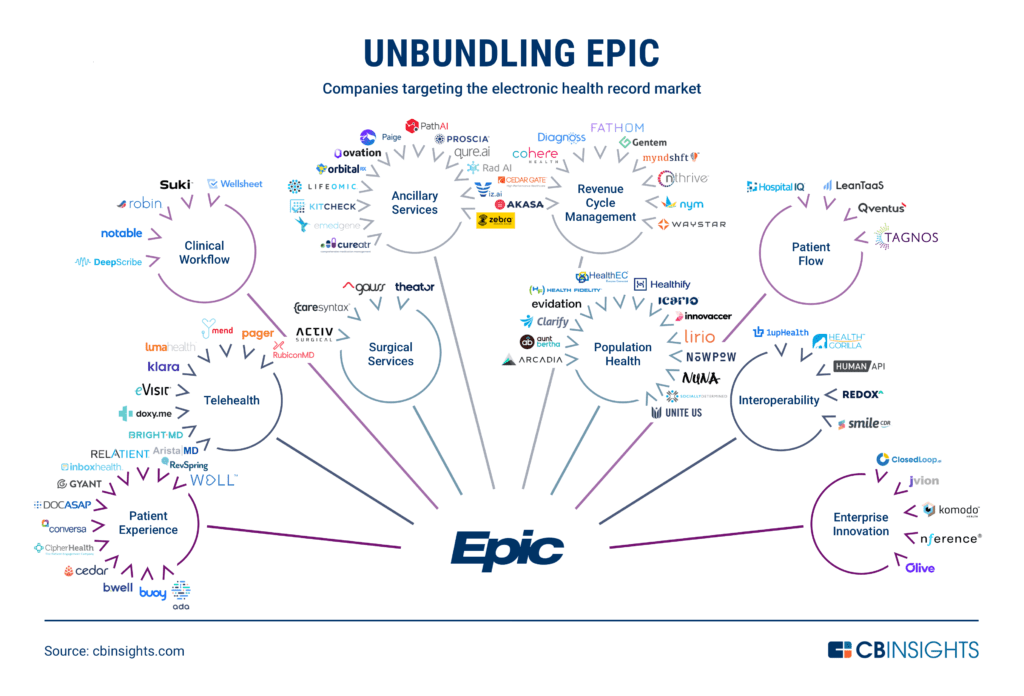 In 2020, Epic's annual revenue hit $3.3B and the company has delivered a 15% growth rate every year for the last decade.
Today, Epic's software underpins the vast majority of the day-to-day work done in US hospitals and houses the medical records of 250M Americans. It enjoys 29% of the hospital EHR market share and wins industry awards for both its hospital system and its doctors office solutions every year. Its market dominance appears unassailable.
But Epic's rise to the top has also created openings for rivals. For example, the company has been accused of making it too difficult to share patient records with non-Epic health systems and federal legislators ultimately stepped in to require that all EHR vendors adopt APIs that will allow patient records to be passed between hospitals more easily. These new rules help level the playing field for new entrants.
Below, we look at how healthcare technology startups are responding to this opportunity by ramping up the competition with Epic to win end-user workflow and health IT revenue.
Category breakdown
PATIENT EXPERIENCE
Engaging patients outside of the hospital has taken on new importance during the pandemic. Today, startups are building solutions that challenge traditional patient portal functionality — like smart symptom checkers, omnichannel communications platforms, and better digital payment capabilities.
Many startups in this space are using APIs or EHR app marketplaces to integrate their solutions into existing patient portal workflows.
Vendors like Buoy Health, Conversa, GYANT, and Ada have expanded beyond a focus on Covid-19 and are looking to make a permanent home for their symptom checkers in the patient experience market.
Startups like CipherHealth, b.well, Relatient, DocASAP, and WELL Health market omnichannel communications platforms that manage preventative health reminders, appointment booking, virtual check-ins, and more.
Paying for care is also getting easier. Vendors like Cedar, RevSpring, and Inbox Health are using a variety of AI techniques to create price estimates, facilitate insurance verification, collect co-pays, and even create payment plans.
TELEHEALTH
Telehealth usage grew nearly 3000% in 2020, according to FAIR Health — while many anticipate a post-Covid decline, telehealth is certainly here to stay.
Most EHR vendors were unprepared for this shift, including Epic. Reactively, the company launched a telehealth platform in May 2020 in partnership with Twilio. A second offering followed in September 2020, in partnership with Microsoft Teams.
Telehealth startups are competing with solutions purpose-built to support virtual care workflows.
Startups like Mend, Bright.MD, eVisits, Doxy.me, Klara, Luma Health, and Pager, are building patient engagement platforms to scale telehealth visits. These platforms manage scheduling, insurance verification, electronic prescribing, clinical documentation, and more.
CLINICAL WORKFLOW
Doctors are rarely enthusiastic about the EHR user experience. Today, an array of well-funded startups are working to improve this by shifting clinical workflow out of the EHR and into their own solutions.
Startups like Wellsheet are working to usurp the chart review portion of physician workflow. The company markets a clinical summary app that embeds within the EHR to reduce the amount of time providers spend looking for information.
Other companies are working to move physician documentation workflows out of the EHR altogether. Vendors marketing ambient clinical intelligence solutions, like DeepScribe and RobinHealthcare, are working to reduce the need for manual note-taking by offering documentation generated using natural language processing.
SURGICAL SERVICES
The operating room is the financial epicenter of the hospital — the business line is estimated to account for roughly 50% of the overall revenue earned by a health system and contribute about 25% of the overall costs. Health systems have long relied on their core EHR solutions to manage this critical environment, but today, startups are bringing intraoperative clinical decision support and quality improvement analytics to the operating room.
For applications during surgery, startups like Gauss Surgical and Activ Surgical are creating augmented reality-based clinical decision support tools and automated procedure documentation.
Startups like Theator and Caresyntax are supporting surgeons postoperatively by analyzing surgical videos to help refine surgical technique, reduce variation, and improve outcomes.
ANCILLARY SERVICES
Healthcare executives are reliably bullish on ancillary care tech. Radiology and pathology departments continue to benefit from medical image analysis AI and clinical documentation automation tools. Laboratory departments are looking outside the EHR to support genomic data storage needs and to quickly introduce new genetic testing services. Meanwhile, pharmacy startups are focusing on supply chain optimization and medication adherence.
REVENUE CYCLE MANAGEMENT
Revenue cycle management vendors are competing with Epic and other EHR vendors to support everything from prior authorization to coding to collections.
POPULATION HEALTH
Population health analytics vendors help health systems identify and engage at-risk patients to coordinate care more efficiently. Care coordinators and healthcare providers use these insights to optimize care delivery, improve access to preventative screenings, and reduce overuse of high-cost care settings like the emergency department. Epic's population health product is a popular option, but startups are working to build alternative population health management solutions.
PATIENT FLOW
The introduction of predictive analytics to the patient flow market is helping health systems take an iterative approach to improving throughput.
These vendors are focusing on high-impact areas, like the emergency department, staffing, and operating rooms, where they seek to remove bottlenecks in the care delivery process. Their efforts are aimed at moving patients through the hospital faster, resulting in more transfers to the facility, a shorter length of stay, and more annual patient visits.
Startups in this space — including LeanTaaS, Hospital IQ, and Tagnos — are competing with Epic's Grand Rounds for new business.
INTEROPERABILITY
There were a number of challenges from incumbents to the interoperability rules put in place requiring electronic health information be made accessible via APIs. However, a number of API-savvy startups have benefitted from the ruling.
ENTERPRISE INNOVATION
A recent Optum survey of 500 healthcare and life sciences executives found that 83% have an AI strategy in place, and another 15% are planning on creating one. Epic hopes to support this emerging market with its AI, analytics, and Cognos big data platform — the latter of which houses the de-identified records of 250M patients.
Startups are building alternative AI platforms that offer both pre-trained models and AI development environments for healthcare organizations. Startups like Jvion, ClosedLoop, nference, and Komodo Health are competing in this market.
If you aren't already a client, sign up for a free trial to learn more about our platform.