Bigger deals from major auto companies are pushing electric vehicle tech funding to a new high. We take a look at the top investors in the space and where they're directing their dollars.
The pandemic forced companies to pause and rethink their market outlooks. For auto companies, that meant embracing the transition to electric vehicles (EVs).
Funding to electric vehicle tech companies hit an all-time high in 2020, nearly reaching $12.8B. In 2021, funding to the EV tech space is already approaching $9.8B.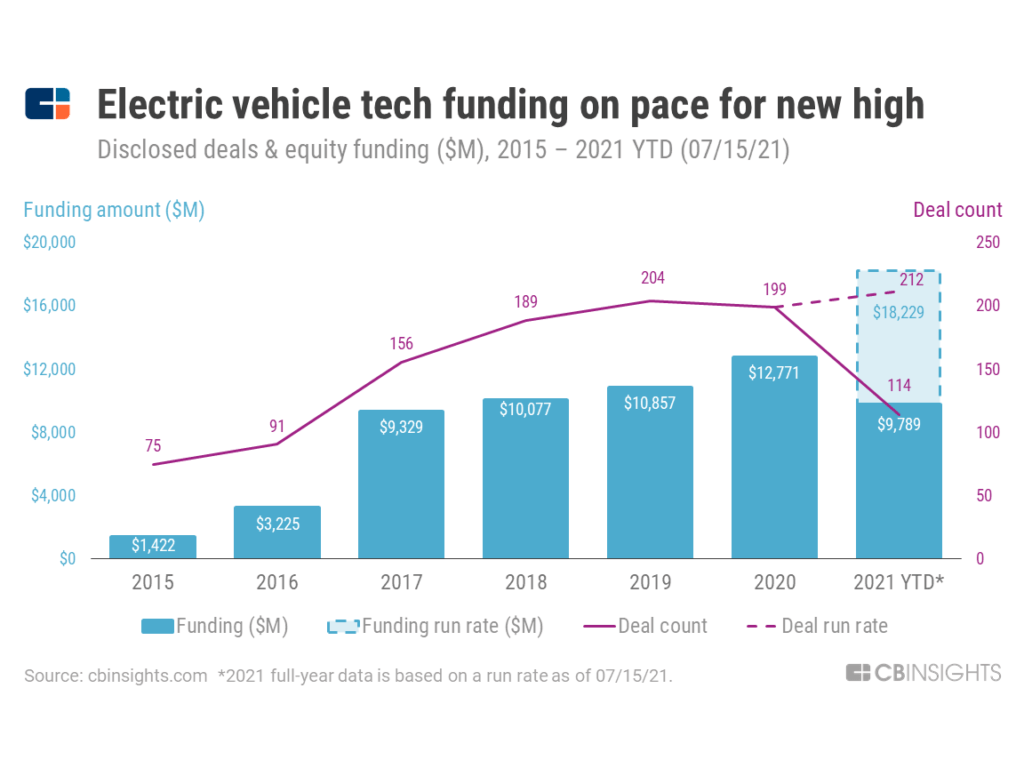 In this analysis, we look at the top investors in the EV tech space, where they're placing their bets, and how these deals are shaping the industry.
Top investors in EV tech
The top four investors in the EV tech space are GGV Capital, IDG Capital, Daimler, and GM Ventures — and they've held this position since 2015.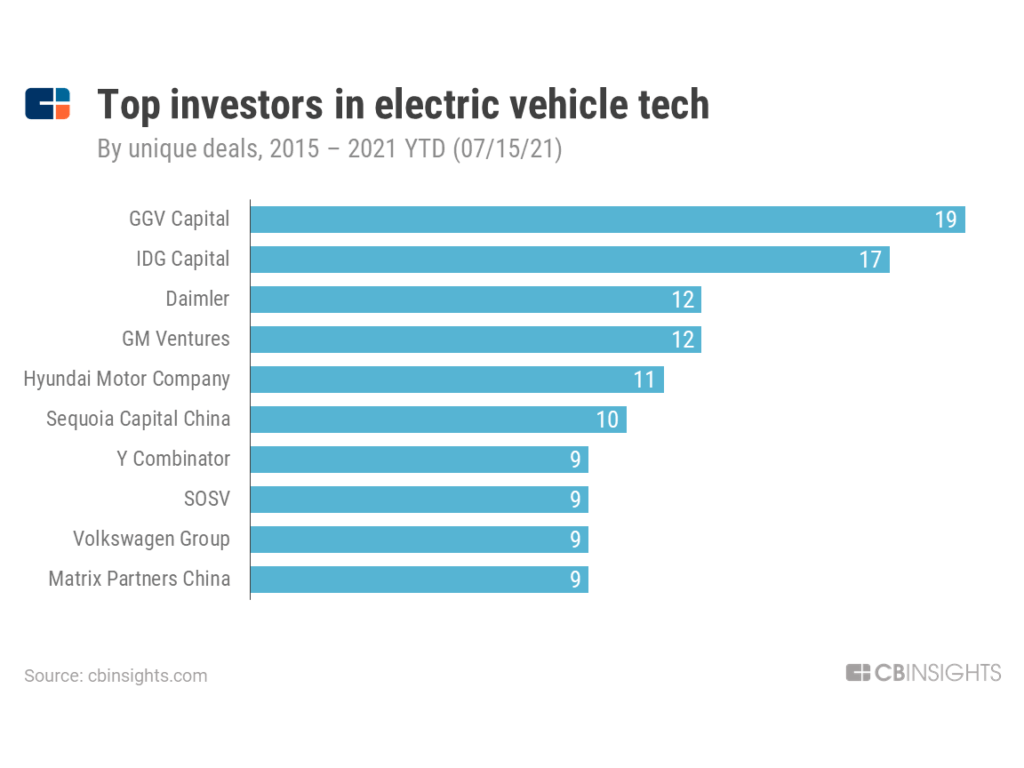 GGV Capital is the most active investor in the space, with 19 unique deals, followed closely by IDG Capital with 17 deals. Tied for third place are Daimler and GM Ventures, with 12 deals each.
GGV Capital focuses on expansion-stage venture capital investments around the world, particularly in the US and China. GGV Capital has made deals with 6 companies: Grow Mobility, Immotor, Lime, Niu Technology, X-Charge, and XPeng Motors.
These 6 companies reflect broader focus areas for investors across the board:
Mobility-as-a-service (MaaS) (Grow Mobility, Lime)
Battery tech (Immotor)
EV charging (X-Charge)
Vehicle makers (Niu Technology, XPeng Motors)
Four of these companies (Lime, Immotor, Niu Technology, and XPeng Motors) also saw investments from other top investors, underscoring the concentration of funding in the space.
IDG Capital has backed EV manufacturers, EV charging companies, and MaaS companies based in China, most notably Nio in 2016 and XPeng Motors the following year.
Outside of China, IDG Capital has led Series A rounds for US-based Zoox and Lime in 2016 and 2017, respectively. This year, the firm has invested in EV charging company Star Charge.
While Daimler and GM Ventures both participated in a Series G round for electric bus maker Proterra, their investment strategies largely differ. Other than Proterra, GM Ventures has invested solely in early-stage battery materials companies — for example, it participated in SES's Series A in 2015.
Daimler, on the other hand, has backed a variety of EV tech companies and generally invests in later-stage companies. For example, the firm participated in a Series G round to EV charging co ChargePoint in 2017 and a Series E round to battery materials company Sila Nanotechnologies in 2019.
Emerging themes across investments
Within the electric vehicle landscape, top investors are placing their bets across categories — from vehicle makers to mobility-as-a-service.