Funding to electric vehicle battery companies has skyrocketed. Below, we discuss the sector's market drivers as well as emerging themes and their key implications.
Funding to electric vehicle battery companies is on the rise due to the transition away from traditional vehicles.
One key driver of this shift is improvements in battery tech and design that make EVs more efficient and affordable. B2B electrification opportunities — such as electrifying commercial vehicles and ride-sharing fleets — also play a role.
With these factors and new regulations on the horizon, investors see a big opportunity in the space. In 2021 so far, investments to EV battery tech companies have soared to $4B, more than 4x the 2019 total.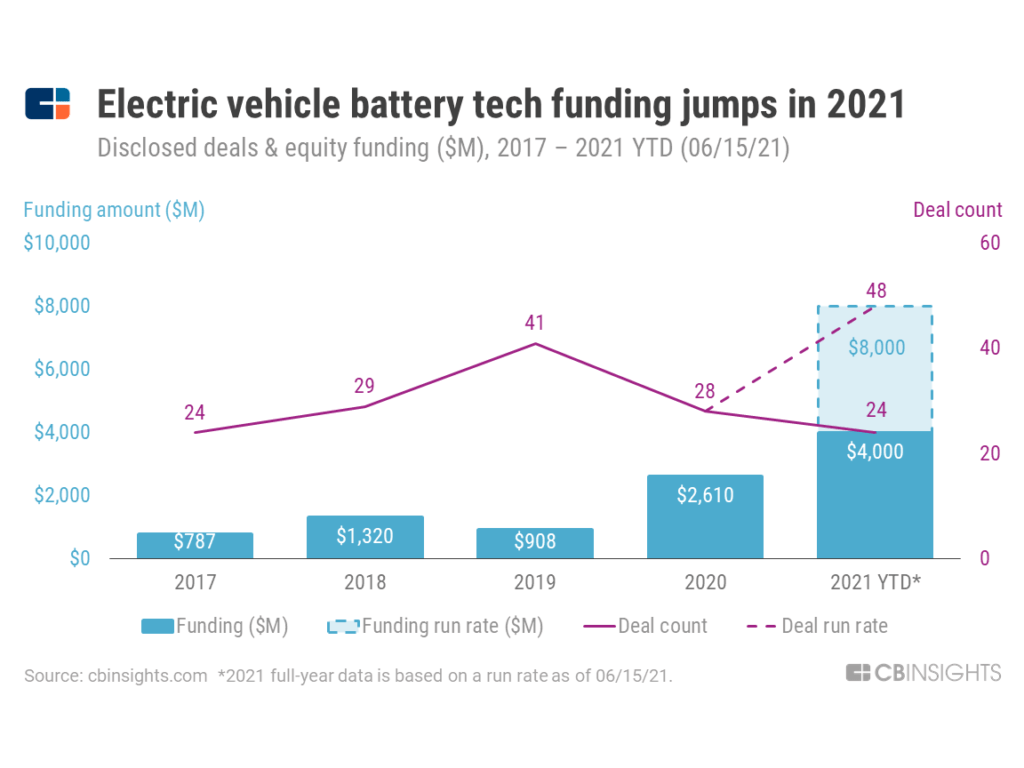 At current rates, EV battery tech companies will reach $8B in investment by the end of the year.
In this brief, we'll look at:
The topline findings and implications for this growth
The market drivers underlying this boom
And the categories receiving the most attention
To dig into all of the underlying data in this brief, sign up for a free trial to CB Insights here.
Track all the Energy Storage companies in this brief and many more on our platform
Companies in our Energy Storage Collection include large and small energy storage technology, from grid-scale molten salt containers to small, thin-film lithium-ion batteries.
Track Energy Storage Companies
Findings & implications
The evolving auto industry is driving more investments into early-stage EV battery tech companies. Here are the top findings and implications for the latest boom in EV battery tech funding:
Expect automakers to continue consolidating around a few key players in emerging battery materials and lithium-ion battery manufacturers like Northvolt. This will allow these companies to build out larger production facilities and further reduce battery costs, making EV adoption even more attractive to businesses and consumers.
Anticipate energy storage to gain traction in other forms of transportation as emerging battery materials trends, such as nano tech, increase energy density. For example, QuantumScape's anode-free solid-state battery is targeting the EV market, but it could also see viability in the electric plane space.
Watch for more auto regulations around climate and electrification as governments phase out internal combustion engine (ICE) vehicles. The Biden Administration is expected to put more weight behind the transition — in fact, it has already announced funding for electric vehicle charging infrastructure. Expect to see more regulations from the Biden Administration as the UN COP26 summit nears.