As the Covid-19 pandemic pushes more students online, companies are turning to AI to personalize learning, administer exams remotely, discover research, and more.
Online learning is seeing a resurgence amid the Covid-19 pandemic.  
FREE DOWNLOAD: THE COMPLETE AI 100 LIST
Get an excel file with the entire AI 100 list including each company's total funding, focus area, and more.
In one study in the US, more than 75% of public school districts are reporting hybrid or fully remote schooling for the 2020-2021 school year — and more than 16M US students are expected to complete at least some of the school year online. 
But as administrations look to cater to this shift, a host of new challenges are emerging across the education system.
For example, standardized tests and final exams typically require in-person proctoring to help ensure that students don't cheat or falsify results — but preventing fraud is much more difficult when students have to take tests at home or online. Other challenges include keeping students engaged and making sure learning outcomes are being met. 
Some companies are turning to artificial intelligence to help solve for these issues, facilitating online exams by using image recognition to detect eye movement or flag potential fraud. Other companies are keeping students engaged through adaptive learning, providing kids with personalized content and material to match their skill level.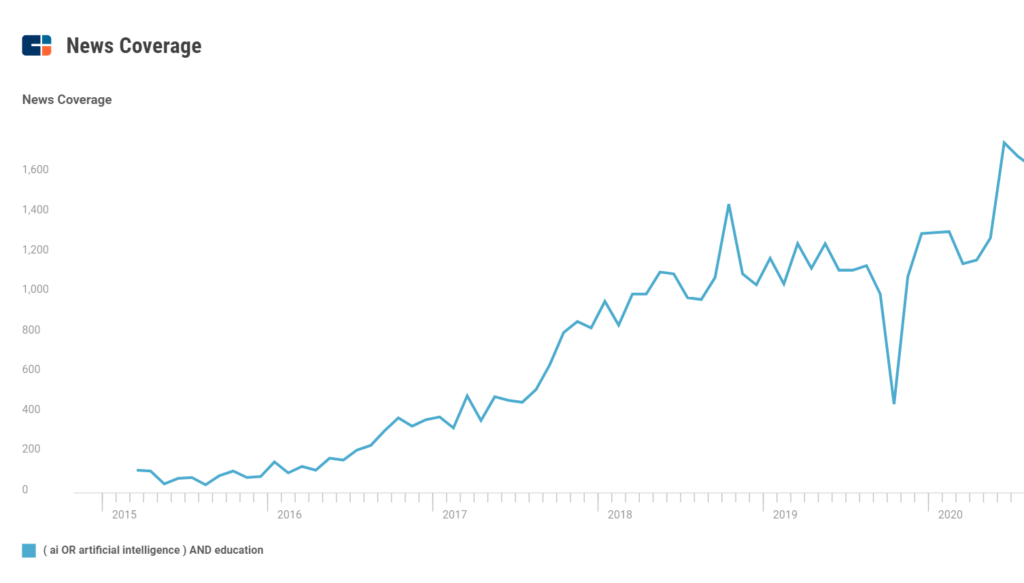 Source: CB Insights
Below, we take a look at some of the ways in which the education sector is adopting AI — from language instruction to online exam proctors to curriculum planning — and some of the challenges the industry could face before seeing widespread adoption.   
Table of contents 
1. Language instruction 
Advances in AI and speech recognition are lowering the barrier for learning a new language.  
Shanghai-based Liulishuo, for example, is a popular AI-based English tutoring app which uses speech recognition and other AI algorithms to correct new English language learners' grammar, vocabulary, and pronunciation, among other things. The company claims to have over 185M registered users.  
Unlike traditional learning systems, AI can be deployed to collect data on how students learn a particular language, identify patterns across multiple users, and then use that information to influence how it surfaces content to new students. 
For example, if an AI language app is helping a new student expand her Spanish language vocabulary, it may surface the word "gato" (cat) first, since that word has a higher chance of being remembered, according to the data collected from previous users. A word with a lower chance, like "semáforo" (traffic light), may not surface until later lessons and may also pop up multiple times to improve retention. 
Unicorn Duolingo aims to help users stay focused and committed through the gamification of learning. It offers more than 30 languages on its platform, including Spanish, English, and German, as well as fictional languages like Klingon and High Valyrian. The company has published several research papers on natural language processing (NLP) since 2015. 
"As a model, which is constantly learning, we can predict most outcomes — even knowing what level you'll have forgotten of that language based on the time you've been away and haven't done your lessons with us." — Duolingo CEO Luis von Ahn
It also uses AI to place students at the correct level for their knowledge base, after only 5 minutes of testing, potentially speeding up the learning process and eliminating the time spent relearning unneeded materials — one drawback of traditional learning methods. 
The app, which has over 300M users, is now taking on the English language certification market, offering the Duolingo English Test as an alternative to traditional language tests like TOEFL.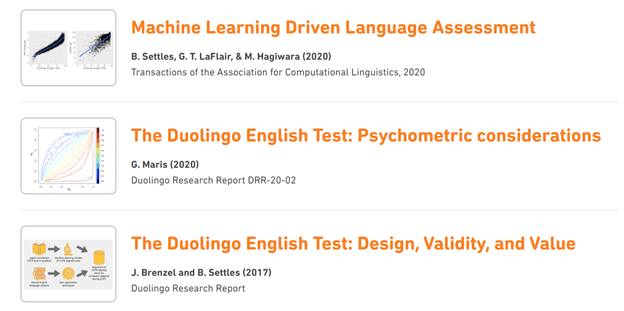 Source: Duolingo
Duolingo aims to bypass the drawbacks of traditional testing — including cost, limitations in question variety, and the time and capital involved in revising the question bank periodically — through the adaptive technology underlying its test. Over 2K+ institutions reportedly accept the machine learning-powered language assessment, including Columbia and Yale.