From alumni networking to grad school research to undergraduate admissions, here's how Harvard University is being unbundled. 
Harvard University — and the elite college experience — is being disrupted across many of its core functions and revenue streams.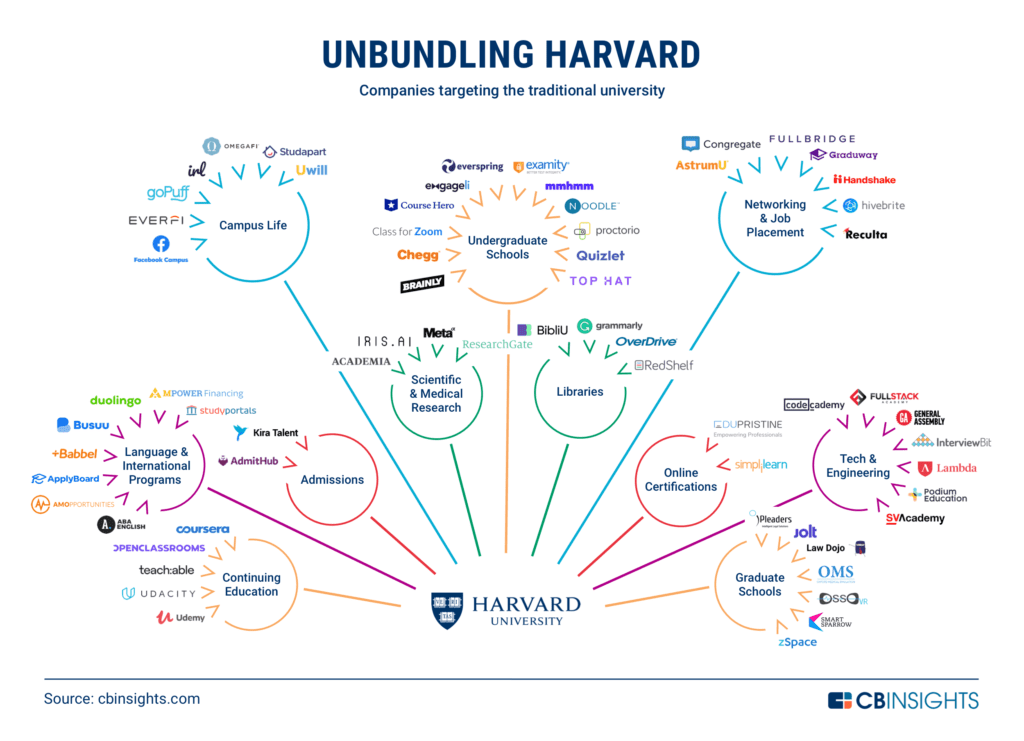 In 2019, Harvard's annual revenue hit $5.5B. However, the Covid-19 pandemic has hurt the financial outlook for the Ivy League giant — the school reported a $10M budget deficit in the 2020 fiscal year, despite a nearly $42B endowment.    
As the pandemic has forced traditional in-person colleges to reinvent themselves for remote learning, it has also provided a huge opportunity to edtech companies — funding to edtech startups so far in 2020 has already reached record highs at more than $8.9B.
Even before the pandemic, companies have been targeting the traditional university — for example, coding bootcamps like Lambda School aim to replace the typical computer science education for a fraction of the cost, while startups like BibliU provide access to textbooks and other academic literature online.
Below, we take a look at how startups and companies are unbundling Harvard University, from undergraduate degrees to dorm living to job placement and more. 
Category breakdown
Admissions
Companies in this category look to replace or enhance typical university admissions functions, like recruiting, enrollment, and more.
AdmitHub

uses a conversational AI chatbot to recruit, enroll, and retain college students for its university clients. The company has reportedly reached 2M students and raised a $7.5M Series B in January 2020. 

Kira Talent

claims to be a

holistic admissions platform

, using timed video and written interviews to conduct evaluations of applicant behavior and competency, reducing the emphasis on standardized test results and traditional grades. 
Undergraduate schools
Startups here are making remote learning more engaging and accessible for students currently enrolled in universities.
As the pandemic pushes many students online, companies are targeting the online lecture experience to produce higher-quality remote classes. 
Platforms such as

Top Hat

,

Everspring

, and

Noodle Partners

help professors at higher education institutions design more engaging online or hybrid courses. 

Class for Zoom

and

Engageli

aim to recreate the classroom atmosphere and collaboration between students for online classes, while

mmhmm

is making video presentations more dynamic.
Studying for class and taking exams have also shifted online, boosting the popularity of brands that facilitate remote testing.  
Chegg, Quizlet,

CourseHero

, and

Brainly

are all study tool options for students, but these online platforms have faced controversy

—

some professors and institutions say they

facilitate cheating

.
Tech & Engineering 
Companies here are looking to replace traditional undergraduate engineering degrees. 
Bootcamps are popping up as a way for students of all ages and backgrounds to receive education and training in a shorter amount of time than a 2- or 4-year degree, particularly for students interested in areas such as software development and data science. 
InterviewBit

and

Fullstack Academy

are coding schools, while

SV Academy

prepares individuals for sales careers at tech companies. 

Online coding education provider

Lambda School

's business model is an Income Share Agreement (ISA), where students pay back tuition in monthly installments after they are hired.

Companies like

Codecademy

and

General Assembly

offer classes and workshops both online and in-person focusing on technical skills like coding languages, product management, or data science. 
Some companies are working with universities on engineering programming instead of looking to replace them.
Podium Education

works with colleges and universities to integrate classes that teach digital and "modern workforce" skills, such as data analytics, into the university's existing course offerings. The startup raised $12M of Series A funding in October 2020.
Campus life
This category of companies tackles the college experience, from dorm living to study groups to food delivery and socializing. At Harvard, board & lodging revenue was around 3.6% of total operating revenue in 2019.
Student life is a huge selling point for many higher education institutions. With the pandemic, recreating the campus experience has been critical to driving engagement. Companies are developing remote activities and looking to fulfill the needs of students with different backgrounds, such as those juggling full-time jobs or families.
Startups like France-based Studapart help students source and rent housing.

With many dining halls operating at a lower capacity due to the pandemic, companies like unicorn

GoPuff

deliver food and convenience store purchases to college

campuses.
With Covid-19 upending parties and social events around campus, companies are stepping in to help students still find ways to connect with each other. 
Social and virtual events app

I

R

L

has about 50 colleges on its platform, while Facebook announced the launch of

Campus

this year, which allows students at the same school to socialize and connect separate from its regular platform. 

OmegaFi

allows Greek organizations to manage communication and finances and streamline the recruiting process.
Student wellness and harm prevention is also a major concern for universities. 
Language & international programs 
Companies in this sector challenge traditional university language and international education programs. 
Foreign language courses are a requirement at many colleges and universities, and some startups are looking to disrupt the traditional language learning process with new technology. 
Duolingo

,

Babbel

, and

ABA English

all offer language lessons for students of all ages and knowledge levels. 

Spain-based

Busuu

also provides university-specific language courses through its

partnership

with McGraw-Hill Education. 
International programs, both for foreign students to study at universities in the US and for US-based students to study abroad, are lucrative for colleges. There were about 1.1M international students in the US during the 2018-2019 school year.
AMOpportunities

works to pair international medical school students with clinical experiences in the US, as well as facilitate visa and housing processes. 

MPOWER Financing

, a DC-based fintech company, provides financing for international students that may not qualify for traditional student loans due to a lack of credit history. The company has raised more than $226M in total disclosed funding. 

ApplyBoard

and

Studyportals

work with partner schools to match students to study abroad programs. ApplyBoard claims to access over 30K programs across

1,20

0+

educational institutions, and raised a $55M Series C tranche in September 2020.

    
Graduate schools
Graduate degrees can be expensive and time-consuming for students. Some companies are setting their sights on making the graduate degree more effective, cheaper, or faster, from the JD to the MBA.  
For law school, companies like

India-based

iPleaders

provide legal courses and law education online. Other startups like Law Dojo provide apps for practicing law terms and concepts. 

Though traditional medical school is likely here to stay, companies like

Smart Sparrow

allow med school professors to create adaptive learning experiences online for their students. The startup was acquired by Pearson for $25M in January 2020.  

Jolt

, an Israel-based online MBA program, allows students to pay by the month to access lessons across marketing, product, leadership, strategy, and more. The company raised a $14M Series A in January 2020. 
Other companies are looking to disrupt the traditional classroom, especially for more science-heavy graduate programs, using augmented and virtual reality (AR/VR). 
Networking & job placement
Companies in this category connect current university students with alumni, other students, and potential employers.
Connecting with alumni is one of the benefits of a large university network like Harvard's. 
Startups like

Graduway

and

Hivebrite

facilitate student connections with mentors while also helping universities stay in touch with alumni. France-based Hivebrite raised a $20M Series A in January 2020 from investors including Insight Partners.  

Congregate

is an online platform that was started by Harvard students to help facilitate remote school networking events, including study groups and classroom discussions. 
Job placement and preparedness is also a crucial part of university life. 
Fullbridge

aims to prepare students with real-world skills like data analysis, problem solving, and teamwork across bootcamps and courses, while

AstrumU

helps students figure out how their classes and internship experiences translate into careers.
Continuing education
Continuing education, or courses taught after an individual has left the formal education system, accounted for 9% of Harvard's 2019 revenue (including executive education). However, 2020 revenues declined 18% to $410M, due to program cancellations and a drop in enrollment, highlighting that the continuing education sector is very vulnerable to disruption, especially in times of crisis. 
Companies targeting this category provide ad hoc online courses for adults looking to upskill in the workforce.  
OpenClassrooms

offers massive open online courses (MOOCs) that build toward a diploma, while

Udemy

emphasizes its online marketplace's 130K courses. 

Coursera

and

Udacity

both offer online classes across a broad range of disciplines. Coursera has raised over $460M in total disclosed funding and was most recently valued at $2.5B following a $130M Series F in July 2020. 
Scientific & medical research
Research is a large part of Harvard's business model, and makes up 17% of the university's annual revenue, with more than $800M in sponsored research funds every year. Its research spans across multiple disciplines, including medical, public health, applied sciences, design, and business. 
Academia.edu

provides a platform to help academics make their research publicly available online, listing more than 22M papers to date. 

Iris.ai

,

Meta

, and

ResearchGate

assist in topic mapping and research discovery by scanning academic papers and surfacing potentially useful information for researchers. 
Libraries
From textbook access to study space, the university library is key for students' studies. However, with the Covid-19 pandemic restricting access to public areas, some companies are looking at new ways to bring the most important parts of a library online. 
BibliU

provides online course materials for students, like e-textbooks and research studies. The company raised a $2M Series A follow-on round in September 2020 and has reportedly seen usage quadruple

 to 300K

users since 2019. 

Grammarly

, an AI writing assistant startup, checks writing for grammar errors. 
E-book reading platforms are gaining traction as a way to go digital, and some are partnering with public or university libraries to provide online access to library resources. 
Online certifications
These startups offer online certifications for specific skills, like digital badges for a completed coding lesson, or help students prepare for certification tests, like online training for the CPA exam. 
Simplilearn Solutions

, an online learning platform for professional certifications, offers courses on subjects like cloud architecture and digital marketing. 

EduPristine

is an online trainer for CFA and other certifications. The company has raised money across multiple rounds from Smart Money VC Accel. 
If you aren't already a client, sign up for a free trial to learn more about our platform.