Researchers in Switzerland have created gelatin-based robots that can be eaten by humans or animals and carry out tasks within their bodies. Edible robots are an offshoot of soft robotics which is a thriving field.
By making robots soft, small, and edible, scientists can explore a multitude of new applications for robotics in the body.
The use cases range from using robots as food, to studying endangered species' migration patterns, to serving as a medical device that can help heal injuries.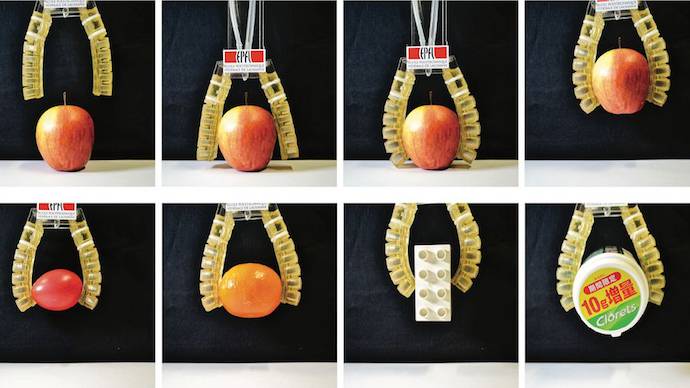 Scientists in the field of soft robotics have already been developing flexible materials capable of extending, contracting, or bending in response to simple control inputs. These materials can make robots more lifelike, and help them move and work independently in less "robotic" ways.
Advances on this front have brought us soft robots capable of gripping or lifting fragile objects. For example, they can grab and move easy-to-bruise fruit in packing facilities.
Edible soft robotics are a further offshoot of that idea.
Scientists have already created edible transistors, batteries, electrodes, capacitors, and sensors. This means edible robots can store and transmit energy. But getting these components to do useful things after ingestion requires an actuator (or motor) that is safe for consumption and digestion.
The Swiss scientists who recently debuted an ingestible actuator at a robotics conference teased a few such applications in their research paper, saying edible robots could someday:
Execute tasks to "heal inside the human body"
Serve as a source of electric energy for "non-edible robots" or humans, e.g. as an adjustable battery for human medical devices
Serve as a food source in rescue scenarios with "survivors in isolated places like inside a crevice or up on mountain"
Serve as a food source for their own robot selves by what researchers call a hypothetical "autophagy (self-eating) function."
Serve as prey to observe animals' hunting behaviors or "assist with preservation" of endangered animals by being ingested and helping to record their behavior
The variety of use cases show how valuable "ingestibility" is to advancing  innovations in soft robotics.
A robot that is food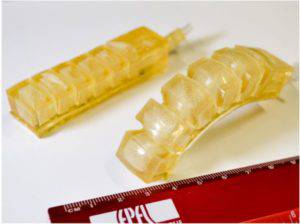 An actuator is a device or motor capable of controlling a given mechanism. Conventional actuators are made of hard materials like silicone that also can conduct electricity. These actuators are found in almost all industrial and consumer electronics.
For their edible actuator, researchers from the École polytechnique fédérale de Lausanne (EPFL) in Lausanne, Switzerland recognized that gelatin is both edible and capable of being made conductive when combined with glycerol or glycerin, an edible alcohol.
The addition of glycerol makes the gelatin more rubbery or "plasticized," creating a mixture capable of being bendable, edible, and conductive.
The researchers created their actuators by pouring a mix of gelatin, glycerin, and water into a mold and letting it dry at room temperature.
Once set, the actuators were each cut using lasers into a 3- to 5-centimeter, finger-like shapes and then put through a series of tensile strength and gripping tests.
As the video below shows, the "fingers" were capable of curling in response to air or gas pressure. Two cooperative actuators or robot fingers were able to grip and lift an apple successfully. In tests, the grippers also held objects like a boiled egg, orange, LEGO brick, and plastic bottle.
In their detailed study, the researchers say their innovation achieved measured value comparable to conventional "elastomer-based pneumatic actuators." They believe their composite could "replace silicone elastomers" in soft robotics and "lay the foundation for a new type of edible robots."
---
The original research study "Soft Pneumatic Gelatin Actuator for Edible Robotics" was presented at the IEEE/RSJ International Conference on Intelligent Robots and Systems in September 2017 at IEEE. Full information is available here.
If you aren't already a client, sign up for a free trial to learn more about our platform.