Edge computing will impact devices, applications, and infrastructure, while also creating big opportunities. We dig into FAMGA's moves across the edge computing value chain to analyze each company's strategy and priorities.
Computing is moving to the edge.
Edge computing, a form of decentralized computing, will complement the current centralized cloud computing model by processing data physically closer to devices — boosting speeds by cutting out travel time. This approach, buoyed by the roll-out of 5G, will help enable emerging, bandwidth-intensive applications like autonomous vehicles and VR/AR.
The opportunity could be big. The market for edge computing is estimated to be worth more than $500B, according to CB Insights' Industry Analyst Consensus.
Looking to capture a slice of this emerging market, FAMGA companies — Facebook, Amazon, Microsoft, Google, and Apple — are investing in edge computing in areas including cloud infrastructure, devices, and applications.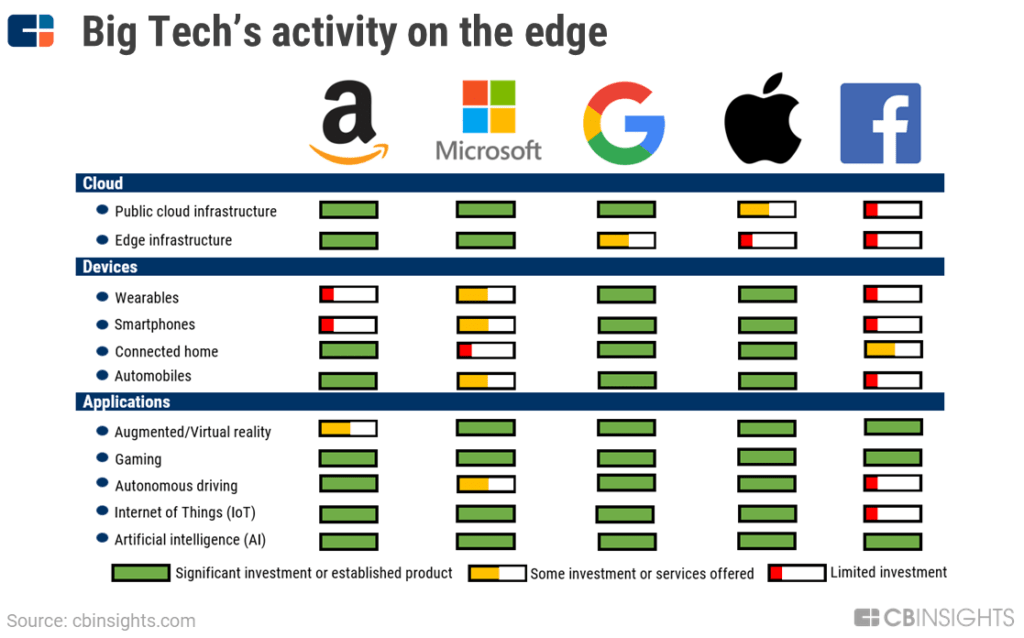 With varying core competencies and sprawling businesses, each FAMGA member's edge computing strategy is unique. Using CB Insights data, we analyzed their partnerships, acquisitions, and investments to understand each company's approach to edge computing. 
Read more about how the tech works in our What Is Edge Computing? explainer.
Big Tech's edge computing moves
Amazon
Amazon is seeking to establish a foothold in edge computing by extending the capabilities of Amazon Web Services (AWS) and investing in emerging applications like smart homes and autonomous driving.
While Amazon was early to commercialize cloud computing, this model — where a few massive data centers serve the needs of many geographically distributed clients sometimes hundreds of miles away — may not meet the low-latency requirements of many emerging applications.
Looking to help address these evolving needs, Amazon unveiled 2 new cloud infrastructure models in late 2019 that bring data processing closer to the edge.
Edge infrastructure
The first model, AWS Local Zones, provides clients — typically located in densely populated areas — with data centers closer to their operations to deliver a faster, more responsive experience to end-users. Amazon has already rolled out this new infrastructure model in Los Angeles and counts Netflix and Luma Pictures among its initial customers. 
The second model, Wavelength, supports 5G applications by using telecom providers' infrastructure to place AWS storage and compute resources on the wireless network. The first of these telco-AWS arrangements is in Chicago, where Bethesda Softworks and the National Football League are early adopters.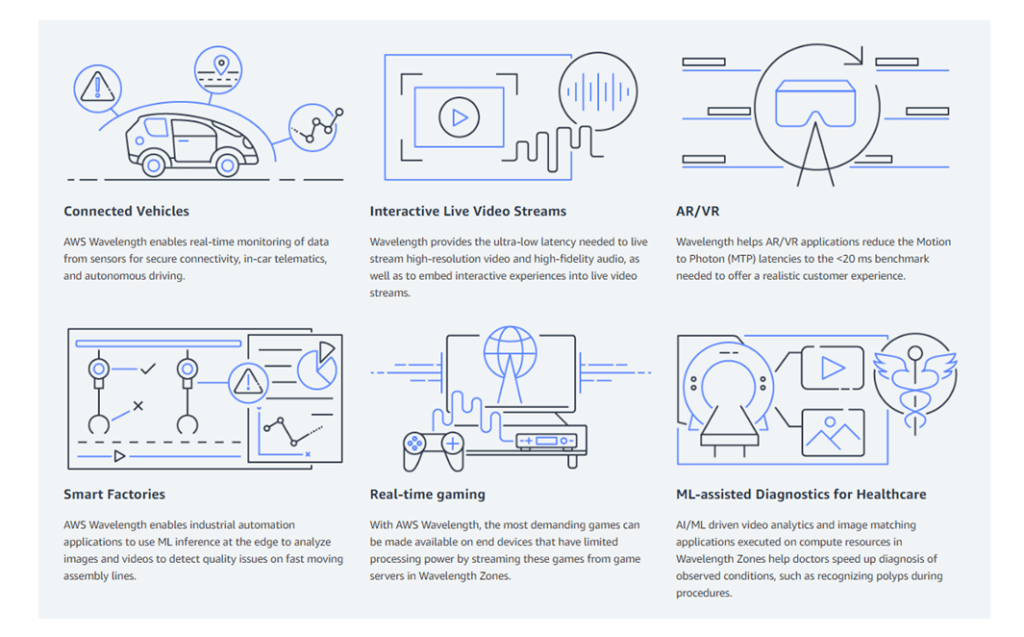 A selection of Amazon's envisioned Wavelength edge computing use cases. Source: Amazon 
Partnerships with telecom providers are crucial to expanding its Wavelength offering using 5G. To this end, Amazon entered partnerships with Verizon, Vodafone, SK Telecom, and KDDI in 2019. 
Public cloud infrastructure
Competing for share in the edge computing market will also require advanced cloud capabilities. Here, like other cloud service providers, Amazon offers several products for leveraging data from connected devices at the edge. 
For example, AWS IoT Greengrass manages connected devices and enables them to run applications offline by providing access to serverless functions and Docker containers. Further, services like SageMaker Neo and AWS RoboMaker are intended to help companies create machine learning algorithms and robotic applications, respectively, in the cloud to run autonomously on the edge.  

How AWS IoT Greengrass works. Source: Amazon
These services will benefit from the low latency provided by edge infrastructure (e.g. the Local or Wavelength Zones discussed above) and could help companies gain more value from investments in connected devices, robotics, and sensors.