China has already seen 3 ed tech IPOs this year.
Last year, the ed tech industry saw a record high of 3 IPOs, but experienced a steep drop-off in M&A activity. As a result, the industry as a whole fell 22% from the peak of 104 exits in 2015. In 2017, ed tech exits are on the rebound, similar to funding trends in the industry: this year the industry has already seen 4 IPOs, 3 of which happened in Q2'17.
Using CB Insights data, we analyzed first exits among private ed tech companies since 2013. We define ed tech startups as those working to replace or supplement traditional education systems for both students and professionals.
Annual ed tech exit trends
Last year, the ed tech exit growth streak ended when the industry saw 81 exits, down from 104 in 2015. Significant 2016 exits included the $137M acquisition of Finalsite by Bridge Growth Partners and the IPO of hardware and software company Chengdu Jiafa Antai Technology Co. More recently, Chinese company Retech Technology went public at a valuation of $80.7M in Q1'17—making it one of three Chinese ed tech companies to go public this year, alongside education organization-focused SaaS company SchoolPal Online and online education firm Sooc.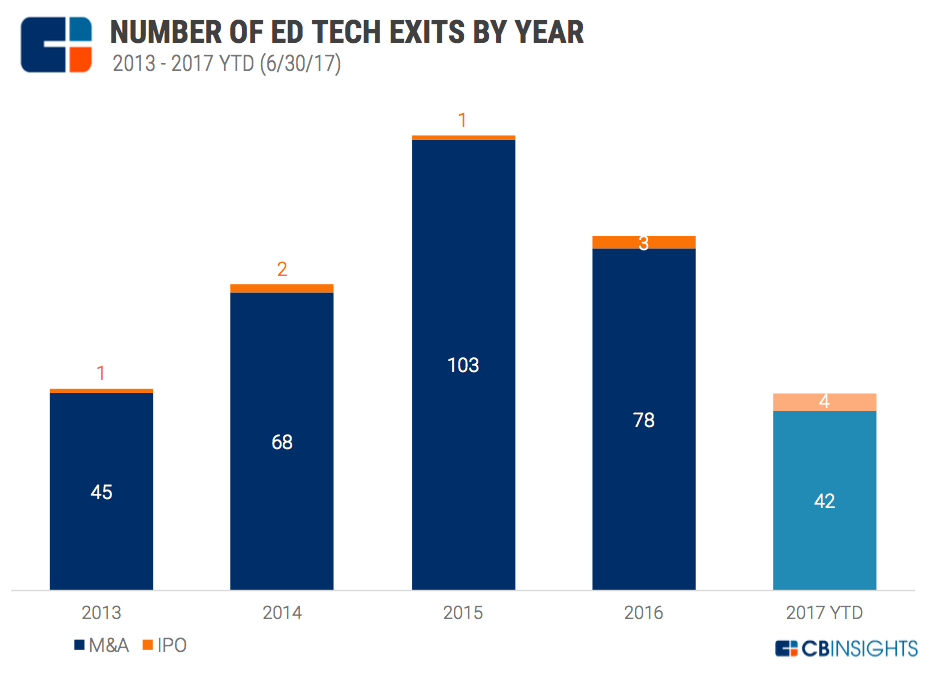 Quarterly ed tech exit trends
Q2'17 reached a record of 3 IPOs (making it the first quarter in four years to see more than one IPO), though total exits (21) were just shy of the 25 exits in the previous quarter. Q2'17 also saw 18 M&A deals, down 25% from the previous quarter.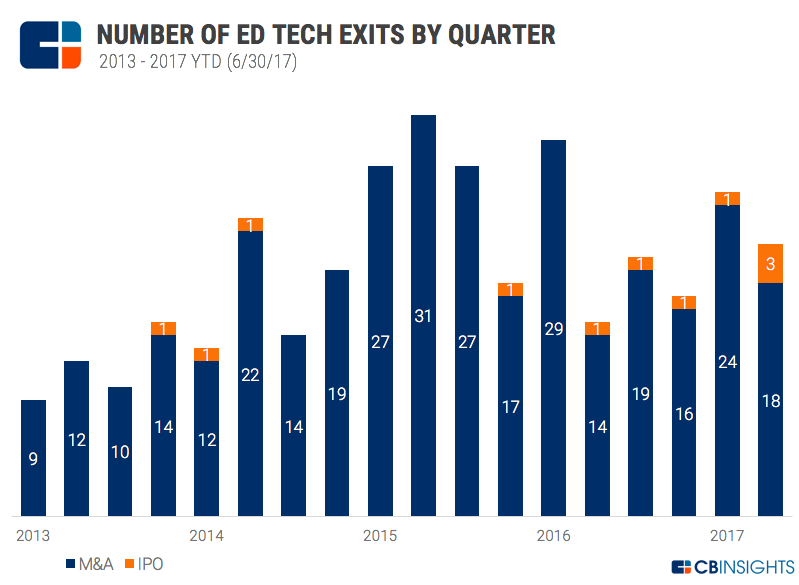 Most well-funded VC-backed ed tech companies before exit
Online tech and business courses provider lynda.com, acquired by LinkedIn for $1.5B in Q2'15, holds the title for most well-funded ed tech company at the time of its exit (Q1'13 – 2017 YTD). Craftsy and S. Chand & Company were the two most well-funded companies to exit this year (fifth and sixth on the list respectively).
Of the other 9 companies, only two are from Asia, despite the fact that the region has poured investment into ed tech in recent years. The remaining 7 are based in the United States.
If you aren't already a client, sign up for a free trial to learn more about our platform.