E-commerce subscription startups, which offer products from dog treats to luxury apparel, have seen fluctuating investor interest in recent years.
After a lackluster Q1'17, deals to subscription e-commerce startups saw an uptick last quarter, nearly doubling quarter-over-quarter. This trend stands in contrast to the e-commerce sector as a whole, which after a 3-quarter slump witnessed increasing deals through both quarters of H1'17.
Even as subscription e-commerce startups offer an increasingly diverse array of products and services, from apparel to pet care to leisure activities (as detailed in our subscription market map), investor interest in the space has wavered over the past few years.
The space has witnessed notable exit activity in recent months, including the acquisition of beauty subscription startup GlossyBox by The Hut Group in Q3'17 and the acquisition of France-based subscription pet care products startup Animalbox by Doctissimo in Q2'17.
Using CB Insights data, we took a closer look at deal and funding trends within the space subscription e-commerce trend.
We define e-commerce subscription companies as startups delivering goods to customers' doors on a predetermined schedule. We also include companies focused on subscription e-commerce enablement (e.g. companies helping retailers to set up comprehensive subscription e-commerce platforms). We exclude meal and perishable grocery subscription and delivery services.
Annual Financing trends
Subscription e-commerce deals are on pace to decline this year, following two consecutive years of growth. As of 2017 YTD, e-commerce subscription startups have seen 46 deals, putting deals on track to hit 66 for the full-year, down 18% from 78 in 2016.
On the other hand, disclosed equity funding is on track to increase in 2017, in part due to a larger number of moderately-sized deals in the $10M – $20M range. Funding this year has also been buoyed by a $50M private equity deal to online consignment business The RealReal in Q2'17. At the current run rate, funding is on pace to hit $328M by the end of the year.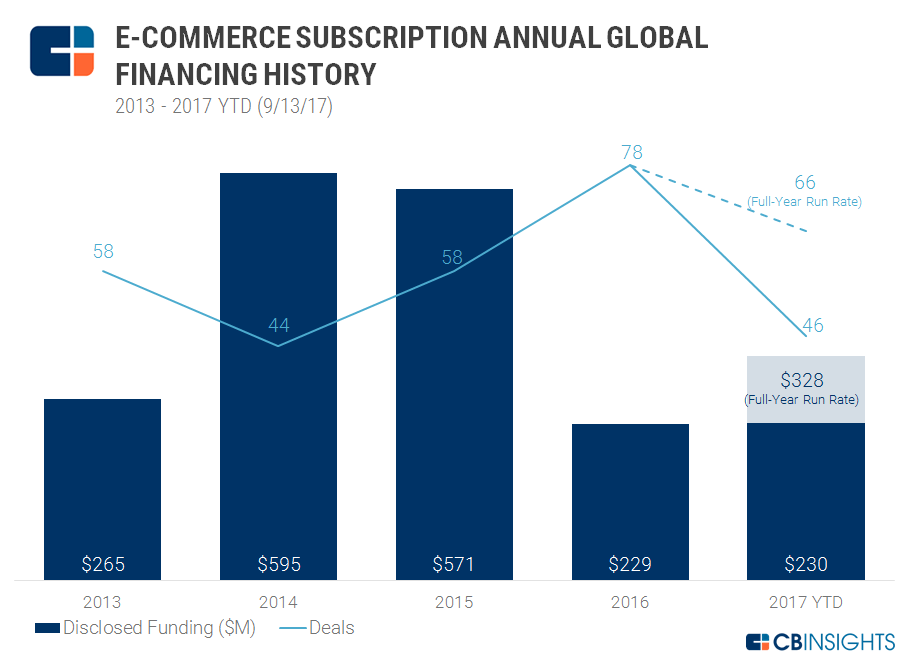 Track all the e-commerce subscription startups in this brief and more on our platform
E-commerce subscription startups have expanded across a huge number of markets, from clothing and apparel, to beauty products, personal care items, vitamins, and even pet products. Look for E-Commerce Subscription in the Collections tab.
TRACK E-COMMERCE SUBSCRIPTION STARTUPS
Quarterly financing trends
Last quarter saw a 90% increase to hit 19 deals, compared to only 10 deals to e-commerce subscription startups in Q1'17. Meanwhile funding in the first half of the year clocked in at $174M, up slightly from $159M in H1'16.
The largest deal of Q2'17 was the $50M round to The RealReal, mentioned above. The round was backed by private equity firm Great Hill Partners, and brought the San Francisco-based startup to $173M in total disclosed funding.
While luxury products nabbed the top deal, household cleaning and electronic gadget subscription startups also raked in some larger deals last quarter, including a $15.4M Series B to household cleaning subscription service Grove Collaborative, as well as a $7.9M Series A to Germany-based Grover, which allows customers to rent electronic products on a monthly, pay-as-you-go basis.
This quarter is already on track to outpace Q2'17 in terms of deals, with 17 deals already taking place as of 9/13/17.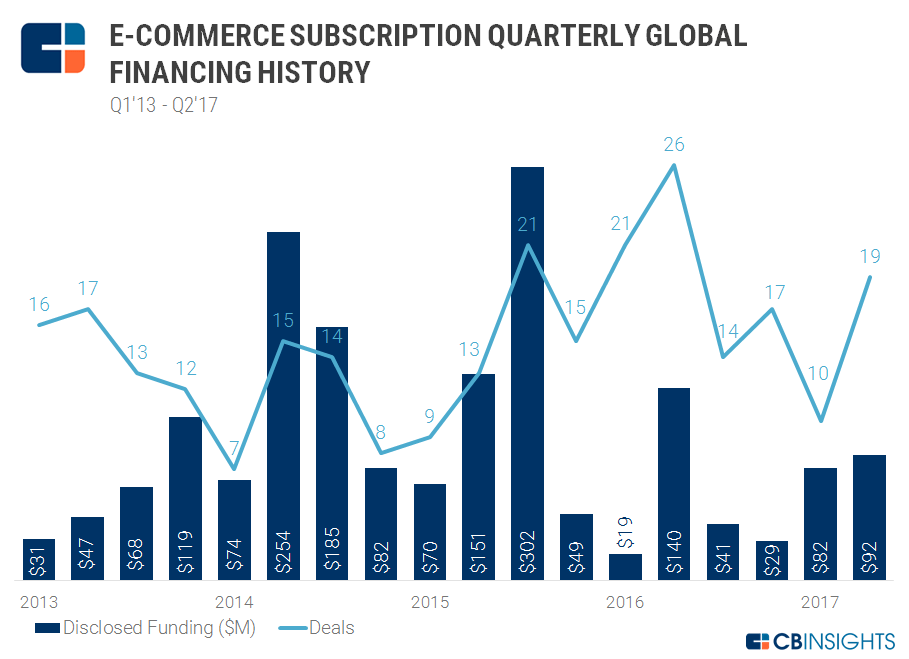 If you aren't already a client, sign up for a free trial to learn more about our platform.