After a lackluster 2016 — which saw three consecutive quarters of declining deal activity — H1'17 has seen a resurgence in deals and funding to e-commerce startups.
Deals to the e-commerce sector continued a new hot streak in Q2'17, growing by more than 50 deals from Q1'17. This marks the second consecutive quarter of deal growth in the space, following three consecutive quarters of sharp declines in 2016.
Despite the uptick in deals, last quarter also saw a decline in dollar funding to $3.4B (down from $4.8B in Q1'17). However, this quarter (though not yet finished) has already seen $4B+ in funding, due to huge $1B+ rounds to Fanatics, Tokopedia, and Flipkart.
Using CB Insights data, we analyzed deal and dollar trends to the global private e-commerce sector. We define the e-commerce category as internet and mobile startups that sell physical goods, not including food or services. We also include certain companies in e-commerce enablement that help create and set up e-commerce platforms for retailers.
Annual Financing trends
While a drop in deal count in 2016 put the full-year total at its lowest level since 2013 (at only 796 deals), this year has been quickly pulling back ahead. Based on the current run rate, 2017 deal count to the e-commerce sector is expected to reach 941 deals, which would make it the second most active year across the time period examined.
India-based e-commerce platform Flipkart has had an eventful 2017 to date, with five funding rounds totaling over $4B. In August Flipkart received its most recent round of funding: a $1.4B equity investment as part of a larger round which included secondary market transactions.
Meanwhile hopes for a much-anticipated consolidation of Flipkart and its domestic rival Snapdeal were finally dashed when Flipkart announced in July 2017 that a deal between the two companies would not take place.
Softbank Group, a prominent investor in the struggling Snapdeal, had been pushing for the two e-commerce unicorns to merge in an effort to gain traction in the Indian e-commerce space against competitors like Amazon. As Softbank Group was unable to bring the deal to fruition, it has chosen to directly invest in Flipkart instead.
Although Flipkart has fared better than Snapdeal overall, it nonetheless has also encountered its own share of issues, including a $1.4B downround in Q1'17 that slashed the company's value from $15B+ to $11.6B.
Other notable deals this year included a $1.1B private equity round in Q1'17 to Chinese e-commerce platform Koubei, a joint venture between Alibaba Group and Ant Financial Services Group, as well as a $1.1 Series F round in Q3'17 to Indonesia-based Tokopedia, backed by Alibaba Group.
 
Quarterly financing trends
In Q2'17, e-commerce startups raised nearly $3.4B across 256 deals — a 27% increase in deals quarter-over-quarter, and a 73% increase from a low of 148 deals in Q4'16. Although still lagging the quarterly record of 274 deals in Q3'15, the number of deals in Q2'17 was the second-highest of any quarter since Q1'13.
While deals rose in Q2'17, funding declined 29%, as last quarter saw no $1B+ mega rounds to boost the quarterly funding total (a divergence from Q1'17). However, as described above, the multiple mega-rounds that have already taken place in Q3'17 will drive this quarter's funding total up once more.
 
Global Deal Share
Seed / angel deals to the e-commerce sector have dwindled consistently year-over-year since 2013, a marker of a maturing industry. Specifically, while seed / angel deals made up over half of all deals in 2013, they have only accounted for 38% so far in 2017.
While the number of early-stage deals has shrunk, deals falling into the 'Other' category has increased, growing from 13% in 2013 to 23% in 2017 YTD. This is partially due to an increase in the rate of corporate minority deals. Softbank Group's $1B investment in sports merchandising platform Fanatics in Q3'17 is a recent example of one such corporate minority deal.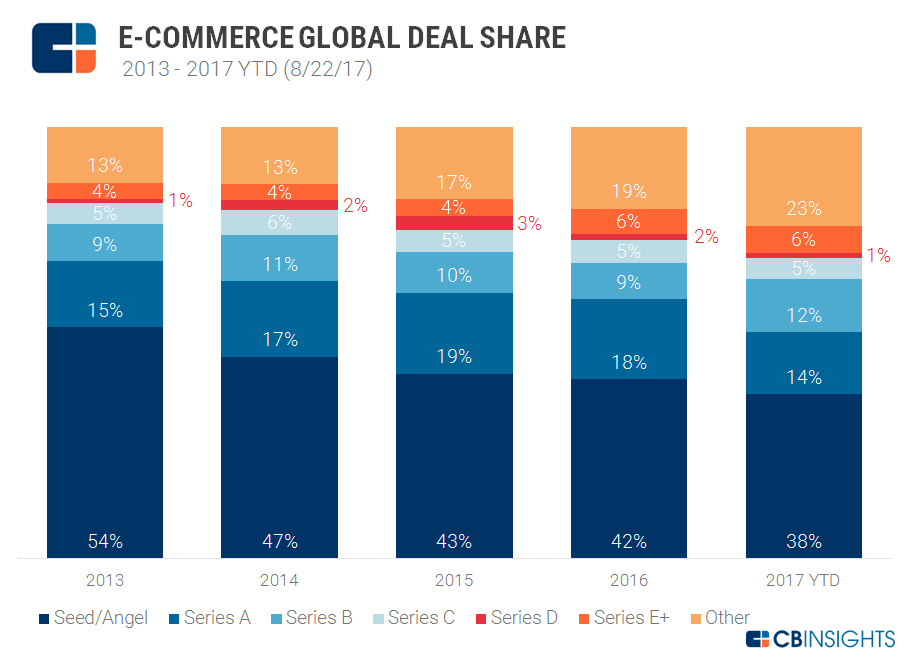 If you aren't already a client, sign up for a free trial to learn more about our platform.