The funding brings EasySend to a $157M valuation. It was last valued at $31M in September 2020. Here are the top-line bullets you need to know.
EasySend, a no-code platform for building digital customer journeys, has raised $60.5M in a mix of equity and debt financing. The $55.5M Series B round drew participation from Intel Capital, Hanaco Venture Capital, Oak HC/FT Partners, and Vertex Ventures Israel, and the company secured an additional $5M in debt from Silicon Valley Bank.
HOW'S THE COMPANY PERFORMING?
Israel-based EasySend enables enterprises to digitize manual aspects of the customer journey, such as applications and claims forms, onboarding questionnaires, and customer interactions.
The company has seen its US revenue grow 10x over the past year.
It caters to around 100 enterprise customers, including IKEA, Cincinnati, Sompo, Petplan, and VGM.
The company has offices in the US, Germany, and Israel.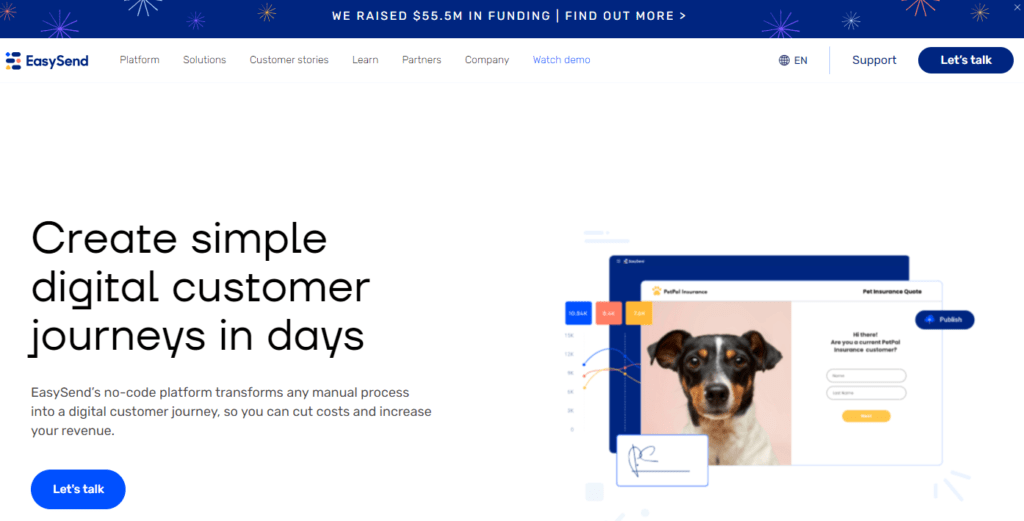 Source: EasySend
WHY DOES THE MARKET MATTER?
The global customer experience platform market was valued at $5.3B in 2017 and is projected to grow at a CAGR of 12.7% until 2028, according to Future Market Insights.
Digital transformation initiatives have accelerated amid the Covid-19 pandemic, increasing the demand for solutions to digitize paper-based and offline processes.
Customer acquisition costs have skyrocketed in the face of this accelerated digital shift, causing enterprises to adopt customer-focused platforms to boost loyalty and retention.